Abstract
Often with minimally clothed figures depicting extreme body sizes, previous studies have shown women tend to gaze at evolutionary determinants of attractiveness when viewing female bodies, possibly for self-evaluation purposes, and their gaze distribution is modulated by own body dissatisfaction level. To explore to what extent women's body-viewing gaze behaviour is affected by clothing type, dress size, subjective measurements of regional body satisfaction and objective measurements of own body composition (e.g., chest size, body mass index, waist-to-hip ratio), in this self-paced body attractiveness and body size judgement experiment, we compared healthy, young women's gaze distributions when viewing female bodies in tight and loose clothing of different dress sizes. In contrast to tight clothing, loose clothing biased gaze away from the waist-hip to the leg region, and subsequently led to enhanced body attractiveness ratings and body size underestimation for larger female bodies, indicating the important role of clothing in mediating women's body perception. When viewing preferred female bodies, women's higher satisfaction of a specific body region was associated with an increased gaze towards neighbouring body areas, implying satisfaction might reduce the need for comparison of confident body parts; furthermore undesirable body composition measurements were correlated with a gaze avoidance process if the construct was less changeable (i.e. chest size) but a gaze comparison process if the region was more changeable (i.e. body mass index, dress size). Clearly, own body satisfaction and body composition measurements had an evident impact on women's body-viewing gaze allocation, possibly through different cognitive processes.
Access options
Buy single article
Instant access to the full article PDF.
USD 39.95
Price excludes VAT (USA)
Tax calculation will be finalised during checkout.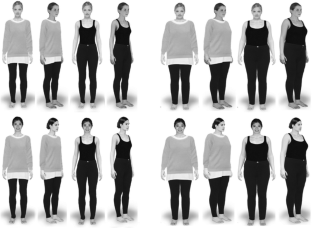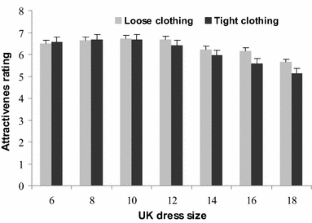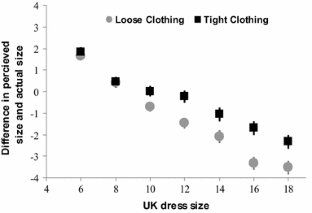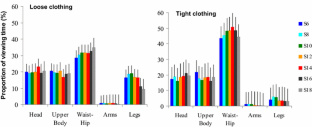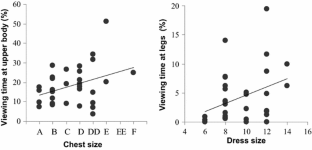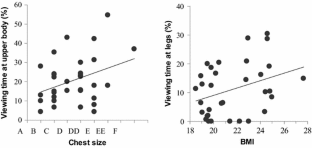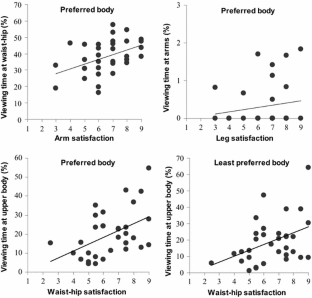 References
Buss, D. M. (2003). The evolution of desire: strategies of human mating. New York: Basic Books.

Blechert, J., Nickert, T., Caffier, D., & Tuschen-Caffier, B. (2009). Social comparison and its relation to body dissatisfaction in bulimia nervosa: evidence from eye movements. Psychosomatic Medicine, 71, 907–912.

Bleske-Rechek, A., Kolb, C. M., Stern, A. S., Quigley, K., & Nelson, L. A. (2014). Face and body: independent predictors of women's attractiveness. Archives of Sexual Behavior, 43, 1355–1365.

Cho, A., & Lee, J. H. (2013). Body dissatisfaction levels and gender differences in attentional biases toward idealized bodies. Body Image, 10, 95–102.

Cornelissen, P. L., Hancock, P. J., Kiviniemi, V., George, H. R., & Tovée, M. J. (2009). Patterns of eye movements when male and female observers judge female attractiveness, body fat and waist-to-hip ratio. Evolution and Human Behavior, 30, 417–428.

Crossley, K. L., Cornelissen, P. L., & Tovée, M. J. (2012). What is an attractive body? Using an interactive 3D program to create the ideal body for you and your partner. PLoS ONE, 7(11), e50601.

Festinger, L. (1954). A theory of social comparison processes. Human Relations, 7, 117–140.

Fiske, S. T. (2011). Envy up, scorn down: How status divides us. New York: Russell Sage.

Glauert, R., Rhodes, G., Fink, B., & Grammer, K. (2010). Body dissatisfaction and attentional bias to thin bodies. International Journal of Eating Disorders, 43, 42–49.

Guo, K., Mahmoodi, S., Robertson, R. G., & Young, M. P. (2006). Longer fixation duration while viewing face images. Experimental Brain Research, 171, 91–98.

Hahn, A. C., & Perrett, D. I. (2014). Neural and behavioral responses to attractiveness in adult and infant faces. Neuroscience and Biobehavioral Reviews, 46, 591–603.

Hall, C., Hogue, T., & Guo, K. (2011). Differential gaze behavior towards sexually preferred and non-preferred human figures. Journal of Sex Research, 48, 461–469.

Hall, C. L., Hogue, T., & Guo, K. (2014). Sexual cognition guides viewing strategies to human figures. Journal of Sex Research, 51, 184–196.

Henss, R. (2000). Waist-to-hip ratio and female attractiveness. Evidence from photographic stimuli and methodological considerations. Personality and Individual Differences, 28, 501–513.

Horndasch, S., Kratz, O., Holczinger, A., Heinrich, H., Hönig, F., Nöth, E., & Moll, G. H. (2012). "Looks do matter"—Visual attentional biases in adolescent girls with eating disorders viewing body images. Psychiatry Research, 198, 321–323.

Hughes, S. M., Harrison, M. A., & Gallup, G. G, Jr. (2004). Sex differences in mating strategies: mate guarding, infidelity and multiple concurrent sex partners. Sexualities, Evolution and Gender, 6, 3–13.

Janelle, C. M., Hausenblas, H. A., Ellis, R., Coombes, S. A., & Duley, A. R. (2009). The time course of attentional allocation while women high and low in body dissatisfaction view self and model physiques. Psychology and Health, 24, 351–366.

Jansen, A., Nederkoorn, C., & Mulkens, S. (2005). Selective visual attention for ugly and beautiful body parts in eating disorders. Behaviour Research and Therapy, 43, 183–196.

Jasieńska, G., Ziomkiewicz, A., Ellison, P. T., Lipson, S. F., & Thune, I. (2004). Large breasts and narrow waists indicate high reproductive potential in women. Proceedings of the Royal Society: Biological Sciences, 271, 1213–1217.

Jiang, M. Y., & Vartanian, L. R. (2012). Attention and memory biases toward body-related images among restrained eaters. Body Image, 9, 503–509.

Lykins, A. D., Meana, M., & Strauss, G. P. (2008). Sex differences in visual attention to erotic and non-erotic stimuli. Archives of Sexual Behavior, 37, 219–228.

Lykins, A. D., Ferris, T., & Graham, C. A. (2014). Body region dissatisfaction predicts attention to body regions on other women. Body Image, 11, 404–408.

Mo, J. J., Cheung, K. W., Gledhill, L. J., Pollet, T. V., Boothroyd, L. G., & Tovée, M. J. (2013). Perceptions of female body size and shape in China, Hong Kong, and the United Kingdom. Cross-Cultural Research, 48, 78–103.

Moody, A. (2012). Adult anthropometric measures, overweight and obesity. Health Survey for England. London: The Health and Social Care Information Centre.

Nummenmaa, L., Hietanen, J. K., Santtila, P., & Hyönä, J. (2012). Gender and visibility of sexual cues influence eye movements while viewing faces and bodies. Archives of Sexual Behavior, 41, 1439–1451.

O'Connor, J. J. M., & Feinberg, D. R. (2012). The influence of facial masculinity and voicepitch on jealousy and perceptions of intrasexual rivalry. Personality and Individual Differences, 52, 369–373.

Pawlowski, B., & Dunbar, R. I. (1999). Impact of market value on human mate choice decisions. Proceedings of the Royal Society: Biological Sciences, 266, 281–285.

Rich-Edwards, J. W., Spiegelman, D., Garland, M., Hertzmark, E., Hunter, D. J., Colditz, G. A., & Manson, J. E. (2002). Physical activity, body mass index, and ovulatory disorder infertility. Epidemiology, 13, 184–190.

Roefs, A., Jansen, A., Moresi, S., Willems, P., van Grootel, S., & van der Borgh, A. (2008). Looking good. BMI, attractiveness bias and visual attention. Appetite, 51, 552–555.

Röhrbein, F., Goddard, P., Schneider, M., James, G., & Guo, K. (2015). How does image noise affect actual and predicted human gaze allocation in assessing image quality? Vision Research, 112, 11–25.

Rupp, H. A., & Wallen, K. (2007). Sex differences in viewing sexual stimuli: an eye-tracking study in men and women. Hormones and Behavior, 51, 524–533.

Singh, D. (1993). Adaptive significance of female physical attractiveness: role of waist-to-hip ratio. Journal of Personality and Social Psychology, 65, 293–307.

Singh, D., & Singh, D. (2011). Shape and significance of feminine beauty: an evolutionary perspective. Sex Roles, 64, 723–731.

Singh, D., & Young, R. K. (1995). Body weight, waist-to-hip ratio, breasts, and hips: role in judgements of female attractiveness and desirability for relationships. Ethology and Sociobiology, 16, 483–507.

Smith, K. L., Cornelissen, P. L., & Tovée, M. J. (2007). Color 3D bodies and judgements of human female attractiveness. Evolution and Human Behavior, 28, 48–54.

Stice, E., & Shaw, H. E. (2002). Role of body dissatisfaction in the onset and maintenance of eating pathology: a synthesis of research findings. Journal of Psychosomatic Research, 53, 985–993.

Tatler, B. W. (2007). The central fixation bias in scene viewing: Selecting an optimal viewing position independently of motor biases and image feature distributions. Journal of Vision, 7(14), 1–17.

Thompson, J. K., Heinberg, L., & Tantleff, S. (1991). The physical appearance comparison scale (pacs). The Behavior Therapist, 14, 174.

Tovée, M. J., Reinhardt, S., Emery, J. L., & Cornelissen, P. L. (1998). Optimum body-mass index and maximum sexual attractiveness. The Lancet, 352, 548.

Weeden, J., & Sabini, J. (2005). Physical attractiveness and health in western societies: a review. Psychological Bulletin, 131, 635–653.

Yarbus, A. (1967). Eye movements and vision. New York: Plenum.
About this article
Cite this article
Cundall, A., Guo, K. Women gaze behaviour in assessing female bodies: the effects of clothing, body size, own body composition and body satisfaction. Psychological Research 81, 1–12 (2017). https://doi.org/10.1007/s00426-015-0726-1
Received:

Accepted:

Published:

Issue Date:

DOI: https://doi.org/10.1007/s00426-015-0726-1
Keywords
Body Dissatisfaction

Female Body

Body Satisfaction

Body Perception

Clothing Type