Abstract
Main conclusion
Responses of plant biomass and yield components to warming are species-specific and are shifted as increased warming magnitude rises; this finding improves the results of IPCC AR5.
Abstract
The responses of crop yields to climatic warming have been extensively reported from experimental results, historical yield collections, and modeling research. However, an integrative report on the responses of plant biomass and yield components of three major crops to experimental warming is lacking. Here, a meta-analysis based on the most recent warming experiments was conducted to quantify the climatic warming responses of the biomass, grain yield (GY), and yield components of three staple crops. The results showed that the wheat total aboveground biomass (TAGB) increased by 6.0% with general warming, while the wheat GY did not significantly respond to warming; however, the responses shifted with increases in the mean growing season temperature (MGST). Negative effects on wheat TAGB and GY appeared when the MGSTs were above 15 °C and 13 °C, respectively. The wheat GY and the number of grains per panicle decreased by 8.4% and 7.5%, respectively, per degree Celsius increase. Increases in temperature significantly reduced the rice TAGB and GY by 4.3% and 16.6%, respectively, but rice straw biomass increased with increasing temperature. However, the rice grain weight and the number of panicles decreased with continuous increasing temperature (ΔTa). The maize biomass, GY, and yield components all generally decreased with climatic warming. Finally, the crop responses to climatic warming were significantly influenced by warming time, warming treatment facility, and methods. Our findings can improve the assessment of crop responses to climatic warming and are useful for ensuring food security while combating future global climate change.
Access options
Buy single article
Instant access to the full article PDF.
USD 39.95
Price includes VAT (USA)
Tax calculation will be finalised during checkout.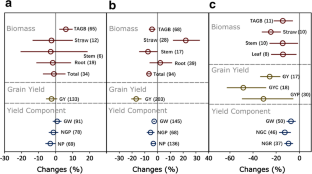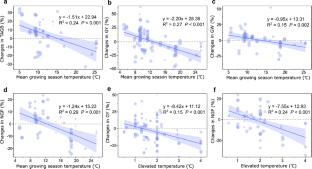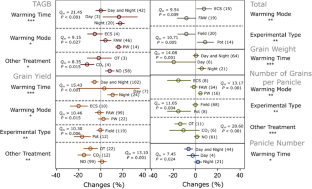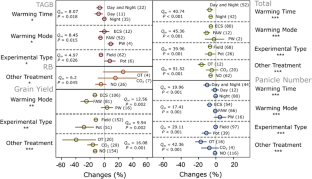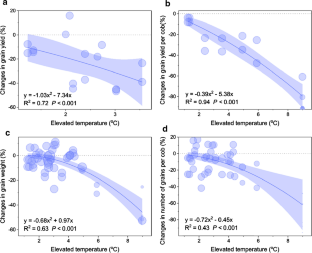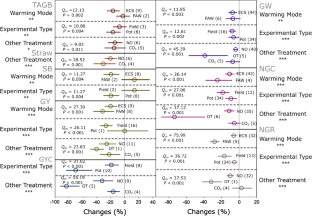 Abbreviations
GW:

Grain weight

GY:

Grain yield

MGST:

Mean growing season temperature

NGC:

Number of grains per cob

NGP:

Number of grains per panicle

NGR:

Number of grains per row

NP:

Number of panicles per unit area

TAGB:

Total aboveground biomass
References
Anderson R, Bayer PE, Edwards D (2020) Climate change and the need for agricultural adaptation. Curr Opin Plant Biol 56:197–202. https://doi.org/10.1016/j.pbi.2019.12.006

Asseng S, Ewert F, Rosenzweig C et al (2013) Uncertainty in simulating wheat yields under climate change. Nat Clim Chang 3:827–832. https://doi.org/10.1038/nclimate1916

Asseng S, Ewert F, Martre P et al (2015) Rising temperatures reduce global wheat production. Nat Clim Chang 5:143–147. https://doi.org/10.1038/nclimate2470

Barnabás B, Jäger K, Fehér A (2008) The effect of drought and heat stress on reproductive processes in cereals. Plant Cell Environ 31:11–38

Bassu S, Brisson N, Durand JL et al (2014) How do various maize crop models vary in their responses to climate change factors? Glob Chang Biol 20:2301–2320. https://doi.org/10.1111/gcb.12520

Burda BU, O'Connor EA, Webber EM, Redmond N, Perdue LA (2017) Estimating data from figures with a Web-based program: considerations for a systematic review. Res Synth Methods 8:258–262. https://doi.org/10.1002/jrsm.1232

Carlen C, Kolliker R, Nosberger J (1999) Dry matter allocation and nitrogen productivity explain growth responses to photoperiod and temperature in forage grasses. Oecologia 121:441–446. https://doi.org/10.1007/s004420050950

Challinor AJ, Ewert F, Arnold S, Simelton E, Fraser E (2009) Crops and climate change: progress, trends, and challenges in simulating impacts and informing adaptation. J Exp Bot 60:2775–2789. https://doi.org/10.1093/jxb/erp062

Challinor AJ, Watson J, Lobell DB, Howden SM, Smith DR, Chhetri N (2014) A meta-analysis of crop yield under climate change and adaptation. Nat Clim Chang 4:287–291. https://doi.org/10.1038/nclimate2153

Challinor AJ, Mueller C, Asseng S, Deva C, Nicklin KJ, Wallach D, Vanuytrecht E, Whitfield S, Ramirez-Villegas J, Koehler AK (2018) Improving the use of crop models for risk assessment and climate change adaptation. Agric Syst 159:296–306. https://doi.org/10.1016/j.agsy.2017.07.010

Dong W, Deng A, Zhang B, Tian Y, Chen J, Yang F, Zhang W (2011) An experimental study on the effects of different diurnal warming regimes on single cropping rice with free air temperature increased (FATI) facility. Acta Ecol Sin 31:2169–2177

Edmonds JA, Rosenberg NJ (2005) Climate change impacts for the conterminous USA: an integrated assessment summary. Clim Chang 69:151–162. https://doi.org/10.1007/s10584-005-3613-8

Elmendorf SC, Henry GHR, Hollister RD et al (2012) Global assessment of experimental climate warming on tundra vegetation: heterogeneity over space and time. Ecol Lett 15:164–175. https://doi.org/10.1111/j.1461-0248.2011.01716.x

Fang SB, Cammarano D, Zhou GS, Tan KY, Ren SX (2015) Effects of increased day and night temperature with supplemental infrared heating on winter wheat growth in North China. Eur J Agron 64:67–77. https://doi.org/10.1016/j.eja.2014.12.012

Gibson LR, Paulsen GM (1999) Yield components of wheat grown under high temperature stress during reproductive growth. Crop Sci 39:1841–1846. https://doi.org/10.2135/cropsci1999.3961841x

Guan K, Sultan B, Biasutti M, Baron C, Lobell DB (2017) Assessing climate adaptation options and uncertainties for cereal systems in West Africa. Agric For Meteorol 232:291–305. https://doi.org/10.1016/j.agrformet.2016.07.021

Gurevitch J, Koricheva J, Nakagawa S, Stewart G (2018) Meta-analysis and the science of research synthesis. Nature 555:175–182. https://doi.org/10.1038/nature25753

Hatfield JL, Wright-Morton L, Hall B (2018) Vulnerability of grain crops and croplands in the Midwest to climatic variability and adaptation strategies. Clim Chang 146:263–275. https://doi.org/10.1007/s10584-017-1997-x

Hedges LV, Gurevitch J, Curtis PS (1999) The meta-analysis of response ratios in experimental ecology. Ecol 80:1150–1156. https://doi.org/10.2307/177062

Hu CX, Yu JH, Sun SZ, Yan YY, Guo H, Tan ZW, Jiang D, Cao WX, Dai TB (2019) Reduced 15N losses by winter and spring night-warming are related to root distribution of winter wheat. Front Plant Sci 10:14. https://doi.org/10.3389/fpls.2019.00771

IPCC (2014) Climate change 2014: synthesis report. In: Pachauri RK, Meyer LA (eds) Core writing team, contribution of working groups I, II and III to the fifth assessment report of the intergovernmental panel on climate change. IPCC, Geneva, Switzerland

IPCC (2018) Summary for Policymakers. In: Masson-Delmotte V, Zhai P, Pörtner HO et al (eds) Global warming of 1.5°C. An IPCC Special Report on the impacts of global warming of 1.5°C above preindustrial levels and related global greenhouse gas emission pathways, in the context of strengthening the global response to the threat of climate change, sustainable development, and efforts to eradicate poverty. World Meteorological Organization, Geneva, Switzerland

Kaspar TC, Bland WL (1992) Soil-temperature and root-growth. Soil Sci 154:290–299. https://doi.org/10.1097/00010694-199210000-00005

Knox J, Hess T, Daccache A, Wheeler T (2012) Climate change impacts on crop productivity in Africa and South Asia. Environ Res Lett. https://doi.org/10.1088/1748-9326/7/3/034032

Koricheva J, Gurevitch J (2014) Uses and misuses of meta-analysis in plant ecology. J Ecol 102:828–844. https://doi.org/10.1111/1365-2745.12224

Lau J, Rothstein HR, Stewart GB (2013) The handbook of meta-analysis in ecology evolution. Princeton University Press, Princeton

Leng G, Hall J (2019) Crop yield sensitivity of global major agricultural countries to droughts and the projected changes in the future. Sci Total Environ 654:811–821. https://doi.org/10.1016/j.scitotenv.2018.10.434

Lobell DB, Field CB (2007) Global scale climate—crop yield relationships and the impacts of recent warming. Environ Res Lett 2:7. https://doi.org/10.1088/1748-9326/2/1/014002

Long SP, Zhu XG, Naidu SL, Ort DR (2006) Can improvement in photosynthesis increase crop yields? Plant Cell Environ 29:315–330. https://doi.org/10.1111/j.1365-3040.2005.01493.x

Luo YQ, Hui DF, Zhang DQ (2006) Elevated CO2 stimulates net accumulations of carbon and nitrogen in land ecosystems: a meta-analysis. Ecology 87:53–63. https://doi.org/10.1890/04-1724

Lv Z, Zhu Y, Liu X, Ye H, Tian Y, Li F (2018) Climate change impacts on regional rice production in China. Clim Chang 147:523–537. https://doi.org/10.1007/s10584-018-2151-0

Maiorano A, Martre P, Asseng S et al (2017) Crop model improvement reduces the uncertainty of the response to temperature of multi-model ensembles. Field Crops Res 202:5–20. https://doi.org/10.1016/j.fcr.2016.05.001

Makowski D, Marajo-Petitzon E, Durand JL, Ben-Ari T (2020) Quantitative synthesis of temperature, CO2, rainfall, and adaptation effects on global crop yields. Eur J Agron 115:126041. https://doi.org/10.1016/j.eja.2020.126041

Ottman MJ, Kimball BA, White JW, Wall GW (2012) Wheat growth response to increased temperature from varied planting dates and supplemental infrared heating. Agron J 104:7–16. https://doi.org/10.2134/agronj2011.0212

Parry M, Rosenzweig C, Livermore M (2005) Climate change, and risk global food supply of hunger. Philos Trans R Soc Lond B Biol Sci 360:2125–2138. https://doi.org/10.1098/rstb.2005.1751

Peng B, Guan K, Tang J et al (2020) Towards a multiscale crop modelling framework for climate change adaptation assessment. Nat Plants 6:338–348. https://doi.org/10.1038/s41477-020-0625-3

Porter JR, Xie L, Challinor AJ, Cochrane K, Howden SM, Iqbal MM, Lobell DB, Travasso MI (2014) Food security and food production systems. Cambridge University Press, Cambridge

R Core Team (2017) R: a language and environment for statistical computing. R Foundation for Statistical Computing, Vienna, Austria. https://www.R-project.org/. Accessed 15 Oct 2020

Romero GQ, Goncalves-Souza T, Vieira C, Koricheva J (2015) Ecosystem engineering effects on species diversity across ecosystems: a meta-analysis. Biol Rev 90:877–890. https://doi.org/10.1111/brv.12138

Rosenberg MS (2005) The file-drawer problem revisited: a general weighted method for calculating fail-safe numbers in meta-analysis. Evolution 59:464–468. https://doi.org/10.1111/j.0014-3820.2005.tb01004.x

Rosenthal R (1979) The file drawer problem and tolerance for null results. Psychol Bull 86:638–641. https://doi.org/10.1037/0033-2909.86.3.638

Rosenzweig C, Elliott J, Deryng D et al (2014) Assessing agricultural risks of climate change in the 21st century in a global gridded crop model intercomparison. Proc Natl Acad Sci USA 111:3268–3273. https://doi.org/10.1073/pnas.1222463110

Rotter RP, Carter TR, Olesen JE, Porter JR (2011) Crop-climate models need an overhaul. Nat Clim Chang 1:175–177

Sacks WJ, Deryng D, Foley JA, Ramankutty N (2010) Crop planting dates: an analysis of global patterns. Glob Ecol Biogeogr 19:607–620. https://doi.org/10.1111/j.1466-8238.2010.00551.x

Tao F, Zhang Z (2010) Adaptation of maize production to climate change in North China Plain: quantify the relative contributions of adaptation options. Eur J Agron 33:103–116. https://doi.org/10.1016/j.eja.2010.04.002

Tian YL, Chen J, Chen CQ, Deng AX, Song ZW, Zheng CY, Hoogmoed W, Zhang WJ (2012) Warming impacts on winter wheat phenophase and grain yield under field conditions in Yangtze Delta Plain, China. Field Crops Res 134:193–199. https://doi.org/10.1016/j.fcr.2012.05.013

Veroniki AA, Jackson D, Viechtbauer W, Bender R, Bowden J, Knapp G, Kuss O, Higgins JPT, Langan D, Salanti G (2016) Methods to estimate the between-study variance and its uncertainty in meta-analysis. Res Synth Methods 7:55–79. https://doi.org/10.1002/jrsm.1164

Viechtbauer W (2007) Accounting for heterogeneity via random-effects models and moderator analyses in meta-analysis. J Psychol 215:104–121. https://doi.org/10.1027/0044-3409.215.2.104

Viechtbauer W (2010) Conducting meta-analyses in R with the metafor package. J Stat Softw 36:1–48. https://doi.org/10.18637/jss.v036.i03

Vogel E, Donat MG, Alexander LV, Meinshausen M, Ray DK, Karoly D, Meinshausen N, Frieler K (2019) The effects of climate extremes on global agricultural yields. Environ Res Lett 14:054010. https://doi.org/10.1088/1748-9326/ab154b

Xiong DL, Ling XX, Huang JL, Peng SB (2017) Meta-analysis and dose-response analysis of high temperature effects on rice yield and quality. Environ Exp Bot 141:1–9. https://doi.org/10.1016/j.envexpbot.2017.06.007

Xu WF, Yuan WP (2017) Responses of microbial biomass carbon and nitrogen to experimental warming: a meta-analysis. Soil Biol Biochem 115:265–274. https://doi.org/10.1016/j.soilbio.2017.08.033

Xu ZZ, Shimizu H, Ito S, Yagasaki Y, Zou CJ, Zhou GS, Zheng YR (2014) Effects of elevated CO2, warming and precipitation change on plant growth, photosynthesis and peroxidation in dominant species from North China grassland. Planta 239:421–435. https://doi.org/10.1007/s00425-013-1987-9

Yang JC, Zhang JH (2006) Grain filling of cereals under soil drying. New Phytol 169:223–236. https://doi.org/10.1111/j.1469-8137.2005.01597.x

Zhao C, Liu B, Piao S et al (2017) Temperature increase reduces global yields of major crops in four independent estimates. Proc Natl Acad Sci USA 114:9326–9331. https://doi.org/10.1073/pnas.1701762114

Zheng CY, Zhang J, Chen J, Chen CQ, Tian YL, Deng AX, Song ZW, Nawaz MM, van Groenigen KJ, Zhang WJ (2017) Nighttime warming increases winter-sown wheat yield across major Chinese cropping regions. Field Crops Res 214:202–210. https://doi.org/10.1016/j.fcr.2017.09.014

Zheng H, Ying H, Yin Y, Wang Y, He G, Bian Q, Cui Z, Yang Q (2019) Irrigation leads to greater maize yield at higher water productivity and lower environmental costs: a global meta-analysis. Agric Ecosyst Environ 273:62–69. https://doi.org/10.1016/j.agee.2018.12.009
Acknowledgements
This study was jointly funded by National Key Research and Development Program of China (2016YFD0300106), China Special Fund for Meteorological Research in the Public Interest (GYHY201506001-3), and National Natural Science Foundation of China (41330531). The authors are grateful to Yuhui Wang, Bingrui Jia, Yanling Jiang, and Feng Zhang for their loyal helps during this study.
Additional information
Publisher's Note
Springer Nature remains neutral with regard to jurisdictional claims in published maps and institutional affiliations.
Communicated by Dorothea Bartels.
Electronic supplementary material
Below is the link to the electronic supplementary material.
About this article
Cite this article
Liu, X., Ma, Q., Yu, H. et al. Responses of plant biomass and yield component in rice, wheat, and maize to climatic warming: a meta-analysis. Planta 252, 90 (2020). https://doi.org/10.1007/s00425-020-03495-y
Received:

Accepted:

Published:
Keywords
Aboveground biomass

Climatic change

Crop production

Grain yield

Staple crops