Abstract
Main conclusion
Early cytokinin activity and late abscisic acid dynamics during wheat kernel development correspond to cultivars with higher yield potential. Cytokinins represent prime targets for marker development for wheat breeding programs.
Abstract
Two major phytohormone groups, abscisic acid (ABA) and cytokinins (CKs), are of crucial importance for seed development. Wheat (Triticum aestivum L.) yield is, to a high degree, determined during the milk and dough stages of kernel development. Therefore, understanding the hormonal regulation of these early growth stages is fundamental for crop-improvement programs of this important cereal. Here, we profiled ABA and 25 CK metabolites (including active forms, precursors and inactive conjugates) during kernel development in five field-grown wheat cultivars. The levels of ABA and profiles of CK forms varied greatly among the tested cultivars and kernel stages suggesting that several types of CK metabolites are involved in spatiotemporal regulation of kernel development. The seed yield potential was associated with the elevated levels of active CK levels (tZ, cZ). Interestingly, the increased kernel cZ levels were followed by higher ABA production, suggesting there is an interaction between these two phytohormones. Furthermore, we analyzed the expression patterns of representatives of the four main CK metabolic gene families. The unique transcriptional patterns of the IPT (biosynthesis) and ZOG (reversible inactivation) gene family members (GFMs) in the high and low yield cultivars additionally indicate that there is a significant association between CK metabolism and yield potential in wheat. Based on these results, we suggest that both CK metabolites and their associated genes, can serve as important, early markers of yield performance in modern wheat breeding programs.
This is a preview of subscription content, log in to check access.
Access options
Buy single article
Instant access to the full article PDF.
US$ 39.95
Tax calculation will be finalised during checkout.
Subscribe to journal
Immediate online access to all issues from 2019. Subscription will auto renew annually.
US$ 199
Tax calculation will be finalised during checkout.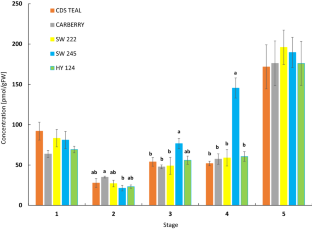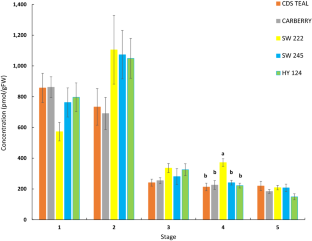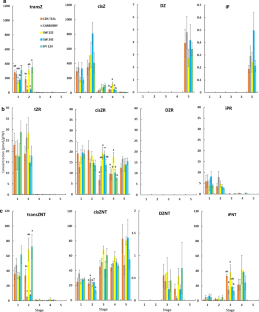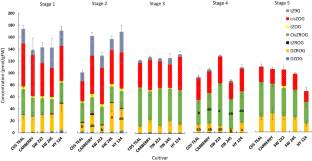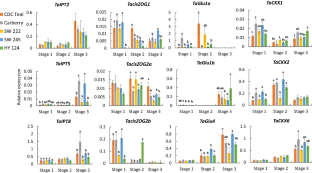 Abbreviations
CK:

Cytokinin

Daa:

Days after anthesis

DZ:

Dihydrozeatin

FB:

Free bases (tZ + cZ + DZ + iP)

GLUC:

Glucosides (tZOG + tZ9G + tZROG + cZOG + cZ9G + cZROG + DZOG + DZ9G + DZROG)

iP:

Isopentenyladenine

NT:

Nucleotides (tZNT + cZNT + DZNT + iPNT)

RB:

Ribosides (tZR + cZR + DZR + iPR)

cZ/tZ:

cisZeatin/transZeatin

Z9G:

Zeatin-9-glucoside

ZOG:

Zeatin-O-glucoside

ZROG:

Zeatin riboside-O-glucoside
References
Ali A, Cao J, Jiang H, Chang C, Zhang HP, Sheikh SW, Shah L, Ma C (2019) Unraveling molecular and genetic studies of wheat (Triticum aestivum L.) resistance against factors causing pre-harvest sprouting. Agronomy 9(3):117–146. https://doi.org/10.3390/agronomy9030117

Banowetz GM, Ammar K, Chen DD (1999) Postanthesis temperatures influence cytokinin accumulation and wheat kernel weight. Plant Cell Environ 22:309–316. https://doi.org/10.1046/j.1365-3040.1999.00411.x

Botelho SR, Martins TP, Duarte MF, Barbosa AV, Lau D, Fernandes FR, Sanches MM (2016) Development of methodologies for virus detection in soybean and wheat seeds. MethodsX 3:62–68. https://doi.org/10.1016/j.mex.2016.01.005

Böttcher C, Burbidge CA, Boss PK, Davies C (2015) Changes in transcription of cytokinin metabolism and signalling genes in grape (Vitis vinifera L) berries are associated with the ripening-related increase in isopentenyladenine. BMC Plant Biol 15(1):223–238. https://doi.org/10.1186/s12870-015-0611-5

Chen L, Zhao J, Song J, Jameson PE (2020) Cytokinin dehydrogenase: a genetic target for yield improvement in wheat. Plant Biotechnol J 18(3):614–630. https://doi.org/10.1111/pbi.13305

Curtis T, Halford NG (2014) Food security: the challenge of increasing wheat yield and the importance of not compromising food safety. Ann Appl Biol 164(3):354–372. https://doi.org/10.1111/aab.12108

Daudu D, Allion E, Liesecke F, Papon N, Courdavault V, Dugé de Bernonville T, Mélin C, Oudin A, Clastre M, Lanoue A, Courtois M (2017) CHASE-containing histidine kinase receptors in apple tree: from a common receptor structure to divergent cytokinin binding properties and specific functions. Front Plant Sci 8:1614–1629. https://doi.org/10.3389/fpls.2017.01614

Doll NM, Depège-Fargeix N, Rogowsky PM, Widiez T (2017) Signaling in early maize kernel development. Mol Plant 10(3):375–388. https://doi.org/10.1016/j.molp.2017.01.008

Emery RJN, Leport L, Barton JE, Turner NC, Atkins CA (1998a) cis-Isomers of cytokinins predominate in chickpea seeds throughout their development. Plant Physiol 117(4):1515–1523. https://doi.org/10.1104/PP.117.4.1515

Emery RJN, Longnecker NE, Atkins CA (1998b) Branch development in Lupinus angustifolius L. II. Relationship with endogenous ABA, IAA and cytokinins in axillary and main stem buds. J Exp Bot 49(320):555–562. https://doi.org/10.1093/jxb/49.320.555

Emery RJN, Ma Q, Atkins CA (2000) The forms and sources of cytokinins in developing white lupine seeds and fruits. Plant Physiol 123(4):1593–1604. https://doi.org/10.1104/pp.123.4.1593

Farrow SC, Emery RJN (2012) Concurrent profiling of indole-3-acetic acid, abscisic acid, and cytokinins and structurally related purines by high-performance-liquid-chromatography tandem electrospray mass spectrometry. Plant Methods 8:42–60. https://doi.org/10.1186/1746-4811-8-42

Fidler J, Grabowska A, Prabucka B, Więsyk A, Góra-Sochacka A, Bielawski W, Pojmaj M, Zdunek-Zastocka E (2018) The varied ability of grains to synthesize and catabolize ABA is one of the factors affecting dormancy and its release by after-ripening in imbibed triticale grains of cultivars with different pre-harvest sprouting susceptibilities. J Plant Physiol 226:48–55. https://doi.org/10.1016/j.jplph.2018.03.021

Gao F, Ayele BT (2014) Functional genomics of seed dormancy in wheat: advances and prospects. Front Plant Sci 5:458–469. https://doi.org/10.3389/fpls.2014.00458

Gardiner LJ, Joynson R, Omony J, Rusholme-Pilcher R, Olohan L, Lang D, Bai C, Hawkesford M, Salt D, Spannagl M, Mayer KF (2018) Hidden variation in polyploid wheat drives local adaptation. Genome Res 28(9):1319–1332. https://doi.org/10.1101/gr.233551.117

Gu B, Zhou T, Luo J, Liu H, Wang Y, Shangguan Y, Zhu J, Li Y, Sang T, Wang Z, Han B (2015) An-2 encodes a cytokinin synthesis enzyme that regulates awn length and grain production in rice. Mol Plant 8(11):1635–1650. https://doi.org/10.1016/j.molp.2015.08.001

Hess JR, Carman JG, Banowetz GM (2002) Hormones in wheat kernels during embryony. J Plant Physiol 159:379–386. https://doi.org/10.1078/0176-1617-00718

Hirose N, Takei K, Kuroha T, Kamada-Nobusada T, Hayashi H, Sakakibara H (2008) Regulation of cytokinin biosynthesis, compartmentalization and translocation. J Exp Bot 59(1):75–83. https://doi.org/10.1093/jxb/erm157

Hluska T, Dobrev PI, Tarkowská D, Frébortová J, Zalabák D, Kopečný D, Plíhal O, Kokáš F, Briozzo P, Zatloukal M, Motyka V (2016) Cytokinin metabolism in maize: novel evidence of cytokinin abundance, interconversions and formation of a new trans-zeatin metabolic product with a weak anticytokinin activity. Plant Sci 247:127–137. https://doi.org/10.1016/j.plantsci.2016.03.014

Holubová K, Hensel G, Vojta P, Tarkowski P, Bergougnoux V, Galuszka P (2018) Modification of barley plant productivity through regulation of cytokinin content by reverse-genetics approaches. Front Plant Sci 9:1676–1694. https://doi.org/10.3389/fpls.2018.01676

Hošek P, Hoyerová K, Kiran NS, Dobrev PI, Zahajská L, Filepová R, Motyka V, Kamínek MK, M, (2020) Distinct metabolism of N-glucosides of isopentenyladenine and trans-zeatin determines cytokinin metabolic spectrum in Arabidopsis. New Phytol 225(6):2423–2438. https://doi.org/10.1111/nph.16310

Huang Y, Sun MM, Ye Q, Wu XQ, Wu WH, Chen YF (2017) Abscisic acid modulates seed germination via ABA INSENSITIVE5-mediated PHOSPHATE1. Plant Physiol 175(4):1661–1668. https://doi.org/10.1104/pp.17.00164

Jabłoński B, Ogonowska H, Szala K, Bajguz A, Orczyk W, Nadolska-Orczyk A (2020) Silencing of TaCKX1 mediates expression of the TaCKX genes to increase yield parameters in wheat. Int J Mol Sci 21(13):4809–4830. https://doi.org/10.3390/ijms21134809

Jameson PE, McWha JA, Wright GJ (1982) Cytokinins and changes in their activity during the development of grains of wheat (Triticum aestivum L.). Zeit Pflanzenphysiol 106:27–36

Jameson PE, Song J (2016) Cytokinin: a key driver of seed yield. J Exp Bot 67(3):593–606. https://doi.org/10.1093/jxb/erv461

Ji X, Dong B, Shiran B, Talbot MJ, Edlington JE, Hughes T, White RG, Gubler F, Dolferus R (2011) Control of abscisic acid catabolism and abscisic acid homeostasis is important for reproductive stage stress tolerance in cereals. Plant Physiol 156(2):647–662. https://doi.org/10.1104/pp.111.176164

Joshi S, Choukimath A, Isenegger D, Panozzo J, Spangenberg G, Kant S (2019) Improved wheat growth and yield by delayed leaf senescence using developmentally regulated expression of a cytokinin biosynthesis gene. Front Plant Sci 10:1285–1296. https://doi.org/10.3389/FPLS.2019.01285

Kambhampati S, Kurepin LV, Kisiala AB, Bruce KE, Cober ER, Morrison MJ, Emery RJN (2017) Yield associated traits correlate with cytokinin profiles in developing pods and seeds of field-grown soybean cultivars. Field Crops Res 214:175–184. https://doi.org/10.1016/j.fcr.2017.09.009

Kieber JJ, Schaller GE (2018) Cytokinin signaling in plant development. Development 4:145–152. https://doi.org/10.1242/dev.149344

Kieber JJ, Schaller GE (2014) Cytokinins. The Arabidopsis Book/ASPB 12-48. https://doi.org/10.1199/tab.0168

King RW (1976) Abscisic acid in developing wheat grains and its relationship to grain growth and maturation. Planta 132(1):43–51. https://doi.org/10.1007/BF00390329

Kudo T, Makita N, Kojima M, Tokunaga H, Sakakibara H (2012) Cytokinin activity of cis-zeatin and phenotypic alterations induced by overexpression of putative cis-zeatin-O-glucosyltransferase in rice. Plant Physiol 160(1):319–331. https://doi.org/10.1104/pp.112.196733

Li M, Tang D, Wang K, Wu X, Lu L, Yu H, Gu M et al (2011) Mutations in the F-box gene LARGER PANICLE improve the panicle architecture and enhance the grain yield in rice. Plant Biotech J 9:1002–1013. https://doi.org/10.1111/j.1467-7652.2011.00610.x

Li Z, Li F, Guo G, Gao Y, Ma W, Pan R, Guan Y, Hu J (2018) Evaluation of seed quality based on changes of internal substances during tobacco seed (Nicotiana tabacum L.) development. Plant Growth Regul 86:389–399. https://doi.org/10.1007/s10725-018-0437-x

Lenton JR, Appleford NEI (1986) Cytokinins and early growth in wheat. Monograph. British Plant Growth Regulator Group No 14:99–113

Liu B, Liu XB, Wang C, Jin J, Herbert SJ (2010) Endogenous hormones in seed, leaf, and pod wall and their relationship to seed filling in soybeans. Crop Pasture Sci 61(2):103–110. https://doi.org/10.1071/CP09189

Liu X, Hou X (2018) Antagonistic regulation of ABA and GA in metabolism and signaling pathways. Front Plant Sci 9:251–258. https://doi.org/10.3389/fpls.2018.00251

Locascio A, Roig-Villanova I, Bernardi J, Varotto S (2014) Current perspectives on the hormonal control of seed development in Arabidopsis and maize: a focus on auxin. Front Plant Sci 5:412–434. https://doi.org/10.3389/fpls.2014.00412

Lomin SN, Krivosheev DM, Steklov MY, Arkhipov DV, Osolodkin DI, Schmülling T, Romanov GA (2015) Plant membrane assays with cytokinin receptors underpin the unique role of free cytokinin bases as biologically active ligands. J Exp Bot 66(7):1851–1863. https://doi.org/10.1093/jxb/eru522

Lu J, Chang C, Zhang HP, Wang SX, Sun G, Xiao SH, Ma CX (2015) Identification of a novel allele of TaCKX6a02 associated with grain size, filling rate and weight of common wheat. PLoS ONE 10(12):e0144765. https://doi.org/10.1371/journal.pone.0144765

Lulsdorf MM, Yuan HY, Slater SM, Vandenberg A, Han X, Zaharia LI, Abrams SR (2013) Endogenous hormone profiles during early seed development of C. arietinum and C. anatolicum. Plant Growth Regul 71:191–198. https://doi.org/10.1007/s10725-013-9819-2

Luo Y, Tang Y, Zhang X, Li W, Chang Y, Pang D, Xu X, Li Y, Wang Z (2018) Interactions between cytokinin and nitrogen contribute to grain mass in wheat cultivars by regulating the flag leaf senescence process. Crop J 6(5):538–551. https://doi.org/10.1016/j.cj.2018.05.008

Ma C, Li B, Wang L, Xu ML, Lizhu E, Jin H, Wang Z, Ye JR (2019) Characterization of phytohormone and transcriptome reprogramming profiles during maize early kernel development. BMC Plant Biol 19:197–211. https://doi.org/10.1186/s12870-019-1808-9

Morris RO, Blevins DG, Dietrich JT, Durley RC, Gelvin SB, Gray J, Hommes NG, Kaminek M, Mathews LJ, Meilan R, Reinbott TM, Sayavedra-Soto L (1993) Cytokinins in plant pathogenic bacteria and developing cereal grains. Funct Plant Biol 20(5):621–637. https://doi.org/10.1071/PP9930621

Nguyen TQ, Kisiala A, Andreas P, Emery RJN, Narine S (2016) Soybean seed development: fatty acid and phytohormone metabolism and their interactions. Curr Genomics 17(3):241–260. https://doi.org/10.2174/1389202917666160202220238

Palmer LJ, Dias DA, Boughton B, Roessner U, Graham RD, Stangoulis JR (2014) Metabolite profiling of wheat (Triticum aestivum L) phloem exudate. Plant Methods 10(1):27–36. https://doi.org/10.1186/1746-4811-10-27

Peleg Z, Reguera M, Tumimbang E, Walia H, Blumwald E (2011) Cytokinin-mediated source/sink modifications improve drought tolerance and increase grain yield in rice under water-stress. Plant Biotechnol J 9(7):747–758. https://doi.org/10.1111/j.1467-7652.2010.00584.x

Powell AF, Paleczny AR, Olechowski H, Emery RJN (2013) Changes in cytokinin form and concentration in developing kernels correspond with variation in yield among field-grown barley cultivars. Plant Physiol Biochem 64:33–40. https://doi.org/10.1016/j.plaphy.2012.12.010

Prerostova S, Dobrev PI, Gaudinova A, Knirsch V, Körber N, Pieruschka R, Fiorani F, Brzobohatý B, Spichal L, Humplik J, Vanek T (2018) Cytokinins: their impact on molecular and growth responses to drought stress and recovery in Arabidopsis. Front Plant Sci 9:655–669. https://doi.org/10.3389/fpls.2018.00655

Quesnelle PE, Emery RJN (2007) cis-Cytokinins that predominate in Pisum sativum during early embryogenesis will accelerate embryo growth in vitro. Botany 85(1):91–103. https://doi.org/10.1139/B06-149

Reynolds M, Braun H (2019) Benefits to low-input agriculture. Nat Plants 5(7):652–653. https://doi.org/10.1038/s41477-019-0462-4

Sakakibara H (2006) Cytokinins: activity, biosynthesis, and translocation. Annu Rev Plant Biol 57:431–449. https://doi.org/10.1146/annurev.arplant.57.032905.105231

Schäfer M, Brütting C, Meza-Canales ID, Großkinsky DK, Vankova R, Baldwin IT, Meldau S (2015) The role of cis-zeatin-type cytokinins in plant growth regulation and mediating responses to environmental interactions. J Exp Bot 66(16):4873–4884. https://doi.org/10.1093/jxb/erv214

Shewry PR, Hey SJ (2015) The contribution of wheat to human diet and health. Food Energy Secur 4(3):178–202. https://doi.org/10.1002/fes3.64

Shoaib M, Yang W, Shan Q, Sajjad M, Zhang A (2019) Genome-wide identification and expression analysis of new cytokinin metabolic genes in bread wheat (Triticum aestivum L.). PeerJ 7:e6300. https://doi.org/10.7717/peerj.6300

Son S, Chitnis VR, Liu A, Gao F, Nguyen TN, Ayele BT (2016) Abscisic acid metabolic genes of wheat (Triticum aestivum L): identification and insights into their functionality in seed dormancy and dehydration tolerance. Planta 244(2):429–447. https://doi.org/10.1007/s00425-016-2518-2

Song J, Jiang L, Jameson PE (2012) Co-ordinate regulation of cytokinin gene family members during flag leaf and reproductive development in wheat. BMC Plant Biol 12(1):78–95. https://doi.org/10.1186/1471-2229-12-78

Sun M, Yamasaki Y, Ayele BT (2018) Comparative expression analysis of starch degrading genes between dormant and non-dormant wheat seeds. Plant Signal Behav 13(1):e1411449. https://doi.org/10.1080/15592324.2017.1411449

Sýkorová B, Kurešová G, Daskalova S, Trčková M, Hoyerová K, Raimanová I, Motyka V, Trávníčková A, Elliott MC, Kamínek M (2008) Senescence-induced ectopic expression of the A. tumefaciens ipt gene in wheat delays leaf senescence, increases cytokinin content, nitrate influx, and nitrate reductase activity, but does not affect grain yield. J Exp Bot 59:377–387. https://doi.org/10.1093/jxb/erm319

Takagi M, Yokota T, Murofushi N, Saka H, Takahashi N (1989) Quantitative changes of free-base, riboside, ribotide and glucoside cytokinins in developing rice grains. Plant Growth Regul 8:349–364. https://doi.org/10.1007/BF00024665

Thiel J (2014) Development of endosperm transfer cells in barley. Front Plant Sci 5:108–120. https://doi.org/10.3389/fpls.2014.00108

Tuan PA, Kumar R, Rehal PK, Toora PK, Ayele BT (2018) Molecular mechanisms underlying abscisic acid/gibberellin balance in the control of seed dormancy and germination in cereals. Front Plant Sci 9:668–682. https://doi.org/10.3389/fpls.2018.00668

Tuan PA, Yamasaki Y, Kanno Y, Seo M, Ayele BT (2019) Transcriptomics of cytokinin and auxin metabolism and signaling genes during seed maturation in dormant and non-dormant wheat genotypes. Sci Rep 9:3983–3999. https://doi.org/10.1038/s41598-019-40657-9

Wang K, Riaz B, Ye X (2018) Wheat genome editing expedited by efficient transformation techniques: progress and perspectives. Crop J 6(1):22–31. https://doi.org/10.1016/j.cj.2017.09.009

Wang X, Liu D, Wei M, Man J (2020) Spraying 6-BA could alleviate the harmful impacts of waterlogging on dry matter accumulation and grain yield of wheat. PeerJ 8:e8193. https://doi.org/10.7717/peerj.8193

Wani SH, Kumar V, Shriram V, Sah SK (2016) Phytohormones and their metabolic engineering for abiotic stress tolerance in crop plants. Crop J 4(3):162–176. https://doi.org/10.1016/j.cj.2016.01.010

Wheeler AW (1972) Changes in growth-substance contents during growth of wheat grains. Ann Appl Biol 72(3):327–334. https://doi.org/10.1111/j.1744-7348.1972.tb01300.x

Yamaguchi S, Kamiya Y, Nambara E (2018) Regulation of ABA and GA levels during seed development and germination in Arabidopsis. Annu Plant Rev (Online) 224–247. https://doi.org/10.1002/9780470988848.ch9

Yamburenko MV, Kieber JJ, Schaller GE (2017) Dynamic patterns of expression for genes regulating cytokinin metabolism and signaling during rice inflorescence development. PLoS ONE 12(4):e0176060. https://doi.org/10.1371/journal.pone.0176060

Yang D, Li Y, Shi Y, Cui Z, Luo Y, Zheng M, Chen J, Li Y, Yin Y, Wang Z (2016) Exogenous cytokinins increase grain yield of winter wheat cultivars by improving stay-green characteristics under heat stress. PLoS ONE 11(5):e0155437. https://doi.org/10.1371/journal.pone.0155437

Yang J, Peng S, Visperas RM, Sanico AL, Zhu Q, Gu S (2000) Grain filling pattern and cytokinin content in the grains and roots of rice plants. Plant Growth Regul 30:261–270. https://doi.org/10.1023/A:1006356125418

Yaronskaya E, Vershilovskaya I, Poers Y, Alawady AE, Averina N, Grimm B (2006) Cytokinin effects on tetrapyrrole biosynthesis and photosynthetic activity in barley seedlings. Planta 224(3):700–709. https://doi.org/10.1007/s00425-006-0249-5

Zadoks JC, Chang TT, Konzak CF (1974) A decimal code for the growth stages of cereals. Weed Res 14(6):415–421. https://doi.org/10.1111/j.1365-3180.1974.tb01084.x

Zavaleta-Mancera HA, López-Delgado H, Loza-Tavera H, Mora-Herrera M, Trevilla-García C, Vargas-Suárez M, Ougham H (2007) Cytokinin promotes catalase and ascorbate peroxidase activities and preserves the chloroplast integrity during dark-senescence. J Plant Physiol 164(12):1572–1582. https://doi.org/10.1016/j.jplph.2007.02.003

Zhang H, Tan G, Yang L, Yang J, Zhang J, Zhao B (2009) Hormones in the grains and roots in relation to post-anthesis development of inferior and superior spikelets in japonica/indica hybrid rice. Plant Physiol Biochem 47(3):195–204. https://doi.org/10.1016/j.plaphy.2008.11.012

Zhao J, Bai W, Zeng Q, Song S, Zhang M, Li X, Hou L, Xiao Y, Luo M, Li D, Luo X (2015) Moderately enhancing cytokinin level by down-regulation of GhCKX expression in cotton concurrently increases fiber and seed yield. Mol Breed 35(2):60. https://doi.org/10.1007/s11032-015-0232-6
Acknowledgements
The authors acknowledge the funding support provided by the DOW AgroSciences Canada and Natural Sciences and Engineering Research Council of Canada (NSERC Discovery Grant No: RGPIN-2018-05436) to RJNE.
Ethics declarations
Conflict of interest
The authors declare that they have no conflict of interest.
Additional information
Publisher's Note
Springer Nature remains neutral with regard to jurisdictional claims in published maps and institutional affiliations.
Communicated by Dorothea Bartels.
Electronic supplementary material
Below is the link to the electronic supplementary material.
About this article
Cite this article
Nguyen, H.N., Perry, L., Kisiala, A. et al. Cytokinin activity during early kernel development corresponds positively with yield potential and later stage ABA accumulation in field-grown wheat (Triticum aestivum L.). Planta 252, 76 (2020). https://doi.org/10.1007/s00425-020-03483-2
Received:

Accepted:

Published:
Keywords
Gene expression

High and low yielding cultivars

HPLC–ESI–MS/MS

Phytohormone metabolite profiling

Seed yield

Zadoks kernel development