Abstract
Main Conclusion
Phytochemicals and secondary metabolites able to interact with the endocannabinoid system (Cannabimimetics) have been recently described in a broad range of plants and fruits. These findings can open new alternative avenues to explore for the development of novel therapeutic compounds.
The cannabinoids regulate many physiological and pathological functions in both animals and plants. Cannabis sativa is the main plant that produces phytocannabinoids inside resins capable to defend the plant from the aggression of parasites and herbivores. Animals produce anandamide and 2-arachidonoyl glycerol, which thanks to binding with main receptors such as type-1 cannabinoid receptor (CB1R) and the type-2 cannabinoid receptor (CB2R) are involved in inflammation processes and several brain functions. Endogenous cannabinoids, enzymes for synthesis and degradation of cannabinoids, and CB1R and CB2R constitute the endocannabinoid system (ECS). Other plants can produce cannabinoid-like molecules such as perrottetinene extracted from Radula perrottetii, or anandamide and 2-arachidonoyl glycerol extracted from some bryophytes. Moreover, several other secondary metabolites can also interact with the ECS of animals and take the name of cannabimimetics. These phytoextracts not derived from Cannabis sativa can act as receptor agonists or antagonist, or enzyme inhibitors of ECS and can be involved in the inflammation, oxidative stress, cancer, and neuroprotection. Finally, given the evolutionary heterogeneity of the cannabimimetic plants, some authors speculated on the fascinating thesis of the evolutionary convergence between plants and animals regarding biological functions of ECS. The review aims to provide a critical and complete assessment of the botanical, chemical and therapeutic aspects of cannabimimetic plants to evaluate their spread in the world and medicinal potentiality.
This is a preview of subscription content, log in to check access.
Access options
Buy single article
Instant access to the full article PDF.
US$ 39.95
Price includes VAT for USA
Subscribe to journal
Immediate online access to all issues from 2019. Subscription will auto renew annually.
US$ 199
This is the net price. Taxes to be calculated in checkout.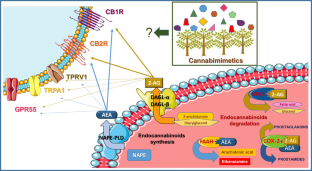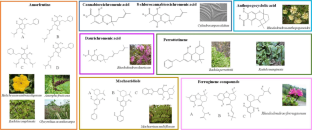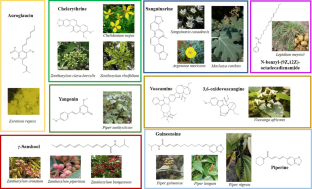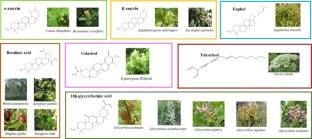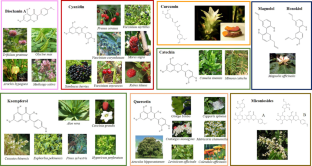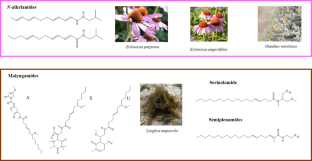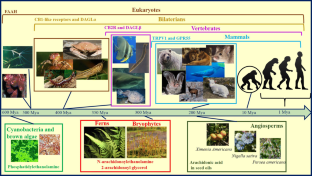 References
Alhouayek M, Muccioli GG (2014) COX-2-derived endocannabinoid metabolites as novel inflammatory mediators. Trends Pharmacol Sci 35(6):284–292. https://doi.org/10.1016/j.tips.2014.03.001

Baggelaar MP, Maccarrone M, van der Stelt M (2018) 2-Arachidonoylglycerol: a signaling lipid with manifold actions in the brain. Prog Lipid Res 71:1–17. https://doi.org/10.1016/j.plipres.2018.05.002

Bakas T, van Nieuwenhuijzen PS, Devenish SO, McGregor IS, Arnold JC, Chebib M (2017) The direct actions of cannabidiol and 2-arachidonoyl glycerol at GABAA receptors. Pharmacol Res 119:358–370. https://doi.org/10.1016/j.phrs.2017.02.022

Barbieri R, Coppo E, Marchese A, Daglia M, Sobarzo-Sanchez E, Nabavi SF, Nabavi SM (2017) Phytochemicals for human disease: an update on plant-derived compounds antibacterial activity. Microbiol Res 196:44–68. https://doi.org/10.1016/j.micres.2016.12.003

Bonini SA, Premoli M, Tambaro S, Kumar A, Maccarinelli G, Memo M, Mastinu A (2018) Cannabis sativa: a comprehensive ethnopharmacological review of a medicinal plant with a long history. J Ethnopharmacol 227:300–315. https://doi.org/10.1016/j.jep.2018.09.004

Cascao R, Fonseca JE, Moita LF (2017) Celastrol: a spectrum of treatment opportunities in chronic diseases. Front Med 4:69. https://doi.org/10.3389/fmed.2017.00069

Chan EW, Soh EY, Tie PP, Law YP (2011) Antioxidant and antibacterial properties of green, black, and herbal teas of Camellia sinensis. Pharmacogn Res 3(4):266–272. https://doi.org/10.4103/0974-8490.89748

Chen AY, Chen YC (2013) A review of the dietary flavonoid, kaempferol on human health and cancer chemoprevention. Food Chem 138(4):2099–2107. https://doi.org/10.1016/j.foodchem.2012.11.139

Chicca A, Marazzi J, Gertsch J (2012) The antinociceptive triterpene beta-amyrin inhibits 2-arachidonoylglycerol (2-AG) hydrolysis without directly targeting cannabinoid receptors. Br J Pharmacol 167(8):1596–1608. https://doi.org/10.1111/j.1476-5381.2012.02059.x

Chicca A, Schafroth MA, Reynoso-Moreno I, Erni R, Petrucci V, Carreira EM, Gertsch J (2018) Uncovering the psychoactivity of a cannabinoid from liverworts associated with a legal high. Sci Adv 4(10):eaat66

Dhopeshwarkar AS, Jain S, Liao C, Ghose SK, Bisset KM, Nicholson RA (2011) The actions of benzophenanthridine alkaloids, piperonyl butoxide and (S)-methoprene at the G-protein coupled cannabinoid CB(1) receptor in vitro. Eur J Pharmacol 654(1):26–32. https://doi.org/10.1016/j.ejphar.2010.11.033

Di Marzo V, Stella N, Zimmer A (2015) Endocannabinoid signalling and the deteriorating brain. Nat Rev Neurosci 16(1):30–42. https://doi.org/10.1038/nrn3876

Dossou KS, Devkota KP, Morton C, Egan JM, Lu G, Beutler JA, Moaddel R (2013) Identification of CB1/CB2 ligands from Zanthoxylum bungeanum. J Nat Prod 76(11):2060–2064. https://doi.org/10.1021/np400478c

Elphick MR (2012) The evolution and comparative neurobiology of endocannabinoid signalling. Philos Trans R Soc Lond B Biol Sci 367(1607):3201–3215. https://doi.org/10.1098/rstb.2011.0394

ElSohly MA, Radwan MM, Gul W, Chandra S, Galal A (2017) Phytochemistry of Cannabis sativa L. Prog Chem Org Nat Prod 103:1–36. https://doi.org/10.1007/978-3-319-45541-9_1

Fang J (2014) Bioavailability of anthocyanins. Drug Metab Rev 46(4):508–520. https://doi.org/10.3109/03602532.2014.978080

Fridlender M, Kapulnik Y, Koltai H (2015) Plant derived substances with anti-cancer activity: from folklore to practice. Front Plant Sci 6:799. https://doi.org/10.3389/fpls.2015.00799

Gachet MS, Schubert A, Calarco S, Boccard J, Gertsch J (2017) Targeted metabolomics shows plasticity in the evolution of signaling lipids and uncovers old and new endocannabinoids in the plant kingdom. Sci Rep 7:41177. https://doi.org/10.1038/srep41177

Gao J, Leon F, Radwan MM, Dale OR, Husni AS, Manly SP, Lupien S, Wang X, Hill RA, Dugan FM, Cutler HG, Cutler SJ (2011) Benzyl derivatives with in vitro binding affinity for human opioid and cannabinoid receptors from the fungus Eurotium repens. J Nat Prod 74(7):1636–1639. https://doi.org/10.1021/np200147c

Gertsch J (2008) Immunomodulatory lipids in plants: plant fatty acid amides and the human endocannabinoid system. Planta Med 74(6):638–650. https://doi.org/10.1055/s-2008-1034302

Gertsch J (2017) Cannabimimetic phytochemicals in the diet—an evolutionary link to food selection and metabolic stress adaptation? Br J Pharmacol 174(11):1464–1483. https://doi.org/10.1111/bph.13676

Gertsch J, Pertwee RG, Di Marzo V (2010) Phytocannabinoids beyond the Cannabis plant—do they exist? Br J Pharmacol 160(3):523–529. https://doi.org/10.1111/j.1476-5381.2010.00745.x

Gonca E, Darici F (2015) The effect of cannabidiol on ischemia/reperfusion-induced ventricular arrhythmias: the role of adenosine A1 receptors. J Cardiovasc Pharmacol Ther 20(1):76–83. https://doi.org/10.1177/1074248414532013

Granja AG, Carrillo-Salinas F, Pagani A, Gomez-Canas M, Negri R, Navarrete C, Mecha M, Mestre L, Fiebich BL, Cantarero I, Calzado MA, Bellido ML, Fernandez-Ruiz J, Appendino G, Guaza C, Munoz E (2012) A cannabigerol quinone alleviates neuroinflammation in a chronic model of multiple sclerosis. J Neuroimmun Pharmacol 7(4):1002–1016. https://doi.org/10.1007/s11481-012-9399-3

Hajdu Z, Nicolussi S, Rau M, Lorantfy L, Forgo P, Hohmann J, Csupor D, Gertsch J (2014) Identification of endocannabinoid system-modulating N-alkylamides from Heliopsis helianthoides var. scabra and Lepidium meyenii. J Nat Prod 77(7):1663–1669. https://doi.org/10.1021/np500292g

Hanus LO, Meyer SM, Munoz E, Taglialatela-Scafati O, Appendino G (2016) Phytocannabinoids: a unified critical inventory. Nat Prod Rep 33(12):1357–1392. https://doi.org/10.1039/c6np00074f

He X, Yang L, Wang M, Zhuang X, Huang R, Zhu R, Wang S (2017) Targeting the endocannabinoid/CB1 receptor system for treating major depression through antidepressant activities of curcumin and dexanabinol-loaded solid lipid nanoparticles. Cell Physiol Biochem 42(6):2281–2294. https://doi.org/10.1159/000480001

Hernandez-Vazquez L, Bonfill M, Moyano E, Cusido RM, Navarro-Ocana A, Palazon J (2010) Conversion of alpha-amyrin into centellosides by plant cell cultures of Centella asiatica. Biotech Lett 32(2):315–319. https://doi.org/10.1007/s10529-009-0143-x

Hoshino T (2017) beta-Amyrin biosynthesis: catalytic mechanism and substrate recognition. Org Biomol Chem 15(14):2869–2891. https://doi.org/10.1039/c7ob00238f

Hussain T, Plunkett B, Ejaz M, Espley RV, Kayser O (2018) Identification of putative precursor genes for the biosynthesis of cannabinoid-like compound in Radula marginata. Front Plant Sci 9:537. https://doi.org/10.3389/fpls.2018.00537

Iijima M, Munakata R, Takahashi H, Kenmoku H, Nakagawa R, Kodama T, Asakawa Y, Abe I, Yazaki K, Kurosaki F, Taura F (2017) Identification and characterization of daurichromenic acid synthase active in anti-HIV biosynthesis. Plant Physiol 174(4):2213–2230. https://doi.org/10.1104/pp.17.00586

Iwata N, Kitanaka S (2011) New cannabinoid-like chromane and chromene derivatives from Rhododendron anthopogonoides. Chem Pharm Bull 59(11):1409–1412

Koetter U, Barrett M, Lacher S, Abdelrahman A, Dolnick D (2009) Interactions of Magnolia and Ziziphus extracts with selected central nervous system receptors. J Ethnopharmacol 124(3):421–425. https://doi.org/10.1016/j.jep.2009.05.040

Lazzari P, Sanna A, Mastinu A, Cabasino S, Manca I, Pani L (2011) Weight loss induced by rimonabant is associated with an altered leptin expression and hypothalamic leptin signaling in diet-induced obese mice. Behav Brain Res 217(2):432–438. https://doi.org/10.1016/j.bbr.2010.11.022

Lazzari P, Pau A, Tambaro S, Asproni B, Ruiu S, Pinna G, Mastinu A, Curzu MM, Reali R, Bottazzi ME, Pinna GA, Murineddu G (2012) Synthesis and pharmacological evaluation of novel 4-alkyl-5-thien-2′-yl pyrazole carboxamides. Cent Nerv Syst Agents Med Chem 12(4):254–276

Lazzari P, Serra V, Marcello S, Pira M, Mastinu A (2017) Metabolic side effects induced by olanzapine treatment are neutralized by CB1 receptor antagonist compounds co-administration in female rats. Eur Neuropsychopharmacol 27(7):667–678. https://doi.org/10.1016/j.euroneuro.2017.03.010

Leonti M, Casu L, Raduner S, Cottiglia F, Floris C, Altmann KH, Gertsch J (2010) Falcarinol is a covalent cannabinoid CB1 receptor antagonist and induces pro-allergic effects in skin. Biochem Pharmacol 79(12):1815–1826. https://doi.org/10.1016/j.bcp.2010.02.015

Li Y, Yao J, Han C, Yang J, Chaudhry MT, Wang S, Liu H, Yin Y (2016) Quercetin, inflammation and immunity. Nutrients 8(3):167. https://doi.org/10.3390/nu8030167

Ligresti A, Villano R, Allara M, Ujvary I, Di Marzo V (2012) Kavalactones and the endocannabinoid system: the plant-derived yangonin is a novel CB(1) receptor ligand. Pharmacol Res 66(2):163–169. https://doi.org/10.1016/j.phrs.2012.04.003

Liu X, Yang D, Liu J, Ren N (2015) Analysis of essential oils from Voacanga africana seeds at different hydrodistillation extraction stages: chemical composition, antioxidant activity and antimicrobial activity. Nat Prod Res 29(20):1950–1953. https://doi.org/10.1080/14786419.2015.1012716

Lourens AC, Viljoen AM, van Heerden FR (2008) South African Helichrysum species: a review of the traditional uses, biological activity and phytochemistry. J Ethnopharmacol 119(3):630–652. https://doi.org/10.1016/j.jep.2008.06.011

Mahgoub M, Keun-Hang SY, Sydorenko V, Ashoor A, Kabbani N, Al Kury L, Sadek B, Howarth CF, Isaev D, Galadari S, Oz M (2013) Effects of cannabidiol on the function of alpha7-nicotinic acetylcholine receptors. Eur J Pharmacol 720(1–3):310–319. https://doi.org/10.1016/j.ejphar.2013.10.011

Manca I, Mastinu A, Olimpieri F, Falzoi M, Sani M, Ruiu S, Loriga G, Volonterio A, Tambaro S, Bottazzi ME, Zanda M, Pinna GA, Lazzari P (2013) Novel pyrazole derivatives as neutral CB(1) antagonists with significant activity towards food intake. Eur J Med Chem 62:256–269. https://doi.org/10.1016/j.ejmech.2012.12.056

Marques DD, Graebner IB, de Lemos TL, Machado LL, Assuncao JC, Monte FJ (2010) Triterpenes from Protium hebetatum resin. Nat Prod Commun 5(8):1181–1182

Mastinu A, Pira M, Pani L, Pinna GA, Lazzari P (2012) NESS038C6, a novel selective CB1 antagonist agent with anti-obesity activity and improved molecular profile. Behav Brain Res 234(2):192–204. https://doi.org/10.1016/j.bbr.2012.06.033

Mastinu A, Pira M, Pinna GA, Pisu C, Casu MA, Reali R, Marcello S, Murineddu G, Lazzari P (2013) NESS06SM reduces body weight with an improved profile relative to SR141716A. Pharmacol Res 74:94–108. https://doi.org/10.1016/j.phrs.2013.06.001

Mastinu A, Premoli M, Ferrari-Toninelli G, Tambaro S, Maccarinelli G, Memo M, Bonini SA (2018) Cannabinoids in health and disease: pharmacological potential in metabolic syndrome and neuroinflammation. Horm Mol Biol Clin Investig. https://doi.org/10.1515/hmbci-2018-0013

McPartland JM (2004) Phylogenomic and chemotaxonomic analysis of the endocannabinoid system. Brain Res Brain Res Rev 45(1):18–29. https://doi.org/10.1016/j.brainresrev.2003.11.005

McPartland JM, Agraval J, Gleeson D, Heasman K, Glass M (2006a) Cannabinoid receptors in invertebrates. J Evol Biol 19(2):366–373. https://doi.org/10.1111/j.1420-9101.2005.01028.x

McPartland JM, Matias I, Di Marzo V, Glass M (2006b) Evolutionary origins of the endocannabinoid system. Gene 370:64–74. https://doi.org/10.1016/j.gene.2005.11.004

McPartland JM, Guy GW, Di Marzo V (2014) Care and feeding of the endocannabinoid system: a systematic review of potential clinical interventions that upregulate the endocannabinoid system. PLoS One 9(3):e89566. https://doi.org/10.1371/journal.pone.0089566

Mechoulam R, Gaoni Y (1965) Hashish. IV. The isolation and structure of cannabinolic cannabidiolic and cannabigerolic acids. Tetrahedron 21(5):1223–1229

Meghwal M, Goswami TK (2013) Piper nigrum and piperine: an update. Phytother Res PTR 27(8):1121–1130. https://doi.org/10.1002/ptr.4972

Melo CM, Morais TC, Tome AR, Brito GA, Chaves MH, Rao VS, Santos FA (2011) Anti-inflammatory effect of alpha, beta-amyrin, a triterpene from Protium heptaphyllum, on cerulein-induced acute pancreatitis in mice. Inflamm Res 60(7):673–681. https://doi.org/10.1007/s00011-011-0321-x

Montaser R, Paul VJ, Luesch H (2012) Marine cyanobacterial fatty acid amides acting on cannabinoid receptors. Chembiochem 13(18):2676–2681. https://doi.org/10.1002/cbic.201200502

Morales P, Reggio PH, Jagerovic N (2017) An overview on medicinal chemistry of synthetic and natural derivatives of cannabidiol. Front Pharmacol 8:422. https://doi.org/10.3389/fphar.2017.00422

Navarro G, Varani K, Reyes-Resina I, Sanchez de Medina V, Rivas-Santisteban R, Sanchez-Carnerero Callado C, Vincenzi F, Casano S, Ferreiro-Vera C, Canela EI, Borea PA, Nadal X, Franco R (2018) Cannabigerol action at cannabinoid CB1 and CB2 receptors and at CB1-CB2 heteroreceptor complexes. Front Pharmacol 9:632. https://doi.org/10.3389/fphar.2018.00632

Nicolussi S, Viveros-Paredes JM, Gachet MS, Rau M, Flores-Soto ME, Blunder M, Gertsch J (2014) Guineensine is a novel inhibitor of endocannabinoid uptake showing cannabimimetic behavioral effects in BALB/c mice. Pharmacol Res 80:52–65. https://doi.org/10.1016/j.phrs.2013.12.010

Palit P, Mukherjee D, Mahanta P, Shadab M, Ali N, Roychoudhury S, Asad M, Mandal SC (2018) Attenuation of nociceptive pain and inflammatory disorders by total steroid and terpenoid fraction of Euphorbia tirucalli Linn root in experimental in vitro and in vivo model. Inflammopharmacology 26(1):235–250. https://doi.org/10.1007/s10787-017-0403-7

Park M, Lee JH, Choi JK, Hong YD, Bae IH, Lim KM, Park YH, Ha H (2014) 18beta-glycyrrhetinic acid attenuates anandamide-induced adiposity and high-fat diet induced obesity. Mol Nutr Food Res 58(7):1436–1446. https://doi.org/10.1002/mnfr.201300763

Pickrell WO, Robertson NP (2017) Cannabidiol as a treatment for epilepsy. J Neurol 264(12):2506–2508. https://doi.org/10.1007/s00415-017-8663-0

Pollastro F, De Petrocellis L, Schiano-Moriello A, Chianese G, Heyman H, Appendino G, Taglialatela-Scafati O (2017) Amorfrutin-type phytocannabinoids from Helichrysum umbraculigerum. Fitoterapia 123:13–17. https://doi.org/10.1016/j.fitote.2017.09.010

Quaghebeur K, Coosemans J, Toppet S, Compernolle F (1994) Cannabiorci- and 8-chlorocannabiorcichromenic acid as fungal antagonists from Cylindrocarpon olidum. Phytochemistry 37(1):159–161

Refolo MG, D'Alessandro R, Malerba N, Laezza C, Bifulco M, Messa C, Caruso MG, Notarnicola M, Tutino V (2015) Anti proliferative and pro apoptotic effects of flavonoid quercetin are mediated by CB1 receptor in human colon cancer cell lines. J Cell Physiol 230(12):2973–2980. https://doi.org/10.1002/jcp.25026

Rempel V, Fuchs A, Hinz S, Karcz T, Lehr M, Koetter U, Muller CE (2013) Magnolia extract, magnolol, and metabolites: activation of cannabinoid CB2 receptors and blockade of the related GPR55. ACS Med Chem Lett 4(1):41–45. https://doi.org/10.1021/ml300235q

Reynoso-Moreno I, Najar-Guerrero I, Escareno N, Flores-Soto ME, Gertsch J, Viveros-Paredes JM (2017) An endocannabinoid uptake inhibitor from black pepper exerts pronounced anti-inflammatory effects in mice. J Agric Food Chem 65(43):9435–9442. https://doi.org/10.1021/acs.jafc.7b02979

Ridler C (2017) Epilepsy: cannabidiol reduces seizure frequency in Dravet syndrome. Nat Rev Neurol 13(7):383. https://doi.org/10.1038/nrneurol.2017.86

Romano B, Borrelli F, Fasolino I, Capasso R, Piscitelli F, Cascio M, Pertwee R, Coppola D, Vassallo L, Orlando P, Di Marzo V, Izzo A (2013) The cannabinoid TRPA1 agonist cannabichromene inhibits nitric oxide production in macrophages and ameliorates murine colitis. Br J Pharmacol 169(1):213–229. https://doi.org/10.1111/bph.12120

Ruiu S, Anzani N, Orru A, Floris C, Caboni P, Maccioni E, Distinto S, Alcaro S, Cottiglia F (2013) N-Alkyl dien- and trienamides from the roots of Otanthus maritimus with binding affinity for opioid and cannabinoid receptors. Bioorg Med Chem 21(22):7074–7082. https://doi.org/10.1016/j.bmc.2013.09.017

Russo EB (2016) Beyond Cannabis: plants and the endocannabinoid system. Trends Pharmacol Sci 37(7):594–605. https://doi.org/10.1016/j.tips.2016.04.005

Saha MR, Dey P, Begum S, De B, Chaudhuri TK, Sarker DD, Das AP, Sen A (2016) Effect of Acacia catechu (L.f.) Willd. on oxidative stress with possible implications in alleviating selected cognitive disorders. PLoS One 11(3):e0150574. https://doi.org/10.1371/journal.pone.0150574

Sartim AG, Guimaraes FS, Joca SR (2016) Antidepressant-like effect of cannabidiol injection into the ventral medial prefrontal cortex-Possible involvement of 5-HT1A and CB1 receptors. Behav Brain Res 303:218–227. https://doi.org/10.1016/j.bbr.2016.01.033

Seeman P (2016) Cannabidiol is a partial agonist at dopamine D2High receptors, predicting its antipsychotic clinical dose. Transl Psychiatry 6(10):e920. https://doi.org/10.1038/tp.2016.195

Sharma C, Sadek B, Goyal SN, Sinha S, Kamal MA, Ojha S (2015) Small molecules from nature targeting G-protein coupled cannabinoid receptors: potential leads for drug discovery and development. Evid Based Complement Altern Med eCAM 2015:238482. https://doi.org/10.1155/2015/238482

Shaver JH, Sosis R (2014) How does male ritual behavior vary across the lifespan? An examination of Fijian kava ceremonies. Human nature 25(1):136–160. https://doi.org/10.1007/s12110-014-9191-6

Shinjyo N, Di Marzo V (2013) The effect of cannabichromene on adult neural stem/progenitor cells. Neurochem Int 63(5):432–437. https://doi.org/10.1016/j.neuint.2013.08.002

Song Y, Hwang S, Gong P, Kim D, Kim S (2008) Stereoselective total synthesis of (-)-perrottetinene and assignment of its absolute configuration. Org Lett 10(2):269–271. https://doi.org/10.1021/ol702692q

Starks CM, Williams RB, Norman VL, Rice SM, O'Neil-Johnson M, Lawrence JA, Eldridge GR (2014) Antibacterial chromene and chromane stilbenoids from Hymenocardia acida. Phytochemistry 98:216–222. https://doi.org/10.1016/j.phytochem.2013.11.012

Stohs SJ, Bagchi D (2015) Antioxidant, anti-inflammatory, and chemoprotective properties of acacia catechu heartwood extracts. Phytother Res PTR 29(6):818–824. https://doi.org/10.1002/ptr.5335

Tambaro S, Casu MA, Mastinu A, Lazzari P (2014) Evaluation of selective cannabinoid CB(1) and CB(2) receptor agonists in a mouse model of lipopolysaccharide-induced interstitial cystitis. Eur J Pharmacol 729:67–74. https://doi.org/10.1016/j.ejphar.2014.02.013

Tarawneh AH, Leon F, Ibrahim MA, Pettaway S, McCurdy CR, Cutler SJ (2014) Flavanones from Miconia prasina. Phytochem Lett 7:130–132. https://doi.org/10.1016/j.phytol.2013.11.001

Taura F, Iijima M, Kurosaki F (2018) Daurichromenic acid and grifolic acid: phytotoxic meroterpenoids that induce cell death in cell culture of their producer Rhododendron dauricum. Plant Signal Behav 13(1):e1422463. https://doi.org/10.1080/15592324.2017.1422463

Thors L, Belghiti M, Fowler CJ (2008) Inhibition of fatty acid amide hydrolase by kaempferol and related naturally occurring flavonoids. Br J Pharmacol 155(2):244–252. https://doi.org/10.1038/bjp.2008.237

Thors L, Burston JJ, Alter BJ, McKinney MK, Cravatt BF, Ross RA, Pertwee RG, Gereau RWT, Wiley JL, Fowler CJ (2010) Biochanin A, a naturally occurring inhibitor of fatty acid amide hydrolase. Br J Pharmacol 160(3):549–560. https://doi.org/10.1111/j.1476-5381.2010.00716.x

Weidner C, de Groot JC, Prasad A, Freiwald A, Quedenau C, Kliem M, Witzke A, Kodelja V, Han CT, Giegold S, Baumann M, Klebl B, Siems K, Muller-Kuhrt L, Schurmann A, Schuler R, Pfeiffer AF, Schroeder FC, Bussow K, Sauer S (2012) Amorfrutins are potent antidiabetic dietary natural products. Proc Natl Acad Sci USA 109(19):7257–7262. https://doi.org/10.1073/pnas.1116971109

Yang L, Li Y, Ren J, Zhu C, Fu J, Lin D, Qiu Y (2014) Celastrol attenuates inflammatory and neuropathic pain mediated by cannabinoid receptor type 2. Int J Mol Sci 15(8):13637–13648. https://doi.org/10.3390/ijms150813637

Zhou C, Li J, Li C, Zhang Y (2016) Improvement of betulinic acid biosynthesis in yeast employing multiple strategies. BMC Biotechnol 16(1):59. https://doi.org/10.1186/s12896-016-0290-9
Acknowledgements
This work was supported by "Research Grant from the University of Brescia EX60%MEMO" and "Petrus och Augusta Hedlunds Stiftelse; Loo och Hans Ostermans Stiftelse; Karolinska Institutet Research and Geriatrics Foundation; Gunvor och Josef Aners Stiftelse".
Additional information
Publisher's Note
Springer Nature remains neutral with regard to jurisdictional claims in published maps and institutional affiliations.
About this article
Cite this article
Kumar, A., Premoli, M., Aria, F. et al. Cannabimimetic plants: are they new cannabinoidergic modulators?. Planta 249, 1681–1694 (2019). https://doi.org/10.1007/s00425-019-03138-x
Received:

Accepted:

Published:

Issue Date: