Abstract
Main conclusion
A novel method for culturing ovules of Gossypium barbadense allowed in vitro comparisons with Gossypium hirsutum and revealed variable roles of microtubules in controlling cotton fiber cell expansion.
Cotton fibers undergo extensive elongation and secondary wall thickening as they develop into our most important renewable textile material. These single cells elongate at the apex as well as elongating and expanding in diameter behind the apex. These multiple growth modes represent an interesting difference compared to classical tip-growing cells that needs to be explored further. In vitro ovule culture enables experimental analysis of the controls of cotton fiber development in commonly grown Gossypium hirsutum cotton, but, previously, there was no equivalent system for G. barbadense, which produces higher quality cotton fiber. Here, we describe: (a) how to culture the ovules of G. barbadense successfully, and (b) the results of an in vitro experiment comparing the role of microtubules in controlling cell expansion in different zones near the apex of three types of cotton fiber tips. Adding the common herbicide fluridone, 1-Methyl-3-phenyl-5-[3-(trifluoromethyl)phenyl]-4(1H)-pyridinone, to the medium supported G. barbadense ovule culture, with positive impacts on the number of useful ovules and fiber length. The effect is potentially mediated through inhibited synthesis of abscisic acid, which antagonized the positive effects of fluridone. Fiber development was perturbed by adding colchicine, a microtubule antagonist, to ovules of G. barbadense and G. hirsutum cultured 2 days after flowering. The results supported the zonal control of cell expansion in one type of G. hirsutum fiber tip and highlighted differences in the role of microtubules in modulating cell expansion between three types of cotton fiber tips.
This is a preview of subscription content, log in to check access.
Access options
Buy single article
Instant access to the full article PDF.
US$ 39.95
Price includes VAT for USA
Subscribe to journal
Immediate online access to all issues from 2019. Subscription will auto renew annually.
US$ 199
This is the net price. Taxes to be calculated in checkout.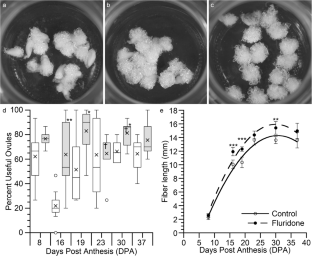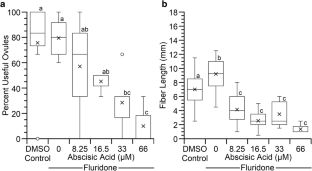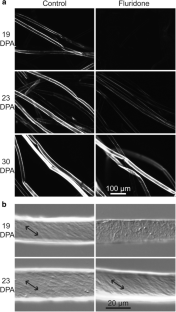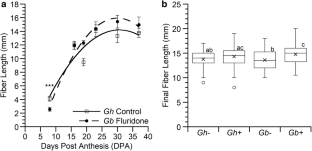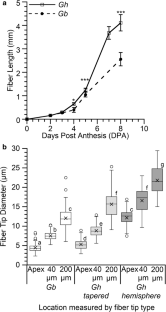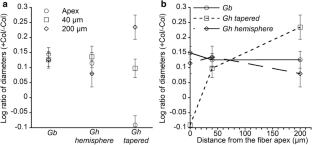 Abbreviations
ABA:

Abscisic acid

ANOVA:

Analysis of variance

DPA:

Days post-anthesis

DMSO:

Dimethyl sulfoxide

Gb:

Gossypium barbadense

Gh:

Gossypium hirsutum

HSD:

Honestly significant difference
References
Avci U, Pattathil S, Singh B, Brown VL, Hahn MG, Haigler CH (2013) Cotton fiber cell walls of Gossypium hirsutum and Gossypium barbadense have differences related to loosely-bound xyloglucan. PLoS One 8:e56315. https://doi.org/10.1371/journal.pone.0056315

Baskin TI (2005) Anisotropic expansion of the plant cell wall. Annu Rev Cell Dev Biol 21:203–222. https://doi.org/10.1146/annurev.cellbio.20.082503.103053

Beasley CA, Ting IP (1973) The effects of plant growth substances on in vitro fiber development from fertilized cotton ovules. Am J Bot 60:130–139. https://doi.org/10.1002/j.1537-2197.1973.tb10209.x

Bibikova TN, Blancaflor EB, Gilroy S (1999) Microtubules regulate tip growth and orientation in root hairs of Arabidopsis thaliana. Plant J 17:657–665. https://doi.org/10.1046/j.1365-313X.1999.00415.x

Chen J-G, Du X-M, Zhou X, Zhao H-Y (1997) Levels of cytokinins in the ovules of cotton mutants with altered fiber development. J Plant Growth Reg 16:181–185. https://doi.org/10.1007/pl00006994

Dasani SH, Thaker VS (2006) Role of abscisic acid in cotton fiber development. Russ J Plant Physiol 53:62–67. https://doi.org/10.1134/s1021443706010080

Dhindsa RS, Beasley CA, Ting IP (1976) Effects of abscisic acid on in vitro growth of cotton fiber. Planta 130:197–201. https://doi.org/10.1007/bf00384420

Didi V, Jackson P, Hejátko J (2015) Hormonal regulation of secondary cell wall formation. J Expt Bot 66:5015–5027. https://doi.org/10.1093/jxb/erv222

Geitmann A (2011) Generating a cellular protuberance: mechanics of tip growth. In: Wojtaszek P (ed) Mechanical integration of plant cells and plants. Springer, Berlin, pp 117–132. https://doi.org/10.1007/978-3-642-19091-9_5

Geitmann A, Ortega JKE (2009) Mechanics and modeling of plant cell growth. Trends Plant Sci 14:467–478. https://doi.org/10.1016/j.tplants.2009.07.006

Guerriero G, Hausman J-F, Cai G (2014) No stress! relax! mechanisms governing growth and shape in plant cells. Int J Mol Sci 15:5094–5114. https://doi.org/10.3390/ijms15035094

Haigler C, Betancur L, Stiff M, Tuttle J (2012) Cotton fiber: a powerful single-cell model for cell wall and cellulose research. Front Plant Sci 3:104. https://doi.org/10.3389/fpls.2012.00104

Kitahata N, Asami T (2011) Chemical biology of abscisic acid. J Plant Res 124:549–557. https://doi.org/10.1007/s10265-011-0415-0

Kosmidou-Dimitropoulou K (1986) Hormonal influences on fiber development. In: Mauney JR, Stewart JMCD (eds) Cotton physiology. The Cotton Foundation, Memphis, pp 361–373

Liao W, Zhang J, Xu N, Peng M (2010) The role of phytohormones in cotton fiber development. Russ J Plant Phyisol 57:462–468. https://doi.org/10.1134/s1021443710040023

Meinert MC, Delmer DP (1977) Changes in the biochemical composition of the cell wall of the cotton fiber during development. Plant Physiol 59:1088–1097

Nayyar H, Kaur K, Basra AS, Malik CP (1989) Hormonal regulation of cotton fibre elongation in Gossypium arboreum L. in vitro and in vivo. Biochem Physiol Pflanz 185:415–421. https://doi.org/10.1016/S0015-3796(89)80065-4

Qin Y-M, Zhu Y-X (2011) How cotton fibers elongate: a tale of linear cell-growth mode. Curr Opin Plant Biol 14:106–111. https://doi.org/10.1016/j.pbi.2010.09.010

Rounds CM, Bezanilla M (2013) Growth mechanisms in tip-growing plant cells. Annu Rev Plant Biol 64:243–265. https://doi.org/10.1146/annurev-arplant-050312-120150

Schindelin J, Arganda-Carreras I, Frise E, Kaynig V, Longair M, Pietzsch T, Preibisch S, Rueden C, Saalfeld S, Schmid B, Tinevez J-Y, White DJ, Hartenstein V, Eliceiri K, Tomancak P, Cardona A (2012) Fiji: an open-source platform for biological-image analysis. Nat Methods 9:676. https://doi.org/10.1038/nmeth.2019

Seagull RW (1990) The effects of microtubule and microfilament disrupting agents on cytoskeletal arrays and wall deposition in developing cotton fibers. Protoplasma 159:44–59. https://doi.org/10.1007/BF01326634

Seagull RW (1993) Cytoskeletal involvement in cotton fiber growth and development. Micron 24:643–660. https://doi.org/10.1016/0968-4328(93)90042-Y

Sedbrook JC, Kaloriti D (2008) Microtubules, MAPs and plant directional cell expansion. Trends Plant Sci 13:303–310. https://doi.org/10.1016/j.tplants.2008.04.002

Singh B, Cheek HD, Haigler CH (2009) A synthetic auxin (NAA) suppresses secondary wall cellulose synthesis and enhances elongation in cultured cotton fiber. Plant Cell Rep 28:1023–1032. https://doi.org/10.1007/s00299-009-0714-2

Stanton RA, Gernert KM, Nettles JH, Aneja R (2011) Drugs that target dynamic microtubules: a new molecular perspective. Med Res Rev 31:443–481. https://doi.org/10.1002/med.20242

Stiff MR, Haigler CH (2016) Cotton fiber tips have diverse morphologies and show evidence of apical cell wall synthesis. Sci Rep 6:27883. https://doi.org/10.1038/srep27883

Waldrep TW, Taylor HM (1976) 1-Methyl-3-phenyl-5-[3-(trifluoromethyl)phenyl]-4(1H)-pyridinone, a new herbicide. J Agric Food Chem 24:1250–1251. https://doi.org/10.1021/jf60208a047

Zaiontz C (2015) Real statistics using excel. www.real-statistics.com. Accessed Oct 2015
Acknowledgements
For research support, we thank Cotton Incorporated, Cary, NC. For assistance with fiber tip measurements, we thank Robin Grant Moore and Anne Pajerski. For assistance with laser scanning confocal microscopy, we thank Dr. Eva Johannes in the Cellular and Molecular Imaging Facility of North Carolina State University.
Ethics declarations
Conflicts of Interest
The authors state that they have no conflict of interest.
Additional information
Publisher's Note
Springer Nature remains neutral with regard to jurisdictional claims in published maps and institutional affiliations.
Electronic supplementary material
Below is the link to the electronic supplementary material.
About this article
Cite this article
Pierce, E.T., Graham, B.P., Stiff, M.R. et al. Cultures of Gossypium barbadense cotton ovules offer insights into the microtubule-mediated control of fiber cell expansion. Planta 249, 1551–1563 (2019). https://doi.org/10.1007/s00425-019-03106-5
Received:

Accepted:

Published:

Issue Date:
Keywords
Colchicine

Cotton fiber

Cytoskeleton

Fluridone

Ovule culture

Plant cell growth