Abstract
Main conclusion
Illumina-Miseq®-based cyanobiont diversity and biomass were analyzed in six Azolla spp. Results revealed that 93–98% of total operational taxonomic units (OTUs) belong to Nostacaceae followed by Cylindrospermopsis with about 1–6% OTUs.
The taxonomy of Azolla-cyanobiont is a long-term debate within the scientific community. Morphological and biochemical-based reports indicated the presence of Anabaena, Nostoc and/or Trichormus azollae as abundant Azolla-cyanobionts, however, molecular data did not support the abundance of Anabaena and/or Nostoc. To understand furthermore, the cyanobiont diversity in six species of Azolla (A. microphylla, A. mexicana, A. filiculoides, A. caroliniana, A. pinnata and A. rubra) was analyzed based on 16S rRNA Illumina-MiSeq sequencing. Additionally, biomass and nutrient profiling of Azolla spp. were analyzed and correlated with cyanobiont diversity. Illumina-MiSeq data revealed that 99.6–99.9% of total operational taxonomic units (OTUs) belonged to Nostocophycideae (class), Nostocales (order) and Nostacaceae (family). At genus level, the unassigned affiliation (93.4–97.9%) under Nostacaceae family was abundant followed by Cylindrospermopsis OTUs (1.1–6.0%). Interestingly, A. pinnata harboured maximum Cylindrospermopsis OTUs and also recorded higher biomass (40.67 g m−2 day−1), whereas crude protein (25.9%) and antioxidants (76.9%) were recorded to be higher in A. microphylla. Biplot analysis revealed that A. pinnata and its cyanobiont abundance were positively correlated with neutral and acid detergent fibers. Overall, the present findings deepened the understanding about cyanobiont in Azolla and its relations with Azolla nutrient profiling.
This is a preview of subscription content, log in to check access.
Access options
Buy single article
Instant access to the full article PDF.
US$ 39.95
Price includes VAT for USA
Subscribe to journal
Immediate online access to all issues from 2019. Subscription will auto renew annually.
US$ 199
This is the net price. Taxes to be calculated in checkout.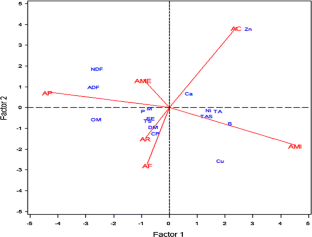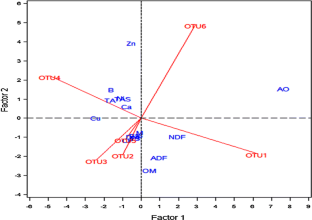 References
Adams DG (2000) Cyanobacterial phylogeny and development: questions and challenges. In: Brun LJ, Shimkets (eds) Prokaryotic development. ASM Press, Washington DC, pp 51–81

Alalade OA, Iyayi EA (2006) Chemical composition and the feeding value of Azolla (Azolla pinnata) meal for egg-type chicks. Int J Poult Sci 5:137–141

AOAC (2012) Official methods of analysis, 19th edn. AOAC International, Maryland

Arora A, Singh PK (2003) Comparison of biomass productivity and nitrogen fixing potential of Azolla spp. Biomass Bioenergy 24:175–178

Bagchi TB, Bhattacharya P, Sharma SG, Kumar U, Adak T (2015) Enhanced antioxidants and physico-chemical properties of aromatic rice under long term organic nutrient management. Res Crops 16:219–225

Bagchi TB, Sharma SG, Ghosh A, Chattopadhyay K, Kumar U, Sanghamitra P, Ray S, Adak T (2016) A comparison of nutritional and physicochemical quality of rice under organic and standard production system. Cereal Chem 93:435–443

Bhuvaneshwari K, Singh PK (2015) Response of nitrogen-fixing water fern Azolla biofertilization to rice crop. 3 Biotech 5(4):523–529

Biudes JFV, Camargo AFM (2008) Studying the limitant factors to primary production of aquatic macrophytes in Brazil. Oecol Brasil 12:7–19

Caporaso JG, Kuczynski J, Stombaugh J, Bittinger K, Bushman FD, Costello EK, Fierer N, Pena AG, Goodrich JK, Gordon JI, Huttley GA (2010) QIIME allows analysis of high-throughput community sequencing data. Nat Methods 7:335

Carpenter ME (2017) Differences between an acid detergent fiber and a neutral detergent fiber. http://sciencing.com/differences-fiber-neutral-detergent-fiber-8723938.html. Accessed 24 Apr 2017

Carrapico FJ (2002) Azolla-Anabaena-bacteria system as a natural microcosm. In instruments, methods, and missions for astrobiology. Int Soc Opt Photon 4495:261–266

Carrapiço F, Tavares R (2012) New data on the Azolla-Anabaena symbiosis. In: Nitrogen fixation with non-legumes: the fourth international symposium on 'nitrogen fixation with non-legumes', Rio de Janeiro, 23–28 August 1987, Springer, New York, pp 89–94

Caudales R, Wells JM, Antoine AD (1992) Cellular fatty acid composition of symbiotic cyanobacteria isolated from the aquatic fern Azolla. J Gen Microbiol 138:1489–1494

Chao A, Chazdon RL, Colwell RK, Shen TJ (2005) A new statistical approach for assessing similarity of species composition with incidence and abundance data. Ecol Lett 8:148–159

Chatterjee A, Sharma P, Ghosh MK, Mandal M, Roy K (2013) Utilization of Azolla microphylla as feed supplement for crossbred cattle. Int J Agric Food Sci Technol 4:207–214

Cheng W, Sakai H, Matsushima M, Yagi K, Hasegawa T (2010) Response of the floating aquatic fern Azolla filiculoides to elevated CO2, temperature, and phosphorus levels. Hydrobiologia 656:5–14

Das MM, Agarwal RK, Singh JB, Kumar S, Singh RP, Kumar S (2017) Nutrient intake and utilization in lambs fed Azolla microphylla meal as a partial replacement for mustard cake in concentrate mixture. Indian J Anim Nutr 34:45–49

Dijkhuizen LW, Brouwer P, Bolhuis H, Reichart GJ, Koppers N, Huettel B, Bolger AM, Li FW, Cheng S, Liu X, Wong GKS (2018) Is there foul play in the leaf pocket? The metagenome of floating fern Azolla reveals endophytes that do not fix N2 but may denitrify. New Phytol 217(1):453–466

DuBois M, Gilles KA, Hamilton JK, Rebers PA, Smith F (1956) Colorimetric method for determination of sugars and related substances. Anal Chem 28:350–356

Ekman M, Tollbäck P, Bergman B (2008) Proteomic analysis of the cyanobacterium of the Azolla symbiosis: identity, adaptation, and nifH modification. J Exp Bot 59:1023–1034

Fjerdingstad E (1976) Anabaena variabilis status azollae. Arch Hydrobiol 49:377–381

Gebhardt JS, Nierzwicki-Bauer SA (1991) Identification of a common cyanobacterial symbiont associated with Azolla spp. through molecular and morphological characterization of free-living and symbiotic cyanobacteria. Appl Environ Microbiol 57:2141–2146

Gopalaswamy C, Kannaiyan S (1998) Biomass production, nitrogen fixation and biochemical characterization of Azolla hybrids. Indian J Microbiol 38:81–84

Gowda NKS, Manegar A, Verma S, Valleesha NC, Maya G, Pal DT, Suresh KP (2015) Azolla (Azolla pinnata) as a green feed supplement for dairy cattle- an on farm study. Anim Nutr Feed Technol 15:283–287

Hrouzek P, Lukešová A, Mareš J, Ventura S (2013) Description of the cyanobacterial genus Desmonostoc gen. nov. including D. muscorum comb. nov. as a distinct and phylogenetically coherent taxon related to the genus Nostoc. Fottea 13:201–213

Indira D, Rao KS, Suresh J, Naidu KV, Ravi A (2009) Azolla (Azolla pinnata) as feed supplement in buffalo calves on growth performance. Indian J Anim Nutr 26:345–348

Johansen JR, Bohunická M, Lukešová A, Hrčková K, Vaccarino MA, Chesarino NM (2014) Morphological and molecular characterization within 26 strains of the genus Cylindrospermum (Nostocaceae, Cyanobacteria), with descriptions of three new species. J Phycol 50:187–202

Jones DB (1941) Factors for converting percentages of nitrogen in foods and feeds into percentages of proteins. US Department of Agriculture, Washington, pp 1–22

Khare A, Chatterjee A, Mondal M, Karunakaran M, Ghosh MK, Dutta TK (2016) Effect of supplementing Azolla microphylla on feed intake and blood parameters in growing crossbred female calves. Indian J Anim Nutr 33:224–227

Komárek J (2010) Recent changes in cyanobacteria taxonomy based on a combination of molecular background with phenotype and ecological consequences (genus and species concept). Hydrobiologia 639:245–259

Kumar U, Kumar A, Umakanta N, Bagchi TB, Mohanty S, Kumar A, Shahid M, Nayak AK (2015) Nutrient profiling and identification of genetic marker for Azolla sp. In: XXIII International Grassland Congress—IGC 2015 at Delhi NCR

Kumar U, Shahid M, Tripathi R, Mohanty S, Kumar A, Bhattacharyya P, Lal B, Gautam P, Raja R, Panda BB, Jambhulakar NN, Shukla AK, Nayak AK (2017) Variation of functional diversity of soil microbial community in sub-humid tropical rice-rice cropping system under long-term organic and inorganic fertilization. Ecol Indic 73:536–543

Kumar U, Nayak AK, Shahid M, Gupta VV, Panneerselvam P, Mohanty S, Kaviraj M, Kumar A, Chatterjee D, Lal B, Gautam P, Tripathi R, Panda BB (2018) Continuous application of inorganic and organic fertilizers over 47 years in paddy soil alters the bacterial community structure and its influence on rice production. Agric Ecosyst Environ 262:65–75

Larsson J, Nylander JAA, Bergman B (2011) Genome fluctuations in cyanobacteria reflect evolutionary, developmental and adaptive traits. BMC Evol Biol 11:187

Lozupone C, Lladser ME, Knights D, Stombaugh J, Knight R (2011) UniFrac: an effective distance metric for microbial community comparison. ISME J 5:169

Lumpkin TA, Plucknett DL (1980) Azolla: botany, physiology, and use as a green manure. Econ Bot 34:111–153

Manjunath M, Kumar U, Yadava RB, Rai AB, Singh B (2018) Influence of organic and inorganic sources of nutrients on functional diversity of microbial communities in vegetable cropping system of Indo-Gangetic plains. CR Biol 341:349–357

Margalef R (1958) Temporal succession and spatial heterogeneity in phytoplankton. In: Buzzati T (ed) Perspective in marine biology. University California Press, Berkeley, pp 323–347

Metzgar JS, Schneider H, Pryer KM (2007) Phylogeny and divergence time estimates for the fern genus Azolla (Salviniaceae). Int J Plant Sci 168:1045–1053

Papaefthimiou D, van Hove C, Lejeune A, Rasmussen U, Wilmotte A (2008) Diversity and host specificity of Azolla-cyanobionts. J Psychol 44:60–70

Pereira AL, Vasconcelos V (2014) Classification and phylogeny of the cyanobiont Anabaena azollae Strasburger: an answered question? Int J Syst Evol Microbiol 64:1830–1840

Peters GA, Toia RE, Evans WR, Crist DK, Mayne BC, Poole RE (1980) Characterization and comparisons of five N2-fixing Azolla-Anabaena associations, I. Optimization of growth conditions for biomass increase and N content in a controlled environment. Plant Cell Environ 3:261–269

Petro MJ, Gates JE (1987) Distribution of Anhrobacter sp. in the leaf cavities of four species of the N-fixing Azolla fern. Symbiosis 3:41–48

Plazinski J, Franche C, Liu CC, Lin T, Shaw W, Gunning BE, Rolfe BG (1988) Taxonomic status of Anabaena azollae: an overview. Plant Soil 108:185–190

Price LB, Liu CM, Johnson KE, Aziz M, Lau MK, Bowers J, Ravel J, Keim PS, Serwadda D, Wawer MJ, Gray RH (2010) The effects of circumcision on the penis microbiome. PLoS One 5:e8422

Rajaniemi P, Hrouzek P, Kastovska K, Willame R, Rantala A, Hoffmann L, Komárek J, Sivonen K (2005) Phylogenetic and morphological evaluation of the genera Anabaena, Aphanizomenon, Trichormus and Nostoc (Nostocales, Cyanobacteria). Int J Syst Evol Microbiol 55:11–26

Ran L, Larsson J, Vigil-Stenman T, Nylander JAA, Ininbergs K, Zheng WW, Lapidus A, Lowry S, Haselkorn R, Bergman B (2010) Genome erosion in a nitrogen-fixing vertically transmitted endosymbiotic multicellular cyanobacterium. PLoS One 5:e11486

Samanta G, Tamang Y (1995) Feeding value of Azolla (Azolla pinnata) in goats. Ann Zootech 44:62

Sanginga N, Van Hove C (1989) Amino acid composition of Azolla as affected by strains and population density. Plant Soil 117:263–267

Serpen A, Gokmen V, Pellegrini N, Fogliano V (2008) Direct measurement of the total antioxidant capacity of cereal products. J Cereal Sci 48:816–820

Serrano R, Carrapiço F, Vidal R (1999) The presence of lectins in bacteria associated with the Azolla-Anabaena symbiosis. Symbiosis 27:169–178

Simpson HL, Campbell BJ (2015) Dietary fibre–microbiota interactions. Alimen Pharmacol Ther 42:158–179

Sonnenburg ED, Smits SA, Tikhonov M, Higginbottom SK, Wingreen NS, Sonnenburg JL (2016) Diet-induced extinctions in the gut microbiota compound over generations. Nature 529:212–215

Sood A, Prasanna R, Prasanna BM, Singh PK (2008) Genetic diversity among and within cultured cyanobionts of diverse species of Azolla. Folia Microbiol 53:35–43

Svenning MM, Eriksson T, Rasmussen U (2005) Phylogeny of symbiotic cyanobacteria within the genus Nostoc based on 16S rDNA sequence analyses. Arch Microbiol 183:19–26

Talapatra SK, Ray SC, Sen KC (1940) The analysis of mineral characteristics in biological materials. 1. Estimation of phosphorus, chlorine, calcium, magnesium, sodium and potassium in foodstuffs. Indian J Vet Sci Anim Husb 10:240–258

Trindade CRT, Albertoni EF, Palma-Silva C (2011) Temporal variation in the biomass and nutrient status of Azolla filiculoides Lam. (salviniaceae) in a small shallow dystrophic lake. Acta Limnol Bras 23:368–375

Tripathi R, Mohan H, Kamat JP (2007) Modulation of oxidative damage by natural products. Food Chem 100:81–90

Van Coppenolle B, McCouch SR, Watanabe I, Huang N, Van Hove C (1995) Genetic diversity and phylogeny analysis of Anabaena azollae based on RFLPs detected in Azolla-Anabaena azollae DNA complexes using nif gene probes. Theor Appl Genet 91:589–597

Van Hove C, Lejeune A (2002) The Azolla-anabaena symbiosis. Biol Environ Proc R Irish Acad 102:23–26

Van Saun RJ (2013) Determining forage quality: understanding feed analysis. http://extension.psu.edu/animals/camelids/nutrition/determining-forage-quality-understanding-feed-analysis. Accessed 18 Sept 2013

Van Soest P, Robertson JB, Lewis BA (1991) Methods for dietary fiber, neutral detergent fiber, and nonstarch polysaccharides in relation to animal nutrition. J Dairy Sci 74:3583–3597

Wang Q, Garrity GM, Tiedje JM, Cole JR (2007) Naive Bayesian classifier for rapid assignment of rRNA sequences into the new bacterial taxonomy. Appl Environ Microbiol 73:5261–5267

Zapomělová E, Jezberová J, Hrouzek P, Hisem D, Řeháková K, Komárková J (2010) Polyphasic characterization of three strains of Anabaena reniformis and Aphanizomenon aphanizomenoides (cyanobacteria) and their reclassification to Sphaerospermum gen. nov (incl. Anabaena kisseleviana). J Phycol 46:415

Zheng WW, Nilsson M, Bergman B, Rasmussen U (1999) Genetic diversity and classification of cyanobacteria in different Azolla species by the use of PCR fingerprinting. Theor Appl Genet 99:1187–1193
Acknowledgements
We thank all the erstwhile researchers associated with Azolla and cyanobacteria germplasm maintenance work at the ICAR-National Rice Research Institute (NRRI), Cuttack. We gratefully acknowledge the help extended by Dr. R. K. Mahanta, Scientist, KVK, Santhapur, Odisha, India for nutrient profiling of Azolla. Director, NRRI is highly acknowledged for providing the necessary facilities to carry out this research.
Ethics declarations
Conflict of interest
The authors declare that they have no conflict of interest.
Additional information
Publisher's Note
Springer Nature remains neutral with regard to jurisdictional claims in published maps and institutional affiliations.
Electronic supplementary material
Below is the link to the electronic supplementary material.
About this article
Cite this article
Kumar, U., Nayak, A.K., Panneerselvam, P. et al. Cyanobiont diversity in six Azolla spp. and relation to Azolla-nutrient profiling. Planta 249, 1435–1447 (2019). https://doi.org/10.1007/s00425-019-03093-7
Received:

Accepted:

Published:

Issue Date:
Keywords
Illumina-MiSeq®

Cyanobiont

Azolla

Taxonomy

Nutrient profiling

Biomass