Abstract
Main conclusion
Functional expression of a multidrug resistance-type ABC transporter from Lavandulaangustifolia improved yeast resistance to geraniol, a monoterpene constituent of lavender essential oil.
Plant ATP-binding cassette (ABC) transporters are a large family of membrane proteins involved in active and selective transport of structurally diverse compounds. In this study, we functionally evaluated LaABCB1, a multidrug resistance (MDR)-type ABC transporter strongly expressed in the secretory cells of lavender glandular trichomes, where monoterpene essential oil constituents are synthesized and secreted. We used LaABCB1 to complement a yeast knockout mutant in which 16 ABC transporters were deleted. Expression of LaABCB1 enhanced tolerance of yeast mutants to geraniol, a key constituent of essential oils in lavenders and numerous other plants. Our findings suggest a role for the MDR-type ABC transporters in the toxicity tolerance of at least certain essential oil constituents in lavender oil glands.
This is a preview of subscription content, log in to check access.
Access options
Buy single article
Instant access to the full article PDF.
US$ 39.95
Price includes VAT for USA
Subscribe to journal
Immediate online access to all issues from 2019. Subscription will auto renew annually.
US$ 199
This is the net price. Taxes to be calculated in checkout.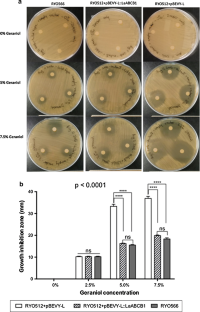 References
Bienert MD, Siegmund SE, Drozak A, Trombik T, Bultreys A, Baldwin IT, Boutry M (2012) A pleiotropic drug resistance transporter in Nicotiana tabacum is involved in defense against the herbivore Manduca sexta. Plant J 72:745–757

Buda GJ, Barnes WJ, Fich EA, Park S, Yeats TH, Zhao L, Domozych DS, Rose JK (2013) An ATP binding cassette transporter is required for cuticular wax deposition and desiccation tolerance in the Moss Physcomitrella patens. Plant Cell 25:4000–4013

Crouzet J, Roland J, Peeters E, Trombik T, Ducos E, Nader J, Boutry M (2013) NtPDR1, a plasma membrane ABC transporter from Nicotiana tabacum, is involved in diterpene transport. Plant Mol Biol 82:181–192

Demissie ZA (2014) Cloning and functional characterization of genes involved in the biosynthesis and secretion of essential oil constituents of Lavandula. Ph.D. Thesis, The University of British Columbia

Demissie Z, Cella M, Sarker L, Thompson T, Rheault M, Mahmoud S (2012) Cloning, functional characterization and genomic organization of 1,8-cineole synthases from Lavandula. Plant Mol Biol 79:393–411

Demissie ZA, Erland LA, Rheault MR, Mahmoud SS (2013) The biosynthetic origin of irregular monoterpenes in Lavandula: isolation and biochemical characterization of a novel cis-prenyl diphosphate synthase gene, lavandulyl diphosphate synthase. J Biol Chem 288:6333–6341

Gietz RD (2014) Yeast transformation by the LiAc/SS carrier DNA/PEG method. Methods Mol Biol 1205:1–12. https://doi.org/10.1007/978-1-4939-1363-3_1

Gietz RD, Schiestl RH (2007) High-efficiency yeast transformation using the LiAc/SS carrier DNA/PEG method. Nat Protoc 2(1):31–34

Kaneda M, Schuetz M, Lin BS, Chanis C, Hamberger B, Western TL, Ehlting J, Samuels AL (2011) ABC transporters coordinately expressed during lignification of Arabidopsis stems include a set of ABCBs associated with auxin transport. J Exp Bot 62:2063–2077

Lane A, Boecklemann A, Woronuk GN, Sarker S, Mahmoud SS (2010) A genomics resource for investigating regulation of essential oil production in Lavandula angustifolia. Planta 231:835–845. https://doi.org/10.1007/s00425-009-1090-4

Lee M, Choi Y, Burla B, Kim YY, Jeon B, Maeshima M, Yoo JY, Martinoia E, Lee Y (2008) The ABC transporter AtABCB14 is a malate importer and modulates stomatal response to CO2. Nat Cell Biol 10:1217

Lefevre F, Boutry M (2018) Towards identification of the substrates of ATP-binding cassette transporters. Plant Physiol 178:18–39

Lis-Balchin M (2002) Lavender essential oil Standardisation, ISO: adulteration and its detection using GC, enantiomeric columns and bioactivity. In: Lis-Balchin (ed) Lavender; The Genus Lavandula: Medicinal and Aromatic Plants–Industrial Profiles, Taylor & Francis, London, pp 117–123

McCaskill D, Gershenzon J, Croteau R (1992) Morphology and monoterpene biosynthetic capabilities of secretory cell clusters isolated from glandular trichomes of peppermint (Mentha piperita L.). Planta 187(4):445–454

McConkey ME, Gershenzon J, Croteau RB (2000) Developmental regulation of monoterpene biosynthesis in the glandular trichomes of peppermint. Plant Physiol 122:215–224

Rea PA (2007) Plant ATP-binding cassette transporters. Annu Rev Plant Biol 58:347–375

Shitan N, Bazin I, Dan K, Obata K, Kigawa K, Ueda K, Sato F, Forestier C, Yazaki K (2003) Involvement of CjMDR1, a plant multidrug-resistance-type ATP-binding cassette protein, in alkaloid transport in Coptis japonica. Proc Natl Acad Sci USA 100:751–756

Smigielski K, Raj A, Krosowiak K, Gruska R (2009) Chemical composition of the essential oil of Lavandula angustifolia cultivated in Poland. J Essent Bear Plants 12(3):338–347

Suzuki Y, Onge RPS, Mani R, King OD, Heilbut A, Labunskyy VM, Chen W, Pham L, Zhang LV, Tong AHY, Nislow C, Giaever G, Gladyshev VN, Vidal M, Schow P, Lehár J, Roth FP (2011) Knocking out multi-gene redundancies via cycles of sexual assortment and fluorescence selection. Nat Methods 8(2):159–164

Turner GW, Croteau R (2004) Organization of monoterpene biosynthesis in Mentha. Immunocytochemical localizations of geranyl diphosphate synthase, limonene-6-hydroxylase, isopiperitenol dehydrogenase, and pulegone reductase. Plant Physiol 136(4):4215–4227

Ushigome F, Koyabu N, Satoh S, Tsukimori K, Nakano H, Nakamura T, Uchiumi T, Kuwano M, Ohtani H, Sawada Y (2003) Kinetic analysis of P-glycoprotein-mediated transport by using normal human placental brush-border membrane vesicles. Pharm Res 20:38–44

Wang Y, Lim L, DiGuistini S, Robertson G, Bohlmann J, Breuil C (2013) A specialized ABC efflux transporter GcABC-G1 confers monoterpene resistance to Grosmannia clavigera, a bark beetle-associated fungal pathogen of pine trees. New Phytol 197:886–898

Yoshida N, Takagi A, Kitazawa H, Kawakami J, Adachi I (2005) Inhibition of P-glycoprotein-mediated transport by extracts of and monoterpenoids contained in Zanthoxyli fructus. Toxicol Appl Pharmacol 209:167–173

Yoshida N, Koizumi M, Adachi I, Kawakami J (2006) Inhibition of P-glycoprotein-mediated transport by terpenoids contained in herbal medicines and natural products. Food Chem Toxicol 44:2033–2039
Acknowledgements
This work was supported through grants or in-kind contributions by the Investment Agriculture Foundation of British Columbia, National Research Council Plant Biotechnology Institute through the NAPGEN program, Genome British Columbia, The University of British Columbia, the Natural Sciences and Engineering Research Council of Canada (RGPIN-2015-04858), and the Canadian Foundation for Innovation to S.S.M. We are also grateful to Dr. Fritz Roth and Harvard University for providing the yeast strains for this study.
About this article
Cite this article
Demissie, Z.A., Tarnowycz, M., Adal, A.M. et al. A lavender ABC transporter confers resistance to monoterpene toxicity in yeast. Planta 249, 139–144 (2019). https://doi.org/10.1007/s00425-018-3064-x
Keywords
ATP-binding cassette

Lavandula

Multidrug resistance

Monoterpene trafficking

Transmembrane protein