Abstract
Main conclusion
The histone acetyltransferase GCN5 and associated transcriptional coactivator ADA2b are required to couple endoreduplication and trichome branching. Mutation of ADA2b also disrupts the relationship between ploidy and leaf cell size.
Dynamic chromatin structure has been established as a general mechanism by which gene function is temporally and spatially regulated, but specific chromatin modifier function is less well understood. To address this question, we have investigated the role of the histone acetyltransferase GCN5 and the associated coactivator ADA2b in developmental events in Arabidopsis thaliana. Arabidopsis plants with T-DNA insertions in GCN5 (also known as HAG1) or ADA2b (also known as PROPORZ1) display pleiotropic phenotypes including dwarfism and floral defects affecting fertility. We undertook a detailed characterization of gcn5 and ada2b phenotypic effects in rosette leaves and trichomes to establish a role for epigenetic control in these developmental processes. ADA2b and GCN5 play specific roles in leaf tissue, affecting cell growth and division in rosette leaves often in complex and even opposite directions. Leaves of gcn5 plants display overall reduced ploidy levels, while ada2b-1 leaves show increased ploidy. Endoreduplication leading to increased ploidy is also known to contribute to normal trichome morphogenesis. We demonstrate that gcn5 and ada2b mutants display alterations in the number and patterning of trichome branches, with ada2b-1 and gcn5-1 trichomes being significantly less branched, while gcn5-6 trichomes show increased branching. Elongation of the trichome stalk and branches also vary in different mutant backgrounds, with stalk length having an inverse relationship with branch number. Taken together, our data indicate that, in Arabidopsis, leaves and trichomes ADA2b and GCN5 are required to couple nuclear content with cell growth and morphogenesis.
This is a preview of subscription content, log in to check access.
Access options
Buy single article
Instant access to the full article PDF.
US$ 39.95
Price includes VAT for USA
Subscribe to journal
Immediate online access to all issues from 2019. Subscription will auto renew annually.
US$ 199
This is the net price. Taxes to be calculated in checkout.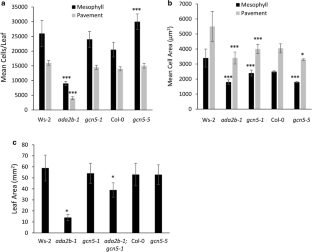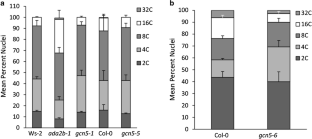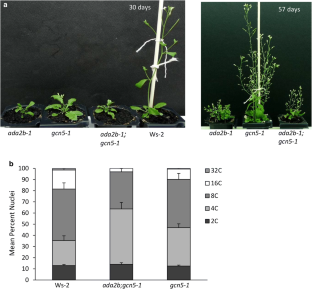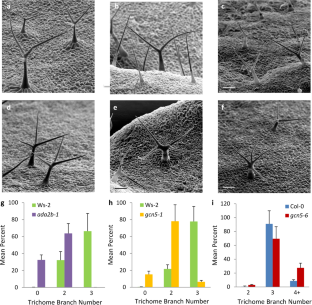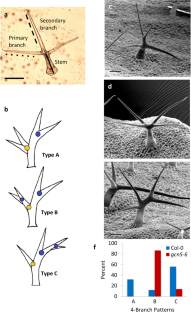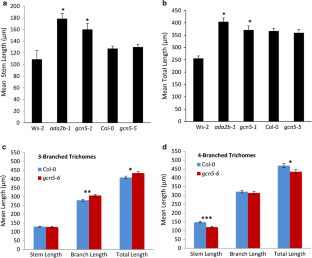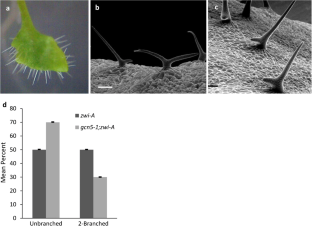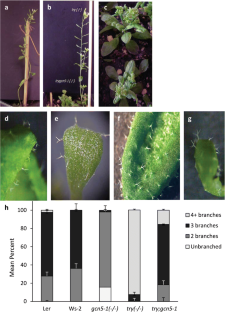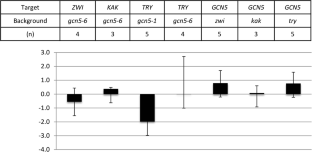 References
Alonso JM, Stepanova AN, Leisse TJ, Kim CJ, Chen H, Shinn P et al (2003) Genome-wide insertional mutagenesis of Arabidopsis thaliana. Science 301:653–657. https://doi.org/10.1126/science.1086391

Anzola JM, Sieberer T, Ortbauer M, Butt H, Korbei B, Weinhofer I et al (2010) Putative Arabidopsis Transcriptional Adaptor Protein (PROPORZ1) is required to modulate histone acetylation in response to auxin. Proc Natl Acad Sci 107:10308–10313. https://doi.org/10.1073/pnas.0913918107

Barow M, Meister A (2002) Lack of correlation between AT frequency and genome size in higher plants and the effect of nonrandomness of base sequences on dye binding. Cytometry 47:1–7

Benhamed M, Bertrand C, Servet C, Zhou D-X (2006) Arabidopsis GCN5, HD1, and TAF1/HAF2 interact to regulate histone acetylation required for light-responsive gene expression. Plant Cell 18:2893–2903. https://doi.org/10.1105/tpc.106.043489

Benhamed M, Martin-Magniette M-L, Taconnat L, Bitton F, Servet C, De Clercq R et al (2008) Genome-scale Arabidopsis promoter array identifies targets of the histone acetyltransferase GCN5. Plant J 56:493–504. https://doi.org/10.1111/j.1365-313X.2008.03606.x

Bertrand C, Bergounioux C, Domenichini S, Delarue M, Zhou D-X (2003) Arabidopsis histone acetyltransferase AtGCN5 regulates the floral meristem activity through the WUSCHEL/AGAMOUS pathway. J Biol Chem 278:28246–28251. https://doi.org/10.1074/jbc.M302787200

Bramsiepe J, Wester K, Weinl C, Roodbarkelari F, Kasili R, Larkin JC et al (2010) Endoreplication controls cell fate maintenance. PLoS Genet 6:e1000996. https://doi.org/10.1371/journal.pgen.1000996

Breuer C, Stacey NJ, West CE, Zhao Y, Chory J, Tsukaya H et al (2007) BIN4, a novel component of the plant DNA topoisomerase VI complex, is required for endoreduplication in Arabidopsis. Plant Cell 19:3655–3668. https://doi.org/10.1105/tpc.107.054833

Buschmann H, Dols J, Kopischke S, Peña EJ, Andrade-Navarro MA, Heinlein M et al (2015) Arabidopsis KCBP interacts with AIR9 but stays in the cortical division zone throughout mitosis via its MyTH4-FERM domain. J Cell Sci 128:2033–2046. https://doi.org/10.1242/jcs.156570

Candau R, Zhou JX, Allis CD, Berger SL (1997) Histone acetyltransferase activity and interaction with ADA2 are critical for GCN5 function in vivo. EMBO J 16:555–565. https://doi.org/10.1093/emboj/16.3.555

Carré C, Szymczak D, Pidoux J, Antoniewski C (2005) The histone H3 acetylase dGcn5 is a key player in Drosophila melanogaster metamorphosis. Mol Cell Biol 25:8228–8238. https://doi.org/10.1128/MCB.25.18.8228-8238.2005

Chen ZJ, Tian L (2007) Roles of dynamic and reversible histone acetylation in plant development and polyploidy. Biochim Biophys Acta 1769:295–307. https://doi.org/10.1016/j.bbaexp.2007.04.007

Churchman ML, Brown ML, Kato N, Kirik V, Hülskamp M, Inzé D et al (2006) SIAMESE, a plant-specific cell cycle regulator, controls endoreplication onset in Arabidopsis thaliana. Plant Cell 18:3145–3157. https://doi.org/10.1105/tpc.106.044834

Cieniewicz AM, Moreland L, Ringel AE, Mackintosh SG, Raman A, Gilbert TM et al (2014) The bromodomain of Gcn5 regulates site specificity of lysine acetylation on histone H3. Mol Cel Proteom 13:2896–2910. https://doi.org/10.1074/mcp.M114.038174

Cohen R, Schocken J, Kaldis A, Vlachonasios KE, Hark AT, McCain ER (2009) The histone acetyltransferase GCN5 affects the inflorescence meristem and stamen development in Arabidopsis. Planta 230:1207–1221. https://doi.org/10.1007/s00425-009-1012-5

Dissmeyer N, Weimer AK, Pusch S, De Schutter K, Alvim Kamei CL, Nowack MK et al (2009) Control of cell proliferation, organ growth, and DNA damage response operate independently of dephosphorylation of the Arabidopsis Cdk1 homolog CDKA;1. Plant Cell 21:3641–3654. https://doi.org/10.1105/tpc.109.070417

El Refy A, Perazza D, Zekraoui L, Valay J-G, Bechtold N, Brown S et al (2004) The Arabidopsis KAKTUS gene encodes a HECT protein and controls the number of endoreduplication cycles. Mol Genet Genom 270:403–414. https://doi.org/10.1007/s00438-003-0932-1

Folkers U, Berger J, Hülskamp M (1997) Cell morphogenesis of trichomes in Arabidopsis: differential control of primary and secondary branching by branch initiation regulators and cell growth. Development 124:3779–3786

Gegas VC, Wargent JJ, Pesquet E, Granqvist E, Paul ND, Doonan JH (2014) Endopolyploidy as a potential alternative adaptive strategy for Arabidopsis leaf size variation in response to UV-B. J Exp Bot 65:2757–2766. https://doi.org/10.1093/jxb/ert473

Grebe M (2012) The patterning of epidermal hairs in Arabidopsis—updated. Curr Opin Plant Biol 15:31–37. https://doi.org/10.1016/j.pbi.2011.10.010

Hamdoun S, Zhang C, Gill M et al (2015) Differential Roles of Two Homologous Cyclin-Dependent Kinase Inhibitor Genes in Regulating Cell Cycle and Innate Immunity in Arabidopsis. Plant Physiol 170:515–527

Hark AT, Vlachonasios KE, Pavangadkar KA, Rao S, Gordon H, Adamakis I-D et al (2009) Two Arabidopsis orthologs of the transcriptional coactivator ADA2 have distinct biological functions. Biochim Biophys Acta 1789:117–124. https://doi.org/10.1016/j.bbagrm.2008.09.003

Hülskamp M (2004) Plant trichomes: a model for cell differentiation. Nat Rev Mol Cell Biol 5:471–480. https://doi.org/10.1038/nrm1404

Hülskamp M, Misŕa S, Jürgens G (1994) Genetic dissection of trichome cell development in Arabidopsis. Cell 76:555–566

Hülskamp M, Schnittger A, Folkers U (1999) Pattern formation and cell differentiation: trichomes in Arabidopsis as a genetic model system. Int Rev Cytol 186:147–178

Ilgenfritz H, Bouyer D, Schnittger A, Mathur J, Kirik V, Schwab B et al (2003) The Arabidopsis STICHEL gene is a regulator of trichome branch number and encodes a novel protein. Plant Physiol 131:643–655. https://doi.org/10.1104/pp.014209

Jarillo JA, Piñeiro M, Cubas P, Martínez-Zapater JM (2009) Chromatin remodeling in plant development. Int J Dev Biol 53:1581–1596. https://doi.org/10.1387/ijdb.072460jj

Kalve S, De Vos D, Beemster GTS (2014) Leaf development: a cellular perspective. Front Plant Sci 5:362. https://doi.org/10.3389/fpls.2014.00362

Kasili R, Huang CC, Walker JD, Simmons LA, Zhou J, Faulk C et al (2011) BRANCHLESS TRICHOMES links cell shape and cell cycle control in Arabidopsis trichomes. Development 138:2379–2388. https://doi.org/10.1242/dev.058982

Kim J-Y, Oh JE, Noh Y-S, Noh B (2015) Epigenetic control of juvenile-to-adult phase transition by the Arabidopsis SAGA-like complex. Plant J 83:537–545. https://doi.org/10.1111/tpj.12908

Li S, Shogren-Knaak MA (2009) The Gcn5 bromodomain of the SAGA complex facilitates cooperative and cross-tail acetylation of nucleosomes. J Biol Chem 284:9411–9417. https://doi.org/10.1074/jbc.M809617200

Long JA, Ohno C, Smith ZR, Meyerowitz EM (2006) TOPLESS regulates apical embryonic fate in Arabidopsis. Science 312:1520–1523. https://doi.org/10.1126/science.1123841

Marks MD, Betancur L, Gilding E, Chen F, Bauer S, Wenger JP et al (2008) A new method for isolating large quantities of Arabidopsis trichomes for transcriptome, cell wall and other types of analyses. Plant J 56:483–492. https://doi.org/10.1111/j.1365-313X.2008.03611.x

Mathur J (2006) Trichome cell morphogenesis in Arabidopsis: a continuum of cellular decisions. Can J Bot 84:604–612

Melaragno JE, Mehrotra B, Coleman AW (1993) Relationship between endopolyploidy and cell size in epidermal tissue of Arabidopsis. Plant Cell 5:1661–1668. https://doi.org/10.1105/tpc.5.11.1661

Morohashi K, Grotewold E (2009) A systems approach reveals regulatory circuitry for Arabidopsis trichome initiation by the GL3 and GL1 selectors. PLoS Genet 5:e1000396. https://doi.org/10.1371/journal.pgen.1000396

Oppenheimer DG, Pollock MA, Vacik J, Szymanski DB, Ericson B, Feldmann K et al (1997) Essential role of a kinesin-like protein in Arabidopsis trichome morphogenesis. Proc Natl Acad Sci USA 94:6261–6266

Pandey R, Müller A, Napoli CA, Selinger DA, Pikaard CS, Richards EJ et al (2002) Analysis of histone acetyltransferase and histone deacetylase families of Arabidopsis thaliana suggests functional diversification of chromatin modification among multicellular eukaryotes. Nucleic Acids Res 30:5036–5055

Payne CT, Zhang F, Lloyd AM (2000) GL3 encodes a bHLH protein that regulates trichome development in Arabidopsis through interaction with GL1 and TTG1. Genetics 156:1349–1362

Perazza D, Herzog M, Hülskamp M, Brown S, Dorne AM, Bonneville JM (1999) Trichome cell growth in Arabidopsis thaliana can be derepressed by mutations in at least five genes. Genetics 152:461–476

Pesch M, Hülskamp M (2011) Role of TRIPTYCHON in trichome patterning in Arabidopsis. BMC Plant Biol 11:130

Pfluger J, Wagner D (2007) Histone modifications and dynamic regulation of genome accessibility in plants. Curr Opin Plant Biol 10:645–652. https://doi.org/10.1016/j.pbi.2007.07.013

Rerie WG, Feldmann KA, Marks MD (1994) The GLABRA2 gene encodes a homeodomain protein required for normal trichome development in Arabidopsis. Genes Dev 8:1388–1399

Reyes JC (2006) Chromatin modifiers that control plant development. Curr Opin Plant Biol 9:21–27. https://doi.org/10.1016/j.pbi.2005.11.010

Schellmann S, Hülskamp M (2005) Epidermal differentiation: trichomes in Arabidopsis as a model system. Int J Dev Biol 49:579–584. https://doi.org/10.1387/ijdb.051983ss

Schellmann S, Hülskamp M, Uhrig J (2007) Epidermal pattern formation in the root and shoot of Arabidopsis. Biochem Soc Trans 35:146–148

Schellmann S, Schnittger A, Kirik V, Wada T, Okada K, Beermann A et al (2002) TRIPTYCHON and CAPRICE mediate lateral inhibition during trichome and root hair patterning in Arabidopsis. EMBO J 21:5036–5046. https://doi.org/10.1093/emboj/cdf524

Schnittger A, Folkers U, Schwab B, Jurgens G, Hulskamp M (1999) Generation of a spacing pattern: the role of triptychon in trichome patterning in Arabidopsis. Plant Cell 11:1105–1116

Servet C, Silva NC, Zhou DX (2010) Histone acetyltransferase AtGCN5/HAG1 is a versatile regulator of developmental and inducible gene expression in Arabidopsis. Mol Plant. https://doi.org/10.1093/mp/ssq018

Sieberer T, Hauser M-T, Seifert GJ, Luschnig C (2003) PROPORZ1, a putative Arabidopsis transcriptional adaptor protein, mediates auxin and cytokinin signals in the control of cell proliferation. Curr Biol 13:837–842

Spedale G, Timmers HTM, Pijnappel WW (2012) ATAC-king the complexity of SAGA during evolution. Genes Dev 26:527–541. https://doi.org/10.1101/gad.184705.111

Srivastava R, Rai KM, Pandey B, Singh SP, Sawant SV (2015) Spt-Ada-Gcn5-acetyltransferase (SAGA) complex in plants: genome wide identification, evolutionary conservation and functional determination. PLoS One 10:e0134709. https://doi.org/10.1371/journal.pone.0134709

Sugimoto-Shirasu K, Roberts K (2003) "Big it up": endoreduplication and cell-size control in plants. Curr Opin Plant Biol 6:544–553

Szymanski DB, Jilk RA, Pollock SM, Marks MD (1998) Control of GL2 expression in Arabidopsis leaves and trichomes. Development 125:1161–1171

Szymanski DB, Marks MD, Wick SM (1999) Organized F-actin is essential for normal trichome morphogenesis in Arabidopsis. Plant Cell 11:2331–2347

Szymanski DB, Lloyd AM, Marks MD (2000) Progress in the molecular genetic analysis of trichome initiation and morphogenesis in Arabidopsis. Trends Plant Sci 5:214–219

Traas J, Hülskamp M, Gendreau E, Höfte H (1998) Endoreduplication and development: rule without dividing? Curr Opin Plant Biol 1:498–503

Vlachonasios KE, Thomashow MF, Triezenberg SJ (2003) Disruption mutations of ADA2b and GCN5 transcriptional adaptor genes dramatically affect Arabidopsis growth, development, and gene expression. Plant Cell 15:626–638

Xu W, Edmondson DG, Evrard YA, Wakamiya M, Behringer RR, Roth SY (2000) Loss of Gcn5l2 leads to increased apoptosis and mesodermal defects during mouse development. Nat Genet 26:229–232. https://doi.org/10.1038/79973

Yamauchi T, Yamauchi J, Kuwata T, Tamura T, Yamashita T, Bae N et al (2000) Distinct but overlapping roles of histone acetylase PCAF and of the closely related PCAF-B/GCN5 in mouse embryogenesis. Proc Natl Acad Sci USA 97:11303–11306. https://doi.org/10.1073/pnas.97.21.11303

Zhang X, Oppenheimer DG (2004) A simple and efficient method for isolating trichomes for downstream analyses. Plant Cell Physiol 45:221–224
Acknowledgements
We thank Muhlenberg College students Max Blumenthal and Timothy DeRosa for contributions to the gene expression studies and acknowledge Hannah Molk for her preliminary work investigating the GCN5 transcript in gcn5-6 plants. We also thank AUTh undergraduate students Dimitra Papadopoulou, Zoe Spyropoulou, Anthi Symeonidou, and Dimitra Tsompani for contributions to genetic analysis of double mutants. Permission to adapt Fig. 5 from Folkers et al. (1997) was kindly granted by The Company of Biologists Ltd.
Funding
This work was supported in part by Muhlenberg College. A Gene and Development British Society summer studentship was granted to PN and Erasmus + placement to PP and SM.
Electronic supplementary material
Below is the link to the electronic supplementary material.
About this article
Cite this article
Kotak, J., Saisana, M., Gegas, V. et al. The histone acetyltransferase GCN5 and the transcriptional coactivator ADA2b affect leaf development and trichome morphogenesis in Arabidopsis. Planta 248, 613–628 (2018). https://doi.org/10.1007/s00425-018-2923-9
Received:

Accepted:

Published:

Issue Date:
Keywords
Endoreduplication

Epigenetics

Chromatin

Histone acetyltransferase