Abstract
Main conclusion
The acetohydroxy acid synthase S627N mutation confers herbicide tolerance in rice, and the rice variety containing this mutation produces good yields. This variety is commercially viable at Shanghai and Jiangsu regions in China.
Weedy rice is a type of rice that produces lower yields and poorer quality grains than cultivated rice. It plagues commercial rice fields in many countries. One strategy to control its proliferation is to develop rice varieties that are tolerant to specific herbicides. Acetohydroxy acid synthase (AHAS) mutations have been found to confer herbicide tolerance to rice. Here, we identified a single mutation (S627N) in AHAS from an indica rice variety that conferred tolerance against imidazolinone herbicides, including imazethapyr and imazamox. A japonica rice variety (JD164) was developed to obtain herbicide tolerance by introducing the mutated indica ahas gene. Imidazolinone application was sufficient to efficiently control weedy rice in the JD164 field. Although the imazethapyr treatment caused dwarfing in the JD164 plants, it did not significantly reduce yields. To determine whether the decrease of the ahas mRNA expression caused the dwarfism of JD164 after imazethapyr application, we detected the ahas mRNA level in plants. The abundance of the ahas mRNA in JD164 increased after imidazolinone application, thus excluding the mRNA expression level as a possible cause of dwarfism. Activity assays showed that the mutated AHAS was tolerant to imidazolinone but the catalytic efficiency of the mutated AHAS decreased in its presence. Moreover, the activity of the mutated AHAS decreased more in the presence of imazethapyr than in the presence of imazamox. We observed no difference in the AHAS secondary structures, but homology modeling suggested that the S627N mutation enabled the substrate to access the active site channel in AHAS, resulting in imidazolinone tolerance. Our work combined herbicides with a rice variety to control weedy rice and showed the mechanism of herbicide tolerance in this rice variety.
This is a preview of subscription content, log in to check access.
Access options
Buy single article
Instant access to the full article PDF.
US$ 39.95
Price includes VAT for USA
Subscribe to journal
Immediate online access to all issues from 2019. Subscription will auto renew annually.
US$ 199
This is the net price. Taxes to be calculated in checkout.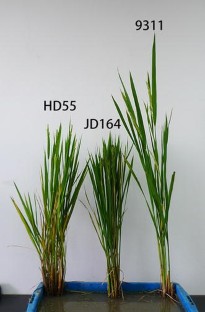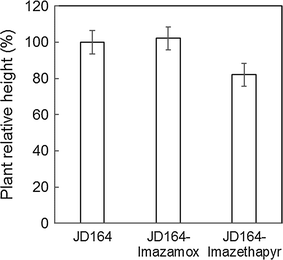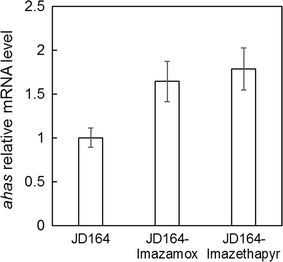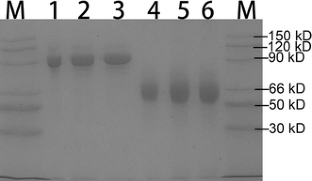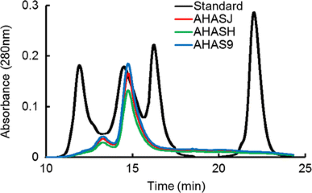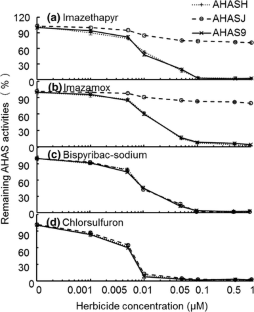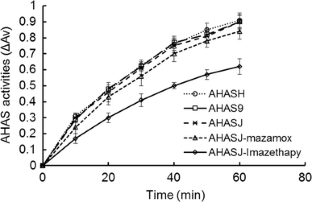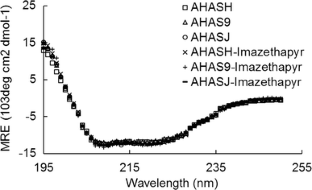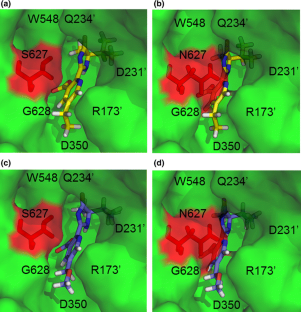 References
Akhgari H, Kaviani B (2011) Assessment of direct seeded and transplanting methods of rice cultivars in the northern part of Iran. Afr J Agric Res 6(3):6492–6498

Biasini M, Bienert S, Waterhouse A, Arnold K, Studer G, Schmidt T, Kiefer F, Gallo Cassarino T, Bertoni M, Bordoli L, Schwede T (2014) SWISS-MODEL: modelling protein tertiary and quaternary structure using evolutionary information. Nucl Acids Res 42(Web Server issue):252–258. https://doi.org/10.1093/nar/gku340

Chang AK, Duggleby RG (1997) Expression, purification and characterization of Arabidopsis thaliana acetohydroxyacid synthase. Biochem J 327:161–169

Chauhan BS (2013) Strategies to manage weedy rice in Asia. Crop Prot 48:51–56

Chen X, Qiang S, Yang J, Zhang B, Zhang Z, Song X, Dai W (2015) Hierarchical clustering and indica-japonica classification: uncover mutual spread and indica-japonica differentiation for weedy rice in Jiangsu province. Chin J Rice Sci 1:82–90

Chong C-K, Choi J-D (2000) Amino acid residues conferring herbicide tolerance in tobacco acetolactate synthase. Biochem Biophys Res Commun 279:462–467

Choudhary B, Gheysen G, Buysse J, Pvd Meer, Burssens S (2014) Regulatory options for genetically modified crops in India. Plant Biotechnol J 12(2):135–146

Duggleby RG, McCourt JA, Guddat LW (2008) Structure and mechanism of inhibition of plant acetohydroxyacid synthase. Plant Physiol Biochem 46(3):309–324. https://doi.org/10.1016/j.plaphy.2007.12.004

Farooq M, Siddique KHM, Rehman HU, Aziz T, Lee DL, Wahid A (2011) Rice direct seeding: experiences, challenges and opportunities. Soil Tillage Res 111(2):87–98

Garcia MD, Nouwens A, Lonhienne TG, Guddat LW (2017) Comprehensive understanding of acetohydroxyacid synthase inhibition by different herbicide families. Proc Natl Acad Sci USA. https://doi.org/10.1073/pnas.1616142114

Gutteridge S, Thompson ME, Ort O, Shaner DL, Stidham M, Singh B, Tan S, Johnson TC, Mann RK, Schmitzer PR, Gast RE, deBoer GJ, Yoshimura T, Hanai R (2012) Acetohydroxyacid synthase inhibitors (AHAS/ALS). In: Krämer W, Schirmer U, Jeschke P and Witschel M (eds) Modern Crop Protection Compounds, 2nd edn. Wiley-VCH Verlag GmbH & Co. KGaA, Weinheim, Germany, pp 29–162

Guttieri MJ, Eberlein CV, Mallory-Smith CA, Hoffman DL (1992) DNA-sequence variation in domain a of the acetolactate synthase genes of herbicide-resistant and herbicide-susceptible weed biotypes. Weed Sci 40:670–676

Haughn GW, Somerville CR (1990) A mutation causing imidazolinone resistance maps to the csr1 locus of Arabidopsis thaliana. Plant Physiol 92(4):1081–1085

Huang X, Yang S, Gong J, Zhao Q, Feng Q, Zhan Q, Zhao Y, Li W, Cheng B, Xia J, Chen N, Huang T, Zhang L, Fan D, Chen J, Zhou C, Yiqi L, Weng Q, Han B (2016) Genomic architecture of heterosis for yield traits in rice. Nature 537:329–633

Islam MK, Islam MS, Biswas JK, Siyoung L, Alam I, Mooryong H (2014) Screening of rice varieties for direct seeding method. Aust J Crop Sci 8(4):536–542

Jung SM, Le DT, Yoon SS, Yoon MY, Kim YT, Choi J-D (2004) Amino acid residues conferring herbicide resistance in tobacco acetohydroxy acid synthase. Biochem J 383:53–61

Kanapeckas KL, Vigueira CC, Ortiz A, Gettler KA, Burgos NR, Fischer AJ, Lawton-Rauh AL (2016) Escape to ferality: the endoferal origin of weedy rice from crop rice through de-domestication. PLoS One 11(9):e0162676. https://doi.org/10.1371/journal.pone.0162676

Kawai K, Kaku K, Izawa N, Shimizu T, Fukuda A, Tanaka Y (2007) A novel mutant acetolactate synthase gene from rice cells which confers resistance to ALS-inhibiting herbicides. J Pestic Sci 32(2):89–98

Koch AC, Ramgareeb S, Rutherford RS, Snyman SJ, Watt MP (2012) An in vitro mutagenesis protocol for the production of sugarcane tolerant to the herbicide imazapyr. In Vitro Cell Dev Biol 48:417–427

Lea DT, Yoon MY, Kimc YT, Choi J-D (2005) Two consecutive aspartic acid residues conferring herbicide resistance in tobacco acetohydroxy acid synthase. Biochim Biophys Acta 1749:103–112

Lee YT, Duggleby RG (2001) Identification of the regulatory subunit of Arabidopsis thaliana acetohydroxyacid synthase and reconstitution with its catalytic subunit. Biochemistry 40(23):6836–6844

Lee YT, Chang AK, Duggleby RG (1999) Effect of mutagenesis at serine 653 of Arabidopsis thaliana acetohydroxyacid synthase on the sensitivity to imidazolinone and sulfonylurea herbicides. FEBS Lett 452:341–345

Li T, Liu B, Chen CY, Yang B (2016) TALEN-mediated homologous recombination produces site-directed dna base change and herbicide-resistant rice. J Genet Genom 43:291–305

Liang Y, Guo S, Yin L (2014) Comparative study on morphological differences between weedy rice and cultivate rice in Shanghai area. J Shanghai Norm Univ (Nat Sci) 43(1):87–97

Liu Y, Li Y, Wang X (2016) Acetohydroxyacid synthases: evolution, structure, and function. Appl Microbiol Biotechnol 100(20):8633–8649. https://doi.org/10.1007/s00253-016-7809-9

Mallory-Smith CA, Thill DC, Dial MJ (1990) Identification of sulfonylurea herbicide-resistant prickly lettuce (Lactuca serriola). Weed Technol 4(1):163–168

McCourt JA, Pang SS, King-Scott J, Guddat LW, Duggleby RG (2006) Herbicide-binding sites revealed in the structure of plant acetohydroxyacid synthase. Proc Natl Acad Sci USA 103(3):569–573. https://doi.org/10.1073/pnas.0508701103

Muthayya S, Sugimoto JD, Montgomery S, Maberly GF (2014) An overview of global rice production, supply, trade, and consumption. Ann N Y Acad Sci 1324:7–14. https://doi.org/10.1111/nyas.12540

Nelson KA, Renner KA, Penner D (1998) Weed control in soybean (Glycine max) with imazamox and imazethapyr. Weed Sci 46(5):587–594

Normile D (2014) China pulls plug on genetically modified rice and corn. Science. http://www.sciencemag.org/news/2014/08/china-pulls-plug-genetically-modified-rice-and-corn. Accessed 20 Aug 2014

Oh KJ, Park EJ, Yoon MY, Han TR, Choi JD (2001) Roles of histidine residues in tobacco acetolactate synthase. Biochem Biophys Res Commun 282(5):1237–1243. https://doi.org/10.1006/bbrc.2001.4714

O'Sullivan J, Thomas RJ, Bouw WJ (1998) Effect of imazethapyr and imazamox soil residues on several vegetable crops grown in Ontario. Can J Plant Sci 78(4):647–651

Ott KH, Kwagh JG, Stockton GW, Sidorov V, Kakefuda G (1996) Rational molecular design and genetic engineering of herbicide resistant crops by structure modeling and site-directed mutagenesis of acetohydroxyacid synthase. J Mol Biol 263(2):359–368. https://doi.org/10.1006/jmbi.1996.0580

Owen MD, Beckie HJ, Leeson JY, Norsworthy JK, Steckel LE (2015) Integrated pest management and weed management in the United States and Canada. Pest Manag Sci 71(3):357–376. https://doi.org/10.1002/ps.3928

Sun Y, Zhang X, Wu C, He Y, Ma Y, Hou H, Guo X, Du W, Zhao Y, Xia L (2016) Engineering herbicide-resistant rice plants through CRISPR/Cas9-mediated homologous recombination of acetolactate synthase. Mol Plant 9(4):628–631

Tan S, Evans RR, Dahmer ML, Singh BK, Shaner DL (2005) Imidazolinone-tolerant crops: history, current status and future. Pest Manag Sci 61(3):246–257. https://doi.org/10.1002/ps.993

Tan S, Evans R, Singh B (2006) Herbicidal inhibitors of amino acid biosynthesis and herbicide-tolerant crops. Amino Acids 30(2):195–204. https://doi.org/10.1007/s00726-005-0254-1

Wang Z, Rong J, B-r Lu (2015) Occurence and damage of weedy rice and its threats to rice production in China. Weed Sci (China) 33(1):1–9

Yi SY, Cui Y, Zhao Y, Liu ZD, Lin YJ, Zhou F (2016) A novel naturally occurring class I 5-enolpyruvylshikimate-3-phosphate synthase from Janibacter sp. confers high glyphosate tolerance to rice. Sci Rep 6:19104. https://doi.org/10.1038/srep19104

Yoon TY, Chung SM, Chang SI, Yoon MY, Hahn TR, Choi JD (2002) Roles of lysine 219 and 255 residues in tobacco acetolactate synthase. Biochem Biophys Res Commun 293(1):433–439. https://doi.org/10.1016/S0006-291X(02)00249-8

Yu Q, Powles SB (2014) Resistance to AHAS inhibitor herbicides: current understanding. Pest Manag Sci 70(9):1340–1350. https://doi.org/10.1002/ps.3710

Zeng D, Tian Z, Rao Y, Dong G, Yang Y, Huang L, Leng Y, Xu J, Sun C, Zhang G, Hu J, Zhu L, Gao Z, Hu X, Guo L, Xiong G, Wang Y, Li J, Qian Q (2017) Rational design of high-yield and superior-quality rice. Nat Plants 3:17031. https://doi.org/10.1038/nplants.2017.31

Zhang L, Chen H, Li Y, Li Y, Wang S, Su J, Liu X, Chen D, Chen X (2014) Evaluation of the agronomic performance of atrazine-tolerant transgenic japonica rice parental lines for utilization in hybrid seed production. PLoS One 9(9):e108569. https://doi.org/10.1371/journal.pone.0108569
Acknowledgements
The research was funded by Grants to Jun Fang from Natural Science Foundation of Shanghai (No. 15ZR1436500), Foundation of Shanghai Agricultural Talents (No. HNQZ2016-1-1), Key Project of Agriculture Science and Technology of Shanghai (No. HNKGZ2015-6-1-3) and SAAS Excellent Research Team (No. NKC2017A05).
About this article
Cite this article
Piao, Z., Wang, W., Wei, Y. et al. Characterization of an acetohydroxy acid synthase mutant conferring tolerance to imidazolinone herbicides in rice (Oryza sativa). Planta 247, 693–703 (2018). https://doi.org/10.1007/s00425-017-2817-2
Received:

Accepted:

Published:

Issue Date:
Keywords
S627N mutation

JD164

Yields

Activities

Molecular structures