Abstract
Main Conclusion
The propagation of Rafflesia spp. is considered to be important for future development of ornamental and other applications. Thus far, the only successful propagation technique has been grafting. This mini-review succinctly emphasizes what is known about Rafflesia species.
Members of the genus Rafflesia (Rafflesiaceae), which are holoparasitic plants known to grow on a host vine, Tetrastigma sp., are widely spread from the Malayan Peninsula to various islands throughout Indonesia. The plant's geographical distribution as well as many other aspects pertaining to the basic biology of this genus have still not been studied. The young flower buds and flowers of wild Rafflesia hasseltii Suringar, Rafflesia keithii Meijer and Rafflesia cantleyi Solms-Laubach are used in local (Malaysia and Indonesia) traditional ethnomedicine as wound-healing agents, but currently no formal published research exists to validate this property. To maintain a balance between its ethnomedicinal and ornamental use, and conservation, Rafflesia spp. must be artificially cultivated to prevent overexploitation. A successful method of vegetative propagation is by host grafting using Rafflesia-impregnated Tetrastigma onto the stem of a normal Tetrastigma plant. Due to difficulties with culture contamination in vitro, callus induction was only accomplished in 2010 for the first time when picloram and 2,4-D were added to a basal Murashige and Skoog medium, and the tissue culture of holoparasitic plants continues to be extremely difficult. Seeds harvested from fertile fruit may serve as a possible method to propagate Rafflesia spp. This paper provides a brief synthesis on what is known about research related to Rafflesia spp. The objective is to further stimulate researchers to examine, through rigorous scientific discovery, the mechanisms underlying the ethnomedicinal properties, the flowering mechanisms, and suitable in vitro regeneration protocols that would allow for the fortification of germplasm conservation.
Access options
Buy single article
Instant access to the full article PDF.
US$ 39.95
Tax calculation will be finalised during checkout.
Subscribe to journal
Immediate online access to all issues from 2019. Subscription will auto renew annually.
US$ 119
Tax calculation will be finalised during checkout.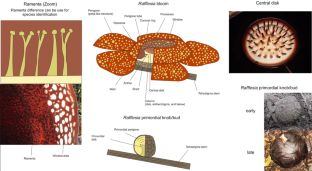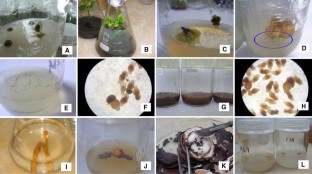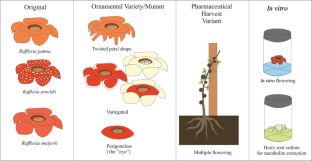 References
Abdulla MA, Ahmed KA, Ali HM, Noor SM, Ismail S (2009) Wound healing activities of Rafflesia hasseltii Extract in Rats. J Clin Biochem Nutr 45:304–308. doi:10.3164/jcbn.09-17

Azizan N, Mohamad N, Sahalan ZA (2011) Antibacterial activity Rafflesia cantleyi Solms-Laubach against Gram positive and negative. J Sains Kesihat Malays 9:51–54 (in Malay)

Burkill IH (1935) A dictionary of the economic products of the Malay Peninsula, vol II. The Crown Agents for the Colonies, Millbank

Cozzolino D (2015) Infrared spectroscopy as a versatile analytical tool for the quantitative determination of antioxidants in agricultural products, foods and plants. Antioxidants (Basel) 2(4):482–497. doi:10.3390/antiox4030482

Department of Forestry and Environment (2015) Indonesia conservation policies for two giant flowers. In: Proceedings of "International Symposium on Indonesian Giant Flowers Rafflesia and Amorphophallus", Bengkulu, Indonesia (September 2015)

Fürst R, Zündorf I (2014) Plant-derived anti-inflammatory compounds: hopes and disappointments regarding the translation of preclinical knowledge into clinical progress. Mediat Inflamm 2014:146832. doi:10.1155/2014/146832

Heyne K (1987) Tumbuhan Berguna Indonesia II. Research and Developmental Board of Forestry, Department of Forestry, Jakarta (in Indonesian)

IUCN (1998) Red list. http://www.iucnredlist.org/details/133709/0. Accessed 21 Mar 2016

Koos ENW (2011) [Mudik 2010] Berburu Rafflesia Arnoldii di habitatnya. https://enkoos.com/2011/02/24/mudik-2010-berburu-rafflesia-arnoldi-di-habitatnya. Accessed 6 Apr 2016

Lewandowska U, Fichna J, Gorlach S (2016) Enhancement of anticancer potential of polyphenols by covalent modifications. Biochem Pharmacol. In press. doi: 10.1016/j.bcp.2015.12.019

Li AN, Li S, Zhang YJ, Xu XR, Chen YM, Li HB (2014) Resources and biological activities of natural polyphenols. Nutrients 6:6020–6047. doi:10.3390/nu6126020

Madulid DA, Tandang DN, Agoo EMG (2008) Rafflesia magnifica. The IUCN red list of threatened species 2008: e.T133709A3873727. http://dx.doi.org/10.2305/IUCN.UK.2008.RLTS.T133709A3873727.en. Accessed 21 Mar 2016

Mayer AM (2006) Pathogenesis by fungi and by parasitic plants: similarities and differences. Phytoparasitica 34:3–16

Meijer W (1997) Rafflesiaceae. Flora Males 1:1–42

Molina J, Hazzouri KM, Nickrent D, Geisler M, Meyer RS, Pentony MM, Flowers JM, Pelser P, Barcelona J, Inovejas SA, Uy I, Yuan W, Wilkins O, Michel CI, Locklear S, Concepcion GP, Purugganan MD (2014) Possible loss of the chloroplast genome in the parasitic flowering plant Rafflesia lagascae (Rafflesiaceae). Mol Biol Evol 31:793–803. doi:10.1093/molbev/msu051

Murashige T, Skoog F (1962) A revised medium for rapid growth and bio assays with tobacco tissue cultures. Physiol Plant 15:473–497. doi:10.1111/j.1399-3054.1962.tb08052.x

Mursidawati S (2012) Morfologi Buah dan Biji Rafflesia patma dan R. arnoldii. Brown. Bul Kebun Raya Bull Bot Gard 15(1):21–30 (January 2012)

Mursidawati S, Handini E (2009) Biologi konservasi tumbuhan holoparasit: percobaan kultur in vitro. In: Proceedings of "Indonesian Flora Conservation in Addressing the Impact of Global Warming", July 14 2009, "Eka Karya" Botanical Garden, Tabanan, Bali, pp 158–162 (in Indonesian)

Mursidawati S, Riswati MK (2009) Biologi konservasi tumbuhan holoparasit: inokulasi biji Rafflesia patma Secara in vivo. In: Proceedings of "Indonesian Flora Conservation in Addressing the Impact of Global Warming", July 14 2009, "Eka Karya" Botanical Garden, Tabanan, Bali, pp 472–475 (in Indonesian)

Mursidawati S, Irawati I, Ngatari N (2014) Rafflesia patma (Rafflesiaceae): notes on its field study, cultivation, seed germination, and anatomy. Bul Kebun Raya Bull Bot Gard 17(1):9–14

Mursidawati S, Ngatari Irawati, Cardinal S, Kusumawati R (2015) Ex-situ conservation of Rafflesia patma Blume (Rafflesiaceae)—an endangered emblematic parasitic species from Indonesia. J Bot Gard Hortic 13:99–109

Nais J (2001) Rafflesia of The World. Natural History Publication, Kota Kinabalu

Nais J, Repin R, Miadin R (2015) Rafflesia conservation research in Sabah, Malaysia. In: Proceedings of "International Symposium on Indonesian Giant Flowers Rafflesia and Amorphophallus", Bengkulu, Indonesia (September 2015)

Nickrent DL, Blarer A, Qiu YL, Vidal-Russell R, Anderson FE (2004) Philogenetic inference in Rafflesiales: the influence of rate heterogenity and horizontal gene transfer. BMC Evol Biol 4:40. doi:10.1186/1471-2148-4-40

Oskoueian E, Abdullah N, Saad WZ, Omar AR, Ahmad S, Kuan WB, Zolkifli NA, Hendra R, Ho YW (2011) Antioxidant, anti-inflammatory and anticancer activities of methanolic extracts from Jatropha curcas Linn. J Med Plant Res 5:49–57

Puttipan R, Okonogi S (2014) Antioxidant activity of Rafflesia kerrii flower extract. Drug Discov Ther 8:18–24. doi:10.5582/ddt.8.18

Rahayu SSB (2003) Rafflesia R.Br. In: Lemmens RHMJ and Bunyapraphatsara (eds). Medicinal and Poisonous Plants 3. Plant Resources of South-East Asia, Backhuys Publishers, Leiden 12:342–344

Refaei J, Jones EBG, Sakayaroj J, Santhanam J (2011) Endophytic fungi from Rafflesia cantleyi: species diversity and antimicrobial activity. Mycosphere 2:429–447

Sofiyanti N, Wahibab NN, Purwanto D, Syahputra E, Salleh KM (2008) Alkaloid and phenolic Rafflesia hasseltii Suringar and its host Tetrastigma leucostaphyllum (Dennst.) Alston ex Mabb. in Bukit Tiga Puluh National Park, Riau: a preliminary study. Biodiversitas 9:17–20. doi:10.13057/biodiv/d090105

Sukamto LA (2001) Upaya menumbuhkan Rafflesia arnoldii Secara in vitro. In: Proceedings of a National Seminar on Indonesian Rare Flowers. Bogor, West Java, Indonesia, June 16 2001, pp 31–34 (in Indonesian)

Sukamto LA, Mujiono (2010) In vitro culture of holoparasite Rafflesia arnoldii R Brown. Buletin Kebun Raya Bull Bot Gard 13:79–85

Susatya A (2011) Pesona Bunga Terbesar di Dunia. Directorate for Conservation Areas and Protected Forest Development, Department of Forestry, Jakarta (in Indonesian)

Veldkamp JF (2009) Notes on the name of the Tetrastigma (Vitaceae) host of Rafflesia (Rafflesiaceae). Reinwardtia 13:75–78. doi:10.14203/reinwardtia.v13i1.431

Wiart C, Mogana S, Khalifah S, Mahan M, Ismail S, Buckle M, Narayana AK, Sulaiman M (2004) Antimicrobial screening of plants used for traditional medicine in the state of Perak, Peninsular Malaysia. Fitoterapia 75:68–73. doi:10.1016/j.fitote.2003.07.013

Wicaksono A, Teixeira da Silva JA (2015) Attempted callus induction of holoparasite Rafflesia patma Blume using primordial flower bud tissue. Nusant Biosci 7:96–101. doi:10.13057/nusbiosci/n070206

Xi Z, Bradley RK, Wurdack KJ, Wong KM, Sugumaran M, Bomblies K, Rest JS, Davis CC (2012) Horizontal transfer of expressed genes in a parasitic flowering plant. BMC Genom 13:227. doi:10.1186/1471-2164-13-227

Zuhud EAM, Hikmat A, Jamil N (1998) Rafflesia Indonesia, Keanekaragaman, Ekologi, dan Pelestariannya. The Indonesian Wildlife Fund and Bogor Institute of Agriculture, Bogor (in Indonesian)
Acknowledgments
Some additional information was acquired informally by dialog during the International Symposium of Rafflesia and Amorphophallus in Bengkulu (September 2015) from the director of Sabah Parks, Dr. Jamili Nais, who has been personally involved in Rafflesia ecology and conservation research, including conventional and in vitro propagation. Information regarding Rafflesia propagation in Palupuh, Bukittinggi, West Sumatra, Indonesia was also gathered following discussion with Joni Hartono (Palupuh) who has field experience and information as a local guide for Rafflesia conservation. Special thanks also to Mohammad Apriza Suska from Suska Nurseri in Ciawi, West Java who provided the authors with some useful information. Finally, the authors thank Neka Afnidarti (SMP 3 Karang Tinggi Junior Highschool, Bengkulu Tengah, Indonesia) for providing photos used in Figs. 2 and 4, and Noprianto (KPPGPPL, Bengkulu, Indonesia) for providing photos used in Fig. 2.
Electronic supplementary material
Below is the link to the electronic supplementary material.
About this article
Cite this article
Wicaksono, A., Mursidawati, S., Sukamto, L.A. et al. Rafflesia spp.: propagation and conservation. Planta 244, 289–296 (2016). https://doi.org/10.1007/s00425-016-2512-8
Received:

Accepted:

Published:

Issue Date:
Keywords
Holoparasite

Medicine

Metabolite

Propagation

Rafflesia