Abstract
Main conclusion
A mixture of resins based on aliphatic esters and carboxylic acids occurs in distantly related genera Peperomia and Roridula , serving different functions as adhesion in seed dispersal and prey capture.
According to mechanical characteristics, adhesive secretions on both leaves of the carnivorous flypaper Roridula gorgonias and epizoochorous fruits of Peperomia polystachya were expected to be similar. The chemical analysis of these adhesives turned out to be challenging because of the limited available mass for analysis. Size exclusion chromatography and Fourier transform infrared spectroscopy were suitable methods for the identification of a mixture of compounds, most appropriately containing natural resins based on aliphatic esters and carboxylic acids. The IR spectra of the Peperomia and Roridula adhesive resemble each other; they correspond to that of a synthetic ethylene–vinyl acetate copolymer, but slightly differ from that of natural tree resins. Thus, the pressure sensitive adhesive properties of the plant adhesives are chemically proved. Such adhesives seem to appear independently in distantly related plant lineages, habitats, life forms, as well as plant organs, and serve different functions such as prey capture in Roridula and fruit dispersal in Peperomia. However, more detailed chemical analyses still remain challenging because of the small available volume of plant adhesive.
Access options
Buy single article
Instant access to the full article PDF.
US$ 39.95
Tax calculation will be finalised during checkout.
Subscribe to journal
Immediate online access to all issues from 2019. Subscription will auto renew annually.
US$ 119
Tax calculation will be finalised during checkout.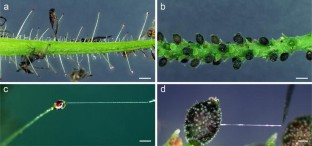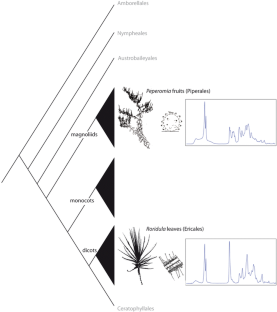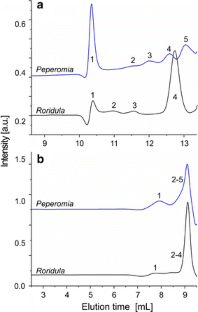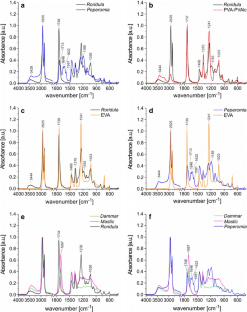 References
Anderson B, Midgley JJ (2002) It takes two to tango but three is a tangle: mutualists and cheaters on the carnivorous plant Roridula. Oecologia 132:369–373

Anderson B, Midgley JJ (2003) Digestive mutualism, an alternate pathway in plant carnivory. Oikos 102:221–224

Benedek I (2004) Pressure-sensitive adhesives and applications. CRC Press, Boca Raton

Benítez JJ, Matas AJ, Heredia A (2004) Molecular characterization of the plant biopolyester cutin by AFM and spectroscopic techniques. J Struct Biol 147:179–184

Breitmaier E (2006) Terpenes. Flavors, fragrances, pharmaca, pheromones. Wiley, Weinheim

Carlquist S (1976) Wood anatomy of Roridulaceae, ecological and phylogenetic implications. Am J Bot 63:1003–1008

Carlquist S (1983) Intercontinental dispersal. In: Kubitzki K (ed) Dispersal and distribution. Verlag Paul Parey, Hamburg, pp 37–49

Creton C (2003) Pressure-sensitive adhesives, an introductory course. MRS Bull 28:434–439. doi:10.1557/mrs2003.124

Czech Z, Kowalczyk A, Swiderska J (2011) Pressure-sensitive adhesives for medical applications. In: Akyar I (ed) Pressure-sensitive adhesives for medical applications, wide spectra of quality and control, chapter 17. InTech, Rijeka, pp 309–332

Dahlstedt H (1900) Studien über Süd- und Central-Amerikanische Peperomien. Kungl. Svenska. Vetenskaps Akademiens Handlingar 332:1–218

De Ruig WG, Dijkstra G (1975) Characterization and identification of triglycerides by infrared spectroscopy. Eur J Lipid Sci Technol 77:211–216

Dechant D (1972) Ultrarotspektroskopische Untersuchungen an Polymeren. Akademie-Verlag, Berlin

Dell B (1977) Distribution and function of resins and glandular hairs in Western Australian plants. J R Soc Western Austr 59:119–123

Dell B, McComb AJ (1978) Plant resins—their formation, secretion and possible functions. Adv Bot Res 6:277–316. doi:10.1016/S0065-2296(08)60332-8

Derrick M (1989) Fourier transform infrared spectral analysis of natural resins used in furniture finishes. J Am Inst Conserv 28:43–56

Diels L (1928) Die Arten von Roridula L. Notizbl Botan Garten Mus Berlin-Dahlem 93:283–285

Dietemann P, Higgitt C, Kälin M, Edelmann MJ, Knochenmuss R, Zenobi R (2009) Aging and yellowing of triterpenoid resin varnishes—influence of aging conditions and resin composition. J Cult Herit 10:30–40

Eisner T, Aneshansley DJ (1983) Adhesive strength of the insect-trapping glue of a plant Befaria racemosa. Ann Entomol Soc Am 76:295–298

Ellis AG, Midgley JJ (1996) A new plant-animal mutualism involving a plant with sticky leaves and a resident hemipteran insect. Oecologia 106:478–481. doi:10.1007/BF00329705

Erni P, Varagnat M, Clasen C, Cresta J, McKinley H (2011) Microrheometry of sub-nanolitre biopolymer samples: non-Newtonian flow phenomena of carnivorous plant mucilage. Soft Matter 7(10889):1–10

Faker M, Razavi Aghjeh MK, Ghaffari M, Seyyedi SA (2008) Rheology, morphology and mechanical properties of polyethylene/ethylene vinyl acetate copoloymer (PE/EVA) blends. Eur Polymer J 44:1834–1842

Feldstein MM, Khokhlov AR (2013) Molecular structures of pressure-sensitive adhesives. Annual meeting proceedings of the Adhesion Society, pp 1–3. http://www.adhesionsociety.org/wp-content/uploads/2013-Annual-Meeting-Abstracts/Feldstein_molecular_2013.pdf

Feldstein MM, Siegel RA (2012) Molecular and nanoscale factors governing pressure-sensitive adhesion strength of viscoelastic polymers. J Polymer Sci B 50:739–772

Frenzke L, Samain M-S, Wanke S, Neinhuis C (2012a) Exploring the attachment mechanisms of Peperomia fruits. In: Moulia B, Fournier M (eds) Proceedings of the 7th plant biomechanics international conference Clermont-Ferrand, p 298

Frenzke L, Samain M-S, Wanke S, Neinhuis C (2012b) Phyto post-it: exploring the attachment mechanisms of Peperomia fruits (Piperaceae). 1st International conference on biological and biomimetic adhesives, 9–11 May 2012, Lissabon, Portugal, p 20

Frenzke L, Samain M-S, Wanke S, Neinhuis C (2012c) Exploring the attachment mechanisms of Peperomia fruits (Piperaceae). Bio-inspired materials- international conference on biological materials science, 20–23 March 2012, Potsdam, Germany, p 26

Frenzke L, Samain M-S, Symmank L, Goetghebeur P, Neinhuis C, Wanke S (2014) Evolution of fruit structures correlates with species richness and transition to epiphytism in Peperomia. Bio Div Evol 2014. 15th annual meeting of the society of biological systematics (GfBS) conference, 22nd international symposium "Biodiversity and Evolutionary Biology", Dresden, p 40

Frenzke L, Scheiris E, Pino G, Symmank L, Goetghebeur P, Neinhuis C, Wanke S, Samain M-S (2015) A revised infrageneric classification of the genus Peperomia (Piperaceae). Taxon 64:424–444

Ganewatta MS, Chen YP, Wang J, Zhou J, Ebalunode J, Nagarkatti M, Decho AW, Tang C (2014) Bio-inspired resin acid-derived materials as anti-bacterial resistance agents with unexpected activities. Chem Sci 5:2011–2016

Gunatilaka AL (2012) Plant natural products. In: Civjan N (ed) Natural products in chemical biology. Wiley, Oxford, pp 3–29

Habenicht G (2002) Kleben, Grundlagen, Technologien, Anwendung, 4th edn. Springer, Berlin

Hartmeyer S (1998) Carnivory in Byblis revisited II, the phenomenon of symbiosis on insect trapping plants. Carniv Plant Newsl 27:110–113

Hummel DO, Scholl F (1978) Atlas of polymer and plastics analysis, 2nd edn. Verlag Chemie International, Munich

Koenig JL (1999) Spectroscopy of polymers. Elsevier Science Inc., New York

Langenheim JH (2003) Plant resins chemistry, evolution, ecology, ethnobotany. Timber Press, Inc, Portland

Lloyd FE (1934) Is Roridula a carnivorous plant? Can J Res 10:780–786

Manning J (2004) SASOL first field guide to Fynbos of Southern Africa. Struik Publishers, Cape Town

Marloth R (1903) Some recent observations on the biology of Roridula. Ann Bot 17:151–158

Marloth R (1910) Further observations on the biology of Roridula. Trans R Soc South Afr 2:59–62

Marloth R (1925) Flora of South Africa, Part I, vol 2. University Press, Cambridge, pp 26–30

Midgley JJ, Stock WD (1998) Natural abundance of δ 15 N confirms insectivorous habit of Roridula gorgonias, despite it having no proteolytic enzymes. Ann Bot 82:387–388

Mithöfer A, Reichelt M, Nakamura Y (2013) Wound and insect-induced jasmonate accumulation in carnivorous Drosera capensis: two sides of the same coin. Plant Biol 16:982–987

Nakamura Y, Reichelt M, Mayer VE, Mithöfer A (2013) Jasmonates trigger prey-induced formation of 'outer stomach' in carnivorous sundew plants. Proc R Soc B 280:20130228. doi:10.1098/rspb.2013.0228

Pavlovič A, Saganová M (2015) A novel insight into the cost-benefit model for the evolution of botanical carnivory. Ann Bot 115:1075–1092

Płachno BJ, Adamec L, Lichtscheidl IK, Peroutka M, Adlassnig W, Vrba J (2006) Fluorescence labelling of phosphatase activity in digestive glands of carnivorous plants. Plant Biol 8:813–820

Płachno BJ, Adamec L, Huet H (2009) Mineral nutrient uptake from prey and glandular phophatase activity as a dual test of carnivory in semi-desert plants with glandular leaves suspected of carnivory. Ann Bot 104:649–654

Radotić K, Roduit C, Simonović J, Hornitschek P, Fankhauser C, Mutavdžić D, Steinbach G, Dietler G, Kasas S (2012) Atomic force microscopy stiffness tomography on living Arabidopsis thaliana cells reveals the mechanical properties of surface and deep cell-wall layers during growth. Biophys J 103:386–394

Ridley HN (1930) Dispersal by simple adhesion. In: Ridley HN (ed) The dispersal of plants throughout the world. L. Reeve, pp 532–550

Samain M-S, Vanderschaeve L, Chaerle P, Goetghebeur P, Neinhuis C, Wanke S (2009) Is morphology telling the truth about the evolution of the species rich genus Peperomia (Piperaceae)? Plant Syst Evol 278:1–21

Santner A, Calderon-Villalobos LIA, Estelle M (2009) Plant hormones are versatile chemical regulators of plant growth. Nat Chem Biol 5:301–307. doi:10.1038/nchembio.165

Schnepf E (1969) Sekretion und Exkretion bei Pflanzen. Protoplasmatologia, Handbuch der Protoplasmaforschung, Bd. 8, Physiologie des Protoplasmas, Wien, Springer, New York

Schulz H, Baranska M (2007) Identification and quantification of valuable plant substances by IR and Raman spectroscopy. Vib Spec 43:13–25

Simoneit BRT, Medeiros PM, Wollenweber E (2008) Triterpenoids as major components of the insect-trapping glue of Roridula species. Z Naturforsch 63c:625–630

Socrates S (1980) Infrared characteristic group frequencies. Wiley, Chichester

Sorensen AE (1986) Seed dispersal by adhesion. Ann Rev Ecol Syst 17:443–463

Symmank L, Samain MS, Smith JF, Pino G, Stoll A, Goetghebeur P, Neinhuis C, Wanke S (2011) The extraordinary journey of Peperomia subgenus Tildenia (Piperaceae): insights into diversification and colonization patterns from its cradle in Peru to the Trans-Mexican Volcanic Belt. J Biogeography 38:2337–2349

Tauer K (2004) Latex particles. In: Caruso F (ed) Colloids and colloid assemblies. Wiley, Weinheim, pp 1–51

van der Pijl L (1982) Principles of dispersal in higher plants. Springer, Berlin

Voigt D, Gorb SN (2008) Insect trap as habitat, cohesion failure mechanism prevents adhesion of bugs Pameridea roridulae Heteroptera, Miridae, Bryocorinae to the sticky surface of the plant Roridula gorgonias Roridulaceae. J Exp Biol 211:2647–2657. doi:10.1242/jeb.019273

Voigt D, Gorb SN (2010) Desiccation resistance of adhesive secretion in the protocarnivorous plant Roridula gorgonias as an adaptation to periodically dry environment. Planta 232:1511–1515. doi:10.1007/s00425-010-1270-2

Voigt D, Gorb EV, Gorb SN (2009) Hierarchical organisation of the trap in the protocarnivorous plant Roridula gorgonias Roridulaceae. J Exp Biol 212:3184–3191. doi:10.1242/jeb.034280

Voigt D, Konrad W, Gorb S (2015) A universal glue: underwater adhesion of the secretion of the carnivorous flypaper plant Roridula gorgonias. Interface Focus 5(20140053):1–7. doi:10.1098/rsfs.2014.0053

Weidener RA (1969) Thermoplastic adhesives. In: Patrick RL (ed) Treatise on adhesion and adhesives, vol 2., MaterialsMarcel Dekker, New York, pp 429–484

Witten T, Pinus P (2004) Structured fluids. Polymers, colloids, surfactants. Oxford University Press, New York

Wollenweber E (1999) Triterpenoids in lipophilic leaf and stem coatings. Biochem Syst Ecol 27:103–105

Wollenweber E (2007) Flavonoids occuring in the sticky resin on Roridula dentata and Roridula gorgonias (Roridulaceae). Carniv Plant Newsl 36:77–80

Zimmermann B, Kohler A (2014) Shedding light on plant biology by Fourier transform infrared spectroscopy of pollen. Spectrosc Eur 26:20–23

Zosel A (2001) Molecular structure, mechanical behaviour and adhesion performance of pressure sensitive adhesives. Adhes Sealants Ind Mag 193–203
Acknowledgments
D. Fietsch, B. Ditsch and colleagues (Botanical Garden, Technische Universität, Dresden, Germany) are acknowledged for cultivation of plants. K. Keller (Augsburg, Germany) kindly provided plants and valuable information. We thank the anonymous reviewer for the helpful comments.
About this article
Cite this article
Frenzke, L., Lederer, A., Malanin, M. et al. Plant pressure sensitive adhesives: similar chemical properties in distantly related plant lineages. Planta 244, 145–154 (2016). https://doi.org/10.1007/s00425-016-2496-4
Received:

Accepted:

Published:

Issue Date:
Keywords
Carnivory

Epizoochory

FTIR

Peperomia polystachya

Resin

Roridula gorgonias