Abstract
Main conclusion
Identification of distinct allelic versions for dihydroflavonol 4-reductase in gerbera cultivars reveals that gerbera DFR enzymes have strong substrate preference in vivo that is not reflected to the activity in vitro.
Flavonoids in the model ornamental plant Gerbera hybrida consist of flavones, flavonols and anthocyanins. Anthocyanins accumulate in the adaxial epidermis of petals and give the different cultivars their characteristic red and violet colour. Both pelargonidin and cyanidin derivatives are found in gerbera, but none of the cultivars contain delphinidin. 'Ivory', a cultivar with white petals, is a sport of the pelargonidin-containing pink cultivar 'Estelle', i.e. it originates from an acyanic branch of 'Estelle'. In this work, four different alleles encoding dihydroflavonol 4-reductase (DFR) were identified in gerbera cultivars. We found that, in contrast to 'Estelle' with the functional allele GDFR1-2, 'Ivory' carries a mutation in this gene that results in an inactive enzyme. Interestingly, 'Ivory' also expresses a second, nonmutated allele (GDFR1-3) in petal epidermi, leading to extractable DFR activity but not to anthocyanin biosynthesis. The second allele encodes a protein identical in amino acid sequence to the DFR of the cyanidin-containing variety 'President'. Pelargonidin-containing cultivars do not react to the flavonoid 3′-hydroxylase inhibitor tetcyclacis, but cyanidin-containing cultivars lose their colour, instead of starting to synthesise pelargonidins, indicating the specificity of GDFR1-3 for the cyanidin pathway. This explains why petals of 'Ivory' are white, even when it has lost only one of the two enzymatically functional DFR forms, and shows that anthocyanin biosynthesis in gerbera is under more complex regulation than earlier thought.
Access options
Buy single article
Instant access to the full article PDF.
US$ 39.95
Tax calculation will be finalised during checkout.
Subscribe to journal
Immediate online access to all issues from 2019. Subscription will auto renew annually.
US$ 119
Tax calculation will be finalised during checkout.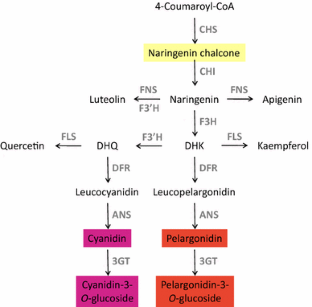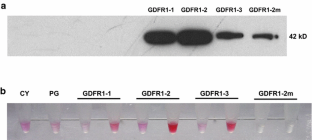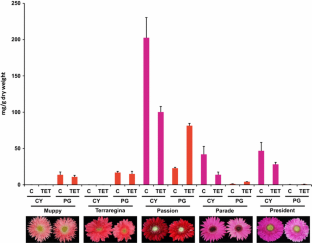 Abbreviations
3GT:

Anthocyanidin 3-O-glycosyltransferase

ANS:

Anthocyanidin synthase

CY:

Cyanidin

DHK:

Dihydrokaempferol

DHQ:

Dihydroquercetin

DFR:

Dihydroflavonol 4-reductase

F3′H:

Flavonoid 3′-hydroxylase

LCY:

Leucocyanidin

LPG:

Leucopelargonidin

PG:

Pelargonidin

TET:

Tetcyclacis
References
Aida R, Yoshida K, Kondo T, Kishimoto S, Shibata M (2000) Copigmentation gives bluer flowers on transgenic torenia plants with the antisense dihydroflavonol-4-reductase gene. Plant Sci 160:49–56

Arapitsas P, Perenzoni D, Nicolini G, Fulvio Mattivi (2012) Study of Sangiovese wines pigment profile by UHPLC-MS/MS. J Agric Food Chem 60:10461–10471

Asen (1984) High pressure liquid chromatographic analysis of flavonoid chemical markers in petals from Gerbera flowers as an adjunct for cultivar and germplasm identification. Phytochemistry 11:2523–2526

Bradford MM (1976) A rapid and sensitive method for the quantitation of microgram quantities of protein utilizing the principle of protein-dye binding. Anal Biochem 72:248–254

Burbulis IE, Winkel-Shirley B (1999) Interactions among enzymes of the Arabidopsis flavonoid biosynthetic pathway. Proc Natl Acad Sci USA 96:12929–12934

Crosby KC, Pietraszewska BA, Gadella T, Winkel B (2011) Förster resonance energy transfer demonstrates a flavonoid metabolon in living plant cells that displays competitive interactions between enzymes. FEBS Lett 585:2193–2198

Davies KM, Schwinn KE, Deroles SC, Manson DG, Lewis DH, Bloor SJ, Bradley JM (2003) Enhancing anthocyanin production by altering competition for substrate between flavonol synthase and dihydroflavonol 4-reductase. Euphytica 131:259–268

Deblaere R, Bytebier B, Degreve H, Deboeck F, Schell J, Van Montagu M, Leemans J (1985) Efficient octopine Ti plasmid-derived vectors for Agrobacterium-mediated gene-transfer to plants. Nucleic Acids Res 13:4777–4788

Deng X, Elomaa P, Nguyen CX, Hytönen T, Valkonen JPT, Teeri TH (2012) Virus-induced gene silencing for Asteraceae - a reverse genetics approach for functional genomics in Gerbera hybrida. Plant Biotech J 10:970–978

Deng X, Bashandy H, Ainasoja M, Kontturi J, Pietiäinen M, Laitinen R, Albert VA, Valkonen JP, Elomaa P, Teeri TH (2014) Functional diversification of duplicated chalcone synthase genes in anthocyanin biosynthesis of Gerbera hybrida. New Phytol 201:1469–1483

Elomaa P, Teeri TH (2001) Transgenic gerbera. In: Bajaj YPS (ed) Biotechnology in agriculture and forestry, vol 48., Transgenic crops IIISpringer-Verlag, Berlin Heidelberg, pp 139–154

Elomaa P, Mehto M, Kotilainen M, Helariutta Y, Nevalainen L, Teeri TH (1998) A bHLH transcription factor mediates organ, region and flower type specific signals on dihydroflavonol-4-reductase (dfr) gene expression in the inflorescence of Gerbera hybrida (Asteraceae). Plant J 16:93–99

Forkmann G, Ruhnau B (1987) Distinct substrate specificity of dihydroflavonol 4-reductase from flowers of Petunia hybrida. Z Naturforsch 42c:1146–1148

Giordano L, Coletta W, Rapisarda P, Donati MB, Rotilio D (2007) Development and validation of an LC-MS/MS analysis for simultaneous determination of delphinidin-3-glucoside, cyanidin-3-glucoside and cyanidin-3-(6-malonylglucoside) in human plasma and urine after blood orange juice administration. J Sep Sci 30:3127–3136

Grabherr MG, Haas BJ, Yassour M, Levin JZ, Thompson DA, Amit I, Adiconis X, Fan L, Raychowdhury R, Zeng Q, Chen Z, Mauceli E, Hacohen N, Gnirke A, Rhind N, di Palma F, Birren BW, Nusbaum C, Lindblad-Toh K, Friedman N, Regev A (2011) Full-length transcriptome assembly from RNA-Seq data without a reference genome. Nat Biotech 29:644–652

Griesbach RJ (2005) Biochemistry and genetics of flower color. Plant Breeding Reviews 25:89–114

Haas BJ, Papanicolaou A, Yassour M, Grabherr M, Blood PD, Bowden J, Couger MB, Eccles D, Li B, Lieber M, MacManes MD, Ott M, Orvis J, Pochet N, Strozzi F, Weeks N, Westerman R, William T, Dewey CN, Henschel R, LeDuc RD, Friedman N, Regev A (2013) De novo transcript sequence reconstruction from RNA-seq using the Trinity platform for reference generation and analysis. Nat Protocols 8:1494–1512

Helariutta Y, Elomaa P, Kotilainen M, Seppänen P, Teeri TH (1993) Cloning of cDNA coding for dihydroflavonol-4-reductase (DFR) and characterization of dfr expression in the corollas of Gerbera hybrida var Regina (Compositae). Plant Mol Biol 22:183–193

Helariutta Y, Kotilainen M, Elomaa P, Teeri TH (1995a) Gerbera hybrida (Asteraceae) imposes regulation at several anatomical levels during inflorescence development on the gene for dihydroflavonol-4-reductase. Plant Mol Biol 28:935–941

Helariutta Y, Elomaa P, Kotilainen M, Griesbach RJ, Schröder J, Teeri TH (1995b) Chalcone synthase like genes active during corolla development are differentially expressed and encode enzymes with different catalytic properties in Gerbera hybrida (Asteraceae). Plant Mol Biol 28:47–60

Heller W, Forkmann G, Britsch L, Grisebach H (1985) Enzymatic reduction of (+)-dihydroflavonols to flavan-3,4-cis-diols with flower extracts from Matthiola incana and its role in anthocyanin biosynthesis. Planta 165:284–287

Johnson ET, Yi H, Shin B, Oh B-J, Cheong H, Choi G (1999) Cymbidium hybrida dihydroflavonol 4-reductase does not efficiently reduce dihydrokaempferol to produce orange pelargonidin-type anthocyanins. Plant J 19:81–85

Johnson ET, Ryu S, Yi H, Shin B, Cheong H, Choi G (2001) Alteration of a single amino acid changes the substrate specificity of dihydroflavonol 4-reductase. Plant J 25:325–333

Karimi M, Inzé D, Depicker A (2002) GATEWAY™ vectors for Agrobacterium-mediated plant transformation. Trends Plant Sci 7:193–195

Katsumoto Y, Fukuchi-Mizutani M, Fukui Y, Brugliera F, Holton TA, Karan M, Nakamura N, Yonekura-Sakakibara K, Togami J, Pigeaire A, Tao G-Q, Nehra NS, Lu C-Y, Dyson BK, Tsuda S, Ashikari T, Kusumi T, Mason JG, Tanaka Y (2007) Engineering of the rose flavonoid biosynthetic pathway successfully generated blue-hued flowers accumulating delphinidin. Plant Cell Physiol 48:1589–1600

Krol AR, Mur LA, Beld M, Moi J, Stuitje A (1990) Flavonoid genes in petunia: addition of a limited number of gene copies may lead to a suppression of gene expression. Plant Cell 2:291–299

Laitinen R (2006) The Gerbera cDNA microarray: A tool for large-scale identification of genes involved in flower development. PhD thesis, University of Helsinki. Accessed http://urn.fi/URN:ISBN:952-10-3403-3

Langmead B, Salzberg SL (2012) Fast gapped-read alignment with Bowtie 2. Nat Methods 9:357–359

Li B, Dewey C (2011) RSEM: accurate transcript quantification from RNA-Seq data with or without a reference genome. BMC Bioinformatics 12:323

Li H, Qiu J, Chen F, Lv X, Fu C, Zhao D, Hua X, Zhao Q (2012) Molecular characterization and expression analysis of dihydroflavonol 4-reductase (DFR) gene in Saussurea medusa. Mol Biol Rep 39:2991–2999

Liew CF, Loh CS, Goh CJ, Lim SH (1998) The isolation, molecular characterization and expression of dihydroflavonol 4-reductase cDNA in the orchid, Bromheadia finlaysoniana. Plant Sci 135:161–169

Liu Y, Schiff M, Dinesh-Kumar SP (2002) Virus-induced gene silencing in tomato. Plant J 31:777–786

Martens S, Knott J, Seitz CA, Janvari L, Yu S-N, Forkmann G (2003) Impact of biochemical pre-studies on specific metabolic engineering strategies of flavonoid biosynthesis in plant tissues. Biochem Eng J 14:227–235

Meyer P, Heidmann I, Forkmann G, Saedler H (1987) A new petunia flower colour generated by transformation of a mutant with a maize gene. Nature 330:677–678

Murray JR, Hackett WP (1991) Dihydroflavonol reductase activity in relation to differential anthocyanin accumulation in juvenile and mature phase Hedera helix L. Plant Physiol 97:343–351

Noda N, Aida R, Kishimoto S, Ishiguro K, Fukuchi MM, Tanaka Y, Ohmiya A (2013) Genetic engineering of novel bluer-colored chrysanthemums produced by accumulation of delphinidin-based anthocyanins. Plant Cell Physiol 54:1684–1695

Petit P, Granier T, d'Estaintot BL, Manigand C, Bathany K, Schmitter JM, Lauvergeat V, Hamdi S, Gallois B (2007) Crystal structure of grape dihydroflavonol 4-reductase, a key enzyme in flavonoid biosynthesis. J Mol Biol 368:1345–1357

Plasmeijer J, Yanai Y (2012) Floriculture products report. Issue No. M12 (2011), 9 January 2012. Market News Service of International Trade Center

Reinhardt D, Frenz M, Mandel T, Cris KC (2003) Microsurgical and laser ablation analysis of interactions between the zones and layers of the tomato shoot apical meristem. Development 130:4073–4083

Robinson MD, McCarthy DJ, Smyth GK (2010) edgeR: a Bioconductor package for differential expression analysis of digital gene expression data. Bioinformatics 26:139–140

Schwinn KE, Markham KR, Given NK (1994) Floral flavonoids and the potential for pelargonidin biosynthesis in commercial chrysanthemum cultivars. Phytochemistry 35:145–150

Seitz C, Eder C, Deiml B, Kellner S, Martens S, Forkmann G (2006) Cloning, functional identification and sequence analysis of flavonoid 3′-hydroxylase and flavonoid 3′,5′-hydroxylase cDNAs reveals independent evolution of flavonoid 3′,5′-hydroxylase in the Asteraceae family. Plant Mol Biol 61:365–381

Stafford HA (1974) Possible multi-enzyme complexes regulating the formation of C6–C3 phenolic compounds and lignins in higher plants. Rec Adv Photochem 8:53–79

Stewart RN, Dermen HH (1970) Determination of number and mitotic activity of shoot apical initial cells by analysis of mericlinal chimeras. Am J Bot 57:816–826

Tanaka Y, Tsuda S, Kusumi T (1998) Metabolic engineering to modify flower color. Plant Cell Physiol 39:1119–1126

Tanaka Y, Sasaki N, Ohmiya A (2008) Plant pigments for coloration: anthocyanins, betalains and carotenoids. Plant J 54:733–749

Tohge T, Watanabe M, Hoefgen R, Fernie AR (2013) The evolution of phenylpropanoid metabolism in the green lineage. Crit Rev Biochem Mol 48:123–152

Tyrach A, Horn W (1997) Inheritance of flower colour and flavonoid pigments in Gerbera. Plant Breed 116:377–381

Voinnet O, Rivas S, Mestre P, Baulcombe D (2003) An enhanced transient expression system in plants based on suppression of gene silencing by the p19 protein of tomato bushy stunt virus. Plant J 33:949–956

Vrhovsek U, Masuero D, Gasperotti M, Franceschi P, Caputi L, Viola R (2012) A versatile targeted metabolomics method for the rapid quantification of multiple classes of phenolics in fruits and beverages. J Agric Food Chem 60:8831–8840

Winkel B (2004) Metabolic channeling in plants. Annu Rev Plant Biol 55:85–107

Winkel-Shirley B (1999) Evidence for enzyme complexes in the phenylpropanoid and flavonoid pathways. Physiol Plant 107:142–149

Zhang Z, Kou X, Fugal K, McLaughlin J (2004) Comparison of HPLC methods for determination of anthocyanins and anthocyanidins in bilberry extracts. J Agric Food Chem 52:688–691
Acknowledgments
We would like to thank Dr. W. Rademacher (Limburgerhof, Germany) for the Tetcyclacis gift and the breeding company Terra Nigra B.V. (The Netherlands) for supplying the gerbera cultivars. We thank our laboratory technicians Eija Takala, Anu Rokkanen, and Marja Huovila for their skilled technical assistance, and the glasshouse technicians Sanna Peltola and Sini Lindström for taking care of the gerbera plants. This work was supported by The Finnish Doctoral Program in Plant Science, Academy of Finland (Grant 139513 to T.H.T.), Centre for International Mobility (CIMO) and the Cairo University internal scholarship.
Additional information
Special topic: Polyphenols: biosynthesis and function in plants and ecosystems. Guest Editor: Stefan Martens.
Electronic supplementary material
Below is the link to the electronic supplementary material.
About this article
Cite this article
Bashandy, H., Pietiäinen, M., Carvalho, E. et al. Anthocyanin biosynthesis in gerbera cultivar 'Estelle' and its acyanic sport 'Ivory'. Planta 242, 601–611 (2015). https://doi.org/10.1007/s00425-015-2349-6
Received:

Accepted:

Published:

Issue Date:
Keywords
Dihydroflavonol 4-reductase

Flavonoids

Gerbera hybrida