Abstract
Main conclusion
[EtPy][Br] is more reactive toward lignin than toward the PSs in wood cell walls, and [EtPy][Br] treatment results in inhomogenous changes to the cell wall's ultrastructural and chemical components.
The effects of the ionic liquid 1-ethylpyridinium bromide ([EtPy][Br]), which prefers to react with lignin rather than cellulose on the wood cell walls of Japanese cedar (Cryptomeria japonica), were investigated from a morphology and topochemistry point of view. The [EtPy][Br] treatment induced cell wall swelling, the elimination of warts, and the formation of countless pores in the tracheids. However, many of the pit membranes and the cellulose crystalline structure remained unchanged. Raman microscopic analyses revealed that chemical changes in the cell walls were different for different layers and that the lignin in the compound middle lamella and the cell corner resists interaction with [EtPy][Br]. Additionally, the interaction of [EtPy][Br] with the wood cell wall is different to that of other types of ionic liquid.
Access options
Buy single article
Instant access to the full article PDF.
US$ 39.95
Tax calculation will be finalised during checkout.
Subscribe to journal
Immediate online access to all issues from 2019. Subscription will auto renew annually.
US$ 119
Tax calculation will be finalised during checkout.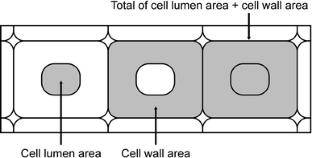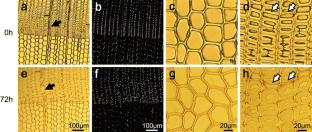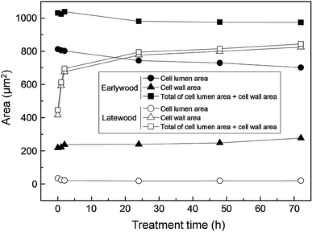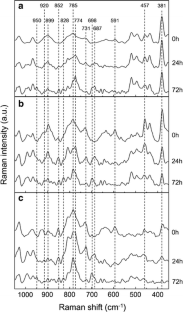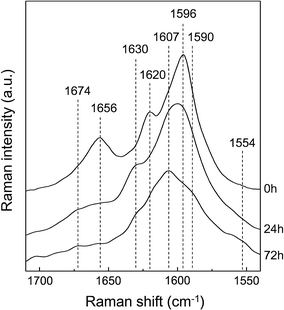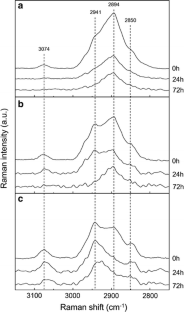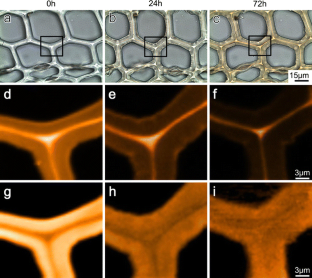 Abbreviations
CC:

Cell corner

CML:

Compound middle lamella

[C2mim][Cl]:

1-Ethyl-3-methylimidazolium chloride

[EtPy][Br]:

1-Ethylpyridinium bromide

PSs:

Polysaccharides

S2 :

Middle layer of secondary wall

S3 :

Inner layer of secondary wall

SEM:

Scanning electron microscopy
References
Agarwal UP (1998) Assignment of the photo yellowing-related 1675 cm−1 Raman/IR band to p-quinones and its implications to the mechanism of color reversion in mechanical pulps. J Wood Chem Tech 18:381–402

Agarwal UP (1999) An overview of Raman spectroscopy as applied to lignocellulosic materials. In: Argyropoulos DS (ed) Advances in lignocellulosics characterization. TAPPI Press, Atlanta, GA, pp 201–225

Agarwal UP, Atalla RH (2000) Using Raman spectroscopy to identify chromophores in lignin–lignocellulosics. In: Glasser WG, Northey RA, Schultz TP (eds) Lignin: historical, biological, and materials perspectives. ACS Symposium Series, vol 742. American Chemical Society, Washington, DC, pp 250–264

Agarwal UP, Ralph SA (1997) FT-Raman spectroscopy of wood: identifying contributions of lignin and carbohydrate polymers in the spectrum of black spruce (Picea mariana). Appl Spectrosc 51:1648–1655

Agarwal UP, Ralph SA (2008) Determination of ethylenic residues in wood and TMP of spruce by FT-Raman spectroscopy. Holzforschung 62:667–675

Agarwal UP, McSweeny JD, Ralph SA (2011) FT-Raman investigation of milled wood lignins: softwood, hardwood, and chemically modified black spruce lignins. J Wood Chem Tech 31:324–344

Akim LG, Colodette JL, Argyropoulos DS (2001) Factors limiting oxygen delignification of kraft pulp. Can J Chem 79:201–210

Chundawat SPS, Donohoe BS, Sousa LC, Elder T, Agarwal UP, Lu F, Ralph J, Himmel ME, Balan V, Dale BE (2011) Multi-scale visualization and characterization of lignocellulosic plant cell wall deconstruction during thermochemical pretreatment. Energy Environ Sci 4:973–984

Corrales RCNR, Mendes FMT, Perrone CC, Anna C, Souza W, Abud Y, Bon EPS, Ferreira-Leitão V (2012) Structural evaluation of sugar cane bagasse steam pretreated in the presence of CO2 and SO2. Biotechnol Biofuels 5:36

Donaldson LA (1987) S3 lignin concentration in radiate pine tracheids. Wood Sci Technol 21:227–234

Donaldson LA (2001) Lignification and lignin topochemistry—an ultrastructural view. Phytochemistry 57:859–873

Earle MJ, Seddon KR (2000) Ionic liquids. Green solvents for the future. Pure Appl Chem 72:1391–1398

Edwards HGM, Farwell DW, Webster D (1997) FT Raman microscopy of untreated natural plant fibres. Spectrochim Acta A 53:2383–2392

Fort DA, Remsing RC, Swatloski RP, Moyna P, Moyna G, Rogers RD (2007) Can ionic liquids dissolve wood? Processing and analysis of lignocellulosic materials with 1-n-butyl-3-methylimidazolium chloride. Green Chem 9:63–69

Freemantle M (1998) Designer solvents—ionic liquids may boost clean technology development. Chem Eng News 76:32–37

Harada H, Côté WA (1985) Structure of wood. In: Higuchi T (ed) Biosynthesis and biodegradation of wood components. Academic Press, Orlando, pp 1–42

Honglu X, Tiejun S (2006) Wood liquefaction by ionic liquids. Holzforschung 60:509–512

Jansen S, Smets E, Baas P (1998) Vestures in woody plants: a review. IAWA J 19:347–382

Ji Z, Ling Z, Zhang X, Yang GH, Xu F (2014) Impact of alkali pretreatment on the chemical component distribution and ultrastructure of poplar cell walls. BioResources 9:4159–4172

Kanbayashi T, Miyafuji H (2013) Morphological changes of Japanese beech treated with the ionic liquid, 1-ethyl-3-methylimidazolium chloride. J Wood Sci 59:410–418

Kanbayashi T, Miyafuji H (2014a) Comparative study of morphological changes in hardwoods treated with the ionic liquid, 1-ethyl-3-methylimidazolium chloride. J Wood Sci 60:152–159

Kanbayashi T, Miyafuji H (2014b) Raman microscopic analysis of wood after treatment with the ionic liquid, 1-ethyl-3-methylimidazolium chloride. Holzforschung. doi:10.1515/hf-2014-0060

Kilpeläinen I, Xie H, King A, Granstrom M, Heikkinen S, Argyropoulos DS (2007) Dissolution of wood in ionic liquids. J Agric Food Chem 55:9142–9148

Kosan B, Michels C, Meister F (2008) Dissolution and forming of cellulose with ionic liquids. Cellulose 15:59–66

Lee SH, Doherty TV, Linhardt RJ, Dordick JS (2009) Ionic liquid-mediated selective extraction of lignin from wood leading to enhanced enzymatic cellulose hydrolysis. Biotechnol Bioeng 102:1368–1376

Lucas M, Wagner GL, Nishiyama Y, Hanson L, Samayam IP, Schall CA, Langan P, Rector KD (2011) Reversible swelling of the cell wall of poplar biomass by ionic liquid at room temperature. Bioresour Technol 102:4518–4523

Miyafuji H, Suzuki N (2012) Morphological changes in sugi (Cryptomeria japonica) wood after treatment with the ionic liquid, 1-ethyl-3-methylimidazolium chloride. J Wood Sci 58:222–230

Miyafuji H, Miyata K, Saka S, Ueda F, Mori M (2009) Reaction behavior of wood in an ionic liquid, 1-ethyl-3-methylimidazolium chloride. J Wood Sci 55:215–219

Mok WSL, Antal MJ Jr (1992) Uncatalyzed solvolysis of whole biomass hemicellulose by hot compressed liquid water. Ind Eng Chem Res 31:1157–1161

Nakamura A, Miyafuji H, Saka S (2010a) Liquefaction behavior of Western red cedar and Japanese beech in the ionic liquid 1-ethyl-3-methylimidazolium chloride. Holzforschung 64:289–294

Nakamura A, Miyafuji H, Saka S (2010b) Influence of reaction atmosphere on the liquefaction and depolymerization of wood in an ionic liquid, 1-ethyl-3-methylimidazolium chloride. J Wood Sci 56:256–261

Piskorz J, Radlein D, Scott DS, Czernik S (1988) Liquid products from the fast pyrolysis of wood and cellulose. In: Bridgwater AV, Kuester JL (eds) Research in thermochemical biomass conversion. Elsevier Applied Science, London, pp 557–571

Rogers RD, Seddon KR (2003) Ionic liquids—solvents of the future? Science 302:792–793

Schenzel K, Fischer S (2001) NIR FT Raman spectroscopy—a rapid analytical tool for detecting the transformation of cellulose polymorphs. Cellulose 8:49–57

Scott JAN, Goring DAI (1970) Lignin concentration in the S3 layer of softwoods. Cellulose Chem Technol 4:83–93

Seddon KR (1997) Ionic liquids for clean technology. J Chem Tech Biotechnol 68:351–356

Sheldon R (2001) Catalytic reactions in ionic liquids. Chem Commun 23:2399–2407

Swatloski RP, Spear SK, Holbrey JD, Rogers RD (2002) Dissolution of cellulose with ionic liquids. J Am Chem Soc 124:4974–4975

Taherzadeh MJ, Eklund R, Gustafsson L, Niklasson C, Liden G (1997) Characterization and fermentation of dilute-acid hydrolyzates from wood. Ind Eng Chem Res 36:4659–4665

Terashima N, Fukushima K (1988) Heterogeneity in formation of lignin—XI: an autoradiographic study of the heterogeneous formation and structure of pine lignin. Wood Sci Technol 22:259–270

Viell J, Marquardt W (2011) Disintegration and dissolution kinetics of wood chips in ionic liquids. Holzforschung 65:519–525

Whiting P, Goring DAI (1982) Chemical characterization of tissue fractions from the middle lamella and secondary wall of black spruce tracheids. Wood Sci Technol 16:261–267

Wiley JH, Atalla RH (1987) Band assignments in the Raman spectra of celluloses. Carbohydr Res 160:113–129

Wilkes JS, Zaworotko MJ (1992) Air and water stable 1-ethyl-3-methylimidazolium based ionic liquids. J Chem Soc, Chem Commun 13:965–967

Yamazaki J, Minami E, Saka S (2006) Liquefaction of beech wood in various supercritical alcohols. J Wood Sci 52:527–532

Yokoo T, Miyafuji H (2014) Reaction behavior of wood in an ionic liquid, 1-ethylpyridinium bromide. J Wood Sci 60:339–345

Zhang H, Wu J, Zhang J, He J (2005) 1-Allyl-3-methylimidazolium chloride room temperature ionic liquid: a new and powerful nonderivatizing solvent for cellulose. Macromolecules 38:8272–8277

Zhang X, Ma J, Ji Z, Yang GH, Zhou X, Xu F (2014) Using confocal Raman microscopy to real-time monitor poplar cell wall swelling and dissolution during ionic liquid pretreatment. Microsc Res Tech 77:609–618

Zhao Y, Wang Y, Zhu JY, Ragauskas A, Deng Y (2008) Enhanced enzymatic hydrolysis of spruce by alkaline pretreatment at low temperature. Biotechnol Bioeng 99:1320–1328
Acknowledgments
The authors wish to thank the Kyoto Municipal Institute of Industrial Technology and Culture for assistance with the Raman microscopic analyses. This research was partly supported by the Kyoto Prefectural University (KPU) Academic Promotion Fund and a Grant-in-Aid for Scientific Research (c) (25450246) from the JSPS for which the authors are grateful.
Additional information
Special topic: Polyphenols: biosynthesis and function in plants and ecosystems. Guest editor: Stefan Martens.
About this article
Cite this article
Kanbayashi, T., Miyafuji, H. Topochemical and morphological characterization of wood cell wall treated with the ionic liquid, 1-ethylpyridinium bromide. Planta 242, 509–518 (2015). https://doi.org/10.1007/s00425-014-2235-7
Received:

Accepted:

Published:

Issue Date:
Keywords
1-Ethylpyridinium bromide

Cell wall

Ionic liquid

Microscopy

Raman microscopy

Wood