Abstract
Specific cellular components have been identified to function in abscisic acid (ABA) regulation of stomatal apertures, including calcium, the cytoskeleton, and phosphatidic acid. In this study, the regulation and dynamic organization of microtubules during ABA-induced stomatal closure by phospholipase D (PLD) and its product PA were investigated. ABA induced microtubule depolymerization and stomatal closure in wide-type (WT) Arabidopsis, whereas these processes were impaired in PLD mutant (pldα1). The microtubule-disrupting drugs oryzalin or propyzamide induced microtubule depolymerization, but did not affect the stomatal aperture, whereas their co-treatment with ABA resulted in stomatal closure in both WT and pldα1. In contrast, the microtubule-stabilizing drug paclitaxel arrested ABA-induced microtubule depolymerization and inhibited ABA-induced stomatal closure in both WT and pldα1. In pldα1, ABA-induced cytoplasmic Ca2+ ([Ca2+]cyt) elevation was partially blocked, and exogenous Ca2+-induced microtubule depolymerization and stomatal closure were impaired. These results suggested that PLDα1 and PA regulate microtubular organization and Ca2+ increases during ABA-induced stomatal closing and that crosstalk among signaling lipid, Ca2+, and microtubules are essential for ABA signaling.
Access options
Buy single article
Instant access to the full article PDF.
USD 39.95
Price excludes VAT (USA)
Tax calculation will be finalised during checkout.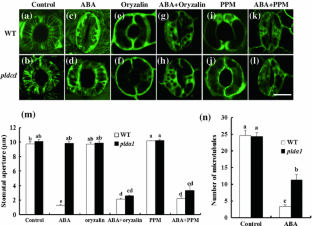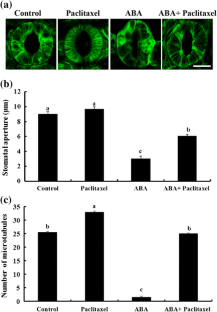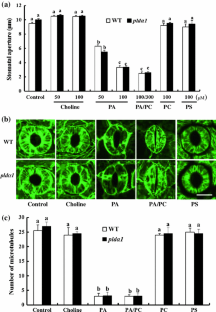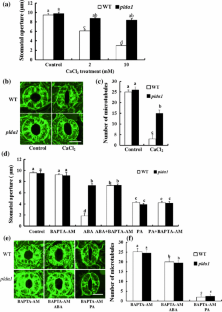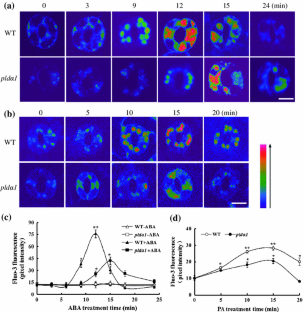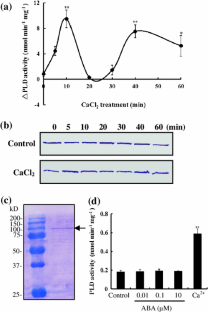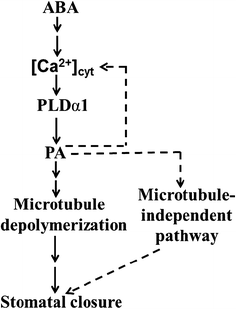 Abbreviations
ABA:

Abscisic acid

CDPKs:

Calcium-dependent protein kinases

[Ca2+]cyt :

Cytoplasmic Ca2+

Gα:

Heterotrimeric G protein subunit α

IP3:

Inositol-3-phosphate

NO:

Nitric oxide

PA:

Phosphatidic acid

PC:

Phosphatidylcholine

PE:

Phosphatidylethanolamine

PS:

Phosphatidylserine

PLD:

Phospholipase D

PPM:

Propyzamide

ROS:

Reactive oxygen species
References
An Z, Jing W, Liu Y, Zhang W (2008) Hydrogen peroxide generated by copper amine oxidase is involved in abscisic acid-induced stomatal closure in Vicia faba. J Exp Bot 59:815–825

Assmann SM, Baskin TI (1998) The function of guard cells does not require an intact array of cortical microtubules. J Exp Bot 49:163–170

Bargmann BO, Munnik T (2006) The role of phospholipase D in plant stress responses. Curr Opin Plant Biol 9:515–522

Beck M, Komis G, Muller J, Menzel D, Samaj J (2010) Arabidopsis homologs of nucleus- and phragmoplast-localized kinase 2 and 3 and mitogen-activated protein kinase 4 are essential for microtubule organization. Plant Cell 22:755–771

Capoen W, Den Herder J, Sun J, Verplancke C, De Keyser A, De Rycke R, Goormachtig S, Oldroyd G, Holsters M (2009) Calcium spiking patterns and the role of the calcium/calmodulin-dependent kinase CCaMK in lateral root base nodulation of Sesbania rostrata. Plant Cell 21:1526–1540

Clapham DE (2007) Calcium signaling. Cell 131:1047–1058

Cracker LE, Abeles FB (1969) Abscission: role of abscisic acid. Plant Physiol 44:1144–1149

Dhonukshe P, Laxalt AM, Goedhart J, Gadella TW, Munnik T (2003) Phospholipase D activation correlates with microtubule reorganization in living plant cells. Plant Cell 15:2666–2679

Dodd AN, Kudla J, Sanders D (2010) The language of calcium signaling. Annu Rev Plant Biol 61:593–620

Eisinger W, Ehrhardt D, Briggs W (2012a) Microtubules are essential for guard-cell function in Vicia and Arabidopsis. Mol Plant 5:601–610

Eisinger WR, Kirik V, Lewis C, Ehrhardt DW, Briggs WR (2012b) Quantitative changes in microtubule distribution correlate with guard cell function in Arabidopsis. Mol Plant 5:716–725

Fukuda M, Hasezawa S, Asai N, Nakajima N, Kondo N (1998) Dynamic organization of microtubules in guard cells of Vicia faba L. with diurnal cycle. Plant Cell Physiol 39:80–86

Galatis B, Apostolakos P (2004) The role of the cytoskeleton in the morphogenesis and function of stomatal complexes. New Phytol 161:613–639

Gardiner JC, Harper JD, Weerakoon ND, Collings DA, Ritchie S, Gilroy S, Cyr RJ, Marc J (2001) A 90-kD phospholipase D from tobacco binds to microtubules and the plasma membrane. Plant Cell 13:2143–2158

Guo L, Devaiah SP, Narasimhan R, Pan X, Zhang Y, Zhang W, Wang X (2012) Cytosolic glyceraldehyde-3-phosphate dehydrogenases interact with phospholipase Ddelta to transduce hydrogen peroxide signals in the Arabidopsis response to stress. Plant Cell 24:2200–2212

Hashimoto T, Kato T (2006) Cortical control of plant microtubules. Curr Opin Plant Biol 9:5–11

Hong Y, Zhang W, Wang X (2010) Phospholipase D and phosphatidic acid signalling in plant response to drought and salinity. Plant Cell Environ 33:627–635

Huang S, Gao L, Blanchoin L, Staiger CJ (2006) Heterodimeric capping protein from Arabidopsis is regulated by phosphatidic acid. Mol Biol Cell 17:1946–1958

Israelsson M, Siegel RS, Young J, Hashimoto M, Iba K, Schroeder JI (2006) Guard cell ABA and CO2 signaling network updates and Ca2+ sensor priming hypothesis. Curr Opin Plant Biol 9:654–663

Kim TH, Bohmer M, Hu H, Nishimura N, Schroeder JI (2010) Guard cell signal transduction network: advances in understanding abscisic acid, CO2, and Ca2+ signaling. Annu Rev Plant Biol 61:561–591

Lahav M, Abu-Abied M, Belausov E, Schwartz A, Sadot E (2004) Microtubules of guard cells are light sensitive. Plant Cell Physiol 45:573–582

Li J, Wang X, Qin T, Zhang Y, Liu X, Sun J, Zhou Y, Zhu L, Zhang Z, Yuan M, Mao T (2011) MDP25, a novel calcium regulatory protein, mediates hypocotyl cell elongation by destabilizing cortical microtubules in Arabidopsis. Plant Cell 23:4411–4427

Li J, Henty-Ridilla JL, Huang S, Wang X, Blanchoin L, Staiger CJ (2012) Capping protein modulates the dynamic behavior of actin filaments in response to phosphatidic acid in Arabidopsis. Plant Cell 24:3742–3754

Liu X, Yue Y, Li B, Nie Y, Li W, Wu WH, Ma L (2007) A G protein-coupled receptor is a plasma membrane receptor for the plant hormone abscisic acid. Science 315:1712–1716

Lucas JR, Nadeau JA, Sack FD (2006) Microtubule arrays and Arabidopsis stomatal development. J Exp Bot 57:71–79

Ma Y, Szostkiewicz I, Korte A, Moes D, Yang Y, Christmann A, Grill E (2009) Regulators of PP2C phosphatase activity function as abscisic acid sensors. Science 324:1064–1068

Marcus AI, Moore RC, Cyr RJ (2001) The role of microtubules in guard cell function. Plant Physiol 125:387–395

McAinsh MR, Pittman JK (2009) Shaping the calcium signature. New Phytol 181:275–294

Mishra G, Zhang W, Deng F, Zhao J, Wang X (2006) A bifurcating pathway directs abscisic acid effects on stomatal closure and opening in Arabidopsis. Science 312:264–266

O'Brien ET, Salmon ED, Erickson HP (1997) How calcium causes microtubule depolymerization. Cell Motil Cytoskeleton 36:125–135

Pandey S, Nelson DC, Assmann SM (2009) Two novel GPCR-type G proteins are abscisic acid receptors in Arabidopsis. Cell 136:136–148

Pappan K, Wang X (1999) Plant phospholipase Dalpha is an acidic phospholipase active at near-physiological Ca2+ concentrations. Arch Biochem Biophys 368:347–353

Park SY, Fung P, Nishimura N, Jensen DR, Fujii H, Zhao Y, Lumba S, Santiago J, Rodrigues A, Chow TF, Alfred SE, Bonetta D, Finkelstein R, Provart NJ, Desveaux D, Rodriguez PL, McCourt P, Zhu JK, Schroeder JI, Volkman BF, Cutler SR (2009) Abscisic acid inhibits type 2C protein phosphatases via the PYR/PYL family of START proteins. Science 324:1068–1071

Pleskot R, Potocky M, Pejchar P, Linek J, Bezvoda R, Martinec J, Valentova O, Novotna Z, Zarsky V (2010) Mutual regulation of plant phospholipase D and the actin cytoskeleton. Plant J 62:494–507

Roelfsema MR, Hedrich R (2005) In the light of stomatal opening: new insights into 'the Watergate'. New Phytol 167:665–691

Roelfsema MR, Hedrich R (2010) Making sense out of Ca2+ signals: their role in regulating stomatal movements. Plant, Cell Environ 33:305–321

Sangwan V, Foulds I, Singh J, Dhindsa RS (2001) Cold-activation of Brassica napus BN115 promoter is mediated by structural changes in membranes and cytoskeleton, and requires Ca2+ influx. Plant J 27:1–12

Shang Y, Yan L, Liu ZQ, Cao Z, Mei C, Xin Q, Wu FQ, Wang XF, Du SY, Jiang T, Zhang XF, Zhao R, Sun HL, Liu R, Yu YT, Zhang DP (2010) The Mg-chelatase H subunit of Arabidopsis antagonizes a group of WRKY transcription repressors to relieve ABA-responsive genes of inhibition. Plant Cell 22:1909–1935

Shen YY, Wang XF, Wu FQ, Du SY, Cao Z, Shang Y, Wang XL, Peng CC, Yu XC, Zhu SY, Fan RC, Xu YH, Zhang DP (2006) The Mg-chelatase H subunit is an abscisic acid receptor. Nature 443:823–826

Smertenko AP, Chang HY, Sonobe S, Fenyk SI, Weingartner M, Bogre L, Hussey PJ (2006) Control of the AtMAP65-1 interaction with microtubules through the cell cycle. J Cell Sci 119:3227–3237

Stace CL, Ktistakis NT (2006) Phosphatidic acid- and phosphatidylserine-binding proteins. Biochim Biophys Acta 1761:913–926

Takemiya A, Shimazaki K (2010) Phosphatidic acid inhibits blue light-induced stomatal opening via inhibition of protein phosphatase. Plant Physiol 153:1555–1562

Wang X (2000) Multiple forms of phospholipase D in plants: the gene family, catalytic and regulatory properties, and cellular functions. Prog Lipid Res 39:109–149

Wang X (2005) Regulatory functions of phospholipase D and phosphatidic acid in plant growth, development, and stress responses. Plant Physiol 139:566–573

Wang C, Wang X (2001) A novel phospholipase D of Arabidopsis that is activated by oleic acid and associated with the plasma membrane. Plant Physiol 127:1102–1112

Wang X, Devaiah SP, Zhang W, Welti R (2006) Signaling functions of phosphatidic acid. Prog Lipid Res 45:250–278

Wang C, Li J, Yuan M (2007) Salt tolerance requires cortical microtubule reorganization in Arabidopsis. Plant Cell Physiol 48:1534–1547

Wang X, Zhang J, Yuan M, Ehrhardt DW, Wang Z, Mao T (2012) Arabidopsis MICROTUBULE DESTABILIZING PROTEIN40 is involved in brassinosteroid regulation of hypocotyl elongation. Plant Cell 24:4012–4025

Wymer C, Lloyd CW (1996) Dynamic microtubules: implications for cell wall patterns. Trends Plant Sci 1:222–228

Yu R, Huang RF, Wang XC, Yuan M (2001) Microtubule dynamics are involved in stomatal movement of Vicia faba L. Protoplasma 216:113–118

Yu L, Nie J, Cao C, Jin Y, Yan M, Wang F, Liu J, Xiao Y, Liang Y, Zhang W (2010) Phosphatidic acid mediates salt stress response by regulation of MPK6 in Arabidopsis thaliana. New Phytol 188:762–773

Zhang W, Qin C, Zhao J, Wang X (2004) Phospholipase D alpha 1-derived phosphatidic acid interacts with ABI1 phosphatase 2C and regulates abscisic acid signaling. Proc Natl Acad Sci USA 101:9508–9513

Zhang W, Yu L, Zhang Y, Wang X (2005) Phospholipase D in the signaling networks of plant response to abscisic acid and reactive oxygen species. Biochim Biophys Acta 1736:1–9

Zhang Y, Zhu H, Zhang Q, Li M, Yan M, Wang R, Wang L, Welti R, Zhang W, Wang X (2009) Phospholipase Dalpha1 and phosphatidic acid regulate NADPH oxidase activity and production of reactive oxygen species in ABA-mediated stomatal closure in Arabidopsis. Plant Cell 21:2357–2377

Zhang Q, Lin F, Mao T, Nie J, Yan M, Yuan M, Zhang W (2012) Phosphatidic acid regulates microtubule organization by interacting with MAP65-1 in response to salt stress in Arabidopsis. Plant Cell 24:4555–4576

Zhao J, Wang X (2004) Arabidopsis phospholipase Dalpha1 interacts with the heterotrimeric G-protein alpha-subunit through a motif analogous to the DRY motif in G-protein-coupled receptors. J Biol Chem 279:1794–1800
Electronic supplementary material
Below is the link to the electronic supplementary material.
Supplementary Fig. S1 Fluorescence images of propidium iodide/FDA double-stained guard cells. Propidium iodide stains dead cells (red) and FDA stains live cells (green). The guard cells were still alive and stained by propidium iodide/FDA after the treatments as indicated in Fig. 1. The treatments were as follows: treated with 0.1 % (v/v) DMSO (control), 10 μM ABA, 10 μM oryzalin, and 20 μM propyzamide (PPM), respectively. Bar = 10 μm (PDF 140 kb)
Supplementary Fig. S2 Effects of detergents on stomatal movement and microtubular organization. a Treatment with Triton X-100, SDS or CHAPS for 2 h did not reduce stomatal closure. Triton X-100 (non-ionic detergent), 500 μM; SDS (ionic detergent), 10 mM; CHAPS (zwitterionic detergent), 10 mM. b Microtubules in guard cells depolymerized into diffuse or dot-like fluorescence after detergent treatment for 2 h. Bar = 10 μm. c Quantification of guard cell microtubules after the treatment is shown in b. The data in a and c are the mean ± SE (n = 50-60) from three independent experiments. Values with different letters are significantly different at P < 0.05 based on Duncan's multiple range test (PDF 170 kb)
About this article
Cite this article
Jiang, Y., Wu, K., Lin, F. et al. Phosphatidic acid integrates calcium signaling and microtubule dynamics into regulating ABA-induced stomatal closure in Arabidopsis . Planta 239, 565–575 (2014). https://doi.org/10.1007/s00425-013-1999-5
Received:

Accepted:

Published:

Issue Date:

DOI: https://doi.org/10.1007/s00425-013-1999-5
Keywords
Abscisic acid

Calcium

Microtubule

Phosphatidic acid

Phospholipase D