Abstract
The anthocyanin-biosynthetic pathway was studied in flowers of Oncidium Gower Ramsey with yellow floral color and mosaic red anthocyanin in lip crests, sepals and petals, and compared with the anthocyanin biosynthesis in flowers of Oncidium Honey Dollp, a natural somatoclone derived from tissue culture of Gower Ramsey, with a yellow perianth without red anthocyanins in floral tissues. HPLC analysis revealed that the red anthocyanin in lip crests of the Gower Ramsey cultivar comprised peonidin-3-O-glucoside, delphinidin-3-O-glucoside and cyanidin-3-O-glucoside, whereas Honey Dollp was devoid of anthocyanin compounds. Among the five anthocyanin-biosynthetic genes, OgCHS was actively expressed in lip crests of Gower Ramsey flowers, but no transcripts of OgCHS were detected in Honey Dollp floral tissues. Transient expression of OgCHS by bombardment confirmed that recovery of the OgCHS gene expression completed the anthocyanin pathway and produced anthocyanin compounds in lip crests of Honey Dollp flowers. Transcription factor genes regulating anthocyanin biosynthesis showed no distinctive differences in the expression level of OgMYB1, OgbHLH and OgWD40 between the two cultivars. A methylation assay revealed that the promoter of OgCHS was not methylated in Gower Ramsey, while a positive methylation effect was present in the upstream promoter region of OgCHS in Honey Dollp. Overall, our results suggest that the failure of anthocyanin accumulation in Honey Dollp floral tissues may be attributed to inactivation of the OgCHS gene resulting from the epigenetic methylation of 5′-upstream promoter region.
This is a preview of subscription content,
to check access.
Access this article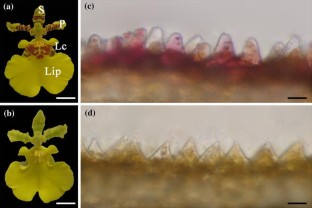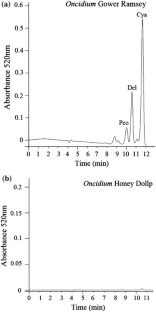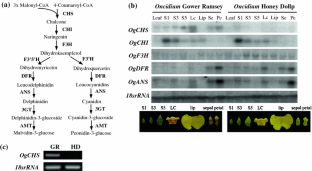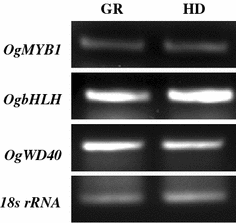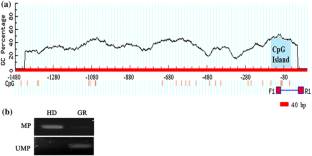 Abbreviations
GR:

Gower Ramsey

HD:

Honey Dollp

CHS:

Chalcone synthase

CHI:

Chalcone isomerase

F3H:

Flavanone 3-hydroxylase

DFR:

Dihydroflavonol reductase

ANS:

Anthocyanidin synthase
References
Bai YH, Pattanaik S, Patra B, Werkman RJ, Xie HC, Yuan L (2011) Flavonoid-related basic helix-loop–helix regulators, NtAn1a and NtAn1b, of tobacco have originated from two ancestors and are functionally active. Planta 234:363–375

Besseau S, Hoffmann L, Geoffroy P, Lapierre C, Pollet B, Legrand M (2007) Flavonoid accumulation in Arabidopsis repressed in lignin synthesis affects suxin transport and plant growth. Plant Cell 19:148–162

Buer CS, Muday GK (2004) The transparent testa4 mutation prevents flavonoid synthesis and alters auxin transport and the response of Arabidopsis roots to gravity and light. Plant Cell 16:1191–1205

Burbulis IE, Winkel-Shirley B (1999) Interactions among enzymes of the Arabidopsis flavonoid biosynthetic pathway. Proc Natl Acad Sci USA 96:12929–12934

Cao X, Jacobsen SE (2002) Locus-specific control of asymmetric and CpNpG methylation by the DRM and CMT3 methyltransferase genes. Proc Natl Acad Sci USA 99:16491–16498

Chang S, Puryear J, Cairney J (1993) A simple and efficient method for isolating RNA from pine trees. Plant Mol Biol Rep 11:113–116

Chen J, Ueda K, Sakakibara S, Okuno T, Parravicini C, Corbellino M, Yamanishi K (2001) Activation of latent Kaposi's sarcoma-associated herpesvirus by demethylation of the promoter of the lytic transactivator. Proc Natl Acad Sci USA 98:4119–4124

Chiou CY, Yeh KW (2008) Differential expression of MYB gene (OgMYB1) determines color patterning in floral tissue of Oncidium Gower Ramsey. Plant Mol Biol 66:379–388

Finnegan EJ, Kovac KA (2000) Plant DNA methyltransferases. Plant Mol Biol 43:189–201

Forkmann G, Ruhnau BZ (1987) Distinct substrate specificity of dihydroflavonol 4-reductase from flowers of Petunia hybrida. Z Naturforsch 42:1146–1148

Ghosh D, Konishi T (2007) Anthocyanins and anthocyanin-rich extracts: role in diabetes and eye function. Asia Pac J Clin Nutr 16:200–208

Goodman CD, Casati P, Walbot V (2004) A multidrug resistance-associated protein involved in anthocyanin transport in Zea mays. Plant Cell 16:1812–1826

Goto-Yamamoto N, Wan GH, Masaki K, Kobayashi S (2002) Structure and transcription of three chalcone synthase genes of grapevine (Vitis vinifera). Plant Sci 162:867–872

Gronquist M, Bezzerides A, Attygalle A, Meinwald J, Eisner M, Eisner T (2001) Attractive and defensive functions of the ultraviolet pigments of a flower (Hypericum calycinum). Proc Natl Acad Sci USA 98:13745–13750

Grotewold E (2006) The genetics and biochemistry of floral pigments. Annu Rev Plant Biol 57:761–780

Grotewold E, Sainz MB, Tagliani L, Hernandez JM, Bowen B, Chandler VL (2000) Identification of the residues in the Myb domain of maize C1 that specify the interaction with the bHLH cofactor R. Proc Natl Acad Sci USA 97:13579–13584

Hichri I, Barrieu F, Bogs J, Kappel C, Delrot S, Lauvergeat V (2011) Recent advances in the transcriptional regulation of the flavonoid biosynthetic pathway. J Exp Bot 62:2465–2483

Hu ZR, Yu Y, Wang R, Yao YY, Peng HR, Ni ZhF, Sun QX (2011) Expression divergence of TaMBD2 homoeologous genes encoding methyl CpG-binding domain proteins in wheat (Triticum aestivum L.). Gene 471:13–18

Jeong ST, Goto-Yamamoto N, Kobayashi S, Esaka A (2004) Effects of plant hormones and shading on the accumulation of anthocyanins and the expression of anthocyanin biosynthetic genes in grape berry skins. Plant Sci 167:247–252

Johnson ET, Yi H, Shin B, Oh BJ, Cheong H, Choi G (1999) Cymbidium hybrida dihydroflavonol 4-reductase does not efficiently reduce dihydrokaempferol to produce orange pelargonidin-type anthocyanins. Plant J 19:81–85

Juven-Gershon T, Hsu JY, Theisen JW, Kadonaga JT (2008) The RNA polymerase II core promoter—the gateway to transcription. Curr Opin Cell Biol 20:253–259

Koes RE, Spelt CE, Mol JNM (1989) The chalcone synthase multigene family of Petunia hybrida (V30): differential, light regulated expression during flower development and UV light induction. Plant Mol Biol 12:213–225

Koes R, Verweij W, Quattrocchio F (2005) Flavonoids: a colorful model for the regulation and evolution of biochemical pathways. Trends Plant Sci 10:236–242

Lesnick ML, Chandler VL (1998) Activation of the maize anthocyanin gene a2 is mediated by an element conserved in many anthocyanin promoters. Plant Physiol 117:437–445

Lu Y, Rausher MD (2003) Evolutionary rate variation in anthocyanin pathway genes. Mol Biol Evol 20:1844–1853

Matsui S (1994) Floral carotenoids in species and hybrids of the Laeliinae. Lindleyana 9:213–217

Morita Y, Saitoh M, Hoshino A, Nitasaka E, Iida S (2006) Isolation of cDNAs for R2R3-MYB, bHLH, and WDR transcriptional regulators and identification of c and ca mutations conferring white flowers in the Japanese morning glory. Plant Cell Physiol 47:457–470

Pairoba CF, Walbot V (2003) Post-transcriptional regulation of expression of the Bronze2 gene of Zea mays L. Plant Mol Biol 53:75–86

Park KI, Ishikawa N, Morita Y, Choi JD, Hoshino A, Iida S (2007) A bHLH regulatory gene in the common morning glory, Ipomoea purpurea, controls anthocyanin biosynthesis in flowers, proanthocyanidin and phytomelanin pigmentation in seeds, and seed trichome formation. Plant J 49:641–654

Quattrocchio F, Wing J, Van der Woude K, Souer E, de Vetten N, Mol J, Koes R (1999) Molecular analysis of the anthocyanin2 gene of petunia and its role in the evolution of flower color. Plant Cell 11:1433–1444

Quattrocchio F, Verweij W, Kroon A, Spelt C, Mol J, Koes R (2006) PH4 of Petunia is an R2R3 MYB protein that activates vacuolar acidification through interactions with basic-helix-loop–helix transcription factors of the anthocyanin pathway. Plant Cell 18:1274–1291

Ramsay NA, Glover BJ (2005) MYB-bHLH-WD40 protein complex and the evolution of cellular diversity. Trends Plant Sci 10:63–70

Rausher M, Miller RE, Tiffin P (1999) Patterns of evolutionary rate variation among genes of the anthocyanin biosynthetic pathway. Mol Biol Evol 16:266–274

Rubin G, Tohge T, Matsuda F, Saito K, Scheible WR (2009) Members of the LBD family of transcription factors repress anthocyanin synthesis and affect additional nitrogen responses in Arabidopsis. Plant Cell 21:3567–3584

Spelt C, Quattrocchio F, Mol JNM, Koes R (2000) Anthocyanin1 of petunia encodes a basic-helix loop helix protein that directly activates structural anthocyanin genes. Plant Cell 12:1619–1631

Springer NM, Kaeppler SM (2005) Evolutionary divergence of monocot and dicot methyl-CpG-binding domain proteins. Plant Physiol 138:92–104

Taylor LP, Grotewold E (2005) Flavonoids as developmental regulators. Curr Opin Plant Biol 8:317–323

Winkel-Shirley B (2001) Flavonoid biosynthesis: a colorful model for genetics, biochemistry, cell biology, and biotechnology. Plant Physiol 126:485–493

Zhang F, Gonzalez A, Zhao M, Payne CT, Lloyd A (2003) A network of redundant bHLH proteins functions in all TTG1-dependent pathways of Arabidopsis. Development 130:4859–4869

Zhu JK (2008) Epigenome sequencing comes of age. Cell 133:395–397
Acknowledgments
We are grateful to National Science Council, Taiwan, for the financial support to Dr. Kai-Wun Yeh under the project NSC 97-2317-B-002-011-CC2, 98-2324-B-002-011-CC2, 98-2324-B-002-010.
Electronic supplementary material
Below is the link to the electronic supplementary material.
About this article
Cite this article
Liu, XJ., Chuang, YN., Chiou, CY. et al. Methylation effect on chalcone synthase gene expression determines anthocyanin pigmentation in floral tissues of two Oncidium orchid cultivars. Planta 236, 401–409 (2012). https://doi.org/10.1007/s00425-012-1616-z
Received:

Accepted:

Published:

Issue Date:

DOI: https://doi.org/10.1007/s00425-012-1616-z
Keywords