Abstract
Genes encoding two new isoforms of sucrose synthase from barley, HvSs3 and HvSs4, have been characterised and their expression patterns compared with those previously described for HvSs1 and HvSs2, in different organs and during seed maturation and germination. Their response to several abiotic stimuli has also been investigated in leaves: HvSs1 is up-regulated by anoxia and HvSs3 by water deprivation while no response is observed to 150 mM NaCl treatment; HvSs1 and HvSs3 are also induced by cold temperatures. Using translational fusions and transient expression analyses, the four isozymes have been localised not only to the cytoplasm but also along several cytoplasmic tracks and at the inner side of the cell membrane; besides, HvSS1 is also associated with mitochondria, a localisation that has been predicted in silico with the TargetP and Predotar programmes. These data suggest distinct although partially overlapping roles, for the four barley sucrose synthase isoforms, in the channelling of carbon towards different metabolic pathways within the cell.
Access options
Buy single article
Instant access to the full article PDF.
US$ 39.95
Tax calculation will be finalised during checkout.
Subscribe to journal
Immediate online access to all issues from 2019. Subscription will auto renew annually.
US$ 119
Tax calculation will be finalised during checkout.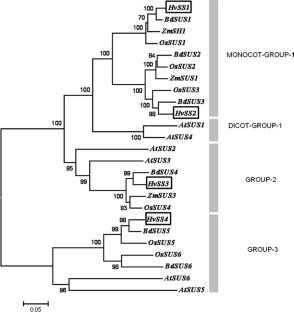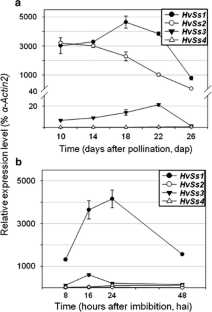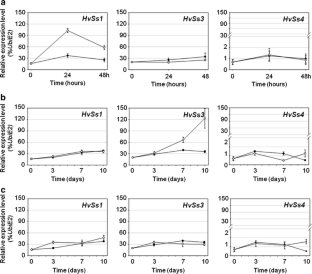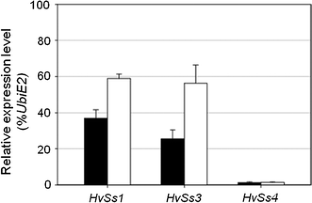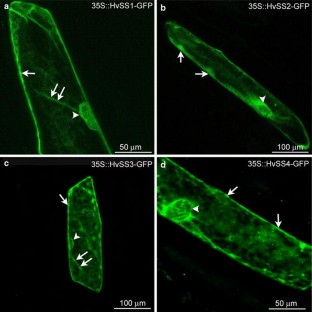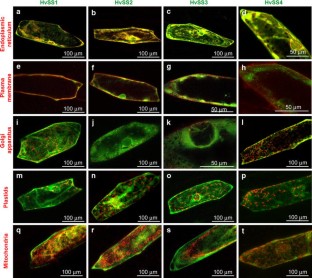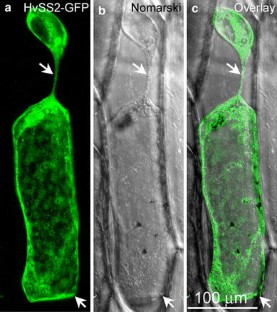 Abbreviations
dap:

Days after pollination

ER:

Endoplasmic reticulum

GFP:

Green fluorescent protein

G:

Golgi apparatus

hai:

Hours after imbibition

mCherryFP:

mCherry fluorescent protein

MT:

Mitochondria

mTP:

Mitochondrial targeting peptide

PM:

Plasma membrane

PT:

Plastids

SUS:

Sucrose synthase

UbiE2:

UbiquitinE2
References
Amor Y, Haigler C, Johnson S, Winscott M, Delmer D (1995) A membrane-associated form of sucrose synthase and its potential role in synthesis of cellulose and callose in plants. Proc Natl Acad Sci USA 92:9353–9357

Angeles-Nuñez JG, Tiessen A (2010) Arabidopsis sucrose synthase 2 and 3 modulate metabolic homeostasis and direct carbon towards starch synthesis in developing seeds. Planta 232:701–718

Baroja-Fernández E, Muñoz F, Montero M, Etxeberria E, Sesma M, Ovecka M, Bahaji A, Ezquer I, Li J, Prat S, Pozueta-Romero J (2009) Enhancing sucrose synthase activity in transgenic potato (Solanum tuberosum L.) tubers results in increased levels of starch, ADPglucose and UDPglucose and total yield. Plant Cell Physiol 50:1651–1662

Barratt DH, Barber L, Kruger N, Smith A, Wang T, Martin C (2001) Multiple, distinct isoforms of sucrose synthase in pea. Plant Physiol 127:655–664

Barratt DH, Derbishire P, Findlay K, Pike M, Wellner N, Lunn J, Feil R, Simpson C, Maule A, Smith A (2009) Normal growth of Arabidopsis requires cytosolic invertase but not sucrose synthase. Proc Natl Acad Sci USA 106:13124–13129

Bateman A, Birney E, Cerruti L, Durbin R, Etwiller L, Eddy S, Griffiths-Jones S, Howe K, Marshall M, Sonnhammer E (2002) The Pfam protein families database. Nucleic Acid Res 30:276–280

Baud S, Vaultier MN, Rochat C (2004) Structure and expression profile of the sucrose synthase multigene family in Arabidopsis. J Exp Bot 55:397–409

Bieniawska Z, Barratt DH, Garlick A, Thole V, Kruger N, Martin C, Zrenner R, Smith A (2007) Analysis of the sucrose synthase gene family in Arabidopsis. Plant J 49:810–828

Buckeridge M, Vergara C, Carpita N (1999) The mechanism of synthesis of a mixed-linkage (1 → 3),(1 → 4)β-d-glucan in maize. Evidence for multiple sites of glucosyl transfer in the synthase complex. Plant Physiol 120:1105–1116

Carlson S, Chourey P (1996) Evidence for plasma membrane-associated forms of sucrose synthase in maize. Mol Gen Genet 252:1432–1874

Carlson SJ, Chourey PS, Helentjaris T, Datta R (2002) Gene expression studies on developing kernels of maize sucrose synthase (SuSy) mutants show evidence for a third SuSy gene. Plant Mol Biol 49:15–29

Chang S, Puryear J, Carney J (1993) A simple and efficient method for isolating RNA from pine trees. Plant Mol Biol Rep 11:113–116

Chourey P, Taliercio E, Carlson S, Ruan YL (1998) Genetic evidence that the two isozymes of sucrose synthase present in developing maize endosperm are critical, one for cell wall integrity and the other for starch biosynthesis. Mol Gen Genet 259:88–96

Coleman HD, Yan J, Mansfield S (2009) Sucrose synthase affects carbon partitioning to increase cellulose production and altered cell wall ultrastructure. Proc Natl Acad Sci USA 106:13118–13123

Crespi M, Zabaleta E, Pontis H, Salerno G (1991) Sucrose synthase expression during cold acclimation in wheat. Plant Physiol 96:887–891

Davis SJ, Vierstra RD (1998) Soluble, highly fluorescent variants of green fluorescent protein (GFP) for use in higher plants. Plant Mol Biol 36:521–528

Emanuelsson O, Brunak S, von Heijne G, Nielsen H (2007) Locating proteins in the cell using TargetP, SignalP, and related tools. Nat Protoc 2:953–971

Etxeberria E, Gońzález P (2003) Evidence for a tonoplast-associated form of sucrose synthase and its potential involvement in sucrose mobilization from the vacuole. J Exp Bot 54:1407–1414

Fujii S, Hayashi T, Mizuno K (2010) Sucrose synthase is an integral component of the cellulose synthesis machinery, 2010. Plant Cell Physiol 51:294–301

Gordon A, Minchin F, James C, Komina O (1999) Sucrose synthase in legume nodules is essential for nitrogen fixation. Plant Physiol 120:867–878

Guerin J, Carbonero P (1997) The spatial distribution of sucrose synthase isozymes in barley. Plant Physiol 114:55–62

Harada T, Satoh S, Yoshioka T, Ishizawa K (2005) Expression of sucrose synthase genes involved in enhanced elongation of pondweed (Potamogeton distinctus) turions under anoxia. Ann Bot 96:683–692

Hirose T, Scofield G, Terao T (2008) An expression analysis profile for the entire sucrose synthase gene family in rice. Plant Sci 174:534–543

Horst I, Welham T, Kelly S, Kaneko T, Sato S, Tabata S, Parniske M, Wang T (2007) TILLING mutants of Lotus japonicus reveal that nitrogen assimilation and fixation can occur in the absence of nodule-enhanced sucrose synthase. Plant Physiol 144:806–820

Kleines M, Elster R-C, Rodrigo MJ, Blervacq A-S, Salamini F, Bartels D (1999) Isolation and expression analysis of two stressed-responsive sucrose-synthase genes from the resurrection plant Craterostigma plantagineum (Hochst.). Planta 209:13–24

Koch K (2004) Sucrose metabolism: regulatory mechanisms and pivotal roles in sugar sensing and plant development. Curr Opin Plant Biol 7:235–246

Komatsu A, Moriguchi T, Koyama K, Omura M, Akihama T (2002) Analysis of sucrose synthase genes in citrus suggests different roles and phylogenetic relationships. J Exp Bot 53:61–71

Lagrimini LM, Burkhart W, Moyer M, Rothstein S (1987) Molecular cloning of complementary DNA encoding the lignin-forming peroxidase from tobacco: Molecular analysis and tissue-specific expression. Proc Natl Acad Sci USA 84:7542–7546

Maraña C, Garcia-Olmedo F, Carbonero P (1990) Differential expression of two types of sucrose synthase-encoding genes in wheat in response to anaerobiosis, cold shock and light. Gene 88:167–172

Martínez de Ilarduya O, Vicente-Carbajosa J, Sánchez de la Hoz P, Carbonero P (1993) Sucrose synthase genes in barley. cDNA cloning of the Ss2 type and tissue-specific expression of Ss1 and Ss2. FEBS Lett 320:177–181

Moreno-Risueno MA, Díaz I, Carrillo L, Fuentes R, Carbonero P (2007) The HvDOF19 transcription factor mediates the abscisic acid dependent repression of hydrolase genes in germinating barley aleurone. Plant J 51:352–365

Moreno-Risueno MA, Gonzalez N, Diaz I, Parcy F, Carbonero P, Vicente-Carbajosa J (2008) FUSCA3 from barley unveils a common transcriptional regulation of seed-specific genes between cereals and Arabidopsis. Plant J 53:882–894

Needleman SB, Wunsch CD (1970) A general method applicable to the search for similarities in the amino acid sequence of two proteins. J Mol Biol 48:443–453

Nelson B, Cai X, Nebenfuhr A (2007) A multicolored set of in vivo organelle markers for co-localisation studies in Arabidopsis and other plants. Plant J 51:1126–1136

Nolte K, Koch K (1993) Companion-cell specific localisation of sucrose synthase in zones of phloem loading and unloading. Plant Physiol 101:899–905

Nuñez JGA, Kronenberger J, Wuilleme S, Lepiniec L, Rochat C (2008) Study of AtSUS2 localisation in seeds reveals a strong association with plastids. Plant Cell Physiol 49:1621–1626

Persia D, Cai G, Del Casino C, Faleri C, Willemse M, Cresti M (2008) Sucrose synthase is associated with the cell wall of tobacco pollen tubes. Plant Physiol 147:1603–1618

Ricard B, Rivoal J, Spiteri A, Pradet A (1991) Anaerobic stress induces the transcription and translation of sucrose synthase in rice. Plant Physiol 95:669–674

Ruan YL, Llewellyn DJ, Furbank RT (2003) Suppression of sucrose synthase gene expression represses cotton fiber cell initiation, elongation and seed development. Plant Cell 15:952–964

Sánchez de la Hoz P, Vicente-Carbajosa J, Mena M, Carbonero P (1992) Homologous sucrose synthase genes in barley (Hordeum vulgare) are located in chromosomes 7H (syn. 1) and 2H. Evidence for a gene translocation? FEBS Lett 310:46–50

Sato K, Shin-I T, Seki M, Shinozaki K, Yoshida H, Takeda K, Yamazaki Y, Conte M, Kohara Y (2009) Development of 5006 full-length cDNAs in barley: a tool for accessing cereal genomics resources. DNA Res 16:81–89

Small I, Peeters N, Legeai F, Lurin C (2004) Predotar: a tool for rapidly screening proteomes for N-terminal targeting sequences. Proteomics 4:1581–1590

Staehelin L (1997) The plant ER: a dynamic organelle composed of a large number of discrete functional domains. Plant J 11:1151–1165

Subbaiah C, Palaniappan A, Duncan K, Rhoads D, Huber S, Sachs M (2006) Mitochondrial localisation and putative signalling function of sucrose synthase in maize. J Biol Chem 281:15625–15635

Tamura K, Dudley J, Nei M, Kumar C (2007) MEGA4: molecular evolutionary genetics analysis (MEGA) software version 4.0. Mol Biol Evol 24:1596–1599

Thompson J, Higgins D, Gibson T (1994) CLUSTAL W: improving the sensitivity of progressive multiple sequence alignment through sequence weighting, position-specific gap penalties and weight matrix choice. Nucleic Acid Res 22:4673–4680

Walia H, Wilson C, Wahid A, Condamine P, Cui X, Close TJ (2006) Expression analysis of barley (Hordeum vulgare L.) during salinity stress. Funct Integr Genomics 6:143–156

Wang AI, Kao MH, Yang WH, Sayion Y, Liu LF, Lee PD, Su JC (1999) Differentially and developmentally regulated expression of three rice sucrose synthase genes. Plant Cell Physiol 40:800–807

Winter H, Huber J, Huber S (1998) Identification of sucrose synthase as an actin-binding protein. FEBS Lett 430:205–208

Zeng Y, Wu Y, Avigne WT, Koch KE (1998) Differential regulation of sugar-sensitive sucrose synthases by hypoxia and anoxia indicate complementary transcriptional and posttranscriptional responses. Plant Physiol 116:1573–1583

Zrenner R, Salanoubat M, Willmitzer L, Sonnewald U (1995) Evidence of the crucial role of sucrose synthase for sink strength using transgenic potato plants (Solanum tuberosum L.). Plant J 7:97–107
Acknowledgments
This work was financially supported by grants to PC from the Spanish Ministerio de Educación y Ciencia (BFU2006-07258) and from the Spanish Ministerio de Innovación y Ciencia (BFU2009-11809); C.B.-S. holds a postdoctoral Juan de la Cierva-UPM contract; S.H.-A. is supported by a FPU doctoral fellowship from MEC.
Electronic supplementary material
Below is the link to the electronic supplementary material.
About this article
Cite this article
Barrero-Sicilia, C., Hernando-Amado, S., González-Melendi, P. et al. Structure, expression profile and subcellular localisation of four different sucrose synthase genes from barley. Planta 234, 391–403 (2011). https://doi.org/10.1007/s00425-011-1408-x
Received:

Accepted:

Published:

Issue Date:
Keywords
Barley

Brachypodium

Gene expression

Gene structure

Subcellular localisation

Sucrose synthase genes