Abstract
The root of Bupleurum falcatum L. (Apiaceae) has long been one of the most important traditional herbal medicines in Asian countries. A group of triterpene saponins (saikosaponins) are the major constituents of this plant. Squalene synthase (SS) may play a regulatory role in directing triterpene intermediates and sterol pathways. Here, we investigated the regulatory role of the squalene synthase (BfSS1) gene in the biosynthesis of phytosterol and triterpene in B. falcatum. BfSS1 mRNA accumulated ubiquitously in plant organs and markedly increased in roots after treatment with methyl jasmonate (MeJA), ABA and ethephon. Transgenic B. falcatum constructs overexpressing BfSS1 in the sense and antisense orientations were assembled using the Agrobacterium-mediated method. Transgenic roots overexpressing BfSS1 in the sense orientation resulted in enhanced production of both phytosterol and saikosaponins. Overexpression of the BfSS1 gene in the sense orientation increased the mRNA accumulation of downstream genes such as squalene epoxidase and cycloartenol synthase but unexpectedly decreased the mRNA levels of β-amyrin synthase (β-AS), a triterpene synthase mRNA. MeJA treatment of wild-type roots strongly stimulated β-AS mRNA accumulation and saikosaponin production but suppressed phytosterol production. MeJA treatment of transgenic roots overexpressing BfSS1 in the sense orientation failed to stimulate β-AS mRNA accumulation but still enhanced saikosaponin and phytosterol production. These results indicate that overexpression of BfSS1 in B. falcatum regulates more powerfully the downstream genes than elicitor (MeJA) treatment in triterpene and phytosterol biosynthesis.
Access options
Buy single article
Instant access to the full article PDF.
USD 39.95
Price excludes VAT (USA)
Tax calculation will be finalised during checkout.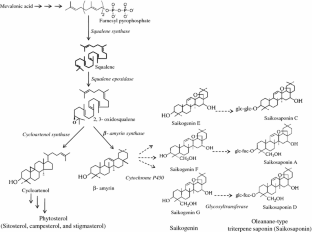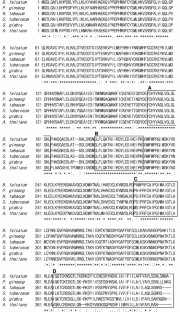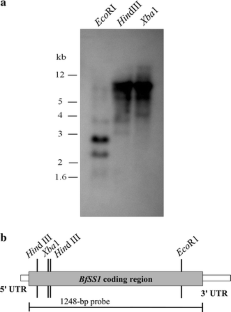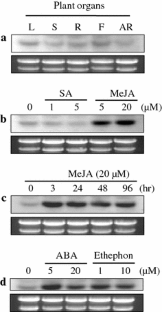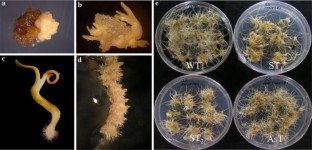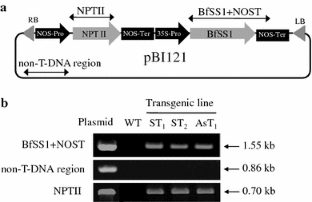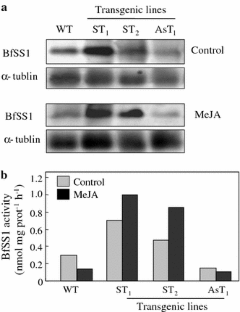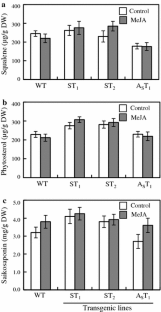 Abbreviations
β-AS:

β-Amyrin synthase

FPP:

Farnesyl pyrophosphate

MeJA:

Methyl jasmonate

OSC:

Oxidosqualene cyclase

SS:

Squalene synthase

BfSS1:

Bupleurum falcatum squalene synthase

SE:

Squalene epoxidase

CAS:

Cycloartenol synthase
References
Abe I, Rohmer M, Prestwich GD (1993) Enzymatic cyclization of squalene and oxidosqualene to sterols and triterpenes. Chem Rev 93:2189–2206

Ahn JC, Kim ES, Lee HJ, Hwang B (1999) Effects of IAA, IBA, and media on growth and saikosaponin biosynthesis in Bupleurum falcatum hairy root culture. Kor J Plant Tiss Cult 26:171–175

Aoyagi H, Kobayashi Y, Yamada K, Yokoyama M, Kusakari K, Tanaka H (2001) Efficient production of saikosaponins in Bupleurum falcatum root fragments combined with signal transducers. Appl Microbiol Biotechnol 57:482–488

Benveniste P (2004) Biosynthesis and accumulation of sterols. Annu Rev Plant Biol 255:429–457

Busquets A, Keim V, Closa M, del Arco A, Boronat A, Arró M, Ferrer A (2008) Arabidopsis thaliana contains a single gene encoding squalene synthase. Plant Mol Biol 67:25–36

Chang WC, Hsu FL (1991) Inhibition of platelet activation and endothelial cell injury by flavan-3-ol and saikosaponin compounds. Prostaglandins Leukot Essent Fatty Acids 44:51–56

Chiang LC, Lean TN, Liu LT, Shieh DE, Lin CC (2003) Cytotoxicity and anti-hepatitis B virus activities of saikosaponins from Bupleurum species. Planta Med 69:705–709

Devarenne TP, Shin DH, Back K, Yin SH, Chappell J (1998) Molecular characterization of tobacco squalene synthase and regulation in response to fungal elicitor. Arch Biochem Biophys 349:205–215

Devarenne TP, Ghosh A, Chappell J (2002) Regulation of squalene synthase, a key enzyme of sterol biosynthesis, in tobacco. Plant Physiol 129:1096–1106

Doares SH, Narvaez-Vasquez J, Conconi A, Ryan CA (1995) Salicylic acid inhibits synthesis of proteinase inhibitors in tomato leaves induced by systemin and jasmonic acid. Plant Physiol 108:1741–1746

EL-Kereamy A, Chervin C, Roustan JP, Cheynier V, Souquet JM, Moutounet M, Raynal J, Ford CM, Latche A, Pech JC, Bouzayen M (2003) Exogenous ethylene stimulates the long-term expression of genes related to anthocyanin biosynthesis in grape berries. Physiol Plant 119:175–182

Flores-Sánchez IJ, Ortega-López J, del Carmen Montes-Horcasitas M, Ramos-Valdivia AC (2002) Biosynthesis of sterols and triterpenes in cell suspension cultures of Uncaria tomentosa. Plant Cell Physiol 43:1502–1509

Goldstein JL, Brown MS (1990) Regulation of the mevalonate pathway. Nature 343:425–430

Gu P, Ishii Y, Spencer TA, Shechter I (1998) Function–structure studies and identification of three enzyme domains involved in the catalytic activity in rat hepatic squalene synthase. J Biol Chem 273:12515–12525

Guo JX, Kimura T, But PPH, Sung CK (1997) International collation of traditional and folk medicine, vol 4. World Scientific, Singapore, pp 73–75

Haralampidis K, Trojanowska M, Osbourn AE (2002) Biosynthesis of triterpenoid saponins in plants. Adv Biochem Eng Biotechnol 75:31–49

Hata S, Sanmiya K, Kouchi H, Matsuoka M, Yamamoto N, Izui K (1997) cDNA cloning of squalene synthase genes from mono- and dicotyledonous plants, and expression of the gene in rice. Plant Cell Physiol 38:1409–1413

Hayashi H, Hirota A, Hiraoka N, Ikeshiro Y (1999) Molecular cloning and characterization of two cDNAs for Glycyrrhiza glabra squalene synthase. Biol Pharm Bull 22:947–950

Hostettmann K, Marston A (1995) Saponins. Cambridge University Press, Cambridge, UK

Hsu MJ, Cheng JS, Huang HC (2000) Effect of saikosaponin, a triterpene saponin on apoptosis in lymphocytes: association with c-myc, p53, and bcl-2 mRNA. Br J Pharmacol 131:1285–1293

Huang Z, Jiang K, Pi Y, Hou R, Liao Z, Cao Y, Han X, Wang Q, Sun X, Tang K (2007) Molecular cloning and characterization of the yew gene encoding squalene synthase from Taxus cuspidate. J Biochem Mol Biol 40:625–635

Ito M, Nakashima H, Baba M, Pauwels R, De Clercq E, Shigeta S, Yamamoto N (1987) Inhibitory effect of glycyrrhizin on the in vitro infectivity and cytopathic activity of the human immunodeficiency virus [HIV (HTLV-III/LAV)]. Antiviral Res 7:127–137

Jefferson RA, Kavanagh TA, Bevan MW (1987) GUS fusions: β-glucuronidase as a sensitive and versatile gene fusion marker in higher plants. EMBO J 6:3901–3907

Jones PJH, MacDougall DE, Ntanios F, Vanstone CA (1997) Dietary phytosterols as cholesterol-lowering agents in humans. Can J Physiol Pharmacol 75:217–227

Kato M, Pu MY, Isobe K, Iwamoto T, Nagase F, Lwin T, Zhang YH, Hattori T, Yanagita N, Nakashima I (1994) Characterization of the immunoregulatory action of saikosaponin-d. Cell Immunol 159:15–25

Kennedy MA, Bard M (2001) Positive and negative regulation of squalene synthase (erg9), an ergosterol biosynthetic gene, in Saccharomyces cerevisiae. Biochim Biophys Acta 1517:177–189

Kim YS, Cho JH, Ahn J, Hwang B (2006) Upregulation of isoprenoid pathway genes during enhanced saikosaponin biosynthesis in the hairy roots of Bupleurum falcatum. Mol Cells 22:269–274

Kiyohara H, Matsumoto T, Nagai T, Kim S-J, Yamada H (2006) The presence of natural human antibodies reactive against pharmacologically active pectic polysaccharides from herbal medicines. Phytomedicine 13:494–500

Kribii R, Arró M, Del Arco A, González V, Balcells L, Delourme D, Ferrer A, Karst F, Boronat A (1997) Cloning and characterization of the Arabidopsis thaliana SQS1 gene encoding squalene synthase, involvement of the C-terminal region of the enzyme in the channeling of squalene through the sterol pathway. Eur J Biochem 249:61–69

Krogh A, Larsson B, von Heijne G, Sonnhammer EL (2001) Predicting transmembrane protein topology with a hidden Markov model: application to complete genomes. J Mol Biol 305:567–580

Lee MH, Jeong JH, Seo JW, Shin CG, Kim YS, In JG, Yang DC, Yi JS, Choi YE (2004) Enhanced triterpene and phytosterol biosynthesis in Panax ginseng overexpressing squalene synthase gene. Plant Cell Physiol 45:976–984

Leung CY, Liu L, Wong RN, Zeng YY, Li M, Zhou H (2005) Saikosaponin-d inhibits T cell activation through the modulation of PKCθ, JNK, and NF-κB transcription factor. Biochem Biophys Res Commun 338:1920–1927

Luo J, Liu L, Wu CD (2001) Enhancement of paclitaxel production by abscisic acid in cell suspension cultures of Taxus chinensis. Biotechnol Lett 23:1345–1348

Murashige T, Skoog F (1962) A revised medium for rapid growth and bioassays with tobacco tissue. Physiol Plant 15:473–497

Mylona P, Owatworakit A, Papadoulou K, Jenner H, Qin B, Findlay K, Hill L, Qi X, Bakht S, Melton R, Osbourn A (2008) Sad3 and Sad4 are required for saponin biosynthesis and root development in oat. Plant Cell 20:201–212

Pan SL (2006) Main chemical constituents of Bupleurum genus. In: Pan SL (ed) Bupleurum species-scientific evaluation and clinical application. CRC Press, Taylor and Francis Group, Boca Raton, FL, USA, pp 71–96

Peña-Cortés H, Albrecht T, Prat S, Weiler EW, Willmitzer L (1993) Aspirin prevent wound-induced gene expression in tomato leaves by blocking jasmonic acid biosynthesis. Planta 191:123–128

Robinson GW, Tsay YH, Kienzle BK, Smith-Montroy CA, Bishop RW (1993) Conservation between human and fungal squalene synthetases: similarities in structure, function, and regulation. Mol Cell Biol 13:2706–2717

Schaller H (2003) The role of sterols in plant growth and development. Prog Lipid Res 42:163–175

Seki H, Ohyama K, Sawai S, Mizutani M, Ohnishi T, Sudo H, Akashi T, Aoki T, Saito K, Muranaka T (2008) Licorice beta-amyrin 11-oxidase, a cytochrome P450 with a key role in the biosynthesis of the triterpene sweetener glycyrrhizin. Proc Natl Acad Sci USA 105:14204–14209

Seo JW, Jeong JH, Shin CG, Lo SC, Han SS, Yu KW, Harada E, Han JY, Choi YE (2005) Overexpression of squalene synthase in Eleutherococcus senticosus increases phytosterol and triterpene accumulation. Phytochemistry 66:869–877

Suzuki M, Kamide Y, Nagata N, Seki H, Ohyama K, Kato H, Masuda K, Sato S, Kato T, Tabata S, Yoshida S, Muranaka T (2004) Loss of function of 3-hydroxy-3-methylglutaryl coenzyme A reductase 1 (HMG1) in Arabidopsis leads to dwarfing, early senescence and male sterility, and reduced sterol levels. Plant J 37:750–761

Tang W, Eisenbrand G (1992) Chinese drugs of plant origin: chemistry, pharmacology and use in traditional and modern medicine. Springer, Berlin, pp 223–225

Testai L, Silvio C, Ammar B, Luisa P, Vincenzo C, Martinotte E (2005) Vasorelaxant effects of the chloroformic crude extract of Buplurum fruticosum L. (Umbelliferae) roots on rat thoracic aorta. J Ethnopharmacol 96:93–97

Uchida H, Yamashita H, Kajikawa M, Ohyama K, Nakayachi O, Sugiyama R, Yamato KT, Muranaka T, Fukuzawa H, Takemura M, Ohyama K (2009) Cloning and characterization of a squalene synthase gene from a petroleum plant, Euphorbia tirucalli L. Planta 229:1243–1252

Ushio Y, Abe H (1992) Inactivation of measles virus and herpes simplex virus by saikosaponin d. Planta Med 58:171–173

Vögeli U, Chappell J (1988) Induction of sesquiterpene cyclase and suppression of squalene synthetase activities in plant cell cultures treated with fungal elicitor. Plant Physiol 88:1291–1296

Wasternack C, Parthier B (1997) Jasmonate-signalled plant gene expression. Trends Plant Sci 2:302–307

Wentzinger LF, Bach TJ, Hartmann MA (2002) Inhibition of squalene synthase and squalene epoxidase in tobacco cells triggers an up-regulation of 3-hydroxy-3-methylglutaryl coenzyme A reductase. Plant Physiol 130:334–346

Zhao J, Zhu WH, Hu Q, He XW (2000) Improved indole alkaloid production in Catharanthus roseus suspension cell cultures by various chemicals. Biotechnol Lett 22:1221–1226

Zhao MW, Zhong JY, Liang WQ, Wang N, Chen MJ, Zhang DB, Pan YJ, Jong SC (2004) Analysis of squalene synthase expression during the development of Ganoderma lucidum. J Microbiol Biotechnol 14:116–120
Acknowledgments
This work was supported by grants (20100301-061-032-001-04) from Biogreen 21, the Rural Development Administration and the WCU project (R33-10157) of the Ministry of Education, Science & Technology (MEST), Republic of Korea.
Additional information
The nucleotide sequence data reported in this paper are available in the DDBJ/EMBL/GenBank nucleotide sequence database with the accession number AY964186.
About this article
Cite this article
Kim, Y.S., Cho, J.H., Park, S. et al. Gene regulation patterns in triterpene biosynthetic pathway driven by overexpression of squalene synthase and methyl jasmonate elicitation in Bupleurum falcatum . Planta 233, 343–355 (2011). https://doi.org/10.1007/s00425-010-1292-9
Received:

Accepted:

Published:

Issue Date:

DOI: https://doi.org/10.1007/s00425-010-1292-9
Keywords