Abstract
Five glucosyltransferases were cloned by RT-PCR amplification using total RNA from Hieracium pilosella L. (Asteraceae) inflorescences as template. Expression was accomplished in Escherichia coli, and three of the HIS-tagged enzymes, UGT90A7, UGT95A1, and UGT72B11 were partially purified and functionally characterised as UDP-glucose:flavonoid O-glucosyltransferases. Both UGT90A7 and UGT95A1 preferred luteolin as substrate, but possessed different regiospecificity profiles. UGT95A1 established a new subgroup within the UGT family showing high regiospecificity towards the C-3′ hydroxyl group of luteolin, while UGT90A7 primarily yielded the 4′-O-glucoside, but concomitantly catalysed also the formation of the 7-O-glucoside, which could account for this flavones glucoside in H. pilosella flower heads. Semi quantitative expression profiles revealed that UGT95A1 was expressed at all stages of inflorescence development as well as in leaf and stem tissue, whereas UGT90A7 transcript abundance was nearly limited to flower tissue and started to develop with the pigmentation of closed buds. Other than these enzymes, UGT72B11 showed rather broad substrate acceptance, with highest activity towards flavones and flavonols which have not been reported from H. pilosella. As umbelliferone was also readily accepted, this enzyme could be involved in the glucosylation of coumarins and other metabolites.
Access options
Buy single article
Instant access to the full article PDF.
US$ 39.95
Tax calculation will be finalised during checkout.
Subscribe to journal
Immediate online access to all issues from 2019. Subscription will auto renew annually.
US$ 119
Tax calculation will be finalised during checkout.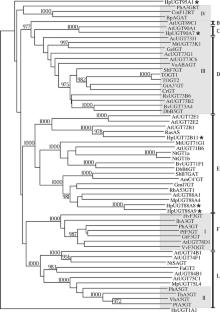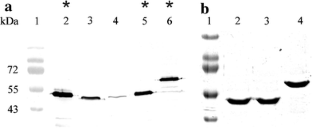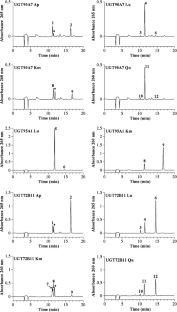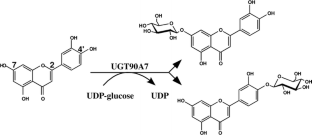 Abbreviations
GT:

Glycosyltransferases

UGT:

UDP-Glycosyltransferases

PSPG:

Plant secondary product glycosyltransferases

RACE:

Rapid amplification of cDNA ends

HSCCC:

High-speed counter current chromatography
References
Arts ICW, Hollman PCH (2005) Polyphenols and disease risk in epidemiologic studies. Am J Clin Nutr 81 suppl:317S–325S

Bate-Smith EC, Sell PD, West C (1968) Chemistry and taxonomy of Hieracium L. and Pilosella Hill. Phytochemistry 7:1165–1169

Beaux D, Fleurentin J, Mortier F (1999) Effect of extracts of Orthosiphon stamineus Benth, Hieracium pilosella L., Sambucus nigra L. and Arctostaphylos uva-ursi (L.) Spreng. in rats. Phytother Res 13:222–225

Bolle P, Bello U, Faccendini P, Martinoli L, Tita B (1993) Hieracium pilosella L.: pharmacological effect of ethanol extract. Pharmacol Res 27 suppl 1:29–30

Bowles D, Isayenkova J, Lim E, Poppenberger B (2005) Glycosyltransferases: managers of small molecules. Curr Opin Plant Biol 8:254–263

Bowles D, Lim E, Poppenberger B, Vaistij FE (2006) Glycosyltransferases of lipophilic small molecules. Annu Rev Plant Biol 57:567–597

Bradford MM (1976) A rapid and sensitive method for the quantitation of microgram quantities of protein utilizing the principle of protein-dye binding. Anal Biochem 72:248–254

Brazier-Hicks M, Edwards R (2005) Functional importance of the family 1 glucosyltransferase UGT72B1 in the metabolism of xenobiotics in Arabidopsis thaliana. Plant J 42:556–566

Brazier-Hicks M, Offen WA, Gershater MC, Revett TJ, Lim E, Bowles DJ, Davies GJ, Edwards R (2007) Characterization and engineering of the bifunctional N- and O-glucosyltransferase involved in xenobiotic metabolism in plants. Proc Natl Acad Sci USA 104:20238–20243

Campbell JA, Davies GJ, Bulone V, Henrissat B (1997) A classification of nucleotide-diphospho-sugar glycosyltransferses based on amino acid sequence similarities. Biochem J 326:929–942

Coleta M, Batista MT, Campos MG, Carvalho R, Cotrim MD, de Lima TCM, Proença da Cunha A (2006) Neuropharmacological evaluation of the putative anxiolytic effects of Passiflora edulis Sims, its sub-fractions and flavonoid constituents. Phytother Res 20:1067–1073

Coleta M, Campos MG, Cotrim MD, de Lima TCM, Proença da Cunha A (2008) Assessment of luteolin (3′,4′,5,7-tetrahydroxyflavone) neuropharmacological activity. Behav Brain Res 189:75–82

Coutinho PM, Deleury E, Davies GJ, Henrissat B (2003) An evolving hierarchical family classification for glycosyltransferases. J Mol Biol 328:307–317

Dombrowicz E, Świątek L, Kopycki W (1992) Phenolic acids in Helichrysi inflorescentia and Herba Hieracii pilosellae. Pharmazie 47:469–470

Duquénois P, Greib É (1953) Sur le principe antibiotique isolé de la Piloselle, Hieracium pilosella L. C R Hebd Séances Acad Sci 237:1354–1355

Fukuchi-Mizutani M, Okuhara H, Fukui Y, Nakao M, Katsumoto Y, Yonekura-Sakakibara K, Kusumi T, Hase T, Tanaka Y (2003) Biochemical and molecular characterization of a novel UDP-glucose:anthocyanin 3′-O-glucosyltransferase, a key enzyme for blue anthocyanin biosynthesis, from Gentian. Plant Physiol 132:1652–1663

Gachon CMM, Langlois-Meurinne M, Saindrenan P (2005) Plant secondary metabolism glycosyltransferases: the emerging functional analysis. Trends Plant Sci 10:542–549

Gawrońska-Grzywacz M, Krzaczek T (2007) Identification and determination of triterpenoids in Hieracium pilosella L. J Sep Sci 30:746–750

Haag-Berrurier M, Duquénois P (1962) Extraction et caractérisation physicochimique de la lutéoline dans les fleurs de la Piloselle, Hieracium pilosella L. C R Hebd Séances Acad Sci 254:3419–3421

Haag-Berrurier M, Duquénois P (1963) Sur la présence d'un 7-β-glucoside de la lutéoline dans les feuilles de la Piloselle, Hieracium pilosella L. C R Hebd Séances Acad Sci 257:3239–3241

Harborne JB (1978) The rare flavone isoetin as a yellow flower pigment in Heywoodiella oligocephala and in other Cichorieae. Phytochemistry 17:915–917

Harborne JB, Williams CA (2000) Advances in flavonoid research since 1992. Phytochemistry 55:481–504

Hasrat JA, Pieters L, Claeys M, Vlietinck A (1997) Adenosine-1 active ligands: cirsimarin, a flavone glycoside from Microtea debilis. J Nat Prod 60:638–641

Hefner T, Arend J, Warzecha H, Siems K, Stöckigt J (2002) Arbutin synthase, a novel member of the NRD1β glycosyltransferase family, is a unique multifunctional enzyme converting various natural products and xenobiotics. Bioorg Med Chem 10:1731–1741

Hughes J, Hughes MA (1994) Multiple secondary plant product UDP-glucose glucosyltransferase genes expressed in cassava (Manihot esculenta Crantz) cotyledons. DNA Seq 5:41–49

Ingkaninan K, Ijzerman AP, Verpoorte R (2000) Luteolin, a compound with adenosine A1 receptor-binding activity, and chromone and dihydronaphthalenone constituents from Senna siamea. J Nat Prod 63:315–317

Isayenkova J, Wray V, Nimtz M, Strack D, Vogt T (2006) Cloning and functional characterisation of two regioselective flavonoid glucosyltransferases from Beta vulgaris. Phytochemistry 67:1598–1612

Ji X, Melman N, Jacobson KA (1996) Interactions of flavonoids and other phytochemicals with adenosine receptors. J Med Chem 39:781–788

Jones P, Vogt T (2001) Glycosyltransferases in secondary plant metabolism: tranquilizers and stimulant controllers. Planta 213:164–174

Kamsteeg J, van Brederode J, van Nigtevecht G (1978) Identification and properties of UDP-glucose: cyanidin-3-O-glucosyltransferase isolated from petals of the Red Champion (Silene dioica). Biochem Genet 16:1045–1058

Kogawa K, Kato N, Kazuma K, Noda N, Suzuki M (2007) Purification and characterization of UDP-glucose: anthocyanin 3′,5′-O-glucosyltransferase from Clitoria ternatea. Planta 226:1501–1509

Kramer CM, Prata RTN, Willits MG, De Luca V, Steffens JC, Graser G (2003) Cloning and regiospecificity studies of two flavonoid glucosyltransferases from Allium cepa. Phytochemistry 64:1069–1076

Lanot A, Hodge D, Jackson RG, George GL, Elias L, Lim E, Vaistij FE, Bowles DJ (2006) The glucosyltransferase UGT72E2 is responsible for monolignol 4-O-glucoside production in Arabidopsis thaliana. Plant J 48:286–295

Li Y, Baldauf S, Lim E, Bowles DJ (2001) Phylogenetic analysis of the UDP-glycosyltransferase multigene family of Arabidopsis thaliana. J Biol Chem 276:4338–4343

Lim E, Bowles DJ (2004) A class of plant glycosyltransferases involved in cellular homeostasis. EMBO J 23:2915–2922

Lim E, Li Y, Parr A, Jackson R, Ashford DA, Bowles DJ (2001) Identification of glucosyltransferase genes involved in sinapate metabolism and lignin synthesis in Arabidopsis. J Biol Chem 276:4344–4349

Lim E, Baldauf S, Li Y, Elias L, Worrall D, Spencer SP, Jackson RG, Taguchi G, Ross J, Bowles DJ (2003) Evolution of substrate recognition across a multigene family of glycosyltransferases in Arabidopsis. Glycobiol 13:139–145

Lim E, Ashford DA, Hou B, Jackson RG, Bowles DJ (2004) Arabidopsis glycosyltransferases as biocatalysts in fermentation for regioselective synthesis of diverse quercetin glucosides. Biotechnol Bioeng 87:623–631

Lim E, Jackson RG, Bowles DJ (2005) Identification and characterisation of Arabidopsis glycosyltransferases capable of glucosylating coniferyl aldehyde and sinapyl aldehyde. FEBS Lett 579:2802–2806

Loutre C, Dixon DP, Brazier M, Slater M, Cole DJ, Edwards R (2003) Isolation of a glucosyltransferase from Arabidopsis thaliana active in the metabolism of the persistent pollutant 3,4-dichloroaniline. Plant J 34:485–493

Lunkenbein S, Bellido M, Aharoni A, Salentijn EMJ, Kaldenhoff R, Coiner HA, Muñoz-Blanco J, Schwab W (2006) Cinnamate metabolism in ripening fruit. Characterization of a UDP-glucose:cinnamate glucosyltransferase from strawberry. Plant Physiol 140:1047–1058

Mackenzie PI, Owens IS, Burchell B, Bock KW, Bairoch A, Bélanger A, Fournel-Gigleux S, Green M, Hum DW, Iyanagi T, Lancet D, Louisot P, Magdalou J, Chowdhury JR, Ritter JK, Schachter H, Tephly TR, Tipton KF, Nebert DW (1997) The UDP glycosyltransferase gene superfamily: recommended nomenclature update based on evolutionary divergence. Pharmacogenetics 7:255–269

Martens S, Mithöfer A (2005) Flavones and flavone synthases. Phytochemistry 66:2399–2407

Messner B, Thulke O, Schäffner AR (2003) Arabidopsis glucosyltransferases with activities toward both endogenous and xenobiotic substrates. Planta 217:138–146

Moco S, Tseng L-H, Spraul M, Chen Z, Vervoort J (2006) Building-up a comprehensive database of flavonoids based on nuclear magnetic resonance data. Chromatographia 64:503–508

Modlinger PS, Welch WJ (2003) Adenosine A1 receptor antagonists and the kidney. Curr Opin Nephrol Hypertens 12:497–502

Modolo LV, Blount JW, Achnine L, Naoumkina MA, Wang X, Dixon RA (2007) A functional genomics approach to (iso)flavonoid glycosylation in the model legume Medicago truncatula. Plant Mol Biol 64:499–518

Nagashima S, Hirotani M, Yoshikawa T (2000) Purification and characterization of UDP-glucuronate: baicalein 7-O-glucuronosyltransferase from Scutellaria baicalensis Georgi. cell suspension cultures. Phytochemistry 53:533–538

Noguchi A, Saito A, Homma Y, Nakao M, Sasaki N, Nishino T, Takahashi S, Nakayama T (2007) A UDP-glucose:isoflavone 7-O-glucosyltransferase from the roots of soybean (Glycine max) seedlings purification, gene cloning, phylogenetics, and an implication for an alternative strategy of enzyme catalysis. J Biol Chem 282:23581–23590

Ogata J, Kanno Y, Itoh Y, Tsugawa H, Suzuki M (2005) Plant biochemistry: anthocyanin biosynthesis in roses. Nature 435:757–758

Ono E, Fukuchi-Mizutani M, Nakamura N, Fukui Y, Yonekura-Sakakibara K, Yamaguchi M, Nakayama T, Tanaka T, Kusumi T, Tanaka Y (2006) Yellow flowers generated by expression of the aurone biosynthetic pathway. Proc Natl Acad Sci USA 103:11075–11080

Paquette S, Lindberg Møller B, Bak S (2003) On the origin of family 1 plant glycosyltransferases. Phytochemistry 62:399–413

Ross J, Li Y, Lim E, Bowles DJ (2001) Protein family review: higher plant glycosyltransferases. Genome Biol 2:3004.1–3004.6

Sawada S, Suzuki H, Ichimaida F, Yamaguchi M, Iwashita T, Fukui Y, Hemmi H, Nishino T, Nakayama T (2005) UDP-glucuronic acid:anthocyanin glucuronosyltransferase from red daisy (Bellis perennis) flowers: enzymology and phylogenetics of a novel glucuronosyltransferase involved in flower pigment biosynthesis. J Biol Chem 280:899–906

Simmonds MSJ (2003) Flavonoid-insect interactions: recent advances in our knowledge. Phytochemistry 64:21–30

Stracke R, De Vos RCH, Bartekniewoehner L, Ishihara H, Sagasser M, Martens S, Weisshaar B (2009) Metabolomic and genetic analyses of flavonol synthesis in Arabidopsis thaliana support the in vivo involvement of leucoanthocyanidin dioxygenase. Planta 229:427–445

Suzuki H, Hayase H, Nakayama A, Yamaguchi I, Asami T, Nakajima M (2007) Identification and characterization of an Ipomoea nil glucosyltransferase which metabolizes some phytohormones. Biochem Biophys Res Commun 361:980–986

Tian L, Blount JW, Dixon RA (2006) Phenylpropanoid glycosyltransferases from osage orange (Maclura pomifera) fruit. FEBS Lett 580:6915–6920

Trouillas P, Calliste C, Allais D, Simon A, Marfak A, Delage C, Duroux J (2003) Antioxidant, anti-inflammatory and antiproliferative properties of sixteen water plant extracts used in the Limousin countryside as herbal teas. Food Chem 80:399–407

Vogt T, Jones P (2000) Glycosyltransferases in plant natural product synthesis: characterization of a supergene family. Trends Plant Sci 5:380–386

Vogt T, Grimm R, Strack D (1999) Cloning and expression of a cDNA encoding betanidin 5-O-glucosyltransferase, a betanidin- and flavonoid-specific enzyme with high homology to inducible glucosyltransferases from the Solanaceae. Plant J 19:509–519

Wang F, Huen MSY, Tsang SY, Xue H (2005) Neuroactive flavonoids interacting with GABAA receptor complex. Curr Drug Targets CNS Neurol Disord 4:575–585

Welch WJ (2002) Adenosine A1 receptor antagonists in the kidney: effects in fluid-retaining disorders. Curr Opin Pharmacol 2:165–170

Yabuya T, Yamaguchi M, Imayama T, Katoh K, Ino I (2002) Anthocyanin 5-O-glucosyltransferase in flowers of Iris ensata. Plant Sci 162:779–784

Yonekura-Sakakibara K, Tohge T, Niida R, Saito K (2007) Identification of a flavonol 7-O-rhamnosyltransferase gene determining flavonoid pattern in Arabidopsis by transcriptome coexpression analysis and reverse genetics. J Biol Chem 282:14932–14941

Zidorn C, Gottschlich G, Stuppner H (2002) Chemosystematic investigations on phenolics from flowerheads of Central european taxa of Hieracium sensu lato (Asteraceae). Plant Syst Evol 231:39–58

Zidorn C, Schubert B, Stuppner H (2005) Altitudinal differences in the contents of phenolics in flowering heads of three members of the tribe Lactuceae (Asteraceae) occurring as introduced species in New Zealand. Biochem Syst Ecol 33:855–872
Acknowledgments
This work was supported by the Deutsche Forschungsgemeinschaft and Dr. Sofia Moco is financed by the EU project "META-PHOR" (FOOD-CT-2006-036220).
Electronic supplementary material
Below is the link to the electronic supplementary material.
About this article
Cite this article
Witte, S., Moco, S., Vervoort, J. et al. Recombinant expression and functional characterisation of regiospecific flavonoid glucosyltransferases from Hieracium pilosella L.. Planta 229, 1135–1146 (2009). https://doi.org/10.1007/s00425-009-0902-x
Received:

Accepted:

Published:

Issue Date:
Keywords
Asteraceae

Flavonoids

Glucosyltransferase

Hieracium

Regiospecificity

Substrate specificity