Abstract
Cyclobutane pyrimidine dimers (CPDs) constitute a majority of DNA lesions caused by ultraviolet-B (UVB). CPD photolyase, which rapidly repairs CPDs, is essential for plant survival under sunlight containing UVB. Our earlier results that the transcription of the cucumber CPD photolyase gene (CsPHR) was activated by light have prompted us to propose that this light-driven transcriptional activation would allow plants to meet the need of the photolyase activity upon challenges of UVB from sunlight. However, molecular mechanisms underlying the light-dependent transcriptional activation of CsPHR were unknown. In order to understand spectroscopic aspects of the plant response, we investigated the wavelength-dependence (action spectra) of the light-dependent transcriptional activation of CsPHR. In both cucumber seedlings and transgenic Arabidopsis seedlings expressing reporter genes under the control of the CsPHR promoter, the action spectra exhibited the most predominant peak in the long-wavelength UVB waveband (around 310 nm). In addition, a 95-bp cis-acting region in the CsPHR promoter was identified to be essential for the UVB-driven transcriptional activation of CsPHR. Thus, we concluded that the photoperception of long-wavelength UVB by UVB photoreceptor(s) led to the induction of the CsPHR transcription via a conserved cis-acting element.
Access options
Buy single article
Instant access to the full article PDF.
US$ 39.95
Tax calculation will be finalised during checkout.
Subscribe to journal
Immediate online access to all issues from 2019. Subscription will auto renew annually.
US$ 119
Tax calculation will be finalised during checkout.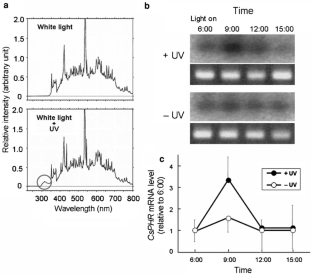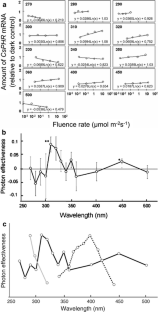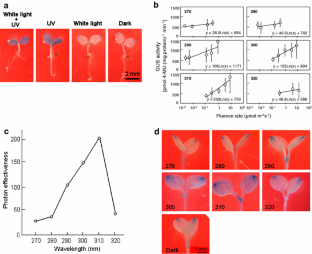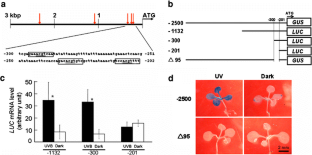 Abbreviations
CPD:

Cyclobutane pyrimidine dimer

CsPHR:

Cucumber CPD photolyase

GUS:

β-Glucronidase

LUC:

Luciferase

PcCHS:

Parsley chalcone synthase

RT-PCR:

Reverse transcription-polymerase chain reaction

UVA:

Ultraviolet-A

UVB:

Ultraviolet-B
References
Ahmad M, Jarillo JA, Klimczak LJ, Landry LG, Peng T, Last RL, Cashmore AR (1997) An enzyme similar to animal type II photolyases mediates photoreactivation in Arabidopsis. Plant Cell 9:199–207

Ballare CL, Barnes PW, Flint SD (1995a) Inhibition of hypocotyl elongation by ultraviolet-B radiation in de-etiolating tomato seedlings. I. The photoreceptor. Physiol Plant 93:584–592

Ballare CL, Barnes PW, Flint SD, Price S (1995b) Inhibition of hypocotyl elongation by ultraviolet-B radiation in de-etiolating tomato seedlings. II. Time-course, comparison with flavonoid responses and adaptive significance. Physiol Plant 93:593–601

Baskin TI, Iino M (1987) An action spectrum in the blue and ultraviolet for phototropism in alfalfa. Photochem Photobiol 46:127–136

Beggs CJ, Wellmann E, Grisebach H (1986) Photocontrol of flavonoid biosynthesis. In: Kendrick RE, Kronengerg GHM (eds) Photomorphogenesis in plants. Kluwer Academic Pub, Norwell, pp 478–499

Block A, Dangl JL, Hahlbrock K, Schulze-Lefert P (1990) Functional borders, genetic fine structure, and distance requirements of cis elements mediating light responsiveness of the parsley chalcone synthase promoter. Proc Natl Acad Sci USA 87:5387–5391

Boccalandro HE, Mazza CA, Mazzella MA, Casal JJ, Ballaré CL (2001) Ultraviolet B radiation enhances a phytochrome-B-mediated photomorphogenic response in Arabidopsis. Plant Physiol 126:780–788

Bornman JF, Reuber S, Cen Y-P, Weissenböck G (1997) Ultraviolet radiation as a stress factor and protective pigments. In: Lumsden P (ed) Plants and UV-B. Cambridge Univ. Press, Cambridge, pp 157–168

Britt A (1996) DNA damage and repair in plants. Annu Rev Plant Physiol Plant Mol Biol 47:75–100

Britt A, Fiscus EL (2003) Growth responses of Arabidopsis DNA repair mutants to solar irradiation. Physiol Plant 118:183–192

Brown BA, Cloix C, Jiang GH, Kaiserli E, Herzyk P, Kliebenstein DJ, Jenkins GI (2005) A UV-B-specific signaling component orchestrates plant UV protection. Proc Natl Acad Sci USA 102:18225–18230

Buchholz G, Ehmann B, Wellmann E (1995) Ultraviolet light inhibition of phytochrome-induced flavonoid biosynthesis and DNA photolyase formation in mustard cotyledon (Sinapis alba L.). Plant Physiol 108:227–234

Caldwell MM (1971) Solar UV irradiation and the growth and development of higher plants. In: Giese AC (ed) Photophysiology, vol 6. Academic Press, New York, pp 133–177

Caldwell MM, Robberecht R, Flint SD (1983) Internal filters: prospects for UV acclimation in higher plants. Physiol Plant 58:445–450

Caldwell MM, Camp LB, Warner CW, Flint SD (1986) Action spectra and their key role in assessing biological consequences of solar UV-B radiation change. In: Worrest RC, Caldwell MM (eds) Stratospheric ozone reduction, solar ultraviolet radiation and plant life. Springer-Verlag, Berlin, pp 87–111

Caldwell MM, Teramura AH, Tevini M (1989) The changing solar ultraviolet climate and the ecological consequences for higher plants. Trends Ecol Evol 4:363–367

Clough SJ, Bent AF (1998) Floral dip: a simplified method for Agrobacterium-mediated transformation of Arabidopsis thaliana. Plant J 16:735–743

Eisinger W, Swartz TE, Bogomolni RA, Taiz L (2000) The ultraviolet action spectrum for stomatal opening in broad bean. Plant Physiol 122:99–106

Eller MS, Ostrom K, Gilchrest BA (1996) DNA damage enhances melanogenesis. Proc Natl Acad Sci USA 93:1087–1092

Eller MS, Maeda T, Magnoni C, Atwal D, Gilchrest BA (1997) Enhancement of DNA repair in human skin cells by thymidine dinucleotides: evidence for a p53-mediated mammalian SOS response. Proc Natl Acad Sci USA 94:12627–12632

Feldbrugge M, Sprenger M, Dinkelbach M, Yazaki K, Harter K, Weisshaar B (1994) Functional analysis of a light-responsive plant bZIP transcriptional regulator. Plant Cell 6:1607–1621

Feldbrugge M, Sprenger M, Hahlbrock K, Weisshaar B (1997) PcMYB1, a novel plant protein containing a DNA-binding domain with one MYB repeat, interacts in vivo with a light-regulatory promoter unit. Plant J 11:1079–1093

Foster R, Izawa T, Chua NH (1994) Plant bZIP proteins gather at ACGT elements. FASEB J 8:192–200

Gerhardt KE, Wilson MI, Greenberg BM (2005) Ultraviolet wavelength dependence of photomorphological and photosynthetic responses in Brassica napus and Arabidopsis thaliana. Photochem Photobiol 81:1061–1068

Giordano CV, Mori T, Sala OE, Scopel AL, Caldwell MM, Ballare CL (2003) Functional acclimation to solar UV-B in Gunnera megellanica, a native plant species of southernmost Patagonia. Plant Cell Environ 26:2027–2036

Giordano CV, Galatro A, Puntarulo S, Ballare CL (2004) The inhibitory effects of UV-B radiation (280–315 nm) on Gunnera magellanica growth correlate with increased DNA damage but not with oxidative damage to lipids. Plant Cell Environ 27:1415–1423

Giuliano G, Pichersky E, Malik VS, Timko MP, Scolnik PA, Cashmore AR (1988) An evolutionarily conserved protein binding sequence upstream of a plant light-regulated gene. Proc Natl Acad Sci USA 85:7089–7093

Green R, Fluhr R (1995) UV-B-induced PR-1 accumulation is mediated by active oxygen species. Plant Cell 7:203–212

Hada M, Iida Y, Takeuchi Y (2000) Action spectra of DNA photolyases for photorepair of cyclobutane pyrimidine dimers in sorghum and cucumber. Plant Cell Physiol 41:644–648

Hidema J, Teranishi M, Iwamatsu Y, Hirouchi T, Ueda T, Sato T, Burr B, Sutherland BM, Yamamoto K, Kumagai T (2005) Spontaneously occurring mutations in the cyclobutane pyrimidine dimer photolyase gene cause different sensitivities to ultraviolet-B in rice. Plant J 43:57–67

Holmes MG (1997) Action spectra for UV-B effects on plants: monochromatic approaches for analyzing plant responses. In: Lumsden PJ (ed) Plants and UV-B: responses to environmental change. Society for Experimental Biology, Seminar Series 64. Cambridge University Press, Cambridge

Ioki M, Nakajima N, Tamaoki M, Takahashi S, Kondo N (2003) Genomic structure of the cucumber CPD photolyase gene. OMICS 7:203–209

Jefferson RA, Kavanagh TA, Bevan MW (1987) GUS fusions: beta-glucuronidase as a sensitive and versatile gene fusion marker in higher plants. EMBO J 20:3901–3907

Jin H, Cominelli E, Bailey P, Parr A, Mehrtens F, Jones J, Tonelli C, Weisshaar B, Martin C (2000) Transcriptional repression by AtMYB4 controls production of UV-protecting sunscreens in Arabidopsis. EMBO J 19:6150–6161

Kasahara M, Swartz TE, Olney MA, Onodera A, Mochizuki N, Fukuzawa H, Asamizu E, Tabata S, Kanegae H, Takano M, Christie JM, Nagatani A, Briggs WR (2002) Photochemical properties of the flavin mononucleotide-binding domains of the phototropins from Arabidopsis, rice, and Chlamydomonas reinhardtii. Plant Physiol 129:762–773

Landry LG, Stapleton AE, Lim J, Hoffman P, Hays JB, Walbot V, Last RL (1997) An Arabidopsis photolyase mutant is hypersensitive to ultraviolet-B radiation. Proc Natl Acad Sci USA 94:328–332

Langer B, Wellmann E (1990) Phytochrome induction of photoreactivating enzyme in Phaseolus vulgaris L. seedlings. Photochem Photobiol 52:861–863

Larcher W (1995) Physiological plant ecology, 3rd edn. Springer-Verlag, Berlin, pp 32–45

Lin C (2000) Plant blue-light receptors. Trends Plant Sci 5:337–342

Lin C, Robertson DE, Ahmad M, Raibekas AA, Jorns MS, Dutton PL, Cashmore AR (1995) Association of flavin adenine dinucleotide with the Arabidopsis blue light receptor CRY1. Science 269:968–970

Long JC, Jenkins GI (1998) Involvement of plasma membrane redox activity and calcium homeostasis in the UV-B and UVA/blue light induction of gene expression in Arabidopsis. Plant Cell 10:2077–2086

Matsunaga T, Hieda K, Nikaido O (1991) Wavelength dependent formation of thymine dimers and (6–4) photoproducts in DNA by monochromatic ultraviolet light ranging from 150 to 365 nm. Photochem Photobiol 54:403–410

Nara A, Takeuchi Y (2002) Ethylene evolution from tobacco leaves irradiated with UV-B. J Plant Res 115:247–253

Pang Q, Hays JB (1991) UV-B inducible and temperature-sensitive photoreactivation of cyclobutane pyrimidine dimers in Arabidopsis thaliana. Plant Physiol 95:536–543

Quaite FE, Sutherland BM, Sutherland JC (1992) Action spectrum for DNA damage in alfalfa lowers predicted impact of ozone depletion. Nature 358:576–578

Ries G, Heller W, Puchta H, Sandermann H, Seidlitz HK, Hohn B (2000) Elevated UV-B radiation reduces genome stability in plants. Nature 406:98–101

Rousseaux MC, Ballaré CL, Giordano CV, Scopel AL, Zima AM, Szwarcberg-Bracchitta M, Searles PS, Caldwell MM, Diaz SB (1999) Ozone depletion and UVB radiation: impact on plant DNA damage in southern South America. Proc Natl Acad Sci USA 96:15310–15315

Sakamoto A, Tanaka A, Watanabe H, Tano S (1998) Molecular cloning of Arabidopsis photolyase gene (PHR1) and characterization of its promoter region. DNA Seq 9:335–340

Sancer A (1994) Structure and function of DNA photolyase. Biochemistry 33:2–9

Schulze-Lefert P, Cecker-Andre M, Shulze W, Hahlbrock K, Dangl JL (1989) Functional architecture of the light-responsive chalcone synthase promoter from parsley. Plant Cell 1:707–714

Shinkle JR, Atkins AK, Humphrey EE, Rodgers CW, Wheeler SL, Barnes PW (2004) Growth and morphological responses to different UV wavebands in cucumber (Cucumis sativum) and other dicotyledonous seedlings. Physiol Plant 120:240–248

Shinkle JR, Derickson DL, Barnes PW (2005) Comparative photobiology of growth responses to two UV-B wavebands and UV-C in dim-red-light- and white-light-grown cucumber (Cucumis sativus) seedlings: physiological evidence for photoreactivation. Photochem Photobiol 81:1069–1074

Steinmetz V, Wellmann E (1986) The role of solar UV-B in growth regulation of cress (Lepidium sativum L.) seedlings. Photochem Photobiol 43:189–193

Suesslin C, Frohnmeyer H (2003) An Arabidopsis mutant defective in UV-B light-mediated responses. Plant J 33:591–601

Takahashi S, Nakajima N, Saji H, Kondo N (2002) Diurnal change of cucumber CPD photolyase gene (CsPHR) expression and its physiological role in growth under UV-B irradiation. Plant Cell Physiol 43:342–349

Takayanagi S, Trunk JG, Sutherland JC, Sutherland BM (1994) Alfalfa seedlings grown outdoors are more resistant to UV-induced DNA damage than plants grown in a UV-free environmental chamber. Photochem Photobiol 60:363–367

Takeda J, Ozeki Y, Yoshida K (1997) Action spectrum for induction of promoter activity of phenylalanine ammonia-lyase gene by UV in carrot suspension cells. Photochem Photobiol 66:464–470

Taylor RM, Nikaido O, Jordan BR, Rosamond J, Bray CM, Tobin AK (1996) Ultraviolet-b-induced DNA lesions and their removal in wheat (Triticum aestvum L.) leaves. Plant Cell Environ 19:171–181

Teramura AH (1983) Effects of ultraviolet-B radiation on growth and yield of crop plants. Physiol Plant 58:415–427

Ulm R, Baumann A, Oravecz A, Mate Z, Adam E, Oakeley EJ, Schafer E, Nagy F (2004) Genome-wide analysis of gene expression reveals function of the bZIP transcription factor HY5 in the UV-B response of Arabidopsis. Proc Natl Acad Sci USA 101:1397–1402

Watanabe M, Furuya M, Miyoshi Y, Inoue Y, Iwahashi I, Matsumoto K (1982) Design and performance of the Okazaki Large Spectrograph for photobiological research. Photochem Photobiol 36:491–498

Waterworth WM, Jiang Q, West CE, Nikaido M, Bray CM (2002) Characterization of Arabidopsis photolyase enzymes and analysis of their role in protection from ultraviolet-B radiation. J Exp Bot 53:1005–1015

Yatsuhashi H, Hashimoto T, Shimizu S (1982) Ultraviolet action spectrum for anthocyanin formation in broom sorghum first internodes. Plant Physiol 70:735–741

Zhang M, An L, Feng H, Chen T, Chen K, Liu Y, Tang H, Chang J, Wang X (2003) The cascade mechanisms of nitric oxide as a second messenger of ultraviolet B in inhibiting mesocotyl elongations. Photochem Photobiol 77:219–225
Acknowledgments
We are grateful to the members of the Large Spectrograph Laboratory at National Institute for Basic Biology (Mr. S. Higashi, Ms. C. Ichikawa and Mr. T. Nakamura), our colleagues at National Institute for Environmental Studies (Mr. and Mrs. Matsumoto, Ms. M. Nakajima, Ms. H. Watanabe, Ms. Y. Oshima, Mr. H. Takahashi, and Mr. T. Teramoto), Dr. Y. Takahashi at the University of Tokyo, and Dr. B. Liu at University of California, Davis, for their generous technical assistance and discussions.
About this article
Cite this article
Ioki, M., Takahashi, S., Nakajima, N. et al. An unidentified ultraviolet-B-specific photoreceptor mediates transcriptional activation of the cyclobutane pyrimidine dimer photolyase gene in plants. Planta 229, 25 (2008). https://doi.org/10.1007/s00425-008-0803-4
Received:

Accepted:

Published:
Keywords
Action spectrum

Cucumis

Cyclobutane pyrimidine dimmer

DNA photolyase (EC 4.1.99.3)

Photoreceptor

Ultraviolet light