Abstract
Raman spectroscopy can be used for sensitive detection of carotenoids in living tissue and Raman mapping provides further information about their spatial distribution in the measured plant sample. In this work, the relative content and distribution of the main carrot (Daucus carota L.) root carotenoids, α-, β-carotene, lutein and lycopene were assessed using near-infrared Fourier transform Raman spectroscopy. The pigments were measured simultaneously in situ in root sections without any preliminary sample preparation. The Raman spectra obtained from carrots of different origin and root colour had intensive bands of carotenoids that could be assigned to β-carotene (1,520 cm−1), lycopene (1,510 cm−1) and α-carotene/lutein (1,527 cm−1). The Raman mapping technique revealed detailed information regarding the relative content and distribution of these carotenoids. The level of β-carotene was heterogeneous across root sections of orange, yellow, red and purple roots, and in the secondary phloem increased gradually from periderm towards the core, but declined fast in cells close to the vascular cambium. α-carotene/lutein were deposited in younger cells with a higher rate than β-carotene while lycopene in red carrots accumulated throughout the whole secondary phloem at the same level. The results indicate developmental regulation of carotenoid genes in carrot root and that Raman spectroscopy can supply essential information on carotenogenesis useful for molecular investigations on gene expression and regulation.
Access options
Buy single article
Instant access to the full article PDF.
USD 39.95
Price includes VAT (USA)
Tax calculation will be finalised during checkout.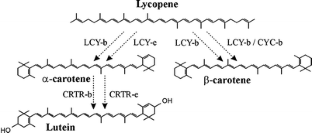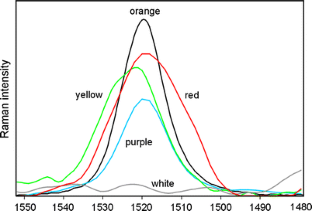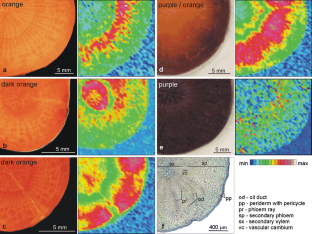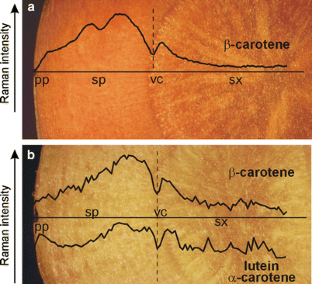 Abbreviations
NIR:

Near-infrared

FT:

Fourier transform
References
Alasalvar C, Grigor JM, Zhang D, Quantick PC, Shahidi F (2001) Comparison of volatiles, phenolics, sugars, antioxidant vitamins, and sensory quality of different colored carrot varieties. J Agric Food Chem 49:1410–1416

Ayers JE, Fishwick MJ, Land DG, Swain T (1964) Off-flavor of dehydrated carrot stored in oxygen. Science 203:81–82

Baranska M, Schulz H (2005) Spatial distribution of polyacetylenes in carrot root. Analyst 130:855–859

Baranska M, Schulz H, Baranski R, Nothnagel T, Christensen L (2005) In situ simultaneous analysis of polyacetylenes, carotenoids and polysaccharides in carrot roots. J Agric Food Chem 53:6565–6571

Baranski R, Baranska M, Schulz H (2005) Changes in carotenoid content and their distribution in fresh plant tissue can be observed and mapped in situ using NIR-FT-Raman spectroscopy. Planta 222:448–457

Bouvier F, Isner J-C, Dogbo O, Camara B (2005) Oxidative tailoring of carotenoids: a prospect towards novel functions in plants. Trends Plant Sci 10:187–194

Buishand JG, Gabelman WH (1979) Investigations on the inheritance of color and carotenoid content in phloem and xylem of carrot root (Daucus carota L.). Euphytica 28:611–632

Buishand JG, Gabelman WH (1980) Studies on the inheritance of root color and carotenoids content in red × yellow and red × white crosses of carrot, Daucus carota L. Euphytica 29:241–260

Cunningham FX, Gantt E (1998) Genes and enzymes of carotenoid biosynthesis in plants. Annu Rev Plant Physiol Plant Mol Biol 49:557–583

Demmig-Adams B, Gilmore AM, Adams WW (1996) Carotenoiods 3: In vivo function of carotenoids in higher plants. FASEB J 10:403–412

Dietz Bryant J, McCord JD, Knight-Unlu L, Erdman JW Jr (1992) Isolation and partial characterization of α- and β-carotene-containing carotenoprotein from carrot (Daucus carota L.) root chromoplasts. J Agric Food Chem 40:545–549

Esau K (1940) Developmental anatomy of the fleshy storage organ of Daucus carota. Hilgardia 13:175–209

Fraser PD, Bramley PM (2004) The biosynthesis and nutritional uses of carotenoids. Prog Lipid Res 43:228–265

Frey-Wyssling A, Schwegler F (1965) Ultrastructure of chromoplasts in the carrot root. J Ultrastruct Res 13:543–559

Habegger R, Schnitzler WH (2005) Aroma compounds of colored carrots (Daucus carota L. ssp. sativus Hoffm.). J Appl Bot Food Qual Angew Bot 79:130–136

Horvitz MA, Simon PW, Tanumihardjo S (2004) Lycopene and β-carotene are bioavailable form lycopene red carrots in humans. Eur J Clin Nutr 58:803–811

Isaacson T, Ronen G, Zamir D, Hirschberg J (2002) Cloning of tangerine from tomato reveals a carotenoid isomerase essential for the production of β-carotene and xanthophylls in plants. Plant Cell 14:333–342

Lewinsohn E, Sitrit Y, Bar E, Azulay Y, Ibdah M, Meir A, Yosef E, Zamir D, Tadmor Y (2005) Not just colors-degradation as a link between pigmentation and aroma in tomato and watermelon fruit. Trends Food Sci Tech 16:407–415

Milicua JCG, Juarros JL, De Las Rivas J, Ibarrondo J, Gomez R (1991) Isolation of a yellow carotenoprotein from carrot. Phytochemistry 30:1535–1537

Nicolle C, Simon G, Rock E, Amouroux P, Rémésy C (2004) Genetic variability influences carotenoid, vitamin, phenolic, and mineral content in white, yellow, purple, orange, and dark-orange carrot cultivars. J Am Soc Hortic Sci 129:523–529

Olsen JA (1989) Provitamin A function of carotenoids. J Nat 119:105–108

Ozaki Y, Cho R, Ikegawa K, Muraishi S, Kawauchi K (1992) Potential of near-infrared Fourier transform Raman spectroscopy in food analysis. Appl Spectrosc 46:1503–1507

Phan CT, Hsu H (1973) Physical and chemical changes occurring in the carrot root during growth. Can J Plant Sci 53:629–634

Poon WYL, Goldman IL (2002) Comparative carotenoid accumulation and retention in near-isogenic rprp and RPRP inbred carrot lines. J Am Soc Hortic Sci 127:284–289

Reiter M, Neidhart S, Carle R (2003) Sedimentation behaviour and turbidity of carrot juices in relation to the characteristics of their cloud particles. J Sci Food Agric 83:745–751

Ronen G, Carmel-Goren L, Zamir D, Hirschberg J (2000) An alternative pathway to β-carotene formation in plant chromoplasts discovered by map-based cloning of Beta and old-gold color mutations in tomato. Proc Natl Acad Sci USA 97:11102–11107

Rubatzky VE, Quiros CF, Simon PW (1999) Carrots and related vegetable Umbelliferae. CABI Publishing, New York

Santos CAF, Senalik D, Simon PW (2005) Path analysis suggests phytoene accumulation is the key step limiting the carotenoid pathway in white carrot roots. Gen Mol Biol 28:287–293

Santos CAF, Simon PW (2002) QTL analyses reveal clustered loci for accumulation of major provitamin A carotenes and lycopene in carrot roots. Mol Genet Genomics 268:122–129

Schrader B, Klump HH, Schenzel K, Schulz H (1999) Non-destructive NIR FT Raman analysis of plants. J Mol Struct 509:201–212

Schulz H, Baranska M, Baranski R (2005) Potential of NIR-FT-Raman spectroscopy in natural carotenoid analysis. Biopolymers 77:212–221

Simon PW (1984) Carrot genetics. Plant Mol Biol Rep 2:54–63

Simon PW, Wolff XY (1987) Carotenes in typical and dark orange carrots. J Agric Food Chem 35:1017–1022

Surles RL, Weng N, Simon PW, Tanumihardjo SA (2004) Carotenoid profiles and consumer evaluation of specialty carrots (Daucus carota L.) of various colors. J Agric Food Chem 52:3417–3421

Taylor M, Ramsay G (2005) Carotenoid biosynthesis in plant storage organs: recent advances and prospects for improving plant food quality. Physiol Plant 124:143–151

Vishnevetsky M, Ovadis M, Vainstein A (1999) Carotenoid sequestration in plants: the role of carotenoid-associated proteins. Trends Plant Sci 4:232–235

Zhou JR, Gugger ET, Erdman JW Jr (1994) Isolation and partial characterisation of an 18 kDa carotenoid-protein complex from carrot roots. J Agric Food Chem 42:2386–2390
Acknowledgments
The financial support of the "Deutsche For-schungsgemeinschaft (DFG)" in Bonn, Germany (grant number: Schu 566/7-2) is gratefully acknowledged.
About this article
Cite this article
Baranska, M., Baranski, R., Schulz, H. et al. Tissue-specific accumulation of carotenoids in carrot roots. Planta 224, 1028–1037 (2006). https://doi.org/10.1007/s00425-006-0289-x
Received:

Accepted:

Published:

Issue Date:
Keywords
Daucus

FT-Raman spectroscopy

Mapping

α-Carotene

β-Carotene

Lutein

Lycopene