Abstract
The photosynthetic characteristics of the ear and flag leaf of well-watered (WW) and water-stressed (WS) durum wheat (Triticum turgidum L. var. durum) were studied in plants grown under greenhouse and Mediterranean field conditions. Gas exchange measurements simultaneously with modulated chlorophyll fluorescence were used to study the response of the ear and flag leaf to CO2 and O2 during photosynthesis. C4 metabolism was identified by assessing the sensitivity of photosynthetic rate and electron transport to oxygen. The presence of CAM metabolism was assessed by measuring daily patterns of stomatal conductance and net CO2 assimilation. In addition, the histological distribution of Rubisco protein in the ear parts was studied by immunocytochemical localisation. Relative water content (RWC) and osmotic adjustment (osmotic potential at full turgor) were also measured in these organs. Oxygen sensitivity of the assimilation rate and electron transport, the lack of Rubisco compartmentalisation in the mesophyll tissues and the gas-exchange pattern at night indicated that neither C4 nor CAM metabolism occurs in the ear of WW or WS plants. Nevertheless, photosynthetic activity of the flag leaf was more affected by WS conditions than that of the ear, under both growing conditions. The lower sensitivity under water stress of the ear than of the flag leaf was linked to higher RWC and osmotic adjustment in the ear bracts and awns. We demonstrate that the better performance of the ear under water stress (compared to the flag leaf) is not related to C4 or CAM photosynthesis. Rather, drought tolerance of the ear is explained by its higher RWC in drought. Osmotic adjustment and xeromorphic traits of ear parts may be responsible.
This is a preview of subscription content,
to check access.
Access this article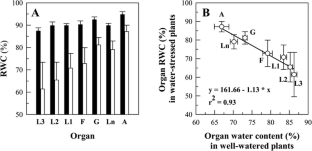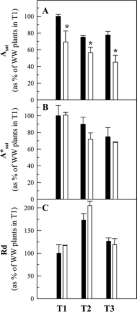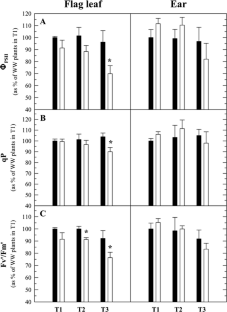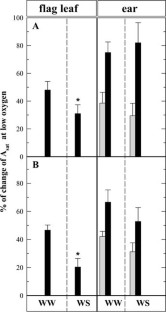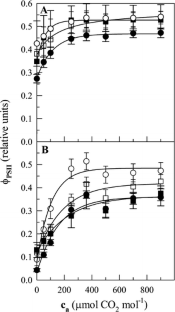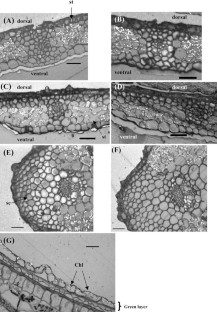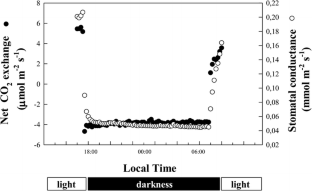 Abbreviations
A sat :

Light-saturated net CO2 assimilation rate

A*sat:

Corrected light-saturated net CO2 assimilation rate of the ear (i.e. Asat+Rd)

Fm and Fm′:

Maximum fluorescence in dark-adapted and light-adapted organs respectively

Fv/Fm:

Maximum efficiency of PSII photochemistry after dark-adaptation

Fv′/Fm′:

Efficiency of energy capture by open PSII centres

Fo′:

Minimum fluorescence yield in light-adapted state

ϕPSII:

Relative quantum yield of PSII photochemistry

PPFD:

Photosynthetically active photon flux density

q P :

Photochemical quenching of chlorophyll fluorescence

R d :

Dark respiration

RuBP:

Ribulose-1,5-biphosphate

RWC:

Relative water content

ψw:

Leaf water potential
References
Abbad H, El Jaafari SA, Bort J, Araus JL (2004) Comparative relationship of the flag leaf and the ear photosynthesis with the biomass and grain yield of durum wheat under a range of water conditions and different genotypes. Agronomie 24:19–28

Acevedo EH, Silva PC, Silva HR, Solar BR (1999) Wheat production in Mediterranean environments. In: Satorre EH, Slafer GA (eds) Wheat: ecology and physiology of yield determination. Food Products Press, New York, pp 295–323

Andrews JR, Bredenkamp GJ, Baker NR (1993) Evaluation of the role of state transitions in determining the efficiency of light utilization for CO2 assimilation in leaves. Photosynth Res 38:15–26

Aoyagi K, Bassham JA (1984) Pyruvate orthophosphate dikinase of C3 seeds and leaves as compared to the enzyme from maize. Plant Physiol 75:387–392

Araus JL, Alegre L, Tapia L, Calafell R (1986) Relationship between leaf structure and gas exchange in wheat leaves at different insertion leaves. J Exp Bot 37(182):1323–1333

Araus JL, Santiveri P, Bosch-Serra D, Royo C, Romagosa I (1992) Carbon isotope ratios in ear parts of Triticale. Plant Physiol 100:1033–1035

Araus JL, Brown HR, Febrero A, Bort J, Serret MD (1993a) Ear photosynthesis, carbon isotope discrimination and the contribution of respiratory CO2 to differences in grain mass in durum wheat. Plant Cell Environ 16:383–392

Araus JL, Bort J, Brown HR, Basset C, Cortadellas N (1993b) Immunocytochemical localization of phosphoenolpyruvate carboxylase and photosynthetic gas exchange characteristics in ears of Triticum durum Desf. Planta 191:507–514

Babu RC, Pathan MS, Blum A, Nguyen HT (1999) Comparison of measurement methods of osmotic adjustment in rice cultivars. Crop Sci 39:150–158

Blanke MM, Lenz F (1989) Fruit photosynthesis. Plant Cell Environ 12:31–46

Blum A, Zhang J, Nguyen HT (1999) Consistent differences among wheat cultivars in osmotic adjustment and their relationship to plant production. Field Crop Res 64:287–291

Bort J, Febrero A, Amaro T, Araus JL (1994) Role of awns in ear water-use efficiency and grain weight in barley. Agronomie 2:133–139

Bort J, Brown HR, Araus JL (1995) Lack of C4 photosynthetic metabolism in ears of C3 cereals. Plant Cell Environ 18:897–702

Bort J, Brown HR, Araus JL (1996) Refixation of respiratory CO2 in the ears of C3 cereals. J Exp Bot 47:1567–1575

Caley CY, Duffus CM, Jeffcoat B (1990) Photosynthesis in the pericarp of developing wheat grains. J Exp Bot 41(224):303–307

Carlemalm E, Garavito RM, Villiger W (1982) Resin development for electron microscopy and an analysis of embedding at low temperature. J Microsc 126:123–143

Carr DJ, Wardlaw IF (1965) The supply of photosynthetic assimilates to the grain from the flag and ear of wheat. Aust J Biol Sci 18:711–719

Chollet R, Vidal J, O'Leary MH (1996) Phosphoenolpyruvate carboxylase: a ubiquitous, highly regulated enzyme in plants. Annu Rev Plant Physiol 47:273–298

Clarke JM (1987) Use of physiological and morphological traits in breeding programmes to improve drought resistance of cereals. In: Srivastava JP, Porceddu E, Acevedo E, Varma S (eds) Drought tolerance in winter cereals ICARDA, Wiley

Cushman JC, Taybi T, Bohnert HJ (2000) Induction of Crassulacean acid metabolism-molecular aspects. In: Leegood RC, Sherkey TD, von Caemmerer S (eds) Photosynthesis: physiology and metabolism. Kluwer, Dordrecht, pp 551–582

Evans LT, Bingham J, Jackson P, Sutherland J (1972) Effect of awns and drought on the supply of photosynthate and its distribution within wheat ears. Ann Appl Biol 70:67–76

Evans LT, Wardlaw IF, Fischer RA (1980) Wheat. In: Evans LT (ed) Crop physiology: some case histories. Cambridge University Press, Cambridge, pp 101–149

Gebbing T, Schnyder H (2001) 13C labelling kinetics of sucrose in glumes indicates significant refixation of respiratory CO2 in the wheat ear. Aust J Plant Physiol 28:1047–1053

Grundbacher FJ (1957) The physiological function of the cereal awn. Botanical Rev 29:366–381

Imaizumi N, Usuda H, Nakamoto H, Ishihara K (1990) Changes in the rate of photosynthesis during grain filling and the enzymatic activities associated with the photosynthetic carbon metabolism in rice panicles. Plant Cell Physiol 31:835–843

Johnson RR, Frey NM, Moss DN (1974) Effect of water stress on photosynthesis and transpiration of flag leaves and spikes of barley and wheat. Crop Sci 14:728–731

Kikuta SB, Richter H (1986) Graphical evaluation and partitioning of turgor responses to drought in leaves of durum wheat. Planta 168:36–42

Kriedemann P (1966) The photosynthetic activity of the wheat ear. Ann Bot 30:349–363

Lawson T, Oxborough K, Morison JIL, Baker NR (2002) Responses of photosynthetic electron transport in stomatal guard cells and mesophyll cells in intact leaves to light, CO2 and humidity. Plant Physiol 128:52–62

Leegood RC (1989) Biochemical studies of photosynthesis: from CO2 to sucrose. In: Briggs WR (ed) Plant biology, photosynthesis, vol 8. Alan R Liss, New York

Ludlow MM, Santamaría JM, Fukai S (1990) Contribution of osmotic adjust to grain yield in Sorghum bicolor (L.) Moench under water-limited conditions. II. Water stress after anthesis. Aust J Agric Res 41:67–78

Morgan JM (1980) Osmotic adjustment in the spikelets and leaves of wheat. J Exp Bot 31(121):655–665

Morgan JM (1984) Osmoregulation and water stress in higher plants. Annu Rev Plant Physiol 35:299–319

Morgan JM, Condon AG (1986) Water use, grain yield and osmoregulation in wheat. Aust J Plant Physiol 13:523–532

Nogués S, Alegre L (2002) An increase in water deficit has no impact on the photosynthetic capacity of field-grown Mediterranean plants. Funct Plant Biol 29:621–630

Nogués S, Baker NR (2000) Effects of drought on photosynthesis in Mediterranean plants grown under enhanced UV-B radiation. J Exp Bot 51:1309–1317

Nogués S, Allen DA, Morison JIL, Baker NR (1998) Ultraviolet-B radiation effects on water relations, leaf development, and photosynthesis in droughted pea plants. Plant Physiol 117:173–181

Nutbeam A, Duffus C (1976) Evidence for C4 photosynthesis in barley pericarp tissue. Biochem Biophys Res Commun 70(4):1198–1203

Oxborough K, Baker NR (1997) Resolving chlorophyll a fluorescence images of photosynthetic efficiency into photochemical and non-photochemical components-calculation of qP and Fv′/Fm′ without measuring Fo′. Photosynthesis Res 54:135–142

Pate JS (2001) Carbon isotope discrimination and plant water-use efficiency. In: Unkovich M et al (eds) Stable isotope techniques in the study of biological processes and functioning of ecosystems. Kluwer, Dordrecht, pp 19–36

Royo C, Michelena A, Carrillo JM, García P, Juan-Aracil J, Soler C (1998) Spanish durum wheat breeding program. In: Nachit MM, Baum M, Porceddu, Monneveux, Picard E (eds). SEWANA (South Europe, West Asia and North Africa) durum research network. Proceedings of the SEWANA durum network workshop, 20–23 March 1995. ICARDA: Aleppo, Syria, pp 80–87

Sage RF (2002) C4 photosynthesis in terrestrial plants does not require Kranz anatomy. Trends Plant Sci 7(7):283–285

Sánchez-Díaz M, García JL, Antolín MC, Araus JL (2002) Effects of soil drought and atmospheric humidity on yield, gas exchange, and stable carbon composition of barley. Photosynthetica 40(3):415–421

Sen Gupta A, Berkowitz GA (1987) Osmotic adjustment, symplast volume, and non-stomatally mediated water stress inhibition of photosynthesis in wheat. Plant Physiol 85:1040–1047

Serraj R, Sinclair TR (2002) Osmolyte accumulation: can it really help increase crop yield under drought conditions? Plant Cell Environ 25:333–341

Sharkey TD (1985) O2-insensitive photosynthesis in C3 plants. Its occurrence and a possible explanation. Plant Physiol 78:71–75

Simmons SR (1987) Growth, development and physiology. In: Heyne EG (ed) Wheat and wheat improvement. American Society of Agronomy Inc., Madison, pp 77–113

Singal HR, Sheoran IS, Singh R (1986) In vitro enzyme activities and products of 14CO2 assimilation in flag leaf and ear parts of wheat (Triticum aestivum L.) Photosynthesis Res 8:113–122

Teare ID, Peterson GJ, Law AG (1971) Size and frequency of leaf stomata in cultivars of Triticum aestivum and other triticum species. Crop Sci 11:496–498

Voznesenskaya E, Franceschi VR, Kiirats O, Freitag H, Edwards GE (2001) Kranz anatomy is not essential for terrestrial C4 plant photosynthesis. Nature 414:543–546

Wardlaw IF (2002) Interaction between drought and chronic high temperature during kernel filling in wheat in a controlled environment. Ann Bot 90:469–476

Wirth E, Kelly GJ, Fischbeck G, Latzko E (1976) Enzyme activities and products of CO2 fixation in various photosynthetic organs of wheat and oat. Z Pflanzenphysiol 82:78–87

Xu HL, Ishii R (1990) Effects of water deficit on photosynthesis in wheat plants. V. Difference among plant parts in water relations. Jpn J Crop Sci 59(2):384–389

Xu HL, Ishii R, Yamagishi T, Kumura A (1990) Effects of water deficit on photosynthesis in wheat plants. III. Effect on non-stomatal mediated photosynthesis and RuBP carboxylase content in different plant parts. Jpn J Crop Sci 59(1):153–157

Ziegler-Jöns A (1989) Gas-exchange of ears of cereals in response to carbon dioxide and light. II. Occurrence of a C3-C4 intermediate type of photosynthesis. Planta 178:164–175
Acknowledgements
We would like to thank the "Servei dels Camps Experimentals, Universitat de Barcelona" for their valuable help in plant cultivation. We also thank the "Serveis Científico-Tècnics, Universitat de Barcelona" for their particular help in the processing of the material for microscopy, immunolocalisation and image analysis. We are grateful to Dr. J.J. Guiamét (Universidad Nacional de La Plata, Argentina) for supplying the Rubisco antibody. This study was supported in part by the CICYT (Spain, AGL2002-04285-C03-03), and by the EC-INCO IDUWUE (ICA3-CT-2002-10028). E. Tambussi was the recipient of a fellowship from the Consejo Nacional de Investigaciones Científicas y Tecnológicas (CONICET, Argentina).
About this article
Cite this article
Tambussi, E.A., Nogués, S. & Araus, J.L. Ear of durum wheat under water stress: water relations and photosynthetic metabolism. Planta 221, 446–458 (2005). https://doi.org/10.1007/s00425-004-1455-7
Received:

Accepted:

Published:

Issue Date:

DOI: https://doi.org/10.1007/s00425-004-1455-7
Keywords