Abstract
Endometriosis is an estrogen-dependent disease that is characterized by pelvic pain and infertility. MicroRNAs have been shown to implicate in the progression of endometriosis. In our study, we used real-time PCR to evaluate the expression of miR-141-3p in endometrial samples. In addition, western blot analysis was used to assess the expression of Krüppel-like factor 12 (KLF-12). The proliferation and migration of ectopic endometrial stromal cells (ESCs) were determined by MTT assay and Transwell assay, respectively. Cell apoptosis was evaluated using a Cell Death Detection ELISA Plus kit. The results showed that miR-141-3p and KLF-12 were significantly different in paired ectopic and eutopic endometrial samples. miR-141-3p overexpression significantly restrained the proliferation and migration and promoted the apoptosis of ectopic ESCs, whereas a decreased level of miR-141-3p was associated with opposite results. Furthermore, dual-luciferase reporter assay confirmed that KLF-12 was a novel target of miR-141-3p, while it also decreased the effects of miR-141-3p on the proliferation, apoptosis, and migration of ectopic ESCs. Our data suggested that enhanced expression of miR-141-3p suppressed the proliferation and migration of ectopic ESCs and promoted their apoptosis via targeting KLF-12. Our results may provide a novel potential therapeutic target for the treatment of endometriosis.
Access options
Buy single article
Instant access to the full article PDF.
US$ 39.95
Tax calculation will be finalised during checkout.
Subscribe to journal
Immediate online access to all issues from 2019. Subscription will auto renew annually.
US$ 119
Tax calculation will be finalised during checkout.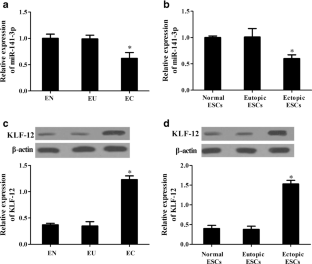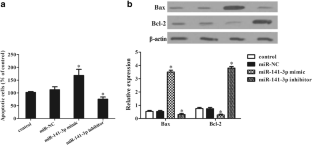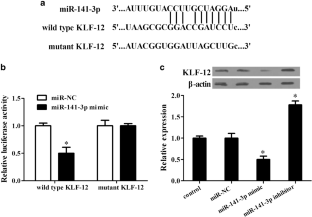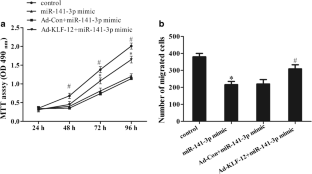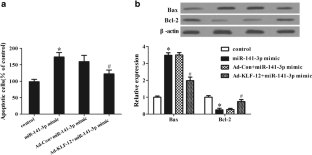 References
1.

Ahn JH, Choi YS, Choi JH (2015) Leptin promotes human endometriotic cell migration and invasion by up-regulating MMP-2 through the JAK2/STAT3 signaling pathway. Mol Hum Reprod 21(10):792–802

2.

Anger DL, Foster WG (2008) The link between environmental toxicant exposure and endometriosis. Front Biosci 13:1578–1593

3.

Bachmayr-Heyda A, Auer K, Sukhbaatar N, Aust S, Deycmar S, Reiner AT, Polterauer S, Dekan S, Pils D (2016) Small RNAs and the competing endogenous RNA network in high grade serous ovarian cancer tumor spread. Oncotarget 7(26):39640–39653

4.

Chuang TD, Khorram O (2018) Regulation of cell cycle regulatory proteins by microRNAs in uterine leiomyoma. Reprod Sci 1933719118768692

5.

Dang DT, Pevsner J, Yang VW (2000) The biology of the mammalian Kruppel-like family of transcription factors. Int J Biochem Cell Biol 32(11–12):1103–1121

6.

Du Y, Chen Y, Wang F, Gu L (2016) miR-137 plays tumor suppressor roles in gastric cancer cell lines by targeting KLF12 and MYO1C. Tumour Biol 37(10):13557–13569

7.

Fang M, Huang W, Wu X, Gao Y, Ou J, Zhang X, Li Y (2019) MiR-141-3p suppresses tumor growth and metastasis in papillary thyroid cancer via targeting Yin Yang 1. Anat Rec (Hoboken) 302(2):258–268

8.

Giudice LC (2010) Clinical practice. Endometriosis. N Engl J Med 362(25):2389–2398

9.

Guan B, Li Q, Shen L, Rao Q, Wang Y, Zhu Y, Zhou XJ, Li XH (2016) MicroRNA-205 directly targets Kruppel-like factor 12 and is involved in invasion and apoptosis in basal-like breast carcinoma. Int J Oncol 49(2):720–734

10.

Hawkins SM, Creighton CJ, Han DY, Zariff A, Anderson ML, Gunaratne PH, Matzuk MM (2011) Functional microRNA involved in endometriosis. Mol Endocrinol 25(5):821–832

11.

Hou X, Yang L, Jiang X, Liu Z, Li X, Xie S, Li G, Liu J (2019) Role of microRNA-141-3p in the progression and metastasis of hepatocellular carcinoma cell. Int J Biol Macromol 128:331–339

12.

Huang S, Wa Q, Pan J, Peng X, Ren D, Huang Y, Chen X, Tang Y (2017) Downregulation of miR-141-3p promotes bone metastasis via activating NF-kappaB signaling in prostate cancer. J Exp Clin Cancer Res 36(1):173

13.

Jannot G, Simard MJ (2006) Tumour-related microRNAs functions in Caenorhabditis elegans. Oncogene. 25(46):6197–6201

14.

Kaczynski J, Cook T, Urrutia R (2003) Sp1- and Kruppel-like transcription factors. Genome Biol 4(2):206

15.

Khaliq OP, Murugesan S, Moodley J, Mackraj I (2018) Differential expression of miRNAs are associated with the insulin signaling pathway in preeclampsia and gestational hypertension. Clin Exp Hypertens:1–8

16.

Kim SH, Park YY, Cho SN, Margalit O, Wang D, DuBois RN (2016) Kruppel-like factor 12 promotes colorectal cancer growth through early growth response protein 1. PLoS One 11(7):e0159899

17.

Li JH, Zhang Z, Du MZ, Guan YC, Yao JN, Yu HY, Wang BJ, Wang XL, Wu SL, Li Z (2018) microRNA-141-3p fosters the growth, invasion, and tumorigenesis of cervical cancer cells by targeting FOXA2. Arch Biochem Biophys 657:23–30

18.

Li W, Cui Y, Wang D, Wang Y, Wang L (2019) MiR-141-3p functions as a tumor suppressor through directly targeting ZFR in non-small cell lung cancer. Biochem Biophys Res Commun 509(3):647–656

19.

Liu H, Zhang Z, Xiong W, Zhang L, Xiong Y, Li N, He H, Du Y, Liu Y (2017) Hypoxia-inducible factor-1alpha promotes endometrial stromal cells migration and invasion by upregulating autophagy in endometriosis. Reproduction 153(6):809–820

20.

Miron L (2003) Systemic treatment of colorectal cancers—factual standards and perspectives. Rev Med Chir Soc Med Nat Iasi 107(4):752–758

21.

Miska EA (2005) How microRNAs control cell division, differentiation and death. Curr Opin Genet Dev 15(5):563–568

22.

Moggio A, Pittatore G, Cassoni P, Marchino GL, Revelli A, Bussolati B (2012) Sorafenib inhibits growth, migration, and angiogenic potential of ectopic endometrial mesenchymal stem cells derived from patients with endometriosis. Fertil Steril 98(6):1521–30 e2

23.

Nakamura Y, Migita T, Hosoda F, Okada N, Gotoh M, Arai Y, Fukushima M, Ohki M, Miyata S, Takeuchi K, Imoto I, Katai H, Yamaguchi T, Inazawa J, Hirohashi S, Ishikawa Y, Shibata T (2009) Kruppel-like factor 12 plays a significant role in poorly differentiated gastric cancer progression. Int J Cancer 125(8):1859–1867

24.

Nothnick WB (2017) MicroRNAs and endometriosis: distinguishing drivers from passengers in disease pathogenesis. Semin Reprod Med 35(2):173–180

25.

Oates AC, Pratt SJ, Vail B, Yan Y, Ho RK, Johnson SL, Postlethwait JH, Zon LI (2001) The zebrafish klf gene family. Blood 98(6):1792–1801

26.

Ohlsson Teague EM, Van der Hoek KH, Van der Hoek MB, Perry N, Wagaarachchi P, Robertson SA, Print CG, Hull LM (2009) MicroRNA-regulated pathways associated with endometriosis. Mol Endocrinol 23(2):265–275

27.

Painter JN, Anderson CA, Nyholt DR, Macgregor S, Lin J, Lee SH, Lambert A, Zhao ZZ, Roseman F, Guo Q, Gordon SD, Wallace L, Henders AK, Visscher PM, Kraft P, Martin NG, Morris AP, Treloar SA, Kennedy SH, Missmer SA, Montgomery GW, Zondervan KT (2011) Genome-wide association study identifies a locus at 7p15.2 associated with endometriosis. Nat Genet 43(1):51–54

28.

Rapado-Gonzalez O, Majem B, Muinelo-Romay L, Alvarez-Castro A, Santamaria A, Gil-Moreno A, Lopez-Lopez R, Suarez-Cunqueiro MM (2018) Human salivary microRNAs in cancer. J Cancer 9(4):638–649

29.

Rekker K, Saare M, Roost AM, Kaart T, Soritsa D, Karro H, Soritsa A, Simon C, Salumets A, Peters M (2015) Circulating miR-200-family micro-RNAs have altered plasma levels in patients with endometriosis and vary with blood collection time. Fertil Steril 104(4):938–946 e2

30.

Shen X, Hu Y, Jiang Y, Liu H, Zhu L, Jin X, Shan H, Zhen X, Sun L, Yan G, Sun H (2013) Kruppel-like factor 12 negatively regulates human endometrial stromal cell decidualization. Biochem Biophys Res Commun 433(1):11–17

31.

Suda S, Rai T, Sohara E, Sasaki S, Uchida S (2006) Postnatal expression of KLF12 in the inner medullary collecting ducts of kidney and its trans-activation of UT-A1 urea transporter promoter. Biochem Biophys Res Commun 344(1):246–252

32.

Suske G, Bruford E, Philipsen S (2005) Mammalian SP/KLF transcription factors: bring in the family. Genomics 85(5):551–556

33.

Ultimo S, Zauli G, Martelli AM, Vitale M, McCubrey JA, Capitani S, Neri LM (2018) Cardiovascular disease-related miRNAs expression: potential role as biomarkers and effects of training exercise. Oncotarget. 9(24):17238–17254

34.

Vandenboom Ii TG, Li Y, Philip PA, Sarkar FH (2008) MicroRNA and cancer: tiny molecules with major implications. Curr Genomics 9(2):97–109

35.

Wang L, Chen YJ, Xu K, Xu H, Shen XZ, Tu RQ (2014) Circulating microRNAs as a fingerprint for endometrial endometrioid adenocarcinoma. PLoS One 9(10):e110767

36.

Wang N, Li P, Liu W, Lu Z, Feng J, Zeng X, Yang J, Wang Y, Zhao W (2018) miR-141-3p suppresses proliferation and promotes apoptosis by targeting GLI2 in osteosarcoma cells. Oncol Rep 39(2):747–754

37.

Zhang Q, Zhang H, Jiang Y, Xue B, Diao Z, Ding L, Zhen X, Sun H, Yan G, Hu Y (2015) MicroRNA-181a is involved in the regulation of human endometrial stromal cell decidualization by inhibiting Kruppel-like factor 12. Reprod Biol Endocrinol 13(1):23

38.

Zhou X, Wu W, Zeng A, Nie E, Jin X, Yu T, Zhi T, Jiang K, Wang Y, Zhang J, You Y (2017) MicroRNA-141-3p promotes glioma cell growth and temozolomide resistance by directly targeting p53. Oncotarget 8(41):71080–71094
Ethics declarations
The hospital ethics committee approved this study.
Conflict of interest
The authors declare that they have no conflict of interest.
Additional information
Publisher's note
Springer Nature remains neutral with regard to jurisdictional claims in published maps and institutional affiliations.
Highlights
1. miR-141-3p is obviously decreased in endometriosis.
2. KLF-12 is significantly upregulated in endometriosis.
3. Restoration of miR-141-3p expression in ectopic ESCs inhibits cellular proliferation and migration.
4. Restoration of miR-141-3p expression in ectopic ESCs induces the apoptosis in ectopic ESCs.
5. KLF-12 is directly regulated by miR-141-3p.
6. KLF-12 reverses the miR-141-3p-induced suppression of cell proliferation and migration.
7. KLF-12 inhibits the miR-141-3p-mediated induction of cell apoptosis.
About this article
Cite this article
Zhang, Y., Yan, J. & Pan, X. miR-141-3p affects apoptosis and migration of endometrial stromal cells by targeting KLF-12. Pflugers Arch - Eur J Physiol 471, 1055–1063 (2019). https://doi.org/10.1007/s00424-019-02283-2
Received:

Revised:

Accepted:

Published:

Issue Date:
Keywords
miR-141-3p

Proliferation

Apoptosis

Ectopic endometrial stromal cells

Krüppel-like factor 12