Abstract
Multiple voltage-gated calcium channels (VGCCs) contribute to the processing of nociceptive signals in primary afferent fibers. In addition, alteration of calcium channel activity is associated with a number of chronic pain conditions. Therefore, VGCCs have emerged as prime target for the management of either neuropathic or inflammatory pain, and selective calcium channel blockers have been shown to have efficacy in animal models and in the clinic. However, considering that multiple calcium channels contribute pain afferent signaling, broad-spectrum inhibitors of several channel isoforms may offer a net advantage in modulating pain. Here, we have analyzed the ability of the compound surfen to modulate calcium channels, and assessed its analgesic potential. We show that surfen is an equipotent blocker of both low- and high-voltage-activated calcium channels. Furthermore, spinal (intrathecal) delivery of surfen to mice produces sustained analgesia against both acute and chronic pain. Collectively, our data establish surfen as a broad-spectrum calcium channel inhibitor with analgesic potential, and raise the possibility of using surfen-derived compounds for the development of new pain-relieving drugs.
This is a preview of subscription content, log in to check access.
Access options
Buy single article
Instant access to the full article PDF.
US$ 39.95
Price includes VAT for USA
Subscribe to journal
Immediate online access to all issues from 2019. Subscription will auto renew annually.
US$ 199
This is the net price. Taxes to be calculated in checkout.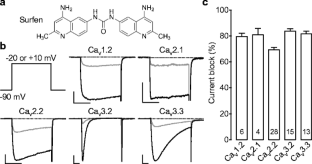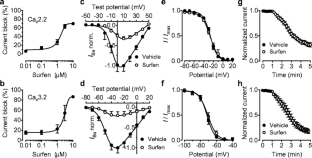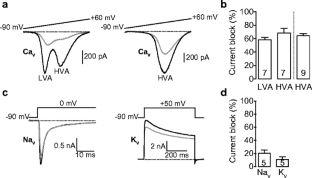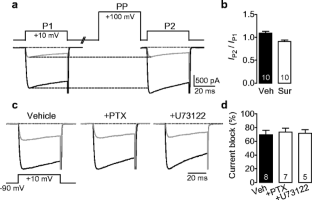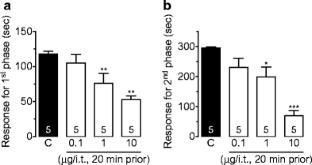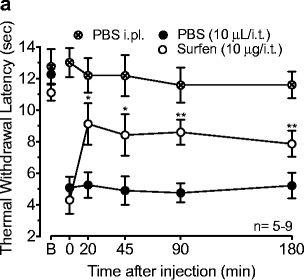 References
1.

Alavi NSM, Soussi-Yanicostas N, Yanicostas C (2013) Materials and methods for the treatment of tauopathies. https://www.google.com/patents/WO2013020909A1?cl=no

2.

Bavari S, Panchal R, Gussio R (2007) Broad spectrum antibacterial compounds. https://www.google.com/patents/WO2008041966A2?cl=en&dq=Broad+spectrum+antibacterial+compounds&hl=en&sa=X&ved=0ahUKEwjol7_t2crUAhVB7hoKHYoFDYsQ6AEIJjAA

3.

Bourinet E, Alloui A, Monteil A, Barrère C, Couette B, Poirot O, Pages A, McRory J, Snutch TP, Eschalier A, Nargeot J (2005) Silencing of the Cav3.2 T-type calcium channel gene in sensory neurons demonstrates its major role in nociception. EMBO J 24(2):315–324

4.

Bourinet E, Altier C, Hildebrand ME, Trang T, Salter MW, Zamponi GW (2014) Calcium-permeable ion channels in pain signaling. Physiol Rev 94(1):81–140

5.

Comunanza V, Carbone E, Marcantoni A, Sher E, Ursu D (2011) Calcium-dependent inhibition of T-type calcium channels by TRPV1 activation in rat sensory neurons. Pflugers Arch 462(5):709–722

6.

Dobremez E, Bouali-Benazzouz R, Fossat P, Monteils L, Dulluc J, Nagy F, Landry M (2005) Distribution and regulation of L-type calcium channels in deep dorsal horn neurons after sciatic nerve injury in rats. Eur J Neurosci 21(12):3321–3333

7.

Evans AR, Nicol GD, Vasko MR (1996) Differential regulation of evoked peptide release by voltage-sensitive calcium channels in rat sensory neurons. Brain Res 712(2):265–273

8.

François A, Schüetter N, Laffray S, Sanguesa J, Pizzoccaro A, Dubel S, Mantilleri A, Nargeot J, Noël J, Wood JN (2015) The low-threshold calcium channel Cav3. 2 determines low-threshold mechanoreceptor function. Cell Rep 10(3):370–382

9.

Fukumoto N, Obama Y, Kitamura N, Niimi K, Takahashi E, Itakura C, Shibuya I (2009) Hypoalgesic behaviors of P/Q-type voltage-gated Ca2+ channel mutant mouse, rolling mouse Nagoya. Neuroscience 160(1):165–173

10.

Gadotti VM, Caballero AG, Berger ND, Gladding CM, Chen L, Pfeifer TA, Zamponi GW (2015) Small organic molecule disruptors of Cav3.2—USP5 interactions reverse inflammatory and neuropathic pain. Mol Pain 11:12

11.

Gadotti VM, You H, Petrov RR, Berger ND, Diaz P, Zamponi GW (2013) Analgesic effect of a mixed T-type channel inhibitor/CB2 receptor agonist. Mol Pain 9:–32

12.

Garau G, Magotti P, Heine M, Korotchenko S, Lievens PM, Berezin V, Dityatev A (2015) Heparin/heparan sulfates bind to and modulate neuronal L-type (Cav1. 2) voltage-dependent Ca(2+) channels. Exp Neurol 274(Pt B):156–165

13.

Garcia-Caballero A, Gadotti VM, Chen L, Zamponi GW (2016) A cell-permeant peptide corresponding to the cUBP domain of USP5 reverses inflammatory and neuropathic pain. Mol Pain 12. doi:10.1177/1744806916642444

14.

García-Caballero A, Gadotti VM, Stemkowski P, Weiss N, Souza IA, Hodgkinson V, Bladen C, Chen L, Hamid J, Pizzoccaro A, Deage M, François A, Bourinet E, Zamponi GW (2014) The deubiquitinating enzyme USP5 modulates neuropathic and inflammatory pain by enhancing Cav3.2 channel activity. Neuron 83(5):1144–1158

15.

Heppenstall PA, Lewin GR (2006) A role for T-type Ca 2+ channels in mechanosensation. Cell Calcium 40(2):165–174

16.

Hildebrand ME, Smith PL, Bladen C, Eduljee C, Xie JY, Chen L, Fee-Maki M, Doering CJ, Mezeyova J, Zhu Y (2011) A novel slow-inactivation-specific ion channel modulator attenuates neuropathic pain. Pain 152(4):833–843

17.

Hunskaar S, Fasmer OB, Hole K (1985) Formalin test in mice, a useful technique for evaluating mild analgesics. J Neurosci Methods 14(1):69–76

18.

Hylden JL, Wilcox GL (1980) Intrathecal morphine in mice: a new technique. Eur J Pharmacol 67(2–3):313–316

19.

Jacus MO, Uebele VN, Renger JJ, Todorovic SM (2012) Presynaptic Cav3. 2 channels regulate excitatory neurotransmission in nociceptive dorsal horn neurons. J Neurosci 32(27):9374–9382

20.

Jiang YQ, Andrade A, Lipscombe D (2013) Spinal morphine but not ziconotide or gabapentin analgesia is affected by alternative splicing of voltage-gated calcium channel CaV2.2 pre-mRNA. Mol Pain 9:67

21.

Kerckhove N, Mallet C, Pereira B, Chenaf C, Duale C, Dubray C, Eschalier A (2016) Assessment of the effectiveness and safety of Ethosuximide in the Treatment of non-Diabetic Peripheral Neuropathic Pain: EDONOT-protocol of a randomised, parallel, controlled, double-blinded and multicentre clinical trial. BMJ Open 6(12):e013530

22.

Köppel H, Yard BA, Christ M, Wehling M, van der Woude FJ (2003) Modulation of angiotensin II-mediated signalling by heparan sulphate glycosaminoglycans. Nephrol Dial Transplant 18(11):2240–2247

23.

Kremer M, Salvat E, Muller A, Yalcin I, Barrot M (2016) Antidepressants and gabapentinoids in neuropathic pain: mechanistic insights. Neuroscience 338:183–206

24.

Lanza TJ, Durette PL, Rollins T, Siciliano S, Cianciarulo DN, Kobayashi SV, Caldwell CG, Springer MS, Hagmann WK (1992) Substituted 4,6-diaminoquinolines as inhibitors of C5a receptor binding. J Med Chem 35(2):252–258

25.

Lazniewska J, Rzhepetskyy Y, Zhang FX, Zamponi GW, Weiss N (2016) Cooperative roles of glucose and asparagine-linked glycosylation in T-type calcium channel expression. Pflugers Arch 468(11–12):1837–1851

26.

Lee M (2014) Z944: a first in class T-type calcium channel modulator for the treatment of pain. J Peripher Nerv Syst 19(Suppl 2):S11–S12

27.

Lu SG, Zhang XL, Luo ZD, Gold MS (2010) Persistent inflammation alters the density and distribution of voltage-activated calcium channels in subpopulations of rat cutaneous DRG neurons. Pain 151(3):633–643

28.

Luvisetto S, Marinelli S, Panasiti MS, D'Amato FR, Fletcher CF, Pavone F, Pietrobon D (2006) Pain sensitivity in mice lacking the Ca(v)2. 1 alpha 1 subunit of P/Q-type Ca2+ channels. Neuroscience 142(3):823–832

29.

Maggi CA, Tramontana M, Cecconi R, Santicioli P (1990) Neurochemical evidence for the involvement of N-type calcium channels in transmitter secretion from peripheral endings of sensory nerves in guinea pigs. Neurosci Lett 114(2):203–206

30.

Mallmann RT, Wilmes T, Lichvarova L, Bührer A, Lohmüller B, Castonguay J, Lacinova L, Klugbauer N (2013) Tetraspanin-13 modulates voltage-gated CaV2. 2 Ca2+ channels. Sci Rep 3:1777

31.

Matthews EA, Bee LA, Stephens GJ, Dickenson AH (2007) The Cav2. 3 calcium channel antagonist SNX-482 reduces dorsal horn neuronal responses in a rat model of chronic neuropathic pain. Eur J Neurosci 25(12):3561–3569

32.

Minge D, Senkov O, Kaushik R, Herde MK, Tikhobrazova O, Wulff AB, Mironov A, van Kuppevelt TH, Oosterhof A, Kochlamazashvili G, Dityatev A, Henneberger C (2017) Heparan sulfates support pyramidal cell excitability, synaptic plasticity, and context discrimination. Cereb Cortex 27(2):903–918

33.

Murakami M, Nakagawasai O, Suzuki T, Mobarakeh II, Sakurada Y, Murata A, Yamadera F, Miyoshi I, Yanai K, Tan-No K, Sasano H, Tadano T, Iijima T (2004) Antinociceptive effect of different types of calcium channel inhibitors and the distribution of various calcium channel alpha 1 subunits in the dorsal horn of spinal cord in mice. Brain Res 1024(1–2):122–129

34.

Nebe J, Vanegas H, Neugebauer V, Schaible HG (1997) Omega-agatoxin IVA, a P-type calcium channel antagonist, reduces nociceptive processing in spinal cord neurons with input from the inflamed but not from the normal knee joint—an electrophysiological study in the rat in vivo. Eur J Neurosci 9(10):2193–2201

35.

Obradovic AL, Hwang SM, Scarpa J, Hong SJ, Todorovic SM, Jevtovic-Todorovic V (2014) Ca V 3.2 T-Type calcium channels in peripheral sensory neurons are important for mibefradil-induced reversal of hyperalgesia and allodynia in rats with painful diabetic neuropathy. PLoS One 9(4):e91467

36.

Panchal RG, Hermone AR, Nguyen TL, Wong TY, Schwarzenbacher R, Schmidt J, Lane D, Mc Grath C, Turk BE, Burnett J, Aman MJ, Little S, Sausville EA, Zaharevitz DW, Cantley LC, Liddington RC, Gussio R, Bavari S (2004) Identification of small molecule inhibitors of anthrax lethal factor. Nat Struct Mol Biol 11(1):67–72

37.

Perret D, Luo ZD (2009) Targeting voltage-gated calcium channels for neuropathic pain management. Neurotherapeutics 6(4):679–692

38.

Pexton T, Moeller-Bertram T, Schilling JM, Wallace MS (2011) Targeting voltage-gated calcium channels for the treatment of neuropathic pain: a review of drug development. Expert Opin Investig Drugs 20(9):1277–1284

39.

Proft J, Weiss N (2015) G protein regulation of neuronal calcium channels: back to the future. Mol Pharmacol 87(6):890–906

40.

Pudukulatham Z, Zhang FX, Gadotti VM, M'Dahoma S, Swami P, Tamboli Y, Zamponi GW (2016) Synthesis and characterization of a disubstituted piperazine derivative with T-type channel blocking action and analgesic properties. Mol Pain 12. doi:10.1177/1744806916641678

41.

Radwani H, Lopez-Gonzalez MJ, Cattaert D, Roca-Lapirot O, Dobremez E, Bouali-Benazzouz R, Eiríksdóttir E, Langel Ü, Favereaux A, Errami M, Landry M, Fossat P (2016) Cav1. 2 and Cav1. 3 L-type calcium channels independently control short- and long-term sensitization to pain. J Physiol 594(22):6607–6626

42.

Rose KE, Lunardi N, Boscolo A, Dong X, Erisir A, Jevtovic-Todorovic V, Todorovic SM (2013) Immunohistological demonstration of Ca V 3.2 T-type voltage-gated calcium channel expression in soma of dorsal root ganglion neurons and peripheral axons of rat and mouse. Neuroscience 250:263–274

43.

Saegusa H, Kurihara T, Zong S, Kazuno A, Matsuda Y, Nonaka T, Han W, Toriyama H, Tanabe T (2001) Suppression of inflammatory and neuropathic pain symptoms in mice lacking the N-type Ca2+ channel. EMBO J 20(10):2349–2356

44.

Sanford M (2013) Intrathecal ziconotide: a review of its use in patients with chronic pain refractory to other systemic or intrathecal analgesics. CNS Drugs 27(11):989–1002

45.

Santicioli P, Del Bianco E, Tramontana M, Geppetti P, Maggi CA (1992) Release of calcitonin gene-related peptide like-immunoreactivity induced by electrical field stimulation from rat spinal afferents is mediated by conotoxin-sensitive calcium channels. Neurosci Lett 136(2):161–164

46.

Schuksz M, Fuster MM, Brown JR, Crawford BE, Ditto DP, Lawrence R, Glass CA, Wang L, Tor Y, Esko JD (2008) Surfen, a small molecule antagonist of heparan sulfate. Proc Natl Acad Sci U S A 105(35):13075–13080

47.

Scroggs RS, Fox AP (1992) Calcium current variation between acutely isolated adult rat dorsal root ganglion neurons of different size. J Physiol 445:639–658

48.

Shao PP, Ye F, Chakravarty PK, Varughese DJ, Herrington JB, Dai G, Bugianesi RM, Haedo RJ, Swensen AM, Warren VA, Smith MM, Garcia ML, Mc Manus OB, Lyons KA, Li X, Green M, Jochnowitz N, Mc Gowan E, Mistry S, Sun SY, Abbadie C, Kaczorowski GJ, Duffy JL (2012) Aminopiperidine sulfonamide Cav2. 2 channel inhibitors for the treatment of chronic pain. J Med Chem 55(22):9847–9855

49.

Smith MT, Cabot PJ, Ross FB, Robertson AD, Lewis RJ (2002) The novel N-type calcium channel blocker, AM336, produces potent dose-dependent antinociception after intrathecal dosing in rats and inhibits substance P release in rat spinal cord slices. Pain 96(1):119–127

50.

Smith MT, Muralidharan A (2015) Targeting angiotensin II type 2 receptor pathways to treat neuropathic pain and inflammatory pain. Expert Opin Ther Targets 19(1):25–35

51.

Staats PS, Yearwood T, Charapata SG, Presley RW, Wallace MS, Byas-Smith M, Fisher R, Bryce DA, Mangieri EA, Luther RR, Mayo M, Mc Guire D, Ellis D (2004) Intrathecal ziconotide in the treatment of refractory pain in patients with cancer or AIDS: a randomized controlled trial. JAMA 291(1):63–70

52.

Sukiasyan N, Hultborn H, Zhang M (2009) Distribution of calcium channel Ca(V)1. 3 immunoreactivity in the rat spinal cord and brain stem. Neuroscience 159(1):217–235

53.

Surve CR, Lehmann D, Smrcka AV (2014) A chemical biology approach demonstrates G protein βγ subunits are sufficient to mediate directional neutrophil chemotaxis. J Biol Chem 289(25):17791–17801

54.

Teleb M, Zhang FX, Huang J, Gadotti VM, Farghaly AM, OM AW, Zamponi GW, Fahmy H (2017) Synthesis and biological evaluation of novel N3-substituted dihydropyrimidine derivatives as T-type calcium channel blockers and their efficacy as analgesics in mouse models of inflammatory pain. Bioorg Med Chem 25(6):1926–1938

55.

Terashima T, Xu Q, Yamaguchi S, Yaksh TL (2013) Intrathecal P/Q- and R-type calcium channel blockade of spinal substance P release and c-Fos expression. Neuropharmacology 75:1–8

56.

Todorovic SM, Jevtovic-Todorovic V (2011) T-type voltage-gated calcium channels as targets for the development of novel pain therapies. Br J Pharmacol 163(3):484–495

57.

Tsien RW, Lipscombe D, Madison DV, Bley KR, Fox AP (1988) Multiple types of neuronal calcium channels and their selective modulation. Trends Neurosci 11(10):431–438

58.

Umber F, Stoerring FK, Foellmer W (1938) Erfolge mit einem neuartigen Depotinsulin ohne Protaminzusatz (Surfen-Insulin). Klin Wochenschr 17(13):443–446

59.

Vink S, Alewood PF (2012) Targeting voltage-gated calcium channels: developments in peptide and small-molecule inhibitors for the treatment of neuropathic pain. Br J Pharmacol 167(5):970–989

60.

Waxman SG, Zamponi GW (2014) Regulating excitability of peripheral afferents: emerging ion channel targets. Nat Neurosci 17(2):153–163

61.

Weiss N, Hameed S, Fernández-Fernández JM, Fablet K, Karmazinova M, Poillot C, Proft J, Chen L, Bidaud I, Monteil A, Huc-Brandt S, Lacinova L, Lory P, Zamponi GW, De Waard M (2012) A Ca(v)3. 2/syntaxin-1A signaling complex controls T-type channel activity and low-threshold exocytosis. J Biol Chem 287(4):2810–2818

62.

Weiss N, Zamponi GW (2013) Control of low-threshold exocytosis by T-type calcium channels. Biochim Biophys Acta 1828(7):1579–1586

63.

Weiss RJ, Gordts PL, Le D, Xu D, Esko JD, Tor Y (2015) Small molecule antagonists of cell-surface heparan sulfate and heparin-protein interactions. Chem Sci 6(10):5984–5993

64.

Wen XJ, Li ZJ, Chen ZX, Fang ZY, Yang CX, Li H, Zeng YM (2006) Intrathecal administration of Cav3. 2 and Cav3. 3 antisense oligonucleotide reverses tactile allodynia and thermal hyperalgesia in rats following chronic compression of dorsal root of ganglion. Acta Pharmacol Sin 27(12):1547–1552

65.

Woolf CJ, Ma Q (2007) Nociceptors—noxious stimulus detectors. Neuron 55(3):353–364

66.

Yamamoto S, Suzuki Y, Ono H, Kume K, Ohsawa M (2016) N- and L-type calcium channels blocker cilnidipine ameliorates neuropathic pain. Eur J Pharmacol 793:66–75

67.

Yusaf SP, Goodman J, Pinnock RD, Dixon AK, Lee K (2001) Expression of voltage-gated calcium channel subunits in rat dorsal root ganglion neurons. Neurosci Lett 311(2):137–141

68.

Zamponi GW (2016) Targeting voltage-gated calcium channels in neurological and psychiatric diseases. Nat Rev Drug Discov 15(1):19–34
Ethics declarations
Conflict of interest
The authors declare that they have no conflict of interest.
Financial support
Work in the Weiss laboratory is supported by the Czech Science Foundation (grant 15-13556S), the Czech Ministry of Education Youth and Sports (grant 7AMB15FR015), and the Institute of Organic Chemistry and Biochemistry (IOCB). GWZ is a Canada Research Chair and supported by the Canadian Institutes of Health Research.
About this article
Cite this article
Rivas-Ramirez, P., Gadotti, V.M., Zamponi, G.W. et al. Surfen is a broad-spectrum calcium channel inhibitor with analgesic properties in mouse models of acute and chronic inflammatory pain. Pflugers Arch - Eur J Physiol 469, 1325–1334 (2017). https://doi.org/10.1007/s00424-017-2017-8
Received:

Revised:

Accepted:

Published:

Issue Date:
Keywords
Calcium channel

Pain

Inflammatory pain

Calcium channel blocker

Surfen

DRG neuron