Abstract
TMEM16A/anoctamin 1/ANO1 and VRAC/LRRC8 are independent chloride channels activated either by increase in intracellular Ca2+ or cell swelling, respectively. In previous studies, we observed overlapping properties for both types of channels. (i) TMEM16A/ANO1 and LRRC8 are inhibited by identical compounds, (ii) the volume-regulated anion channel VRAC requires compartmentalized Ca2+ increase to be fully activated, (iii) anoctamins are activated by cell swelling, (iv) both channels have a role for apoptotic cell death, (v) both channels are possibly located in lipid rafts/caveolae like structures, and (vi) VRAC and anoctamin 1 currents are not additive when each are fully activated. In the present study, we demonstrate in different cell types that loss of LRRC8A expression not only inhibited VRAC, but also attenuated Ca2+ activated Cl− currents. Moreover, expression of LRRC8A enhanced Ca2+ activated Cl− currents, and both LRRC8A and ANO1 could be coimmunoprecipitated. We found that LRRC8A becomes accessible to biotinylation upon exposure to hypotonic bath solution, while membrane capacitance was not enhanced. When intracellular Ca2+ was increased in ANO1-expressing cells, the membrane capacitance was enhanced and increased binding of FM4–64 to the membrane was observed. As this was not seen in cells lacking ANO1 expression, a role of ANO1 for exocytosis was suggested. We propose that ANO1 and LRRC8A are activated in parallel. Thus, ionomycin or purinergic stimulation will not only activate ANO1 but also LRRC8 currents. Cell swelling will not only activate LRRC8/VRAC, but also stimulate ANO1 currents by enhancing compartmentalized Ca2+ increase and/or through swelling induced autocrine release of ATP.
Access options
Buy single article
Instant access to the full article PDF.
USD 39.95
Price excludes VAT (USA)
Tax calculation will be finalised during checkout.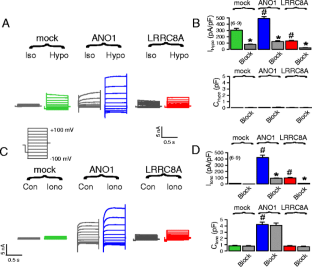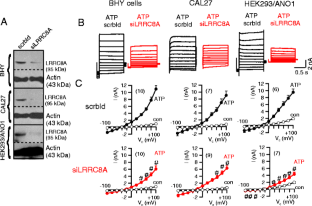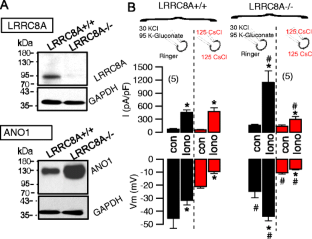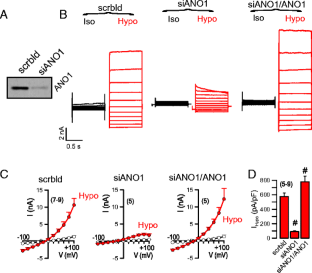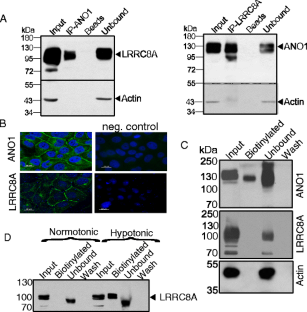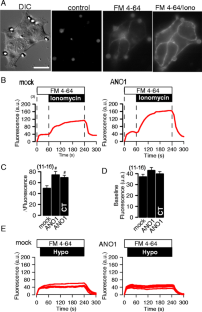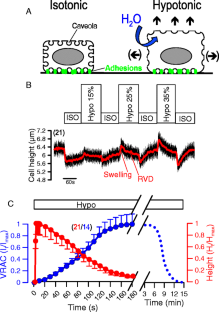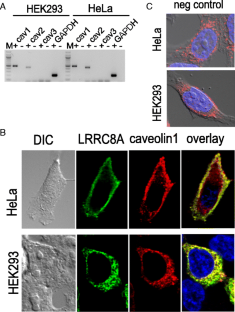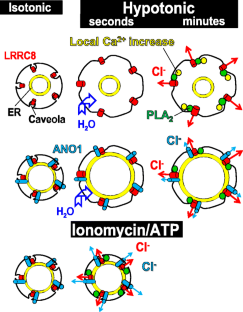 References
Adinolfi E, Pizzirani C, Idzko M, Panther E, Norgauer J, Di Virgilio F, Ferrari D (2005) P2X7 receptor: death or life? Purinergic Signal 1:219–227

Akita T, Fedorovich SV, Okada Y (2011) Ca2+ nanodomain-mediated component of swelling-induced volume-sensitive outwardly rectifying anion current triggered by autocrine action of ATP in mouse astrocytes. Cell Physiol Biochem 28:1181–1190

Akita T, Okada Y (2011) Regulation of bradykinin-induced activation of volume-sensitive outwardly rectifying anion channels by Ca2+ nanodomains in mouse astrocytes. J Physiol 589:3909–3927

Almaca J, Tian Y, AlDehni F, Ousingsawat J, Kongsuphol P, Rock JR, Harfe BD, Schreiber R, Kunzelmann K (2009) TMEM16 proteins produce volume regulated chloride currents that are reduced in mice lacking TMEM16A. J Biol Chem 284:28571–28578

Boyd D, Florent G, Kim P, Brattain M (1988) Determination of the levels of urokinase and its receptor in human colon carcinoma cell lines. Cancer Res 48:3112–3116

Caputo A, Caci E, Ferrera L, Pedemonte N, Barsanti C, Sondo E, Pfeffer U, Ravazzolo R, Zegarra-Moran O, Galietta LJ (2008) TMEM16A, a membrane protein associated with calcium-dependent chloride channel activity. Science 322:590–594

Courjaret R, Machaca K (2014) Mid-range Ca2+ signalling mediated by functional coupling between store-operated Ca2+ entry and IP3-dependent Ca2+ release. Nat Commun 5:3916

de la Fuente R, Namkung W, Mills A, Verkman AS (2007) Small molecule screen identifies inhibitors of a human intestinal calcium activated chloride channel. Mol Pharmacol 73:758–768

Depeursinge C, Colomb T, Emery Y, Kuhn J, Charriere F, Rappaz B, Marquet P (2007) Digital holographic microscopy applied to life sciences. Conf Proc IEEE Eng Med Biol Soc 2007:6244–6247

Gamper N, Fillon S, Huber SM, Feng Y, Kobayashi T, Cohen P, Lang F (2002) IGF-1 up-regulates K+ channels via PI3-kinase, PDK1 and SGK1. Pflugers Arch 443:625–634

Hammer C, Wanitchakool P, Sirianant L, Papiol S, Monnheimer M, Faria D, Ousingsawat J, Schramek N, Schmitt C, Margos G, Michel A, Kraiczy P, Pawlita M, Schreiber R, Schulz TF, Fingerle V, Tumani H, Ehrenreich H, Kunzelmann K (2015) A coding variant of ANO10, affecting volume regulation of macrophages, is associated with Borrelia seropositivity. Mol Med 21:26–37

Hartzell HC (1996) Activation of different Cl currents in Xenopus oocytes by Ca liberated from stores and by capacitative Ca influx. J Gen Physiol 108:157–175

Hazama A, Okada Y (1990) Biphasic rises in cytosolic free Ca2+ in association with activation of K+ and Cl− conductance during the regulatory volume decrease in cultured human epithelial cells. Pflügers Arch 416:710–714

Helix N, Strobaek D, Dahl BH, Christophersen P (2003) Inhibition of the endogenous volume-regulated anion channel (VRAC) in HEK293 cells by acidic di-aryl-ureas. J Membr Biol 196:83–94

Hoffmann EK, Lambert IH, Pedersen SF (2009) Physiology of cell volume regulation in vertebrates. Physiol Rev 89:193–277

Jackson PS, Strange K (1995) Single-channel properties of a volume-sensitive anion conductance. Current activation occurs by abrupt switching of closed channels to an open state. J Gen Physiol 105:643–660

Jin X, Shah S, Liu Y, Zhang H, Lees M, Fu Z, Lippiat JD, Beech DJ, Sivaprasadarao A, Baldwin SA, Zhang H, Gamper N (2013) Activation of the Cl-channel ANO1 by localized calcium signals in nociceptive sensory neurons requires coupling with the IP3 receptor. Sci Signal 6:ra73

Juul CA, Grubb S, Poulsen KA, Kyed T, Hashem N, Lambert IH, Larsen EH, Hoffmann EK (2014) Anoctamin 6 differs from VRAC and VSOAC but is involved in apoptosis and supports volume regulation in the presence of Ca. Pflugers Arch 466:1899–1910

Kubitz R, Warth R, Kunzelmann K, Grolik M, Greger R (1992) Small conductance Cl− channels induced by cAMP, Ca2+, and hypotonicity in HT29 cells: ion selectivity, additivity and stilbene sensitivity. Pflügers Arch 421:447–454

Kunzelmann K, Cabrita I, Wanitchakool P, Ousingsawat J, Sirianant L, Benedetto R, and Schreiber R (2016) Modulating Ca2+ signals: a common theme for TMEM16, Ist2, and TMC. Pflügers Arch 468(3):475–90

Lariccia V, Fine M, Magi S, Lin MJ, Yaradanakul A, Llaguno MC, Hilgemann DW (2011) Massive calcium-activated endocytosis without involvement of classical endocytic proteins. J Gen Physiol 137:111–132

Lemonnier L, Prevarskaya N, Shuba Y, Vanden Abeele F, Nilius B, Mazurier J, Skryma R (2002) Ca2+ modulation of volume-regulated anion channels: evidence for colocalization with store-operated channels. FASEB J 16:222–224

Martins JR, Faria D, Kongsuphol P, Reisch B, Schreiber R, Kunzelmann K (2011) Anoctamin 6 is an essential component of the outwardly rectifying chloride channel. Proc Natl Acad Sci U S A 108:18168–18172

McCarty NA, O'Neil RG (1992) Calcium signalling in volume regulation. Physiol Rev 72:1037–1061

Nilius B, Eggermont J, Voets T, Buyse G, Manolopoulos V, Droogmans G (1997) Properties of volume-regulated anion channels in mammalian cells. Prog Biophys Mol Biol 68:69–119

Nilius B, Eggermont J, Voets T, Droogmans G (1996) Volume-activated Cl- channels. Gen Pharmacol 27:1131–1140

Okada Y (2006) Cell volume-sensitive chloride channels: phenotypic properties and molecular identity. Contrib Nephrol 152:9–24

Okada Y (1997) Volume expansion-sensing outward-rectifier Cl- channel: fresh start to the molecular identity and volume sensor. Am J Phys 273:C755–C789

Okada Y, Shimizu T, Maeno E, Tanabe S, Wang X, Takahashi N (2006) Volume-sensitive chloride channels involved in apoptotic volume decrease and cell death. J Membr Biol 209:21–29

Ousingsawat J, Wanitchakool P, Kmit A, Romao AM, Jantarajit W, Schreiber S, Kunzelmann K (2015) Anoctamin 6 mediates effects essential for innate immunity downstream of P2X7-receptors in macrophages. Nat Commun 6:6245

Pedersen S, Lambert IH, Thoroed SM, Hoffmann EK (2000) Hypotonic cell swelling induces translocation of the alpha isoform of cytosolic phospholipase A2 but not the gamma isoform in Ehrlich ascites tumor cells. Eur J Biochem 267:5531–5539

Pedersen SF, Okada Y, and Nilius B (2016) Biophysics and physiology of the volume-regulated anion channel (VRAC)/volume-sensitive outwardly rectifying anion channel (VSOR). Pflügers Arch 468(3):371–83

Pedersen SF, Prenen J, Droogmans G, Hoffmann EK, Nilius B (1998) Separate swelling- and Ca2 + −activated anion currents in Ehrlich ascites tumor cells. J Membr Biol 163:97–110

Planells-Cases R, Lutter D, Guyader C, Gerhards NM, Ullrich F, Elger DA, Kucukosmanoglu A, Xu G, Voss FK, Reincke SM, Stauber T, Blomen VA, Vis DJ, Wessels LF, Brummelkamp TR, Borst P, Rottenberg S, Jentsch TJ (2015) Subunit composition of VRAC channels determines substrate specificity and cellular resistance to Pt-based anti-cancer drugs. EMBO J 34:2993–3008

Qiu Z, Dubin AE, Mathur J, Tu B, Reddy K, Miraglia LJ, Reinhardt J, Orth AP, Patapoutian A (2014) SWELL1, a plasma membrane protein, is an essential component of volume-regulated Anion Channel. Cell 157:447–458

Schroeder BC, Cheng T, Jan YN, Jan LY (2008) Expression cloning of TMEM16A as a calcium-activated chloride channel subunit. Cell 134:1019–1029

Sirianant L, Ousingsawat J, Wanitchakool P, Schreiber R, Kunzelmann K (2015) Cellular volume regulation by anoctamin 6:Ca2+, phospholipase A2 and osmosensing. Pflügers Arch 468:335–349

Sirianant L, Wanitchakool P, Ousingsawat J, Benedetto R, Zormpa A, Cabrita I, Schreiber R, and Kunzelmann K (2016) Non-essential contribution of LRRC8A to volume regulation. Pflügers Arch 468(5):805–16

Sorensen BH, Dam CS, Sturup S, and Lambert IH (2016a) Dual role of LRRC8A-containing transporters on cisplatin resistance in human ovarian cancer cells. J Inorg Biochem 160:287–95

Sorensen BH, Nielsen D, Thorsteinsdottir UA, Hoffmann EK and Lambert IH (2016b) Down-regulation of LRRC8A protects Human Ovarian and Alveolar Carcinoma cells against Cisplatin-induced expression of p53, MDM2, p21 and Caspase-9/−3 activation. Am J Physiol Cell Physiol 310(11):C857–73

Sorensen BH, Thorsteinsdottir UA, and Lambert IH (2014) Acquired cisplatin resistance in humane ovarian cancer A2780 cells correlates with shift in Taurine homeostasis and ability to volume regulate. Am J Physiol Cell Physiol 307(12):C1071–80

Strange K, Emma F, Jackson PS (1996) Cellular and molecular physiology of volume-sensitive anion channels. Am J Phys 270:C711–C730

Syeda R, Qiu Z, Dubin AE, Murthy SE, Florendo MN, Mason DE, Mathur J, Cahalan SM, Peters EC, Montal M, Patapoutian A (2016) LRRC8 proteins form volume-regulated anion channels that sense ionic strength. Cell 164:499–511

Thoroed SM, Lauritzen L, Lambert IH, Hansen HS, Hoffmann EK (1997) Cell swelling activates phospholipase A2 in Ehrlich ascites tumor cells. J Membr Biol 160:47–58

Trouet D, Hermans D, Droogmans G, Nilius B, Eggermont J (2001) Inhibition of volume-regulated anion channels by dominant-negative caveolin-1. Biochem Biophys Res Commun 284:461–465

Trouet D, Nilius B, Jacobs A, Remacle C, Droogmans G, Eggermont J (1999) Caveolin-1 modulates the activity of the volume-regulated chloride channel. J Physiol 520:113–119

Voss FK, Ullrich F, Munch J, Lazarow K, Lutter D, Mah N, Andrade-Navarro MA, von Kries JP, Stauber T, Jentsch TJ (2014) Identification of LRRC8 Heteromers as an essential component of the volume-regulated Anion Channel VRAC. Science 344:634–638

Wu Y, Yeh FL, Mao F, Chapman ER (2009) Biophysical characterization of styryl dye-membrane interactions. Biophys J 97:101–109

Yamamoto S, Kita S, Iyoda T, Yamada T, Iwamoto T (2011) New molecular mechanisms for cardiovascular disease: cardiac hypertrophy and cell-volume regulation. J Pharmacol Sci 116:343–349

Yang HJ, Feng P, Wang L, Li ZC, Ma SP, Wang M, Feng ZW (2015) Caveolin-1 mediates gene transfer and cytotoxicity of polyethyleneimine in mammalian cell lines. Mol Cell Biochem 402:203–211

Yang YD, Cho H, Koo JY, Tak MH, Cho Y, Shim WS, Park SP, Lee J, Lee B, Kim BM, Raouf R, Shin YK, Oh U (2008) TMEM16A confers receptor-activated calcium-dependent chloride conductance. Nature 455:1210–1215

Yaradanakul A, Wang TM, Lariccia V, Lin MJ, Shen C, Liu X, Hilgemann DW (2008) Massive Ca-induced membrane fusion and phospholipid changes triggered by reverse Na/Ca exchange in BHK fibroblasts. J Gen Physiol 132:29–50

Zeuthen T, Belhage B, Zeuthen E (2006) Water transport by Na + −coupled cotransporters of glucose (SGLT1) and of iodide (NIS). The dependence of substrate size studied at high resolution. J Physiol 570:485–499

Zholos A, Beck B, Sydorenko V, Lemonnier L, Bordat P, Prevarskaya N, Skryma R (2005) Ca2 + and volume-sensitive chloride currents are differentially regulated by agonists and store-operated Ca2+ entry. J Gen Physiol 125:197–211
Acknowledgments
This study is supported by DFG SFB699-A7/A12, DFG KU756/12-1, Medical Faculty of Kiel University (F355910 to SK), DFG SFB699-A7/A12, and DFG KU756/12-1. HCT-wt (LRRC8A+/+) and HCT-LRRC8A-/- cells were kindly provided by Dr. Voss/Prof. Dr. Jentsch (FMP, Berlin). The excellent technical assistance by Ms. B. Wild, P. Seeberger, and E. Tartler is gratefully acknowledged.
Electronic supplementary material
About this article
Cite this article
Benedetto, R., Sirianant, L., Pankonien, I. et al. Relationship between TMEM16A/anoctamin 1 and LRRC8A. Pflugers Arch - Eur J Physiol 468, 1751–1763 (2016). https://doi.org/10.1007/s00424-016-1862-1
Received:

Revised:

Accepted:

Published:

Issue Date:

DOI: https://doi.org/10.1007/s00424-016-1862-1
Keywords