Abstract
The discovery of the TRPML subfamily of ion channels has created an exciting niche in the fields of membrane trafficking, signal transduction, autophagy, and metal homeostasis. The TRPML protein subfamily consists of three members, TRPML1, TRPML2, and TRPML3, which are encoded by MCOLN1, MCOLN2, and MCOLN3 genes, respectively. They are non-selective cation channels with six predicted transmembrane domains and intracellular amino- and carboxyl-terminus regions. They localize to the plasma membrane, endosomes, and lysosomes of cells. TRPML1 is associated with the human lysosomal storage disease known as mucolipidosis type IV (MLIV), but TRPML2 and TRPML3 have not been linked with a human disease. Although TRPML1 is expressed in many tissues, TRPML3 is expressed in a varied but limited set of tissues, while TRPML2 has a more limited expression pattern where it is mostly detected in lymphoid and myeloid tissues. This review focuses on TRPML2 because it appears to play an important, yet unrecognized role in the immune system. While the evidence has been mostly indirect, we present and discuss relevant data that strengthen the connection of TRPML2 with cellular immunity. We also discuss the functional redundancy between the TRPML proteins, and how such features could be exploited as a potential therapeutic strategy for MLIV disease. We present evidence that TRPML2 expression may complement certain phenotypic alterations in MLIV cells and briefly examine the challenges of functional complementation. In conclusion, the function of TRPML2 still remains obscure, but emerging data show that it may serve a critical role in immune cell development and inflammatory responses.
Access options
Buy single article
Instant access to the full article PDF.
USD 39.95
Price excludes VAT (USA)
Tax calculation will be finalised during checkout.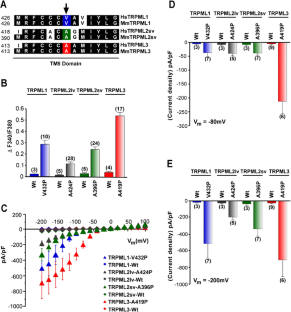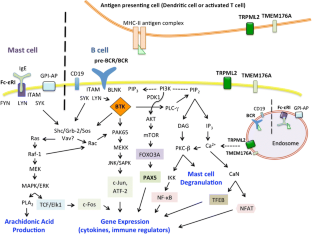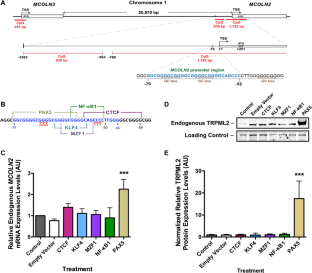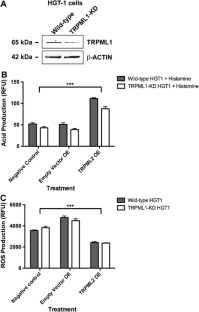 References
Amir N, Zlotogora J, Bach G (1987) Mucolipidosis type IV: clinical spectrum and natural history. Pediatrics 79:953–959

Anbazhagan K, Rabbind Singh A, Isabelle P, Stella I, Celine AD, Bissac E, Bertrand B, Remy N, Naomi T, Vincent F, Rochette J, Lassoued K (2013) Human pre-B cell receptor signal transduction: evidence for distinct roles of PI3kinase and MAP-kinase signalling pathways. Immun Inflammation Dis 1:26–36. doi:10.1002/iid3.4

Antony P, Petro JB, Carlesso G, Shinners NP, Lowe J, Khan WN (2003) B cell receptor directs the activation of NFAT and NF-kappaB via distinct molecular mechanisms. Exp Cell Res 291:11–24

Asai K, Kitaura J, Kawakami Y, Yamagata N, Tsai M, Carbone DP, Liu FT, Galli SJ, Kawakami T (2001) Regulation of mast cell survival by IgE. Immunity 14:791–800

Bach G, Cohen MM, Kohn G (1975) Abnormal ganglioside accumulation in cultured fibroblasts from patients with mucolipidosis IV. Biochem Biophys Res Commun 66:1483–1490

Bae M, Patel N, Xu H, Lee M, Tominaga-Yamanaka K, Nath A, Geiger J, Gorospe M, Mattson MP, Haughey NJ (2014) Activation of TRPML1 clears intraneuronal abeta in preclinical models of HIV infection. J Neurosci 34:11485–11503. doi:10.1523/JNEUROSCI.0210-14.2014

Bargal R, Avidan N, Ben-Asher E, Olender Z, Zeigler M, Frumkin A, Raas-Rothschild A, Glusman G, Lancet D, Bach G (2000) Identification of the gene causing mucolipidosis type IV. Nat Genet 26:118–123. doi:10.1038/79095

Bargal R, Goebel HH, Latta E, Bach G (2002) Mucolipidosis IV: novel mutation and diverse ultrastructural spectrum in the skin. Neuropediatrics 33:199–202. doi:10.1055/s-2002-34496

Barton GM, Kagan JC (2009) A cell biological view of toll-like receptor function: regulation through compartmentalization. Nat Rev Immunol 9:535–542. doi:10.1038/nri2587

Bassi MT, Manzoni M, Monti E, Pizzo MT, Ballabio A, Borsani G (2000) Cloning of the gene encoding a novel integral membrane protein, mucolipidin-and identification of the two major founder mutations causing mucolipidosis type IV. Am J Hum Genet 67:1110–1120. doi:10.1016/S0002-9297(07)62941-3

Bradding P, Walls AF, Holgate ST (2006) The role of the mast cell in the pathophysiology of asthma. J Allergy Clin Immunol 117:1277–1284. doi:10.1016/j.jaci.2006.02.039

Brunner C, Muller B, Wirth T (2005) Bruton's tyrosine kinase is involved in innate and adaptive immunity. Histol Histopathol 20:945–955

Bubien JK, Zhou LJ, Bell PD, Frizzell RA, Tedder TF (1993) Transfection of the CD20 cell surface molecule into ectopic cell types generates a Ca2+ conductance found constitutively in B lymphocytes. J Cell Biol 121:1121–1132

Carmosino M, Procino G, Casavola V, Svelto M, Valenti G (2000) The cultured human gastric cells HGT-1 express the principal transporters involved in acid secretion. Pflugers Arch 440:871–880

Castiglioni AJ, Remis NN, Flores EN, Garcia-Anoveros J (2011) Expression and vesicular localization of mouse Trpml3 in stria vascularis, hair cells, and vomeronasal and olfactory receptor neurons. J Comp Neurol 519:1095–1114. doi:10.1002/cne.22554

Chatterjee S, Mayor S (2001) The GPI-anchor and protein sorting. Cell Mol Life Sci 58:1969–1987

Choi S, Kim HJ (2014) The Ca2+ channel TRPML3 specifically interacts with the mammalian ATG8 homologue GATE16 to regulate autophagy. Biochem Biophys Res Commun 443:56–61. doi:10.1016/j.bbrc.2013.11.044

Cobaleda C, Schebesta A, Delogu A, Busslinger M (2007) Pax5: the guardian of B cell identity and function. Nat Immunol 8:463–470. doi:10.1038/ni1454

Coblentz J, St Croix C, Kiselyov K (2014) Loss of TRPML1 promotes production of reactive oxygen species: is oxidative damage a factor in mucolipidosis type IV? Biochem J 457:361–368. doi:10.1042/BJ20130647

Condamine T, Le Texier L, Howie D, Lavault A, Hill M, Halary F, Cobbold S, Waldmann H, Cuturi MC, Chiffoleau E (2010) Tmem176B and Tmem176A are associated with the immature state of dendritic cells. J Leukoc Biol 88:507–515. doi:10.1189/jlb.1109738

Cuajungco MP, Basilio LC, Silva J, Hart T, Tringali J, Chen CC, Biel M, Grimm C (2014) Cellular zinc levels are modulated by TRPML1-TMEM163 interaction. Traffic 15:1247–1265. doi:10.1111/tra.12205

Cuajungco MP, Podevin W, Valluri VK, Bui Q, Nguyen VH, Taylor K (2012) Abnormal accumulation of human transmembrane (TMEM)-176A and 176B proteins is associated with cancer pathology. Acta Histochem 114:705–712. doi:10.1016/j.acthis.2011.12.006

Cuajungco MP, Samie MA (2008) The varitint-waddler mouse phenotypes and the TRPML3 ion channel mutation: cause and consequence. Pflugers Arch 457:463–473. doi:10.1007/s00424-008-0523-4

Curcio-Morelli C, Zhang P, Venugopal B, Charles FA, Browning MF, Cantiello HF, Slaugenhaupt SA (2010) Functional multimerization of mucolipin channel proteins. J Cell Physiol 222:328–335. doi:10.1002/jcp.21956

Decker T, Pasca di Magliano M, McManus S, Sun Q, Bonifer C, Tagoh H, Busslinger M (2009) Stepwise activation of enhancer and promoter regions of the B cell commitment gene Pax5 in early lymphopoiesis. Immunity 30:508–520. doi:10.1016/j.immuni.2009.01.012

Di Palma F, Belyantseva IA, Kim HJ, Vogt TF, Kachar B, Noben-Trauth K (2002) Mutations in Mcoln3 associated with deafness and pigmentation defects in varitint-waddler (Va) mice. Proc Natl Acad Sci U S A 99:14994–14999

Donaldson JG (2003) Multiple roles for Arf6: sorting, structuring, and signaling at the plasma membrane. J Biol Chem 278:41573–41576. doi:10.1074/jbc.R300026200

Dong XP, Cheng X, Mills E, Delling M, Wang F, Kurz T, Xu H (2008) The type IV mucolipidosis-associated protein TRPML1 is an endolysosomal iron release channel. Nature 455:992–996. doi:10.1038/nature07311

Dong XP, Shen D, Wang X, Dawson T, Li X, Zhang Q, Cheng X, Zhang Y, Weisman LS, Delling M, Xu H (2010) PI(3,5)P(2) controls membrane trafficking by direct activation of mucolipin Ca(2+) release channels in the endolysosome. Nat Commun 1:38. doi:10.1038/ncomms1037

Doyle SL, Jefferies CA, Feighery C, O'Neill LA (2007) Signaling by toll-like receptors 8 and 9 requires Bruton's tyrosine kinase. J Biol Chem 282:36953–36960. doi:10.1074/jbc.M707682200

Eichelsdoerfer JL, Evans JA, Slaugenhaupt SA, Cuajungco MP (2010) Zinc dyshomeostasis is linked with the loss of mucolipidosis IV-associated TRPML1 ion channel. J Biol Chem 285:34304–34308. doi:10.1074/jbc.C110.165480

Fiorini M, Franceschini R, Soresina A, Schumacher RF, Ugazio AG, Rossi P, Plebani A, Notarangelo LD (2004) BTK: 22 novel and 25 recurrent mutations in European patients with X-linked agammaglobulinemia. Hum Mutat 23:286. doi:10.1002/humu.9219

Flores EN, Garcia-Anoveros J (2011) TRPML2 and the evolution of mucolipins. Adv Exp Med Biol 704:221–228. doi:10.1007/978-94-007-0265-3_12

Gagliardi MC, Finocchi A, Orlandi P, Cursi L, Cancrini C, Moschese V, Miyawaki T, Rossi P (2003) Bruton's tyrosine kinase defect in dendritic cells from X-linked agammaglobulinaemia patients does not influence their differentiation, maturation and antigen-presenting cell function. Clin Exp Immunol 133:115–122

Garcia-Anoveros J, Wiwatpanit T (2014) TRPML2 and mucolipin evolution. Handb Exp Pharmacol 222:647–658. doi:10.1007/978-3-642-54215-2_25

Ghosh HS, Cisse B, Bunin A, Lewis KL, Reizis B (2010) Continuous expression of the transcription factor e2-2 maintains the cell fate of mature plasmacytoid dendritic cells. Immunity 33:905–916. doi:10.1016/j.immuni.2010.11.023

Gottschling S, Jauch A, Kuner R, Herpel E, Mueller-Decker K, Schnabel PA, Xu EC, Muley T, Sultmann H, Bender C, Granzow M, Efferth T, Hoffmann H, Dienemann H, Herth FJ, Meister M (2012) Establishment and comparative characterization of novel squamous cell non-small cell lung cancer cell lines and their corresponding tumor tissue. Lung Cancer 75:45–57. doi:10.1016/j.lungcan.2011.05.020

Gray P, Dunne A, Brikos C, Jefferies CA, Doyle SL, O'Neill LA (2006) MyD88 adapter-like (Mal) is phosphorylated by Bruton's tyrosine kinase during TLR2 and TLR4 signal transduction. J Biol Chem 281:10489–10495. doi:10.1074/jbc.M508892200

Grimm C, Cuajungco MP, van Aken AF, Schnee M, Jors S, Kros CJ, Ricci AJ, Heller S (2007) A helix-breaking mutation in TRPML3 leads to constitutive activity underlying deafness in the varitint-waddler mouse. Proc Natl Acad Sci U S A 104:19583–19588. doi:10.1073/pnas.0709846104

Grimm C, Jors S, Guo Z, Obukhov AG, Heller S (2012) Constitutive activity of TRPML2 and TRPML3 channels versus activation by low extracellular sodium and small molecules. J Biol Chem 287:22701–22708. doi:10.1074/jbc.M112.368876

Grimm C, Jors S, Saldanha SA, Obukhov AG, Pan B, Oshima K, Cuajungco MP, Chase P, Hodder P, Heller S (2010) Small molecule activators of TRPML3. Chem Biol 17:135–148. doi:10.1016/j.chembiol.2009.12.016

Guo B, Kato RM, Garcia-Lloret M, Wahl MI, Rawlings DJ (2000) Engagement of the human pre-B cell receptor generates a lipid raft-dependent calcium signaling complex. Immunity 13:243–253

Hata D, Kawakami Y, Inagaki N, Lantz CS, Kitamura T, Khan WN, Maeda-Yamamoto M, Miura T, Han W, Hartman SE, Yao L, Nagai H, Goldfeld AE, Alt FW, Galli SJ, Witte ON, Kawakami T (1998) Involvement of Bruton's tyrosine kinase in FcepsilonRI-dependent mast cell degranulation and cytokine production. J Exp Med 187:1235–1247

Hata D, Kitaura J, Hartman SE, Kawakami Y, Yokota T, Kawakami T (1998) Bruton's tyrosine kinase-mediated interleukin-2 gene activation in mast cells. Dependence on the c-Jun N-terminal kinase activation pathway. J Biol Chem 273:10979–10987

Hazenbos WL, Wu P, Eastham-Anderson J, Kinoshita T, Brown EJ (2011) Impaired FcepsilonRI stability, signaling, and effector functions in murine mast cells lacking glycosylphosphatidylinositol-anchored proteins. Blood 118:4377–4383. doi:10.1182/blood-2011-02-338053

Herzog S, Reth M, Jumaa H (2009) Regulation of B-cell proliferation and differentiation by pre-B-cell receptor signalling. Nat Rev Immunol 9:195–205. doi:10.1038/nri2491

Holmes ML, Pridans C, Nutt SL (2008) The regulation of the B-cell gene expression programme by Pax5. Immunol Cell Biol 86:47–53. doi:10.1038/sj.icb.7100134

Ishii T (2015) Germline genome-editing research and its socioethical implications. Trends Mol Med 21:473–481. doi:10.1016/j.molmed.2015.05.006

Iyer AS, Morales JL, Huang W, Ojo F, Ning G, Wills E, Baines JD, August A (2011) Absence of Tec family kinases interleukin-2 inducible T cell kinase (Itk) and Bruton's tyrosine kinase (Btk) severely impairs Fc epsilonRI-dependent mast cell responses. J Biol Chem 286:9503–9513. doi:10.1074/jbc.M110.165613

Jefferies CA, Doyle S, Brunner C, Dunne A, Brint E, Wietek C, Walch E, Wirth T, O'Neill LA (2003) Bruton's tyrosine kinase is a Toll/interleukin-1 receptor domain-binding protein that participates in nuclear factor kappaB activation by Toll-like receptor 4. J Biol Chem 278:26258–26264. doi:10.1074/jbc.M301484200

Jennings JJ Jr, Zhu JH, Rbaibi Y, Luo X, Chu CT, Kiselyov K (2006) Mitochondrial aberrations in mucolipidosis type IV. J Biol Chem 281:39041–39050

Kalesnikoff J, Huber M, Lam V, Damen JE, Zhang J, Siraganian RP, Krystal G (2001) Monomeric IgE stimulates signaling pathways in mast cells that lead to cytokine production and cell survival. Immunity 14:801–811

Karacsonyi C, Miguel AS, Puertollano R (2007) Mucolipin-2 localizes to the Arf6-associated pathway and regulates recycling of GPI-APs. Traffic 8:1404–1414. doi:10.1111/j.1600-0854.2007.00619.x

Kawai T, Sato S, Ishii KJ, Coban C, Hemmi H, Yamamoto M, Terai K, Matsuda M, Inoue J, Uematsu S, Takeuchi O, Akira S (2004) Interferon-alpha induction through toll-like receptors involves a direct interaction of IRF7 with MyD88 and TRAF6. Nat Immunol 5:1061–1068. doi:10.1038/ni1118

Kawakami Y, Yao L, Miura T, Tsukada S, Witte ON, Kawakami T (1994) Tyrosine phosphorylation and activation of Bruton tyrosine kinase upon Fc epsilon RI cross-linking. Mol Cell Biol 14:5108–5113. PMID: Pmc359029

Kerner JD, Appleby MW, Mohr RN, Chien S, Rawlings DJ, Maliszewski CR, Witte ON, Perlmutter RM (1995) Impaired expansion of mouse B cell progenitors lacking Btk. Immunity 3:301–312

Khan WN, Alt FW, Gerstein RM, Malynn BA, Larsson I, Rathbun G, Davidson L, Muller S, Kantor AB, Herzenberg LA et al (1995) Defective B cell development and function in Btk-deficient mice. Immunity 3:283–299

Kim HJ, Li Q, Tjon-Kon-Sang S, So I, Kiselyov K, Muallem S (2007) Gain-of-function mutation in TRPML3 causes the mouse Varitint-Waddler phenotype. J Biol Chem 282:36138–36142. doi:10.1074/jbc.C700190200

Kim HJ, Soyombo AA, Tjon-Kon-Sang S, So I, Muallem S (2009) The Ca(2+) channel TRPML3 regulates membrane trafficking and autophagy. Traffic 10:1157–1167. doi:10.1111/j.1600-0854.2009.00924.x

Kim HJ, Yamaguchi S, Li Q, So I, Muallem S (2010) Properties of the TRPML3 channel pore and its stable expansion by the Varitint-Waddler-causing mutation. J Biol Chem 285:16513–16520. doi:10.1074/jbc.M109.078204

Kimberley FC, Sivasankar B, Paul Morgan B (2007) Alternative roles for CD59. Mol Immunol 44:73–81. doi:10.1016/j.molimm.2006.06.019

Kraft S, Kinet JP (2007) New developments in FcepsilonRI regulation, function and inhibition. Nat Rev Immunol 7:365–378. doi:10.1038/nri2072

Kuehn HS, Swindle EJ, Kim MS, Beaven MA, Metcalfe DD, Gilfillan AM (2008) The phosphoinositide 3-kinase-dependent activation of Btk is required for optimal eicosanoid production and generation of reactive oxygen species in antigen-stimulated mast cells. J Immunol 181:7706–7712

Kukic I, Lee JK, Coblentz J, Kelleher SL, Kiselyov K (2013) Zinc-dependent lysosomal enlargement in TRPML1-deficient cells involves MTF-1 transcription factor and ZnT4 (Slc30a4) transporter. Biochem J 451:155–163. doi:10.1042/BJ20121506

Laboisse CL, Augeron C, Couturier-Turpin MH, Gespach C, Cheret AM, Potet F (1982) Characterization of a newly established human gastric cancer cell line HGT-1 bearing histamine H2-receptors. Cancer Res 42:1541–1548

LaPlante JM, Sun M, Falardeau J, Dai D, Brown EM, Slaugenhaupt SA, Vassilev PM (2006) Lysosomal exocytosis is impaired in mucolipidosis type IV. Mol Genet Metab 89:339–348

Lee KP, Nair AV, Grimm C, van Zeeland F, Heller S, Bindels RJ, Hoenderop JG (2010) A helix-breaking mutation in the epithelial Ca(2+) channel TRPV5 leads to reduced Ca(2+)-dependent inactivation. Cell Calcium 48:275–287. doi:10.1016/j.ceca.2010.09.007

Lee KG, Xu S, Kang ZH, Huo J, Huang M, Liu D, Takeuchi O, Akira S, Lam KP (2012) Bruton's tyrosine kinase phosphorylates Toll-like receptor 3 to initiate antiviral response. Proc Natl Acad Sci U S A 109:5791–5796. doi:10.1073/pnas.1119238109

Lev S, Zeevi DA, Frumkin A, Offen-Glasner V, Bach G, Minke B (2010) Constitutive activity of the human TRPML2 channel induces cell degeneration. J Biol Chem 285:2771–2782. doi:10.1074/jbc.M109.046508

Li X, Saitoh SI, Shibata T, Tanimura N, Fukui R, Miyake K (2014) Mucolipin 1 positively regulates TLR7 responses in dendritic cells by facilitating RNA transportation to lysosomes. Int Immunol 27:83–94. doi:10.1093/intimm/dxu086

Liang Y, Tedder TF (2001) Identification of a CD20-, FcepsilonRIbeta-, and HTm4-related gene family: sixteen new MS4A family members expressed in human and mouse. Genomics 72:119–127. doi:10.1006/geno.2000.6472

Lin S, Cicala C, Scharenberg AM, Kinet JP (1996) The Fc(epsilon)RIbeta subunit functions as an amplifier of Fc(epsilon)RIgamma-mediated cell activation signals. Cell 85:985–995

Lindvall JM, Blomberg KE, Wennborg A, Smith CI (2005) Differential expression and molecular characterisation of Lmo7, Myo1e, Sash1, and Mcoln2 genes in Btk-defective B-cells. Cell Immunol 235:46–55. doi:10.1016/j.cellimm.2005.07.001

Liu YJ (2005) IPC: professional type 1 interferon-producing cells and plasmacytoid dendritic cell precursors. Annu Rev Immunol 23:275–306. doi:10.1146/annurev.immunol.23.021704.115633

Louvet C, Chiffoleau E, Heslan M, Tesson L, Heslan JM, Brion R, Beriou G, Guillonneau C, Khalife J, Anegon I, Cuturi MC (2005) Identification of a new member of the CD20/FcepsilonRIbeta family overexpressed in tolerated allografts. Am J Transplant 5:2143–2153. doi:10.1111/j.1600-6143.2005.01007.x

Lurton J, Rose TM, Raghu G, Narayanan AS (1999) Isolation of a gene product expressed by a subpopulation of human lung fibroblasts by differential display. Am J Respir Cell Mol Biol 20:327–331

Mandel EM, Grosschedl R (2010) Transcription control of early B cell differentiation. Curr Opin Immunol 22:161–167. doi:10.1016/j.coi.2010.01.010

Martina JA, Lelouvier B, Puertollano R (2009) The calcium channel mucolipin-3 is a novel regulator of trafficking along the endosomal pathway. Traffic 10:1143–1156. doi:10.1111/j.1600-0854.2009.00935.x

McHeyzer-Williams LJ, Malherbe LP, McHeyzer-Williams MG (2006) Checkpoints in memory B-cell evolution. Immunol Rev 211:255–268. doi:10.1111/j.0105-2896.2006.00397.x

McHeyzer-Williams M, Okitsu S, Wang N, McHeyzer-Williams L (2012) Molecular programming of B cell memory. Nat Rev Immunol 12:24–34. doi:10.1038/nri3128

Mohamed AJ, Yu L, Backesjo CM, Vargas L, Faryal R, Aints A, Christensson B, Berglof A, Vihinen M, Nore BF, Smith CI (2009) Bruton's tyrosine kinase (Btk): function, regulation, and transformation with special emphasis on the PH domain. Immunol Rev 228:58–73. doi:10.1111/j.1600-065X.2008.00741.x

Nagata K, Zheng L, Madathany T, Castiglioni AJ, Bartles JR, Garcia-Anoveros J (2008) The varitint-waddler (Va) deafness mutation in TRPML3 generates constitutive, inward rectifying currents and causes cell degeneration. Proc Natl Acad Sci U S A 105:353–358. doi:10.1073/pnas.0707963105

Nakajima H, Takenaka M, Kaimori JY, Nagasawa Y, Kosugi A, Kawamoto S, Imai E, Hori M, Okubo K (2002) Gene expression profile of renal proximal tubules regulated by proteinuria. Kidney Int 61:1577–1587. doi:10.1046/j.1523-1755.2002.00300.x

Nussenzweig MC (1998) Immune receptor editing: revise and select. Cell 95:875–878

Nutt SL, Heavey B, Rolink AG, Busslinger M (1999) Commitment to the B-lymphoid lineage depends on the transcription factor Pax5. Nature 401:556–562. doi:10.1038/44076

Pryor PR, Reimann F, Gribble FM, Luzio JP (2006) Mucolipin-1 is a lysosomal membrane protein required for intracellular lactosylceramide traffic. Traffic 7:1388–1398

Remis NN, Wiwatpanit T, Castiglioni AJ, Flores EN, Cantu JA, Garcia-Anoveros J (2014) Mucolipin co-deficiency causes accelerated endolysosomal vacuolation of enterocytes and failure-to-thrive from birth to weaning. PLoS Genet 10, e1004833. doi:10.1371/journal.pgen.1004833

Samie MA, Grimm C, Evans JA, Curcio-Morelli C, Heller S, Slaugenhaupt SA, Cuajungco MP (2009) The tissue-specific expression of TRPML2 (MCOLN-2) gene is influenced by the presence of TRPML1. Pflugers Arch 459:79–91. doi:10.1007/s00424-009-0716-5

Samie M, Wang X, Zhang X, Goschka A, Li X, Cheng X, Gregg E, Azar M, Zhuo Y, Garrity AG, Gao Q, Slaugenhaupt S, Pickel J, Zolov SN, Weisman LS, Lenk GM, Titus S, Bryant-Genevier M, Southall N, Juan M, Ferrer M, Xu H (2013) A TRP channel in the lysosome regulates large particle phagocytosis via focal exocytosis. Dev Cell 26:511–524. doi:10.1016/j.devcel.2013.08.003

Sandle GI, Fraser G, Fogg K, Warhurst G (1993) Properties of a potassium channel in cultured human gastric cells (HGT-1) possessing specific omeprazole binding sites. Gut 34:1331–1338

Sandle GI, Fraser G, Long S, Warhurst G (1990) A cAMP-activated chloride channel in the plasma membrane of cultured human gastric cells (HGT-1). Pflugers Arch 417:259–263

Schoggins JW, Wilson SJ, Panis M, Murphy MY, Jones CT, Bieniasz P, Rice CM (2011) A diverse range of gene products are effectors of the type I interferon antiviral response. Nature 472:481–485. doi:10.1038/nature09907

Sensi SL, Ton-That D, Sullivan PG, Jonas EA, Gee KR, Kaczmarek LK, Weiss JH (2003) Modulation of mitochondrial function by endogenous Zn2+ pools. Proc Natl Acad Sci U S A 100:6157–6162. doi:10.1073/pnas.1031598100

Sensi SL, Yin HZ, Carriedo SG, Rao SS, Weiss JH (1999) Preferential Zn2+ influx through Ca2+-permeable AMPA/kainate channels triggers prolonged mitochondrial superoxide production. Proc Natl Acad Sci U S A 96:2414–2419

Sochorova K, Horvath R, Rozkova D, Litzman J, Bartunkova J, Sediva A, Spisek R (2007) Impaired Toll-like receptor 8-mediated IL-6 and TNF-alpha production in antigen-presenting cells from patients with X-linked agammaglobulinemia. Blood 109:2553–2556. doi:10.1182/blood-2006-07-037960

Song Y, Dayalu R, Matthews SA, Scharenberg AM (2006) TRPML cation channels regulate the specialized lysosomal compartment of vertebrate B-lymphocytes. Eur J Cell Biol 85:1253–1264

Soyombo AA, Tjon-Kon-Sang S, Rbaibi Y, Bashllari E, Bisceglia J, Muallem S, Kiselyov K (2006) TRP-ML1 regulates lysosomal pH and acidic lysosomal lipid hydrolytic activity. J Biol Chem 281:7294–7301

Spooner E, McLaughlin BM, Lepow T, Durns TA, Randall J, Upchurch C, Miller K, Campbell EM, Fares H (2013) Systematic screens for proteins that interact with the mucolipidosis type IV protein TRPML1. PLoS One 8, e56780. doi:10.1371/journal.pone.0056780

Steinman RM, Idoyaga J (2010) Features of the dendritic cell lineage. Immunol Rev 234:5–17. doi:10.1111/j.0105-2896.2009.00888.x

Sun M, Goldin E, Stahl S, Falardeau JL, Kennedy JC, Acierno JS Jr, Bove C, Kaneski CR, Nagle J, Bromley MC, Colman M, Schiffmann R, Slaugenhaupt SA (2000) Mucolipidosis type IV is caused by mutations in a gene encoding a novel transient receptor potential channel. Hum Mol Genet 9:2471–2478

Takumida M, Anniko M (2010) Expression of transient receptor potential channel mucolipin (TRPML) and polycystine (TRPP) in the mouse inner ear. Acta Otolaryngol 130:196–203. doi:10.3109/00016480903013593

Taneichi H, Kanegane H, Sira MM, Futatani T, Agematsu K, Sako M, Kaneko H, Kondo N, Kaisho T, Miyawaki T (2008) Toll-like receptor signaling is impaired in dendritic cells from patients with X-linked agammaglobulinemia. Clin Immunol 126:148–154

Tellez-Nagel I, Rapin I, Iwamoto T, Johnson AB, Norton WT, Nitowsky H (1976) Mucolipidosis IV. Clinical, ultrastructural, histochemical, and chemical studies of a case, including a brain biopsy. Arch Neurol 33:828–835

Thompson EG, Schaheen L, Dang H, Fares H (2007) Lysosomal trafficking functions of mucolipin-1 in murine macrophages. BMC Cell Biol 8:54. doi:10.1186/1471-2121-8-54

Treusch S, Knuth S, Slaugenhaupt SA, Goldin E, Grant BD, Fares H (2004) Caenorhabditis elegans functional orthologue of human protein h-mucolipin-1 is required for lysosome biogenesis. Proc Natl Acad Sci U S A 101:4483–4488

Valadez JA, Cuajungco MP (2015) PAX5 is the transcriptional activator of mucolipin-2 (MCOLN2) gene. Gene 555:194–202. doi:10.1016/j.gene.2014.11.003

Venkatachalam K, Hofmann T, Montell C (2006) Lysosomal localization of TRPML3 depends on TRPML2 and the mucolipidosis-associated protein TRPML1. J Biol Chem 281:17517–17527

Venkatachalam K, Long AA, Elsaesser R, Nikolaeva D, Broadie K, Montell C (2008) Motor deficit in a Drosophila model of mucolipidosis type IV due to defective clearance of apoptotic cells. Cell 135:838–851. doi:10.1016/j.cell.2008.09.041

Vergarajauregui S, Martina JA, Puertollano R (2009) Identification of the penta-EF-hand protein ALG-2 as a Ca2+-dependent interactor of mucolipin-1. J Biol Chem 284:36357–36366. doi:10.1074/jbc.M109.047241

Vergarajauregui S, Martina JA, Puertollano R (2011) LAPTMs regulate lysosomal function and interact with mucolipin 1: new clues for understanding mucolipidosis type IV. J Cell Sci 124:459–468. doi:10.1242/jcs.076240

Vergarajauregui S, Puertollano R (2006) Two di-leucine motifs regulate trafficking of mucolipin-1 to lysosomes. Traffic 7:337–353

von Bubnoff D, Novak N, Kraft S, Bieber T (2003) The central role of FcepsilonRI in allergy. Clin Exp Dermatol 28:184–187

Wang Y, Han KJ, Pang XW, Vaughan HA, Qu W, Dong XY, Peng JR, Zhao HT, Rui JA, Leng XS, Cebon J, Burgess AW, Chen WF (2002) Large scale identification of human hepatocellular carcinoma-associated antigens by autoantibodies. J Immunol 169:1102–1109

Werling D, Jungi TW (2003) TOLL-like receptors linking innate and adaptive immune response. Vet Immunol Immunopathol 91:1–12

Xu H, Delling M, Li L, Dong X, Clapham DE (2007) Activating mutation in a mucolipin transient receptor potential channel leads to melanocyte loss in varitint-waddler mice. Proc Natl Acad Sci U S A 104:18321–18326. doi:10.1073/pnas.0709096104

Zeevi DA, Frumkin A, Offen-Glasner V, Kogot-Levin A, Bach G (2009) A potentially dynamic lysosomal role for the endogenous TRPML proteins. J Pathol 219:153–162. doi:10.1002/path.2587

Zeevi DA, Lev S, Frumkin A, Minke B, Bach G (2010) Heteromultimeric TRPML channel assemblies play a crucial role in the regulation of cell viability models and starvation-induced autophagy. J Cell Sci 123:3112–3124. doi:10.1242/jcs.067330

Zou J, Hu B, Arpag S, Yan Q, Hamilton A, Zeng YS, Vanoye CG, Li J (2015) Reactivation of lysosomal Ca2+ efflux rescues abnormal lysosomal storage in FIG 4-deficient cells. J Neurosci 35:6801–6812. doi:10.1523/JNEUROSCI.4442-14.2015

Zuccolo J, Bau J, Childs SJ, Goss GG, Sensen CW, Deans JP (2010) Phylogenetic analysis of the MS4A and TMEM176 gene families. PLoS One 5, e9369. doi:10.1371/journal.pone.0009369

Zuccolo J, Deng L, Unruh TL, Sanyal R, Bau JA, Storek J, Demetrick DJ, Luider JM, Auer-Grzesiak IA, Mansoor A, Deans JP (2013) Expression of MS4A and TMEM176 genes in human B lymphocytes. Front Immunol 4:195. doi:10.3389/fimmu.2013.00195
Acknowledgments
We are very grateful to Dr. Sean Murray (CSU Northridge) for reading and critiquing this manuscript. We thank Dr. Ehud Goldin (NIH/NHGRI) for providing WT and TRPML1-KD HGT-1 gastric adenocarcinoma cells. JV acknowledges research awards from CSUF EPOCHS Program, CSUF's RCATT Office, and the CSU Statewide Student Research Competition. MPC and JS acknowledge support from the National Institutes of Health (NIH) Maximizing Access to Research Careers (MARC) U*STAR Program (NIH T34-GM008612-20) and the Louis Stokes Alliance for Minority Participation (NSF HRD-0802628) research fellowship.
Funding
This work was funded by grants to MPC from the NIH AREA R15-NS070774-01, NIH MARC U*STAR Program T34-GM008612-20, National Science Foundation MCB-0920127, and Cal State Fullerton Intramural Grants program.
Conflict of interest
The authors declare no conflict of interest concerning this work.
About this article
Cite this article
Cuajungco, M.P., Silva, J., Habibi, A. et al. The mucolipin-2 (TRPML2) ion channel: a tissue-specific protein crucial to normal cell function. Pflugers Arch - Eur J Physiol 468, 177–192 (2016). https://doi.org/10.1007/s00424-015-1732-2
Received:

Revised:

Accepted:

Published:

Issue Date:

DOI: https://doi.org/10.1007/s00424-015-1732-2
Keywords