Abstract
Biological organs are highly orchestrated systems with well-coordinated positioning, grouping, and interaction of different cell types within their specialized extracellular environment. Bioartificial organs are intended to be functional replacements of native organs generated through bioengineering techniques and hold the potential to alleviate donor organ shortage for transplantation. The development, production, and evaluation of such bioartificial organs require synergistic efforts of biology, material science, engineering, and medicine. In this review, we highlight the emerging platforms enabling structured assembly of multiple cell types into functional grafts and discuss recent advances and challenges in the development of bioartificial organs, including cell sources, in vitro organ culture, in vivo evaluation, and clinical considerations.
Access options
Buy single article
Instant access to the full article PDF.
USD 39.95
Price excludes VAT (USA)
Tax calculation will be finalised during checkout.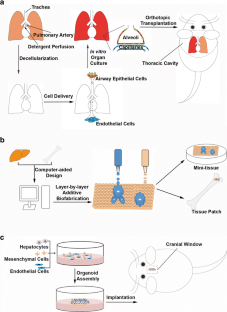 References
Aird WC (2007) Phenotypic heterogeneity of the endothelium. Circ Res 100(2):174–190. doi:10.1161/01.RES.0000255690.03436.ae

Aird WC (2007) Phenotypic heterogeneity of the endothelium. Circ Res 100(2):158–173. doi:10.1161/01.RES.0000255691.76142.4a

Antonica F, Kasprzyk DF, Opitz R, Iacovino M, Liao X-H, Dumitrescu AM, Refetoff S, Peremans K, Manto M, Kyba M, Costagliola S (2012) Generation of functional thyroid from embryonic stem cells. Nature 491(7422):66–71. doi:10.1038/nature11525

Atala A, Kasper FK, Mikos AG (2012) Engineering complex tissues. Science Translational Medicine 4 (160):160rv112. doi:10.1126/scitranslmed.3004890

Atkins GB, Jain MK, Hamik A (2011) Endothelial differentiation: molecular mechanisms of specification and heterogeneity. Arterioscler Thromb Vasc Biol 31(7):1476–1484. doi:10.1161/atvbaha.111.228999

Au P, Tam J, Fukumura D, Jain RK (2008) Bone marrow-derived mesenchymal stem cells facilitate engineering of long-lasting functional vasculature. Blood 111(9):4551–4558. doi:10.1182/blood-2007-10-118273

Badylak SF (2007) The extracellular matrix as a biologic scaffold material. Biomaterials 28(25):3587–3593. doi:10.1016/j.biomaterials.2007.04.043

Badylak SF, Taylor D, Uygun K (2011) Whole-organ tissue engineering: decellularization and recellularization of three-dimensional matrix scaffolds. Annu Rev Biomed Eng 13:27–53. doi:10.1146/annurev-bioeng-071910-124743

Barakat O, Abbasi S, Rodriguez G, Rios J, Wood RP, Ozaki C, Holley LS, Gauthier PK (2012) Use of decellularized porcine liver for engineering humanized liver organ. J Surg Res 173(1):e11–e25. doi:10.1016/j.jss.2011.09.033

Barkauskas CE, Cronce MJ, Rackley CR, Bowie EJ, Keene DR, Stripp BR, Randell SH, Noble PW, Hogan BLM (2013) Type 2 alveolar cells are stem cells in adult lung. J Clin Invest 123(7):3025–3036. doi:10.1172/JCI68782

Booth AJ, Hadley R, Cornett AM, Dreffs AA, Matthes SA, Tsui JL, Weiss K, Horowitz JC, Fiore VF, Barker TH, Moore BB, Martinez FJ, Niklason LE, White ES (2012) Acellular normal and fibrotic human lung matrices as a culture system for in vitro investigation. Am J Respir Crit Care Med 186(9):866–876. doi:10.1164/rccm.201204-0754OC

Borowiak M, Maehr R, Chen S, Chen AE, Tang W, Fox JL, Schreiber SL, Melton DA (2009) Small molecules efficiently direct endodermal differentiation of mouse and human embryonic stem cells. Cell Stem Cell 4(4):348–358

Campbell PG, Miller ED, Fisher GW, Walker LM, Weiss LE (2005) Engineered spatial patterns of FGF-2 immobilized on fibrin direct cell organization. Biomaterials 26(33):6762–6770. doi:10.1016/j.biomaterials.2005.04.032

Chen S, Borowiak M, Fox JL, Maehr R, Osafune K, Davidow L, Lam K, Peng LF, Schreiber SL, Rubin LL, Melton D (2009) A small molecule that directs differentiation of human ESCs into the pancreatic lineage. Nat Chem Biol 5(4):258–265. doi:10.1038/nchembio.154

Chi J-T, Chang HY, Haraldsen G, Jahnsen FL, Troyanskaya OG, Chang DS, Wang Z, Rockson SG, van de Rijn M, Botstein D, Brown PO (2003) Endothelial cell diversity revealed by global expression profiling. Proc Natl Acad Sci 100(19):10623–10628. doi:10.1073/pnas.1434429100

Crapo PM, Gilbert TW, Badylak SF (2011) An overview of tissue and whole organ decellularization processes. Biomaterials 32(12):3233–3243. doi:10.1016/j.biomaterials.2011.01.057

Cui X, Breitenkamp K, Finn MG, Lotz M, D'Lima DD (2012) Direct human cartilage repair using three-dimensional bioprinting technology. Tissue Eng A 18(11–12):1304–1312. doi:10.1089/ten.TEA.2011.0543

Derby B (2012) Printing and prototyping of tissues and scaffolds. Science 338(6109):921–926. doi:10.1126/science.1226340

Eiraku M, Takata N, Ishibashi H, Kawada M, Sakakura E, Okuda S, Sekiguchi K, Adachi T, Sasai Y (2011) Self-organizing optic-cup morphogenesis in three-dimensional culture. Nature 472(7341):51–56. doi:10.1038/nature09941

Fedorovich NE, Alblas J, Hennink WE, Öner FC, Dhert WJA (2011) Organ printing: the future of bone regeneration? Trends Biotechnol 29(12):601–606. doi:10.1016/j.tibtech.2011.07.001

Gilpin SE, Guyette JP, Ren X, Gonzalez G, Xiong L, Song JJ, Vacanti J, Ott HC (2013) Up-scaling decellularization and whole organ culture for human lung regeneration. J Heart Lung Transplant 32(4):S69–S70. doi:10.1016/j.healun.2013.01.172

Gonzalez R, Garitaonandia I, Abramihina T, Wambua GK, Ostrowska A, Brock M, Noskov A, Boscolo FS, Craw JS, Laurent LC, Snyder EY, Semechkin RA (2013) Deriving dopaminergic neurons for clinical use. A practical approach. Sci Rep 3:1463. doi:10.1038/srep01463

Gore A, Li Z, Fung H-L, Young JE, Agarwal S, Antosiewicz-Bourget J, Canto I, Giorgetti A, Israel MA, Kiskinis E, Lee J-H, Loh Y-H, Manos PD, Montserrat N, Panopoulos AD, Ruiz S, Wilbert ML, Yu J, Kirkness EF, Belmonte JCI, Rossi DJ, Thomson JA, Eggan K, Daley GQ, Goldstein LSB, Zhang K (2011) Somatic coding mutations in human induced pluripotent stem cells. Nature 471(7336):63–67. doi:10.1038/nature09805

Govoni M, Muscari C, Guarnieri C, Giordano E (2013) Mechanostimulation protocols for cardiac tissue engineering. Biomed Res Int 2013:918640. doi:10.1155/2013/918640

Hansson EM, Lendahl U (2013) Regenerative medicine for the treatment of heart disease. J Intern Med 273(3):235–245. doi:10.1111/joim.12033

Herbert SP, Stainier DYR (2011) Molecular control of endothelial cell behaviour during blood vessel morphogenesis. Nat Rev Mol Cell Biol 12(9):551–564. doi:10.1038/nrm3176

Hollister SJ (2005) Porous scaffold design for tissue engineering. Nat Mater 4(7):518–524

Hou P, Li Y, Zhang X, Liu C, Guan J, Li H, Zhao T, Ye J, Yang W, Liu K, Ge J, Xu J, Zhang Q, Zhao Y, Deng H (2013) Pluripotent stem cells induced from mouse somatic cells by small-molecule compounds. Science 341(6146):651–654. doi:10.1126/science.1239278

Huh D, Matthews BD, Mammoto A, Montoya-Zavala M, Hsin HY, Ingber DE (2010) Reconstituting organ-level lung functions on a chip. Science 328(5986):1662–1668. doi:10.1126/science.1188302

Hynds RE, Giangreco A (2013) Concise review: the relevance of human stem cell-derived organoid models for epithelial translational medicine. Stem Cells 31(3):417–422. doi:10.1002/stem.1290

Ito Y (2008) Covalently immobilized biosignal molecule materials for tissue engineering. Soft Matter 4(1):46–56. doi:10.1039/B708359A

James DNH, Seandel M, Nolan D, Janovitz T, Tomishima M, Studer L, Lee G, Lyden D, Benezra R, Zaninovic N, Rosenwaks Z, Rabbany SY, Rafii S (2010) Expansion and maintenance of human embryonic stem cell-derived endothelial cells by TGFbeta inhibition is Id1 dependent. Nat Biotechnol 28(2):161–166. doi:10.1038/nbt.1605

Johnson KJ, Wreford NG, Hoy WE, Bertram JF (2000) Estimating total glomerular number in human kidneys with a physical disector/smooth fractionator combination. Nephrology 5(3):A96–A96. doi:10.1007/978-1-61779-851-1_30

Kehat I, Kenyagin-Karsenti D, Snir M, Segev H, Amit M, Gepstein A, Livne E, Binah O, Itskovitz-Eldor J, Gepstein L (2001) Human embryonic stem cells can differentiate into myocytes with structural and functional properties of cardiomyocytes. J Clin Invest 108(3):407–414. doi:10.1172/JCI12131

Ker EDF, Nain AS, Weiss LE, Wang J, Suhan J, Amon CH, Campbell PG (2011) Bioprinting of growth factors onto aligned sub-micron fibrous scaffolds for simultaneous control of cell differentiation and alignment. Biomaterials 32(32):8097–8107. doi:10.1016/j.biomaterials.2011.07.025

Koehler K, Tropel P, Theile J, Kondo T, Cummins T, Viville S, Hashino E (2011) Extended passaging increases the efficiency of neural differentiation from induced pluripotent stem cells. BMC Neurosci 12(1):1–14. doi:10.1186/1471-2202-12-82

Koike N, Fukumura D, Gralla O, Au P, Schechner JS, Jain RK (2004) Tissue engineering: creation of long-lasting blood vessels. Nature 428(6979):138–139. doi:10.1038/428138a

Lancaster MA, Renner M, Martin C-A, Wenzel D, Bicknell LS, Hurles ME, Homfray T, Penninger JM, Jackson AP, Knoblich JA (2013) Cerebral organoids model human brain development and microcephaly. Nature 501(7467):373–379. doi:10.1038/nature12517

Lee K, Silva EA, Mooney DJ (2011) Growth factor delivery-based tissue engineering: general approaches and a review of recent developments. J R Soc Interface 8(55):153–170. doi:10.1098/rsif.2010.0223

Lee MH, Arcidiacono JA, Bilek AM, Wille JJ, Hamill CA, Wonnacott KM, Wells MA, Oh SS (2009) Considerations for tissue-engineered and regenerative medicine product development prior to clinical trials in the United States. Tissue Eng B Rev 16(1):41–54. doi:10.1089/ten.teb.2009.0449

Li M, Dickinson CE, Finkelstein EB, Neville CM, Sundback CA (2011) The role of fibroblasts in self-assembled skeletal muscle. Tissue Eng A 17(21–22):2641–2650. doi:10.1089/ten.TEA.2010.0700

Lian Q, Zhang Y, Zhang J, Zhang HK, Wu X, Zhang Y, Lam FF-Y, Kang S, Xia JC, Lai W-H, Au K-W, Chow YY, Siu C-W, Lee C-N, Tse H-F (2010) Functional mesenchymal stem cells derived from human induced pluripotent stem cells attenuate limb ischemia in mice. Circulation 121(9):1113–1123. doi:10.1161/circulationaha.109.898312

Lian X, Hsiao C, Wilson G, Zhu K, Hazeltine LB, Azarin SM, Raval KK, Zhang J, Kamp TJ, Palecek SP (2012) Robust cardiomyocyte differentiation from human pluripotent stem cells via temporal modulation of canonical Wnt signaling. Proc Natl Acad Sci 109(27):E1848–E1857. doi:10.1073/pnas.1200250109

Lippmann ES, Azarin SM, Kay JE, Nessler RA, Wilson HK, Al-Ahmad A, Palecek SP, Shusta EV (2012) Derivation of blood-brain barrier endothelial cells from human pluripotent stem cells. Nat Biotech 30(8):783–791. doi:10.1038/nbt.2247

Masters KS (2011) Covalent growth factor immobilization strategies for tissue repair and regeneration. Macromol Biosci 11(9):1149–1163. doi:10.1002/mabi.201000505

Melero-Martin JM, De Obaldia ME, Kang S-Y, Khan ZA, Yuan L, Oettgen P, Bischoff J (2008) Engineering robust and functional vascular networks in vivo with human adult and cord blood-derived progenitor cells. Circ Res 103(2):194–202. doi:10.1161/circresaha.108.178590

Melero-Martin JM, Khan ZA, Picard A, Wu X, Paruchuri S, Bischoff J (2007) In vivo vasculogenic potential of human blood-derived endothelial progenitor cells. Blood 109(11):4761–4768. doi:10.1182/blood-2006-12-062471

Miller JS, Stevens KR, Yang MT, Baker BM, Nguyen D-HT, Cohen DM, Toro E, Chen AA, Galie PA, Yu X, Chaturvedi R, Bhatia SN, Chen CS (2012) Rapid casting of patterned vascular networks for perfusable engineered three-dimensional tissues. Nat Mater 11(9):768–774. doi:10.1038/nmat3357

Minami I, Yamada K, Otsuji TG, Yamamoto T, Shen Y, Otsuka S, Kadota S, Morone N, Barve M, Asai Y, Tenkova-Heuser T, Heuser JE, Uesugi M, Aiba K, Nakatsuji N (2012) A small molecule that promotes cardiac differentiation of human pluripotent stem cells under defined, cytokine- and xeno-free conditions. Cell Rep 2(5):1448–1460

Mironov V, Boland T, Trusk T, Forgacs G, Markwald RR (2003) Organ printing: computer-aided jet-based 3D tissue engineering. Trends Biotechnol 21(4):157–161. doi:10.1016/S0167-7799(03)00033-7

Mironov V, Visconti RP, Kasyanov V, Forgacs G, Drake CJ, Markwald RR (2009) Organ printing: tissue spheroids as building blocks. Biomaterials 30(12):2164–2174. doi:10.1016/j.biomaterials.2008.12.084

Miura K, Okada Y, Aoi T, Okada A, Takahashi K, Okita K, Nakagawa M, Koyanagi M, Tanabe K, Ohnuki M, Ogawa D, Ikeda E, Okano H, Yamanaka S (2009) Variation in the safety of induced pluripotent stem cell lines. Nat Biotech 27(8):743–745. doi:10.1038/nbt.1554

Mummery C, Ward-van Oostwaard D, Doevendans P, Spijker R, van den Brink S, Hassink R, van der Heyden M, Opthof T, Pera M, de la Riviere AB, Passier R, Tertoolen L (2003) Differentiation of human embryonic stem cells to cardiomyocytes: role of coculture with visceral endoderm-like cells. Circulation 107(21):2733–2740. doi:10.1161/01.cir.0000068356.38592.68

Nakano T, Ando S, Takata N, Kawada M, Muguruma K, Sekiguchi K, Saito K, Yonemura S, Eiraku M, Sasai Y (2012) Self-formation of optic cups and storable stratified neural retina from human ESCs. Cell Stem Cell 10(6):771–785. doi:10.1016/j.stem.2012.05.009

Nelson CM, Bissell MJ (2006) Of extracellular matrix, scaffolds, and signaling: tissue architecture regulates development, homeostasis, and cancer. Annu Rev Cell Dev Biol 22(1):287–309. doi:10.1146/annurev.cellbio.22.010305.104315

Nichols JE, Niles J, Riddle M, Vargas G, Schilagard T, Ma L, Edward K, Francesca SL, Sakamoto J, Vega S, Ogadegbe M, Mlcak R, Deyo D, Woodson L, McQuitty C, Lick S, Beckles D, Melo E, Cortiella J (2013) Production and assessment of decellularized pig and human lung scaffolds. Tissue Eng A 19(17–18):2045–2062. doi:10.1089/ten.TEA.2012.0250

Nolan DJ, Ginsberg M, Israely E, Palikuqi B, Poulos MG, James D, Ding B-S, Schachterle W, Liu Y, Rosenwaks Z, Butler JM, Xiang J, Rafii A, Shido K, Rabbany SY, Elemento O, Rafii S (2013) Molecular signatures of tissue-specific microvascular endothelial cell heterogeneity in organ maintenance and regeneration. Dev Cell 26(2):204–219. doi:10.1016/j.devcel.2013.06.017

Ochs M, Nyengaard JR, Jung A, Knudsen L, Voigt M, Wahlers T, Richter J, Gundersen HJG (2004) The number of alveoli in the human lung. Am J Respir Crit Care Med 169(1):120–124. doi:10.1164/rccm.200308-1107OC

Ott HC, Clippinger B, Conrad C, Schuetz C, Pomerantseva I, Ikonomou L, Kotton D, Vacanti JP (2010) Regeneration and orthotopic transplantation of a bioartificial lung. Nat Med 16(8):927–933. doi:10.1038/nm.2193

Ott HC, Matthiesen TS, Goh S-K, Black LD, Kren SM, Netoff TI, Taylor DA (2008) Perfusion-decellularized matrix: using nature's platform to engineer a bioartificial heart. Nat Med 14(2):213–221. doi:10.1038/nm1684

Perniconi B, Costa A, Aulino P, Teodori L, Adamo S, Coletti D (2011) The pro-myogenic environment provided by whole organ scale acellular scaffolds from skeletal muscle. Biomaterials 32(31):7870–7882. doi:10.1016/j.biomaterials.2011.07.016

Petersen TH, Calle EA, Colehour MB, Niklason LE (2012) Matrix composition and mechanics of decellularized lung scaffolds. Cells Tissues Organs 195(3):222–231

Petersen TH, Calle EA, Zhao L, Lee EJ, Gui L, Raredon MB, Gavrilov K, Yi T, Zhuang ZW, Breuer C, Herzog E, Niklason LE (2010) Tissue-engineered lungs for in vivo implantation. Science 329(5991):538–541. doi:10.1126/science.1189345

Rock JR, Barkauskas CE, Cronce MJ, Xue Y, Harris JR, Liang J, Noble PW, Hogan BLM (2011) Multiple stromal populations contribute to pulmonary fibrosis without evidence for epithelial to mesenchymal transition. Proc Natl Acad Sci 108(52):E1475–E1483. doi:10.1073/pnas.1117988108

Sachlos E, Czernuszka J (2003) Making tissue engineering scaffolds work. Review: the application of solid freeform fabrication technology to the production of tissue engineering scaffolds. Eur Cell Mater 5:29–39

Saha K, Jaenisch R (2009) Technical challenges in using human induced pluripotent stem cells to model disease. Cell Stem Cell 5(6):584–595

Samuel R, Daheron L, Liao S, Vardam T, Kamoun WS, Batista A, Buecker C, Schäfer R, Han X, Au P, Scadden DT, Duda DG, Fukumura D, Jain RK (2013) Generation of functionally competent and durable engineered blood vessels from human induced pluripotent stem cells. Proc Natl Acad Sci 110(31):12774–12779. doi:10.1073/pnas.1310675110

Sato T, Clevers H (2013) Growing self-organizing mini-guts from a single intestinal stem cell: mechanism and applications. Science 340(6137):1190–1194. doi:10.1126/science.1234852

Sato T, Vries RG, Snippert HJ, van de Wetering M, Barker N, Stange DE, van Es JH, Abo A, Kujala P, Peters PJ, Clevers H (2009) Single Lgr5 stem cells build crypt–villus structures in vitro without a mesenchymal niche. Nature 459(7244):262–265. doi:10.1038/nature07935

Sensebé L (2008) Clinical grade production of mesenchymal stem cells. Biomed Mater Eng 18(1 Suppl):3–10

Shan J, Schwartz RE, Ross NT, Logan DJ, Thomas D, Duncan SA, North TE, Goessling W, Carpenter AE, Bhatia SN (2013) Identification of small molecules for human hepatocyte expansion and iPS differentiation. Nat Chem Biol 9(8):514–520. doi:10.1038/nchembio.1270

Shieh S-J, Vacanti JP (2005) State-of-the-art tissue engineering: from tissue engineering to organ building. Surgery 137(1):1–7. doi:10.1016/j.surg.2004.04.002

Silva AKA, Richard C, Bessodes M, Scherman D, Merten O-W (2008) Growth factor delivery approaches in hydrogels. Biomacromolecules 10(1):9–18. doi:10.1021/bm801103c

Sneddon JB, Borowiak M, Melton DA (2012) Self-renewal of embryonic-stem-cell-derived progenitors by organ-matched mesenchyme. Nature 491(7426):765–768. doi:10.1038/nature11463

Song JJ, Guyette JP, Gilpin SE, Gonzalez G, Vacanti JP, Ott HC (2013) Regeneration and experimental orthotopic transplantation of a bioengineered kidney. Nat Med 19(5):646–651. doi:10.1038/nm.3154

Stone K, Mercer R, Freeman B, Chang L, Crapo J (1992) Distribution of lung cell numbers and volumes between alveolar and nonalveolar tissue. Am Rev Respir Dis 146(2):454–456. doi:10.1164/ajrccm/146.2.454

Strilić B, Kučera T, Eglinger J, Hughes MR, McNagny KM, Tsukita S, Dejana E, Ferrara N, Lammert E (2009) The molecular basis of vascular lumen formation in the developing mouse aorta. Dev Cell 17(4):505–515. doi:10.1016/j.devcel.2009.08.011

Suga H, Kadoshima T, Minaguchi M, Ohgushi M, Soen M, Nakano T, Takata N, Wataya T, Muguruma K, Miyoshi H, Yonemura S, Oiso Y, Sasai Y (2011) Self-formation of functional adenohypophysis in three-dimensional culture. Nature 480(7375):57–62. doi:10.1038/nature10637

Sullivan DC, Mirmalek-Sani S-H, Deegan DB, Baptista PM, Aboushwareb T, Atala A, Yoo JJ (2012) Decellularization methods of porcine kidneys for whole organ engineering using a high-throughput system. Biomaterials 33(31):7756–7764. doi:10.1016/j.biomaterials.2012.07.023

Svendsen CN (2013) Back to the future: how human induced pluripotent stem cells will transform regenerative medicine. Hum Mol Genet 22(R1):R32–R38. doi:10.1093/hmg/ddt379

Takahashi K, Tanabe K, Ohnuki M, Narita M, Ichisaka T, Tomoda K, Yamanaka S (2007) Induction of pluripotent stem cells from adult human fibroblasts by defined factors. Cell 131(5):861–872

Takayama K, Nagamoto Y, Mimura N, Tashiro K, Sakurai F, Tachibana M, Hayakawa T, Kawabata K, Mizuguchi H (2013) Long-term self-renewal of human ES/iPS-derived hepatoblast-like cells on human laminin 111-coated dishes. Stem Cell Rep 1(4):322–335. doi:10.1016/j.stemcr.2013.08.006

Takebe T, Sekine K, Enomura M, Koike H, Kimura M, Ogaeri T, Zhang R-R, Ueno Y, Zheng Y-W, Koike N, Aoyama S, Adachi Y, Taniguchi H (2013) Vascularized and functional human liver from an iPSC-derived organ bud transplant. Nature 499(7459):481–484. doi:10.1038/nature12271

Tandon N, Cannizzaro C, Chao P-HG, Maidhof R, Marsano A, Au HTH, Radisic M, Vunjak-Novakovic G (2009) Electrical stimulation systems for cardiac tissue engineering. Nat Protocol 4(2):155–173. doi:10.1038/nprot.2008.183

Totonelli G, Maghsoudlou P, Garriboli M, Riegler J, Orlando G, Burns AJ, Sebire NJ, Smith VV, Fishman JM, Ghionzoli M, Turmaine M, Birchall MA, Atala A, Soker S, Lythgoe MF, Seifalian A, Pierro A, Eaton S, De Coppi P (2012) A rat decellularized small bowel scaffold that preserves villus-crypt architecture for intestinal regeneration. Biomaterials 33(12):3401–3410. doi:10.1016/j.biomaterials.2012.01.012

Uygun BE, Soto-Gutierrez A, Yagi H, Izamis M-L, Guzzardi MA, Shulman C, Milwid J, Kobayashi N, Tilles A, Berthiaume F, Hertl M, Nahmias Y, Yarmush ML, Uygun K (2010) Organ reengineering through development of a transplantable recellularized liver graft using decellularized liver matrix. Nat Med 16(7):814–820. doi:10.1038/nm.2170

Vunjak-Novakovic G, Tandon N, Godier A, Maidhof R, Marsano A, Martens TP, Radisic M (2010) Challenges in cardiac tissue engineering. Tissue Eng B Rev 16(2):169–187. doi:10.1089/ten.teb.2009.0352

Wallis JM, Borg ZD, Daly AB, Deng B, Ballif BA, Allen GB, Jaworski DM, Weiss DJ (2012) Comparative assessment of detergent-based protocols for mouse lung de-cellularization and re-cellularization. Tissue Eng C Methods 18(6):420–432. doi:10.1089/ten.tec.2011.0567

Wang ZZ, Au P, Chen T, Shao Y, Daheron LM, Bai H, Arzigian M, Fukumura D, Jain RK, Scadden DT (2007) Endothelial cells derived from human embryonic stem cells form durable blood vessels in vivo. Nat Biotechnol 25(3):317–318. doi:10.1038/nbt1287

Warren L, Manos PD, Ahfeldt T, Loh Y-H, Li H, Lau F, Ebina W, Mandal PK, Smith ZD, Meissner A, Daley GQ, Brack AS, Collins JJ, Cowan C, Schlaeger TM, Rossi DJ (2010) Highly efficient reprogramming to pluripotency and directed differentiation of human cells with synthetic modified mRNA. Cell Stem Cell 7(5):618–630. doi:10.1016/j.stem.2010.08.012

Wong AP, Bear CE, Chin S, Pasceri P, Thompson TO, Huan L-J, Ratjen F, Ellis J, Rossant J (2012) Directed differentiation of human pluripotent stem cells into mature airway epithelia expressing functional CFTR protein. Nat Biotechnol 30(9):876–882. doi:10.1038/nbt.2328

Xu H, Yi BA, Wu H, Bock C, Gu H, Lui KO, Park J-HC, Shao Y, Riley AK, Domian IJ, Hu E, Willette R, Lepore J, Meissner A, Wang Z, Chien KR (2012) Highly efficient derivation of ventricular cardiomyocytes from induced pluripotent stem cells with a distinct epigenetic signature. Cell Res 22(1):142–154. doi:10.1038/cr.2011.171

Yagi H, Fukumitsu K, Fukuda K, Kitago M, Shinoda M, Obara H, Itano O, Kawachi S, Tanabe M, Coudriet GM, Piganelli JD, Gilbert TW, Soto-Gutierrez A, Kitagawa Y (2013) Human-scale whole-organ bioengineering for liver transplantation: a regenerative medicine approach. Cell Transplant 22(2):231–242. doi:10.3727/096368912X654939

Yu J, Hu K, Smuga-Otto K, Tian S, Stewart R, Slukvin II, Thomson JA (2009) Human induced pluripotent stem cells free of vector and transgene sequences. Science 324(5928):797–801. doi:10.1126/science.1172482

Zimmermann W-H, Melnychenko I, Wasmeier G, Didie M, Naito H, Nixdorff U, Hess A, Budinsky L, Brune K, Michaelis B, Dhein S, Schwoerer A, Ehmke H, Eschenhagen T (2006) Engineered heart tissue grafts improve systolic and diastolic function in infarcted rat hearts. Nat Med 12(4):452–458. doi:10.1038/nm1394
About this article
Cite this article
Ren, X., Ott, H.C. On the road to bioartificial organs. Pflugers Arch - Eur J Physiol 466, 1847–1857 (2014). https://doi.org/10.1007/s00424-014-1504-4
Received:

Accepted:

Published:

Issue Date:

DOI: https://doi.org/10.1007/s00424-014-1504-4
Keywords