Abstract
Background
Currently, there are solely weak recommendations in the enhanced recovery after surgery (ERAS) protocol regarding the role of preoperative physical activity and prehabilitation in patients undergoing colorectal surgery. Studies in heterogenous groups showed contradictory results regarding the impact of prehabilitation on the reduction of postoperative complications. The aim of this study was to assess the impact of prehabilitation on postoperative complications in patients undergoing colorectal surgery within an ERAS protocol.
Methods
Between July 2016 and June 2019, a single-center, blinded, randomized controlled trial designed to test whether physiotherapeutic prehabilitation vs. normal physical activities prior to colorectal surgery may decrease morbidity within a stringent ERAS protocol was carried out. The primary endpoint was postoperative complications assessed by Comprehensive Complications Index (CCI®). Primary and secondary endpoints for both groups were analyzed and compared.
Results
A total of 107 patients (54 in the prehabilitation enhanced recovery after colorectal surgery [pERACS] group and 53 in the control group) were included in the study and randomized. Dropout rate was 4.5% (n = 5). Baseline characteristics were comparable between the pERACS and control groups. The percentage of colorectal adenocarcinoma was low in both groups (pERACS 32% vs. control 23%, p = 0.384). Almost all patients underwent minimally invasive surgery in both groups (96% vs. 98%, p = 1.000). There was no between-group difference in the primary outcome, as the mean CCI at 30-day postoperative in the pERACS group was 18 (SD 0–43) compared to 15 (SD 0–49) in the control group (p = 0.059). Secondary outcome as complications assessed according to Clavien-Dindo, length of hospital stay, reoperation rate, and mortality showed no difference between both groups.
Conclusions
Routine physiotherapeutic prehabilitation has no additional benefit for patients undergoing colorectal surgery within an ERAS protocol.
Trial registration
ClinicalTrial.gov: ID: NCT02746731; Institution Ethical Board Approval: KEK-ZH Nr. 2016–00,229.
Access options
Buy single article
Instant access to the full article PDF.
USD 39.95
Price excludes VAT (USA)
Tax calculation will be finalised during checkout.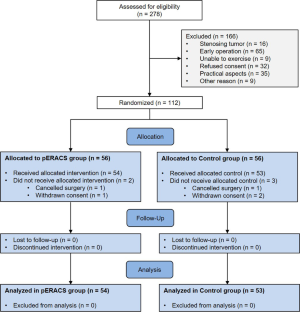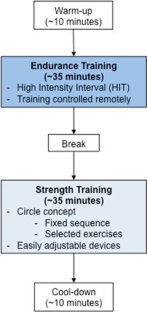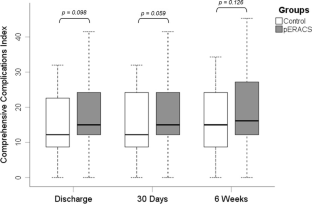 Abbreviations
ASA:

American Society of Anesthesiologists

CCI®:

Comprehensive Complication Index®

ERAS:

Enhanced recovery after surgery

ICU:

Intensive care unit

LOS:

Length of stay

NYHA:

New York heart association classification

pERACS:

Prehabilitation enhanced recovery after colorectal surgery

POD:

Postoperative day

SD:

Standard deviation
References
Bardram L, Funch-Jensen P, Jensen P, Crawford ME, Kehlet H (1995) Recovery after laparoscopic colonic surgery with epidural analgesia, and early oral nutrition and mobilisation. Lancet 345(8952):763–764

Khoo CK, Vickery CJ, Forsyth N, Vinall NS, Eyre-Brook IA (2007) A prospective randomized controlled trial of multimodal perioperative management protocol in patients undergoing elective colorectal resection for cancer. Ann Surg 245(6):867–872

Gustafsson UO, Scott MJ, Schwenk W, Demartines N, Roulin D, Francis N, McNaught CE, Macfie J, Liberman AS, Soop M et al (2013) Guidelines for perioperative care in elective colonic surgery: enhanced recovery after surgery (ERAS((R))) society recommendations. World J Surg 37(2):259–284

Gustafsson UO, Scott MJ, Hubner M, Nygren J, Demartines N, Francis N, Rockall TA, Young-Fadok TM, Hill AG, Soop M et al (2019) Guidelines for perioperative care in elective colorectal surgery: enhanced recovery after surgery (ERAS((R))) society recommendations: 2018. World J Surg 43(3):659–695

Hoogeboom TJ, Dronkers JJ, Hulzebos EH, van Meeteren NL (2014) Merits of exercise therapy before and after major surgery. Curr Opin Anaesthesiol 27(2):161–166

Dronkers JJ, Chorus AM, van Meeteren NL, Hopman-Rock M (2013) The association of pre-operative physical fitness and physical activity with outcome after scheduled major abdominal surgery. Anaesth 68(1):67–73

Gillis C, Li C, Lee L, Awasthi R, Augustin B, Gamsa A, Liberman AS, Stein B, Charlebois P, Feldman LS et al (2014) Prehabilitation versus rehabilitation: a randomized control trial in patients undergoing colorectal resection for cancer. Anesthesiol 121(5):937–947

Teo JYK, Turner R, Self M (2020) Effect of exercise prehabilitation on functional status of patients undergoing bowel resection: a systematic review. ANZ J Surg 90(5):693–701

Carli F, Bousquet-Dion G, Awasthi R, Elsherbini N, Liberman S, Boutros M, Stein B, Charlebois P, Ghitulescu G, Morin N et al (2020) Effect of multimodal prehabilitation vs postoperative rehabilitation on 30-day postoperative complications for frail patients undergoing resection of colorectal cancer: a randomized clinical trial. JAMA Surg 155(3):233–242

Looijaard S, Slee-Valentijn MS, Otten RHJ, Maier AB (2018) Physical and nutritional prehabilitation in older patients with colorectal carcinoma: a systematic review. J Geriatr Phys Ther 41(4):236–244

Levett DZ, Grocott MP (2015) Cardiopulmonary exercise testing for risk prediction in major abdominal surgery. Anesthesiol Clin 33(1):1–16

Clavien PA, Barkun J, de Oliveira ML, Vauthey JN, Dindo D, Schulick RD, de Santibanes E, Pekolj J, Slankamenac K, Bassi C et al (2009) The Clavien-Dindo classification of surgical complications: five-year experience. Ann Surg 250(2):187–196

Slankamenac K, Graf R, Barkun J, Puhan MA, Clavien PA (2013) The comprehensive complication index: a novel continuous scale to measure surgical morbidity. Ann Surg 258(1):1–7

Merki-Kunzli C, Kerstan-Huber M, Switalla D, Gisi D, Raptis DA, Greco N, Mungo G, Wirz M, Gloor S, Misirlic M et al (2017) Assessing the value of prehabilitation in patients undergoing colorectal surgery according to the enhanced recovery after surgery (ERAS) pathway for the improvement of postoperative outcomes: protocol for a randomized controlled trial. JMIR Res Protoc 6(10):e199

Meyer K, Samek L, Schwaibold M, Westbrook S, Hajric R, Beneke R, Lehmann M, Roskamm H (1997) Interval training in patients with severe chronic heart failure: analysis and recommendations for exercise procedures. Med Sci Sports Exerc 29(3):306–312

McGavin CR, Gupta SP, McHardy GJ (1976) Twelve-minute walking test for assessing disability in chronic bronchitis. BMJ 1(6013):822–823

Norman K, Stobaus N, Gonzalez MC, Schulzke JD, Pirlich M (2011) Hand grip strength: outcome predictor and marker of nutritional status. Clin Nutr 30(2):135–142

De Backer IC, Schep G, Hoogeveen A, Vreugdenhil G, Kester AD, van Breda E (2007) Exercise testing and training in a cancer rehabilitation program: the advantage of the steep ramp test. Arch Phys Med Rehabil 88(5):610–616

Spanjersberg WR, Reurings J, Keus F, van Laarhoven CJ (2011) Fast track surgery versus conventional recovery strategies for colorectal surgery. Cochrane Database Syst Rev 2:CD007635

Lv L, Shao YF, Zhou YB (2012) The enhanced recovery after surgery (ERAS) pathway for patients undergoing colorectal surgery: an update of meta-analysis of randomized controlled trials. Int J Colorectal Dis 27(12):1549–1554

Barberan-Garcia A, Ubre M, Roca J, Lacy AM, Burgos F, Risco R, Momblan D, Balust J, Blanco I, Martinez-Palli G (2018) Personalised prehabilitation in high-risk patients undergoing elective major abdominal surgery: a randomized blinded controlled trial. Ann Surg 267(1):50–56

Chia CL, Mantoo SK, Tan KY (2016) 'Start to finish trans-institutional transdisciplinary care': a novel approach improves colorectal surgical results in frail elderly patients. Colorectal Dis 18(1):O43-50

Wilson RJ, Davies S, Yates D, Redman J, Stone M (2010) Impaired functional capacity is associated with all-cause mortality after major elective intra-abdominal surgery. Colorectal Dis 105(3):297–303

Carli F, Zavorsky GS (2005) Optimizing functional exercise capacity in the elderly surgical population. Curr Opin Clin Nutr Metab Care 8(1):23–32

Bruns ER, van den Heuvel B, Buskens CJ, van Duijvendijk P, Festen S, Wassenaar EB, van der Zaag ES, Bemelman WA, van Munster BC (2016) The effects of physical prehabilitation in elderly patients undergoing colorectal surgery: a systematic review. Colorectal Dis 18(8):O267-277

Henneman D, van Leersum NJ, Ten Berge M, Snijders HS, Fiocco M, Wiggers T, Tollenaar RA, Wouters MW (2013) Failure-to-rescue after colorectal cancer surgery and the association with three structural hospital factors. Ann Surg Oncol 20(11):3370–3376

Ghadban T, Reeh M, Bockhorn M, Heumann A, Grotelueschen R, Bachmann K, Izbicki JR, Perez DR (2018) Minimally invasive surgery for colorectal cancer remains underutilized in Germany despite its nationwide application over the last decade. Sci Rep 8(1):15146
Acknowledgements
The authors wish to thank the study nurses, especially Brigitte Gasser and team, for their excellent support in performing this trial. Further, we would like to thank Cornelia Merki-Künzli MD, for creating the study protocol and the team of the physiotherapy with Marta Kerstan and Michaela Hagen for managing the secuTrial! software on physiotherapeutic side. We would also like to thank Felix Grieder MD, Michel Adamina MD, Hans Gelpke MD, Christian Gingert MD, Georgios Peros MD, Sina Schmidt MD, and Christopher Soll MD who helped with acquisition of patients.
Ethics declarations
Conflict of interest
The authors declare no competing interests.
Additional information
Publisher's note
Springer Nature remains neutral with regard to jurisdictional claims in published maps and institutional affiliations.
About this article
Cite this article
Gloor, S., Misirlic, M., Frei-Lanter, C. et al. Prehabilitation in patients undergoing colorectal surgery fails to confer reduction in overall morbidity: results of a single-center, blinded, randomized controlled trial. Langenbecks Arch Surg 407, 897–907 (2022). https://doi.org/10.1007/s00423-022-02449-0
Received:

Accepted:

Published:

Issue Date:

DOI: https://doi.org/10.1007/s00423-022-02449-0
Keywords