Abstract
Purpose
This study was performed to investigate the potential of intraoperative three-dimensional (3D) holographic cholangiography, which provides a computer graphics model of the biliary tract, with mixed reality techniques.
Methods
Two patients with intraductal papillary neoplasm of the bile duct were enrolled in the study. Intraoperative 3D cholangiography was performed in a hybrid operating room. Three-dimensional polygon data using the acquired cholangiography data were installed into a head mount display (HoloLens; Microsoft Corporation, Redmond, WA, USA).
Results
Upon completion of intraoperative 3D cholangiography, a hologram was immediately and successfully made in the operating room using the acquired cholangiography data, and several surgeons wearing the HoloLens succeeded in sharing the same hologram. Compared with usual two-dimensional cholangiography, this 3D holographic cholangiography technique contributed to more accurate reappearance of the bile ducts, especially the B1 origination site, and moving the hologram from the respective operators' angles by means of easy gesture-handling without any monitors.
Conclusion
Intraoperative 3D holographic cholangiography might be a new next-generation operation-support tool in terms of immediacy, accurate anatomical reappearance, and ease of handling.
This is a preview of subscription content,
to check access.
Access this article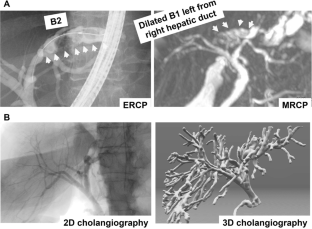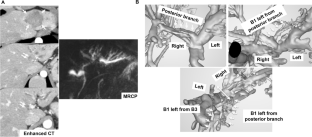 Similar content being viewed by others
Data availability
The current datasets are deposited in publicly available repositories (where available and appropriate).
Abbreviations
CG:

Computer graphics

MR:

Mixed reality

IOC:

Intraoperative cholangiography

ICG:

Indocyanine green

CBCT:

Cone beam computed tomography

HMDs:

Head mount displays

OST:

Optical see-through

MRCP:

Magnetic resonance cholangiopancreatography
References
Mirizzi PL (1932) La Cholangiografia Durante las Operaciones de las Vias Biliares. Bol Soc Cir Buenos Aires 16: 1133

Berci G, Shore JM, Hamlin JA et al (1978) Operative fluoroscopy and cholangiography. Am Surg 135:32

MacFadyen BV (2006) Intraoperative cholangiography: past, present, and future. Surg Endosc 20(Suppl 2):436–440

Thompson DM, Arregui ME, Tetik C et al (1998) A comparison of laparoscopic ultrasound with digital fluorocholangiography for detecting choledocholithiasis during laparoscopic cholecystectomy. Surg Endosc 12(7):929–932 (64)

Röthlin MA, Schöb O, Schlumpf R et al (1996) Laparoscopic ultrasonography during cholecystectomy. Br J Surg 83(11):1512–1516 (65)

Barteau JA, Castro D, Arregui ME et al (1995) A comparison of intraoperative ultrasound versus cholangiography in the evaluation of the common bile duct during laparoscopic cholecystectomy. Surg Endosc 9(5):490–496

Dip FD, Asbun D, Rosales-Velderrain A et al (2014) Cost analysis and effectiveness comparing the routine use of intraoperative fluorescent cholangiography with fluoroscopic cholangiogram in patients undergoing laparoscopic cholecystectomy. Surg Endosc 28(6):1838–1843

Osayi SN, Wendling MR, Drosdeck JM et al (2015) Near-infrared fluorescent cholangiography facilitates identification of biliary anatomy during laparoscopic cholecystectomy. Surg Endosc 29(2):368–375

Figueiredo JL, Siegel C, Nahrendorf M et al (2010) Intraoperative near-infrared fluorescent cholangiography (NIRFC) in mouse models of bile duct injury. World J Surg 34(2):336–343

Kobashi J, Yoshida H, Ozaki M (2017) Circularly-polarized, semitransparent and double-sided holograms based on helical photonic structures. Sci Rep 7(1):16470

Li Y, Chen X, Wang N et al (2018) A wearable mixed-reality holographic computer for guiding external ventricular drain insertion at the bedside. J Neurosurg 1:1–8

Saito Y, Sugimoto M, Imura S et al (2020) Intraoperative 3D hologram support with mixed reality techniques in liver surgery. Ann Surg 271(1):e4–e7

Hoffman MA, Provance JB (2017) Visualization of molecular structures using HoloLens-based augmented reality. AMIA Jt Summits Transl Sci Proc 26(2017):68–74

Yang Y, Zhou Z, Liu R et al (2018) Application of 3D visualization and 3D printing technology on ERCP for patients with hilar cholangiocarcinoma. Exp Ther Med 15(4):3259–3264

Kong X, Nie L, Zhang H et al (2016) Do three-dimensional visualization and three-dimensional printing improve hepatic segment anatomy teaching? A randomized controlled study. J Surg Educ 73(2):264–9
Acknowledgements
The content of this research was broadcast on "JOUNETSU—TAIRIKU", Japanese TV program, Tokyo Broadcasting System Television, Inc.
Ethics declarations
Competing interests
The authors declare no competing interests.
Ethics approval
The study was approved by Tokushima University Hospital ethics committee and with the approval of corresponding regulatory agencies, and all the experiments were carried out in accordance with the approved guidelines (Tokushima Clinical Trial Management System Number; 3294). Meanwhile, all the patients involved in the study signed the informed consent form and agreed to participate.
Consent to participate
All patients consented to participate.
Consent for publication
Not applicable.
Additional information
Publisher's note
Springer Nature remains neutral with regard to jurisdictional claims in published maps and institutional affiliations.
Supplementary Information
Below is the link to the electronic supplementary material.
Supplementary file1 (WMV 28638 KB)
Supplementary file2 (WMV 47708 KB)
Supplementary file3 (WMV 47953 KB)
About this article
Cite this article
Saito, Y., Sugimoto, M., Morine, Y. et al. Intraoperative support with three-dimensional holographic cholangiography in hepatobiliary surgery. Langenbecks Arch Surg 407, 1285–1289 (2022). https://doi.org/10.1007/s00423-021-02336-0
Received:

Accepted:

Published:

Issue Date:

DOI: https://doi.org/10.1007/s00423-021-02336-0
Keywords