Abstract
Purpose
Repair of portal vein injury in a hostile abdomen can be very challenging, complicated by massive hemorrhage or stenosis. It can seldom be successfully carried out, even by experienced hepatobiliary surgeons. The ideal venous clamping technique is often not feasible and increases the risk of lethal portal vein laceration. The common mistake being the forceful use of clamps around the vein in the attempt to obtain vascular control, resulting in additional injuries.
Methods
We provide a descriptive report of two cases detailing a careful step-by-step technique for the management of portal vein injury by inserting an endovascular balloon inflated with serum to control bleeding and repair the vein.
Results
In patients who required this technique, no bleeding recurrence, nor portal vein thrombosis or stenosis was detected by CT-scan during follow-up.
Conclusion
The endovascular balloon occlusion technique for the reconstruction of portal vein injuries in hostile abdomen is a safe and life-saving procedure that should be part of the armamentarium of visceral surgeons.
Access options
Buy single article
Instant access to the full article PDF.
US$ 39.95
Tax calculation will be finalised during checkout.
Subscribe to journal
Immediate online access to all issues from 2019. Subscription will auto renew annually.
US$ 79
Tax calculation will be finalised during checkout.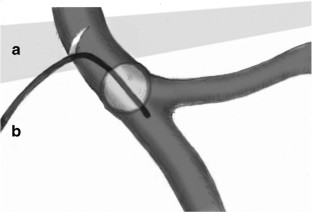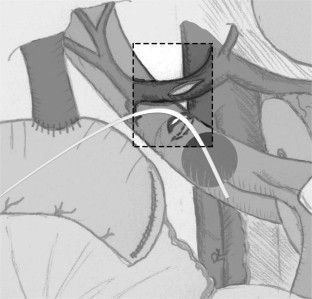 Abbreviations
HPB:

Hepatopancreaticobiliary

CT:

Computed tomography

SMV:

Superior mesenteric vein
References
1.

Fingerhut A, Leppaniemi AK, Androulakis GA, Archodovassilis F, Bouillon B, Cavina E, Chaloner E, Chiarugi M, Davidovic L, Delgado-Millan MA et al (2002) The European experience with vascular injuries. Surg Clin North Am 82(1):175–188

2.

Oderich GS, Panneton JM, Hofer J, Bower TC, Cherry KJ Jr, Sullivan T, Noel AA, Kalra M, Gloviczki P (2004) Iatrogenic operative injuries of abdominal and pelvic veins: a potentially lethal complication. J Vasc Surg 39(5):931–936

3.

Fraga GP, Bansal V, Fortlage D, Coimbra R (2009) A 20-year experience with portal and superior mesenteric venous injuries: has anything changed? Eur J Vasc Endovasc Surg 37(1):87–91

4.

Coimbra R, Filho AR, Nesser RA, Rasslan S (2004) Outcome from traumatic injury of the portal and superior mesenteric veins. Vasc Endovasc Surg 38(3):249–255

5.

Pearl J, Chao A, Kennedy S, Paul B, Rhee P (2004) Traumatic injuries to the portal vein: case study. J Trauma 56(4):779–782

6.

Cikrit DF, Dalsing MC, Sawchuk AP, Lalka SG, Harl MJ, Goulet RJ, Madura JA, Canal DF (1993) Vascular injuries during pancreatobiliary surgery. Am Surg 59(10):692–696 discussion 697

7.

Graham JM, Mattox KL, Beall AC Jr (1978) Portal venous system injuries. J Trauma 18(6):419–422

8.

Schrock T, Blaisdell FW, Mathewson C Jr (1968) Management of blunt trauma to the liver and hepatic veins. Arch Surg 96(5):698–704

9.

Singh G, Nahm CB, Jamieson NB, Chua TC, Wong S, Thoo C, Mittal A, Gill AJ, Samra JS (2019) Management of post-pancreatectomy haemorrhage using resuscitative endovascular balloon occlusion of the aorta. Langenbeck's Arch Surg 404(2):253–255

10.

Seal JB, Bohorquez H, Battula N, DeGregorio L, Bugeaud E, Bruce DS, Carmody IC, Cohen AJ, Loss GE (2017) Balloon-occlusion technique for managing portal vein hemorrhage in liver transplantation. Ochsner J 17(1):76–79

11.

Aydin C, Ersan V, Baskiran A, Unal B, Kayaalp C, Yilmaz S (2014) Controlling massive hemorrhage from the retropancreatic portal vein as a complication of thromboendovenectomy during liver transplantation with balloon catheter tamponade: how to do it. Surg Today 44(4):792–794
Acknowledgments
We thank Jacqueline Butterworth for manuscript editing.
Ethics declarations
Conflict of interest
The authors declare that they have no conflict of interest.
Ethical approval
All procedures performed in the studies involving human participants were in accordance with the ethical standards of the institutional and/or national research committee and with the 1964 Helsinki declaration and later amendments or comparable ethical standards. For retrospective studies in France, ethical approval is not systematically required. In our department, all patients signed a non-opposition form for the use of their specimen/clinical data.
Informed consent
A non-opposition form was obtained from all individual participants included in the study.
Additional information
Publisher's note
Springer Nature remains neutral with regard to jurisdictional claims in published maps and institutional affiliations.
About this article
Cite this article
Herrero, A., Souche, R., Panaro, F. et al. Endovascular balloon occlusion during reconstruction of portal vein injury. Langenbecks Arch Surg 405, 391–395 (2020). https://doi.org/10.1007/s00423-020-01886-z
Received:

Accepted:

Published:

Issue Date:
Keywords
Hepatic

Pancreas

Patient safety

Endovascular technique