Abstract
Purpose
Categorize data to investigate the surgeon volume outcome relationship in thyroidectomies. Determine the evidence base for recommending a minimum number of thyroidectomies performed per year to maintain surgical competency.
Methods
Data on thyroid operations in the United Kingdom Registry of Endocrine and Thyroid Surgery (UKRETS) from 01/09/2010 to 31/08/2016 was analysed. The primary outcome measure was permanent hypoparathyroidism (PH). Recurrent laryngeal nerve palsy (RLN) and post-operative haematoma were also examined. Exclusion criteria included patient age > 85 or < 18 years, and surgeons contributing <10 operations. Data analysis was performed using general additive models and mixed effect logistic regression for PH and binary logistic regression for others.
Results
For PH 10313 bilateral thyroid operations were analysed. The Annual rate (AR, p = 0.012) and nodal dissection (P < 10−7) were significant factors. 25,038 thyroidectomies were analysed to investigate the effect of surgeon Volume on RLN palsy and haematoma. Age, retrosternal goitre, routine laryngoscopy, re-operation, nodal Dissection, bilateral thyroidectomy, RLN monitoring and surgeon volume were significantly associated with RLN palsy. Post-operative haematoma showed no significant correlation to surgeon volume. Categorisation of AR showed that PH and RLN palsy rates declined in surgeons performing >50 cases/year to a minimum of 3% and 2.6% respectively in highest volume AR group (>100 cases/year).
Conclusion
Surgeon annual operative volume is a factor in determining outcome from thyroid surgery. Results are limited by a high proportion of missing data, which could potentially bias the outcome, but tentatively suggests the minimum recommended number of thyroid operations / year should be 50 cases.
Access options
Buy single article
Instant access to the full article PDF.
US$ 39.95
Tax calculation will be finalised during checkout.
Subscribe to journal
Immediate online access to all issues from 2019. Subscription will auto renew annually.
US$ 79
Tax calculation will be finalised during checkout.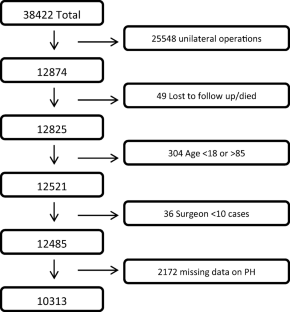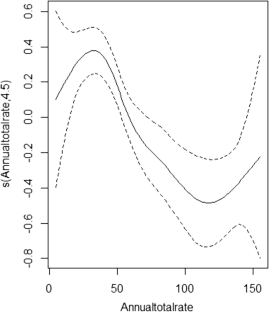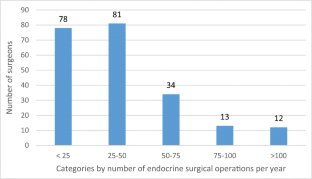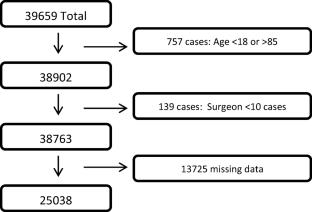 References
1.

Chowdhury MM, Dagash H, Pierro A (2007) A systematic review of the impact of volume of surgery and specialization on patient outcome. Br J Surg 94(2):145–161. https://doi.org/10.1002/bjs.5714

2.

Boudourakis LD, Wang TS, Roman SA, Desai R, Sosa JA (2009) Evolution of the surgeon-volume, patient-outcome relationship. Ann Surg 250(1):159–165. https://doi.org/10.1097/SLA.0b013e3181a77cb3

3.

Stavrakis AI, Ituarte PH, Ko CY, Yeh MW (2007) Surgeon volume as a predictor of outcomes in inpatient and outpatient endocrine surgery. Surgery 142(6):887–899; discussion 887-99. https://doi.org/10.1016/j.surg.2007.09.003

4.

Sosa JA, Bowman HM, Tielsch JM, Powe NR, Gordon TA, Udelsman R (1998) The importance of surgeon experience for clinical and economic outcomes from thyroidectomy. Ann Surg 228(3):320–330

5.

Dralle H, Sekulla C, Haerting J, Timmermann W, Neumann HJ, Kruse E, Grond S, Muhlig HP, Richter C, Voss J, Thomusch O, Lippert H, Gastinger I, Brauckhoff M, Gimm O (2004) Risk factors of paralysis and functional outcome after recurrent laryngeal nerve monitoring in thyroid surgery. Surgery 136(6):1310–1322. https://doi.org/10.1016/j.surg.2004.07.018

6.

Gourin CG, Tufano RP, Forastiere AA, Koch WM, Pawlik TM, Bristow RE (2010) Volume-based trends in thyroid surgery. Arch Otolaryngol Head Neck Surg 136(12):1191–1198. https://doi.org/10.1001/archoto.2010.212

7.

Kandil E, Noureldine SI, Abbas A, Tufano RP (2013) The impact of surgical volume on patient outcomes following thyroid surgery. Surgery 154(6):1346–1352; discussion 1352-3. https://doi.org/10.1016/j.surg.2013.04.068

8.

Loyo M, Tufano RP, Gourin CG (2013) National trends in thyroid surgery and the effect of volume on short-term outcomes. Laryngoscope 123(8):2056–2063. https://doi.org/10.1002/lary.23923

9.

Adkisson CD, Howell GM, McCoy KL, Armstrong MJ, Kelley ML, Stang MT, Joyce JM, Hodak SP, Carty SE, Yip L (2014) Surgeon volume and adequacy of thyroidectomy for differentiated thyroid cancer. Surgery 156(6):1453–1459; discussion 1460. https://doi.org/10.1016/j.surg.2014.08.024

10.

Hauch A, Al-Qurayshi Z, Randolph G, Kandil E (2014) Total thyroidectomy is associated with increased risk of complications for low- and high-volume surgeons. Ann Surg Oncol 21(12):3844–3852. https://doi.org/10.1245/s10434-014-3846-8

11.

Nouraei SA, Virk JS, Middleton SE, Aylin P, Mace A, Vaz F, Kaddour H, Darzi A, Tolley NS (2017) A national analysis of trends, outcomes and volume-outcome relationships in thyroid surgery. Clin Otolaryngol 42(2):354–365. https://doi.org/10.1111/coa.12730

12.

Adam MA, Thomas S, Youngwirth L, Hyslop T, Reed SD, Scheri RP, Roman SA, Sosa JA (2017) Is there a minimum number of thyroidectomies a surgeon should perform to optimize patient outcomes? Ann Surg 265(2):402–407. https://doi.org/10.1097/SLA.0000000000001688

13.

Nouraei SA, Hudovsky A, Frampton AE, Mufti U, White NB, Wathen CG, Sandhu GS, Darzi A (2015) A study of clinical coding accuracy in surgery: implications for the use of administrative big data for outcomes management. Ann Surg 261(6):1096–1107. https://doi.org/10.1097/SLA.0000000000000851

14.

Chadwick D, Kinsman R, Walton P (2017) Fifth National audit report, British Association of Endocrine and Thyroid Surgeons, Henley-on-Thames : Dendrite Clinical Systems

15.

Hospital Episode Statistics. NHS Digital. In: https://digital.nhs.uk/data-and-information/data-tools-and-services/data-services/hospital-episode-statistics

16.

National Cancer Peer Review (2013) Manual for cancer services. Head and Neck Measures. National Cancer Action Team, London

17.

Chadwick D, Kinsman R, Walton P (2012) Fourth national audit report. British Association of Endocrine and Thyroid Surgeons, Henley-on

18.

Mitchell DM, Regan S, Cooley MR, Lauter KB, Vrla MC, Becker CB, Burnett-Bowie SA, Mannstadt M (2012) Long-term follow-up of patients with hypoparathyroidism. J Clin Endocrinol Metab 97(12):4507–4514. https://doi.org/10.1210/jc.2012-1808

19.

Almquist M, Ivarsson K, Nordenstrom E, Bergenfelz A (2018) Mortality in patients with permanent hypoparathyroidism after total thyroidectomy. Br J Surg 105(10):1313–1318. https://doi.org/10.1002/bjs.10843

20.

Sitges-Serra A, Ruiz S, Girvent M, Manjon H, Duenas JP, Sancho JJ (2010) Outcome of protracted hypoparathyroidism after total thyroidectomy. Br J Surg 97(11):1687–1695. https://doi.org/10.1002/bjs.7219

21.

Roh JL, Kim JM, Park CI (2011) Central lymph node metastasis of unilateral papillary thyroid carcinoma: patterns and factors predictive of nodal metastasis, morbidity, and recurrence. Ann Surg Oncol 18(8):2245–2250. https://doi.org/10.1245/s10434-011-1600-z

22.

Asari R, Passler C, Kaczirek K, Scheuba C, Niederle B (2008) Hypoparathyroidism after total thyroidectomy: a prospective study. Arch Surg 143(2):132–137; discussion 138. https://doi.org/10.1001/archsurg.2007.55

23.

Almquist M, Hallgrimsson P, Nordenström E, Bergenfelz A (2014) Prediction of permanent hypoparathyroidism after total thyroidectomy. World J Surg 38(10):2613–2620. https://doi.org/10.1007/s00268-014-2622-z

24.

Serpell JW, Lee JC, Yeung MJ, Grodski S, Johnson W, Bailey M (2014) Differential recurrent laryngeal nerve palsy rates after thyroidectomy. Surgery 156(5):1157–1166. https://doi.org/10.1016/j.surg.2014.07.018

25.

Thomusch O, Sekulla C, Walls G, Machens A, Dralle H (2002) Intraoperative neuromonitoring of surgery for benign goiter. Am J Surg 183(6):673–678

26.

Yarbrough DE, Thompson GB, Kasperbauer JL, Harper CM, Grant CS (2004) Intraoperative electromyographic monitoring of the recurrent laryngeal nerve in reoperative thyroid and parathyroid surgery. Surgery 136(6):1107–1115. https://doi.org/10.1016/j.surg.2004.06.040

27.

Dhillon VK, Rettig E, Noureldine SI, Genther DJ, Hassoon A, Al Khadem MG, Ozgursoy OB, Tufano RP (2018) The incidence of vocal fold motion impairment after primary thyroid and parathyroid surgery for a single high-volume academic surgeon determined by pre- and immediate post-operative fiberoptic laryngoscopy. Int J Surg 56:73–78. https://doi.org/10.1016/j.ijsu.2018.06.014

28.

Joliat GR, Guarnero V, Demartines N, Schweizer V, Matter M (2017) Recurrent laryngeal nerve injury after thyroid and parathyroid surgery: incidence and postoperative evolution assessment. Medicine (Baltimore) 96(17):e6674. https://doi.org/10.1097/MD.0000000000006674

29.

Hastie T, Tibshirani R (1986) Generalized additive models. Stat Sci 1(3):297–318

30.

Duclos A, Peix JL, Colin C, Kraimps JL, Menegaux F, Pattou F, Sebag F, Touzet S, Bourdy S, Voirin N, Lifante JC, Cathy Study Group (2012) Influence of experience on performance of individual surgeons in thyroid surgery: prospective cross sectional multicentre study. BMJ 344:d8041. https://doi.org/10.1136/bmj
Acknowledgements
The authors thank Professor John Matthews (Newcastle University, School of Mathematics & Statistics) for his help with the statistical analysis and interpretation of PH from the UKRETS data. The authors also thank the BAETS members and those who maintain and contribute to UKRETS including Dendrite clinical systems Limited.
Contributors to UKRETS
Richard Adamson, Anna Aertssen, Ahmed Afzaal, Avi Agrawal, Afzaal Ahmad, Ijaz Ahmad, Orabi Ahmad, Ibrahim Ahmed, Irfan Akhtar, Murat Akyol, Peyman Alam, Munther Aldoori, David Allen, Iain D Anderson, Sebastian Aspinall, Chris Ayshford, Ekambaram Dinakara Babu, Christopher Backhouse, Saba alasubramanian, Alistair Balfour, Neal Banga, Ludger Barthelmes, Nigel Beasley, Chris Bem, Ian Black, Stephen Blair, Richard Bliss, Victoria Brown, Robert Carpenter, Michael Carr, AndreW Carswell, Carmen de Casso Moxo, David Chadwick, Habib Charfare, Andy Chin, Edward Chisholm, Louise Clark, Peter Clarke, Helen Cocks, Peter Conboy, Luke Condon, Rogan Corbridge, Allan Paul Corder, Paul Counter, Stephen P Courtney, Eamonn Coveney, Hugh Cox, Wendy Craig, James N Crinnion, David Cunliffe, Titus Cvasciuc, Jeremy P Davis, Stuart Denholm, Ganapathy Dhanasekar, Vikram Dhar, Ann Dingle, James Docherty, Helen Doran, Julie Dunn, Fiona Eatock, Anusha Edwards, Wael Elsaify, James England, Abigail A Evans, Roy Farrell, Brian Fish, Bence Forgacs, Clare Fowler, Georgios Fragkiadakis, Gabriele Galata, Ashu Gandhi, Richard Garth, Ajith George, Nicholas Gibbins, Martin G Greaney, Thomas G Groot-Wassink, Paul Gurr, Andrew Guy, Wayne Halfpenny, Charles Hall, Paul Hans, Robert Hardy, Churunal Hari, Barney Harrison, Micheal Harron, Simon Hickey, Omar Hilmi, Tim Hoare, Jonathan Hobson, Philip Holland, Andrew Houghton, David Howe, Jonathan Hubbard, Neil Hulton, Paul Hurley, Andrew Husband, Aidah Isa, Shaun Jackson, Tony Jacob, Sharan Chakkyath Jayaram, Jean- Pierre Jeannon, Taleb Jeddy, Stephanie Jenkins, Bethan Jones, Anton Joseph, Bengt Kald, Robert Kennedy, James Kirkby-Bott Paul Kirkland, Ursula Kirkpatrick, Zygmunt Krukowski, Nirmal Kumar, Vijay Kurup, Tom Kurzawinski, Nicholas RF Lagattolla, Mark Lansdown, Nicholas Law, Tom WJ Lennard, Peter Lewis, Andrew P Locker, John RC Logie, Sean Loughran, M Lucarotti, John Lynn, Alasdair Mace, Fiona MacGregor, Paul R Maddox, Arcot Maheshwar, Zvoru Makura, Deborah Markham, Dominic Martin-Hirsch, Andrew Mccombe, Julian McGlashan, Andrew McIrvine, Andrew J McLaren, Sandy McPherson, Hesham Mehanna, Radu Mihai, Faisal MA Mihaimeed, Tedla Miroslav, George Mochloulis, James Moor, Peter Moore, Ram Moorthy, Pradeep Morar, Justin Morgan, Iain M Muir, Michael L Nicholson, Stewart Nicholson, Keshav Nigam, Iain Nixon, Janet O'Connell, Olawale Olarinde, Fausto Palazzo, Michael Papesch, Neil R Parrott, Susannah Penney, Andrew Pfleiderer, Jonathan Philpott, Lisa Pitkin, Isabel Quiroga, David Ratliff, Duraisamy Ravichandran, Venkat Reddy, David Rew, Keith Rigg, Nick Roland, Alasdair Ross, Tom Rourke, Gavin T Royle, Sarwat Sadek, Greg Sadler, Mrinal Saharay, Michael, Ahmed Samy, Klaus- Martin Schulte, David Scott-Coombes, Anup Kumar Sharma, Steve Shering, Susannah Shore, John Shotton, Richard Sim, Ricard Simo, Prakash Sinha, Gunasekaran Sinnappa, Anthony Skene, James Smellie, David M Smith, Ian Smith, Simon Smith, Roy Spence, Paul Spraggs, Adam Stacey- Clear, Frank Stafford, Michael P Stearns, Michael Stechman, Paul Stimpson, Robert Sudderick, Robert Sutclffe, Peter Tassone, Taranjit Tatla, Gareth Tervit, Paul Thomas, Adrian Thompson, Steven Thrush, Paul Tierney, Augustine Titus, Neil Tolley, Mark Tomlinson, Paul Turner, Charanjeit S Ubhi, Harpreet Uppal, Srinivasan Venkat, Richard Vowles, Alison Waghorn, Jonathan C Watkinson, Gavin Watters, John Weighill, Andrew R Welch, Hugh Wheatley, Martin Wickham, Chandana Wijewardena, Adam Wild, Michael R Williams, Simon Williams, Paul Wilson, Michail Winkler, Stephen Wood, Constantinos Yiangou, Charles Zammitt.
Ethics declarations
Conflict of interest
S. Aspinall declares that he has no conflict of interest. D Oweis declares that she has no conflict of interest. D Chadwick declares that he has no conflict of interest.
Ethical approval
This article does not contain any studies with human participants or animals performed by any of the authors.
Informed consent
No applicable.
Additional information
Publisher's note
Springer Nature remains neutral with regard to jurisdictional claims in published maps and institutional affiliations.
About this article
Cite this article
Aspinall, S., Oweis, D. & Chadwick, D. Effect of surgeons' annual operative volume on the risk of permanent Hypoparathyroidism, recurrent laryngeal nerve palsy and Haematoma following thyroidectomy: analysis of United Kingdom registry of endocrine and thyroid surgery (UKRETS). Langenbecks Arch Surg 404, 421–430 (2019). https://doi.org/10.1007/s00423-019-01798-7
Received:

Accepted:

Published:

Issue Date:
Keywords
Endocrine surgery

Surgeon volume

Thyroidectomy

Volume-outcome

Chronic hypocalcaemia, permanent hypoparathyroidism, operative volume