Abstract
Purpose
This observational study explored the association between hospital volume and short-term outcome following gastric resections for non-bariatric indication, aiming to contribute to the discussion on centralization of complex visceral surgery in Germany.
Methods
Based on complete national hospital discharge data from 2010 to 2015, the association between hospital volume and in-hospital mortality was evaluated according to volume quintiles and volume deciles. Case-mix differences regarding surgical indication, age, sex, and comorbidities were considered for risk adjustment. In addition, rates of major complications and failure to rescue were analyzed across hospital volume categories.
Results
Inpatient episodes (72,528) with gastric resection were analyzed. Risk-adjusted mortality in patients treated in very low volume hospitals (median volume of 5 surgeries per year) was higher (12.0% [95% CI 11.4 to 12.5]) compared to those treated in very high volume hospitals (50 surgeries per year; 10.6% [10.0 to 11.1]). Failure to rescue patients with complications was 28.1% [27.0 to 29.3] in very low volume hospitals and 22.7% [21.6 to 23.8] in very high volume hospitals. Differences were similar within the subgroup of patients operated for gastric cancer.
Conclusions
Treatment in very high volume hospitals is associated with a lower in-hospital mortality compared to treatment in very low volume hospitals. This effect seems to be determined by the ability to rescue patients who experience complications. As the observed benefit is only related to very high volumes, the results do not clearly indicate that centralization may improve short-term results substantially, unless a very high degree of centralization would be achieved. Possibly, further research focusing on other outcome measures, such as clinical processes or long-term results, might lead to divergent conclusions.
This is a preview of subscription content, log in to check access.
Access options
Buy single article
Instant access to the full article PDF.
US$ 39.95
Tax calculation will be finalised during checkout.
Subscribe to journal
Immediate online access to all issues from 2019. Subscription will auto renew annually.
US$ 79
Tax calculation will be finalised during checkout.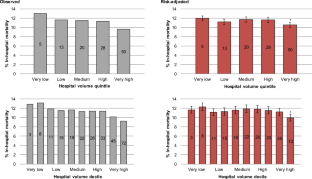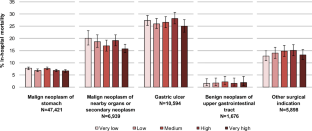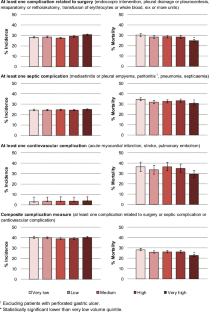 References
1.

Hahn KY, Park CH, Lee YK, Chung H, Park JC, Shin SK, Lee YC, Kim HI, Cheong JH, Hyung WJ, Noh SH, Lee SK (2018) Comparative study between endoscopic submucosal dissection and surgery in patients with early gastric cancer. Surg Endosc 32:73–86

2.

Busweiler LA, Wijnhoven BP, van Berge Henegouwen MI, Henneman D, van Grieken NC, Wouters MW, Dutch Upper Gastrointestinal Cancer Audit (DUCA) Group et al (2016) Early outcomes from the Dutch Upper Gastrointestinal Cancer Audit. Br J Surg 103:1855–1863

3.

Søreide K, Thorsen K, Søreide JA (2014) Strategies to improve the outcome of emergency surgery for perforated peptic ulcer. Br J Surg 101:e51–e64

4.

Gruen RL, Pitt V, Green S, Parkhill A, Campbell D, Jolley D (2009) The effect of provider case volume on cancer mortality: systematic review and meta-analysis. CA Cancer J Clin 59:192–211

5.

Tol JA, van Gulik TM, Busch OR, Gouma DJ (2012) Centralization of highly complex low-volume procedures in upper gastrointestinal surgery. A summary of systematic reviews and meta-analyses. Dig Surg 29:374–383

6.

Ghaferi AA, Birkmeyer JD, Dimick JB (2011) Hospital volume and failure to rescue with high-risk surgery. Med Care 49:1076–1081

7.

Research data centres of the Federal Statistical Office and the statistical offices of the of the Federal States. Diagnosis-Related Group Statistics (DRG Statistics) 2010–2015, own calculations. DOI: https://doi.org/10.21242/23141.2010.00.00.1.1.0 to DOI: 10.21242/23141.2015.00.00.1.1.0

8.

Stroh C, Birk D, Flade-Kuthe R, Frenken M, Herbig B, Hohne S et al (2009) Working Group Bariatric Surgery. Status of bariatric surgery in Germany—results of the nationwide survey on bariatric surgery 2005-2007. Obes Facts 2(Suppl 1):2–7

9.

Weledji EP, Verla V (2016) Failure to rescue patients from early critical complications of oesophagogastric cancer surgery. Ann Med Surg (Lond) 7:34–41

10.

Busweiler LA, Henneman D, Dikken JL, Fiocco M, van Berge Henegouwen MI, Wijnhoven BP, Dutch Upper GI Cancer Audit group et al (2017) Failure-to-rescue in patients undergoing surgery for esophageal or gastric cancer. Eur J Surg Oncol 43:1962–1969

11.

Markar SR, Karthikesalingam A, Thrumurthy S, Low DE (2012) Volume-outcome relationship in surgery for esophageal malignancy: systematic review and meta-analysis 2000-2011. J Gastrointest Surg 16:1055–1063

12.

Wouters MW, Gooiker GA, van Sandick JW, Tollenaar RA (2012) The volume-outcome relation in the surgical treatment of esophageal cancer: a systematic review and meta-analysis. Cancer 118:1754–1763

13.

Baré M, Cabrol J, Real J, Navarro G, Campo R, Pericay C, Sarría A (2009) In-hospital mortality after stomach cancer surgery in Spain and relationship with hospital volume of interventions. BMC Public Health 9:312

14.

Reavis KM, Hinojosa MW, Smith BR, Wooldridge JB, Krishnan S, Nguyen NT (2009) Hospital volume is not a predictor of outcomes after gastrectomy for neoplasm. Am Surg 75:932–936

15.

Smith RC, Creighton N, Lord RV, Merrett ND, Keogh GW, Liauw WS, Currow DC (2014) Survival, mortality and morbidity outcomes after oesophagogastric cancer surgery in New South Wales, 2001-2008. Med J Aust 200:408–413

16.

Birkmeyer JD, Siewers AE, Finlayson EV, Stukel TA, Lucas FL, Batista I et al (2002) Hospital volume and surgical mortality in the United States. N Engl J Med 346:1128–1137

17.

Learn PA, Bach PB (2010) A decade of mortality reductions in major oncologic surgery: the impact of centralization and quality improvement. Med Care 48:1041–1049

18.

Pasquer A, Renaud F, Hec F, Gandon A, Vanderbeken M, Drubay V, FREGAT Working GroupFRENCH et al (2016) Is centralization needed for esophageal and gastric cancer patients with low operative risk?: a nationwide study. Ann Surg 264:823–830

19.

Krautz C, Nimptsch U, Weber GF, Mansky T, Grützmann R (2018) Effect of hospital volume on in-hospital morbidity and mortality following pancreatic surgery in Germany. Ann Surg 267:411–417

20.

Nimptsch U, Haist T, Krautz C, Grützmann R, Mansky T, Lorenz D (2018) Hospital volume, in-hospital mortality and failure to rescue in esophageal surgery—analysis of German national hospital discharge data from 2010 to 2015. Dtsch Arztebl Int 115:793–800

21.

Markar SR, Mackenzie H, Wiggins T, Askari A, Karthikesalingam A, Faiz O, Griffin SM, Birkmeyer JD, Hanna GB (2018) Influence of national centralization of oesophagogastric cancer on management and clinical outcome from emergency upper gastrointestinal conditions. Br J Surg 105:113–120

22.

Jensen LS, Nielsen H, Mortensen PB, Pilegaard HK, Johnsen SP (2010) Enforcing centralization for gastric cancer in Denmark. Eur J Surg Oncol 36:S50–S54

23.

Nimptsch U, Krautz C, Weber GF, Mansky T, Grützmann R (2016) Nationwide in-hospital mortality following pancreatic surgery in Germany is higher than anticipated. Ann Surg 264:1082–1090

24.

Ptok H, Gastinger I, Meyer F, Ilsemann A, Lippert H, Bruns C (2017) Hospital volume effects in surgical treatment of gastric cancer: results of a prospective multicenter observational study. Chirurg 88:328–338

25.

Association of Upper Gastrointestinal Surgeons of Great Britain and Ireland (AUGIS). AUGIS guidance on minimum surgeon volumes | October 2010. http://www.augis.org/wp-content/uploads/2014/05/AUGIS_recommendations_on_Minimum_Volumes.pdf. Accessed 20 August 2018

26.

Deutsche Krebsgesellschaft (DKG). Erhebungsbogen Viszeralonkologisches Zentrum. Inkraftsetzung am 05.10.2017. https://www.krebsgesellschaft.de/zertdokumente.html. Accessed 8 October 2018

27.

Nimptsch U, Wengler A, Mansky T (2016) Continuity of hospital identifiers in hospital discharge data - analysis of the nationwide German DRG statistics from 2005 to 2013. Z Evid Fortbild Qual Gesundhwes 117:38–44

28.

Enzinger PC, Benedetti JK, Meyerhardt JA, McCoy S, Hundahl SA, Macdonald JS, Fuchs CS (2007) Impact of hospital volume on recurrence and survival after surgery for gastric cancer. Ann Surg 245:426–434

29.

Xirasagar S, Lien YC, Lin HC, Lee HC, Liu TC, Tsai J (2008) Procedure volume of gastric cancer resections versus 5-year survival. Eur J Surg Oncol 34:23–29

30.

Thompson AM, Rapson T, Gilbert FJ, Park KG, Scottish Audit of Gastric and Oesophageal Cancer (2007) Hospital volume does not influence long-term survival of patients undergoing surgery for oesophageal or gastric cancer. Br J Surg 94:578–584
Ethics declarations
Conflicts of interest
All authors have completed the ICMJE uniform disclosure form and declare: The Department for Structural Advancement and Quality Management in Health Care at Technische Universität Berlin, for which UN and TM worked from 2010 to 2018, received ongoing funding from Helios Kliniken GmbH. TH, IG, and DL have nothing to disclose.
Ethical approval
This article does not contain any studies with human participants or animals performed by any of the authors. In accordance with the German guideline for conducting administrative data analyses "Good Practice in Secondary Data Analysis (GPS)," no ethical approval was required for this study.
Swart E, Gothe H, Geyer S, Jaunzeme J, Maier B, Grobe TG, Ihle P; German Society for Social Medicine and Prevention; German Society for Epidemiology. [Good Practice of Secondary Data Analysis (GPS): guidelines and recommendations]. Gesundheitswesen 2015;77(2):120–6.
Informed consent
This study used administrative data provided by the Research Data Centre of the German Federal Statistical Office. In accordance with the terms of use regarding microdata provided by the Research Data Centres of the Federal Statistical Office and the Statistical Offices of the Federal States, no informed consent was required for this study. https://www.forschungsdatenzentrum.de/en/terms-use
Electronic supplementary material
About this article
Cite this article
Nimptsch, U., Haist, T., Gockel, I. et al. Complex gastric surgery in Germany—is centralization beneficial? Observational study using national hospital discharge data. Langenbecks Arch Surg 404, 93–101 (2019). https://doi.org/10.1007/s00423-018-1742-6
Received:

Accepted:

Published:

Issue Date:
Keywords
Gastric surgery

Centralization

Failure to rescue

Hospital discharge data

Volume outcome relation