Abstract
Purpose
Algorithms for surgical operation planning are evidence-based. However, choices sometimes have to be made between medically equal solutions e.g. for staffing of sought-after operations. Such decisions are heavily influenced by micropolitics and power. The article examines the array of highly manipulated processes around operation theatre allocation of convenient time slots or staff, which play out in various ways in all of the world's main regional surgical cultures.
Method
Essay supported by empiric data from an ethnographic power-analysis targeted to senior executive surgeons. Operations were categorized into "Interesting" (i.e. career-promoting) and "Uninteresting" (i.e. routine) operations.
Results
Fifty nine executives responded. Only one respondent contested the categorization of operations into Interesting and Uninteresting. The two categories were staffed according to significantly different criteria (p < 0.05). These were classified as Rational (e.g. "surgical expertise"), Social (e.g. "equity"), and Political (e.g. "status").
For Interesting operations, Rational criteria were deemed most relevant, while for the Uninteresting operations "equity" was ranked top. Moreover, we found significant differences between surgeons' and external observers' (experienced clerical and nursing staff) assessments of staffing decisions, the latter ranking Political motives higher. Decisions were almost exclusively negotiated among surgeons. 33% of respondents said they used subterfuges such as withholding information, incorrect duration-statements, and barter arrangements to defuse possible conflicts.
Conclusions
Operating Lists are not merely the product of rational resource optimization. This article demonstrates the methodic feasibility of academic investigation into the typically tacit micro-political mechanisms in List-making. Developing such research further may potentially concern the practice and outcome of surgery.
Access options
Buy single article
Instant access to the full article PDF.
USD 39.95
Price includes VAT (USA)
Tax calculation will be finalised during checkout.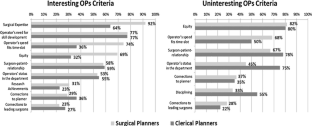 References
1.

Barron EN (2013) Game theory: an introduction, vol 2. John Wiley & Sons, New York

2.

Graen GB (1989) Unwritten rules for your career: the 15 secrets for fast-track success. John Wiley & Sons, New York

3.

Engelmann C, Ametowobla DR (2016) Replacing stand-alone software for planning of surgical operations by enterprise system extensions. Pitfalls and perspectives for developers and clinicians. Submitted: applied clinical informatics, manuscript ID, ACI-2016-06-RA-0100/08/2016, revision pending.

4.

Fujita T, Yamazaki Y (2002) Influence of surgeon's volume on early outcome after total gastrectomy. Eur J Surg 168:535–538

5.

Ortmann G, Windeler A, Becker A et al (1990) Computer und Macht in Organisationen: Mikropolitische Analysen. Westdeutscher Verlag, Opladen

6.

Van Schaik CP, Fragaszy D, Perry S (2003) Local traditions in orangutans and chimpanzees: social learning and social tolerance. In: Fragaszy DM, Perry S (eds) The biology of traditions: models and evidence. Cambridge University Press, Cambridge, pp. 297–328

7.

Dietrich R, Childress TM (2004) Group interaction in high risk environments. Gower Publishing Ltd., Farnham

8.

Barthes R (1983) Empire of signs. Macmillan, London

9.

Levi-Strauss C (2012) Tristes tropiques. Penguin, London
Acknowledgments
Staff mathematician Karin Rohwer-Menschig, Hannover Medical School (MHH), Germany, for expert advice regarding hospital SAP, Wendy Lynas, MA, Copenhagen and James Moran, PhD, University of Konstanz for inspired editing, Prof. Windeler, Sociology TU Berlin, for valuable advice.
Authors' contributions
Carsten Engelmann and Dzifa Ametowobla contributed equally to this article.
Ethics declarations
Funding
No funding other than that from the generic hospital budgets was received for research or publication.
Conflict of interest
The authors declare that they have no competing interests.
Ethical approval/protection of human subjects
Patients or animals were not involved such as the ethical committee said it was not concerned. The institutions' workers' committee and the institutions legal affairs department granted permission valid for all sites (Nr. 9510, 18.7.2013). All respondents did so voluntarily, thereby declaring consent.
About this article
Cite this article
Engelmann, C., Grote, G., Geyer, S. et al. Operating lists are created by rational algorithms and use of power. What can a social scientific view offer surgeons?. Langenbecks Arch Surg 402, 187–190 (2017). https://doi.org/10.1007/s00423-016-1516-y
Received:

Accepted:

Published:

Issue Date:
Keywords
Power

Politics

Operating lists

Health IT

Surgical curricula