Abstract
Background
Although ostomies are sometimes necessary, it is unclear which type of ostomy is advantageous for quality of life (QoL). In an observational study of 2647 patients, QoL after colostomy (CS) and small bowel stoma (SBS) formation was evaluated.
Methods
The European Organisation for Research and Treatment of Cancer (EORTC)-QLQ-C30 and CR-38 questionnaires were used. Patient characteristics, retrospective information about the ostomy and previous treatments, and current stoma-related complications were recorded. All questionnaires were distributed and collected by stoma therapists at the homecare company PubliCare®.
Results
In all, 1790 patients had a CS, and 756 had an SBS. The mean Global Health Score (mGHS—a general QoL indicator) was 52.33 in CS and 49.40 in SBS patients (p = 0.004), but the effect size (Cohen's d) was 0.1. In SBS patients, all functional scores were lower and most of the symptom scores were higher.
Conclusions
QoL differed significantly for CS and SBS patients, but the effect size was marginal. The care of certain patient groups, particularly (female) patients who receive emergency surgeries, must be improved. More professional education and guidance are necessary for a larger proportion of patients. This survey provided reference data for quality of life in patients with an ostomy.
Access options
Buy single article
Instant access to the full article PDF.
US$ 39.95
Tax calculation will be finalised during checkout.
Subscribe to journal
Immediate online access to all issues from 2019. Subscription will auto renew annually.
US$ 79
Tax calculation will be finalised during checkout.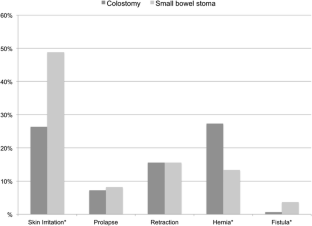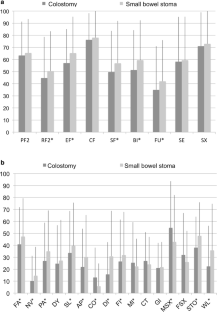 References
1.

Engel J, Kerr J, Schlesinger-Raab A, Eckel R, Sauer H, Holzel D (2003) Quality of life in rectal cancer patients: a four-year prospective study. Ann Surg 238:203–213

2.

Jain S, McGory ML, Ko CY, et al. (2007) Comorbidities play a larger role in predicting health-related quality of life compared to having an ostomy. Am J Surg 194:774–779 discussion 9

3.

Pachler J, Wille-Jorgensen P (2012) Quality of life after rectal resection for cancer, with or without permanent colostomy. Cochrane Database Syst Rev 12:CD004323

4.

Popek S, Grant M, Gemmill R, et al. (2010) Overcoming challenges: life with an ostomy. Am J Surg 200:640–645

5.

Vermeulen J, Gosselink MP, Busschbach JJ, Lange JF (2010) Avoiding or reversing Hartmann's procedure provides improved quality of life after perforated diverticulitis. J Gastrointest Surg 14:651–657

6.

Mahjoubi B, Kiani Goodarzi K, Mohammad-Sadeghi H (2010) Quality of life in stoma patients: appropriate and inappropriate stoma sites. World J Surg 34:147–152

7.

Marquis P, Marrel A, Jambon B (2003) Quality of life in patients with stomas: the Montreux Study. Ostomy Wound Manage 49:48–55

8.

Aaronson NK, Ahmedzai S, Bergman B, et al. (1993) The European Organization for Research and Treatment of Cancer QLQ-C30: a quality-of-life instrument for use in international clinical trials in oncology. J Natl Cancer Inst 85:365–376

9.

McLachlan SA, Devins GM, Goodwin PJ (1998) Validation of the European Organization for Research and Treatment of Cancer Quality of Life Questionnaire (QLQ-C30) as a measure of psychosocial function in breast cancer patients. Eur J Cancer 34:510–517

10.

Osoba D, Aaronson N, Zee B, Sprangers M, te Velde A (1997) Modification of the EORTC QLQ-C30 (version 2.0) based on content validity and reliability testing in large samples of patients with cancer. The Study Group on Quality of Life of the EORTC and the Symptom Control and Quality of Life Committees of the NCI of Canada Clinical Trials Group. Qual Life Res Int J Qual Life Asp Treat Care Rehab 6:103–108

11.

Cull AM (1997) Cancer-specific quality of life questionnaires: the state of the art in Europe. Eur J Cancer 33(Suppl 6):S3–S7

12.

Sprangers MA, te Velde A, Aaronson NK (1999) The construction and testing of the EORTC colorectal cancer-specific quality of life questionnaire module (QLQ-CR38). European Organization for Research and Treatment of Cancer Study Group on Quality of Life. Eur J Cancer 35:238–247

13.

Fayers PM (2001) Interpreting quality of life data: population-based reference data for the EORTC QLQ-C30. Eur J Cancer 37:1331–1334

14.

Schwarz R, Hinz A (2001) Reference data for the quality of life questionnaire EORTC QLQ-C30 in the general German population. Eur J Cancer 37:1345–1351

15.

Cottam J, Richards K, Hasted A, Blackman A (2007) Results of a nationwide prospective audit of stoma complications within 3 weeks of surgery. Colorectal Dis 9:834–838

16.

Pengelly S, Reader J, Jones A, Roper K, Douie WJ, Lambert AW (2014) Methods for siting emergency stomas in the absence of a stoma therapist. Ann R Coll Surg Engl 96:216–218

17.

Shabbir J, Britton DC (2010) Stoma complications: a literature overview. Colorectal Dis 12:958–964

18.

Osoba D, Rodrigues G, Myles J, Zee B, Pater J (1998) Interpreting the significance of changes in health-related quality-of-life scores. J Clin Oncol Off J Am Soc Clin Oncol 16:139–144

19.

Guenaga KF, Lustosa SA, Saad SS, Saconato H, Matos D (2007) Ileostomy or colostomy for temporary decompression of colorectal anastomosis. Cochrane Database Syst Rev CD004647

20.

Tilney HS, Sains PS, Lovegrove RE, Reese GE, Heriot AG, Tekkis PP (2007) Comparison of outcomes following ileostomy versus colostomy for defunctioning colorectal anastomoses. World J Surg 31:1142–1151

21.

Karadag A, Mentes BB, Uner A, Irkorucu O, Ayaz S, Ozkan S (2003) Impact of stomatherapy on quality of life in patients with permanent colostomies or ileostomies. Int J Color Dis 18:234–238

22.

Watson PG (1983) The effects of short-term postoperative counseling on cancer/ostomy patients. Cancer Nurs 6:21–29

23.

Herlufsen P, Olsen AG, Carlsen B, et al. (2006) Study of peristomal skin disorders in patients with permanent stomas. Br J Nurs 15:854–862

24.

Erwin-Toth P, Thompson SJ, Davis JS (2012) Factors impacting the quality of life of people with an ostomy in North America: results from the dialogue study. J Wound Ostomy Continence Nurs 39:417–422 quiz 23-4
Acknowledgments
The company PubliCare®, located in Cologne, Germany, supported this study by contacting the patients and collecting the data.
Ethics declarations
The Declaration of Helsinki was observed, and consent was obtained from all patients.
Conflict of interest
The authors declare that they have no conflict of interest.
Additional information
Chris Braumann and Verena Müller made equal contributions to the article, and both are considered to be first authors.
Questionnaires were distributed and collected by the homecare company PubliCare GmbH, Am Wassermann 20-22; 50 829 Köln, Germany.
About this article
Cite this article
Braumann, C., Müller, V., Knies, M. et al. Quality of life and need for care in patients with an ostomy: a survey of 2647 patients of the Berlin OStomy-Study (BOSS). Langenbecks Arch Surg 401, 1191–1201 (2016). https://doi.org/10.1007/s00423-016-1507-z
Received:

Accepted:

Published:

Issue Date:
Keywords
Quality of life

Surgery

Ostomy, EORTC