Abstract
Purpose
To give an overview over cell therapeutic approaches to immunosuppression in clinical kidney transplantation. A focus is on myeloid suppressor cell therapy by mitomycin C-induced cells (MICs).
Methods
Literature review with an emphasis on already existing therapies.
Results
Several cell therapeutic approaches to immunosuppression and donor-specific unresponsiveness are now being tested in early phase I and phase II trials in clinical kidney transplantation. Cell products such as regulatory T cells or regulatory macrophages, or other myeloid suppressor cell therapies, may either consist of donor-specific, third-party, or autologous cell preparations. Major problems are the identification of the suppressive cell populations and their expansion to have sufficient amount of cells to achieve donor unresponsiveness (e.g., with regulatory T cells). We show a simple and safe way to establish donor unresponsiveness in living-donor kidney transplantation by MIC therapy. A phase I clinical trial is now under way to test the safety and efficacy of this cell therapeutic approach.
Conclusions
Cell therapeutic approaches to immunosuppression after kidney transplantation may revolutionize clinical transplantation in the future.
Access options
Buy single article
Instant access to the full article PDF.
US$ 39.95
Tax calculation will be finalised during checkout.
Subscribe to journal
Immediate online access to all issues from 2019. Subscription will auto renew annually.
US$ 79
Tax calculation will be finalised during checkout.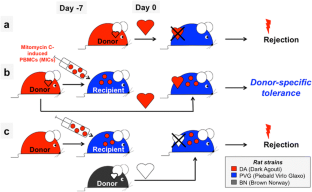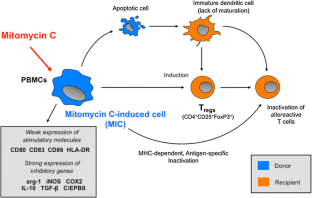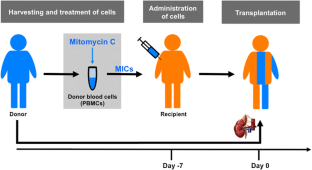 References
1.

Wolfe RA, Ashby VB, Milford EL, Ojo AO, Ettenger RE, Agodoa LY, Held PJ, Port FK (1999) Comparison of mortality in all patients on dialysis, patients on dialysis awaiting transplantation, and recipients of a first cadaveric transplant. N Engl J Med 341(23):1725–1730

2.

Rana A, Gruessner A, Agopian VG, Khalpey Z, Riaz IB, Kaplan B, Halazun KJ, Busuttil RW, Gruessner RW (2015) Survival benefit of solid-organ transplant in the United States. JAMA Surg 150(3):252–259

3.

Billingham RE, Brent L, Medawar PB (1953) Actively acquired tolerance of foreign cells. Nature 172(4379):603–606

4.

Opelz G, Graver B, Terasaki PI (1981) Induction of high kidney graft survival rate by multiple transfusion. Lancet 1(8232):1223–1225

5.

Marti HP, Henschkowski J, Laux G, Vogt B, Seiler C, Opelz G, Frey FJ (2006) Effect of donor-specific transfusions on the outcome of renal allografts in the cyclosporine era. Transpl Int 19(1):19–26

6.

Schmetterer KG, Neunkirchner A, Pickl WF (2012) Naturally occurring regulatory T cells: markers, mechanisms, and manipulation. FASEB J 26(6):2253–2276

7.

Liu W, Putnam AL, Xu-Yu Z, Szot GL, Lee MR, Zhu S, Gottlieb PA, Kapranov P, Gingeras TR, de St F, Groth B et al (2006) CD127 expression inversely correlates with FoxP3 and suppressive function of human CD4+ T reg cells. J Exp Med 203(7):1701–1711

8.

Shevach EM (2009) Mechanisms of foxp3+ T regulatory cell-mediated suppression. Immunity 30(5):636–645

9.

Mahnke K, Bedke T, Enk AH (2007) Regulatory conversation between antigen presenting cells and regulatory T cells enhance immune suppression. Cell Immunol 250(1–2):1–13

10.

Schaier M, Seissler N, Schmitt E, Meuer S, Hug F, Zeier M, Steinborn A (2012) DR(high+)CD45RA(−)-Tregs potentially affect the suppressive activity of the total Treg pool in renal transplant patients. PLoS One 7(3), e34208

11.

Schaier M, Seissler N, Becker LE, Schaefer SM, Schmitt E, Meuer S, Hug F, Sommerer C, Waldherr R, Zeier M et al (2013) The extent of HLA-DR expression on HLA-DR(+) Tregs allows the identification of patients with clinically relevant borderline rejection. Transpl Int 26(3):290–299

12.

Hsu SM, Mathew R, Taylor AW, Stein-Streilein J (2014) Ex-vivo tolerogenic F4/80(+) antigen-presenting cells (APC) induce efferent CD8(+) regulatory T cell-dependent suppression of experimental autoimmune uveitis. Clin Exp Immunol 176(1):37–48

13.

Banchereau J, Steinman RM (1998) Dendritic cells and the control of immunity. Nature 392(6673):245–252

14.

Broichhausen C, Riquelme P, Geissler EK, Hutchinson JA (2012) Regulatory macrophages as therapeutic targets and therapeutic agents in solid organ transplantation. Curr Opin Organ Transplant 17(4):332–342

15.

Hutchinson JA, Geissler EK (2015) Now or never? The case for cell-based immunosuppression in kidney transplantation. Kidney Int

16.

Steinman RM (2012) Decisions about dendritic cells: past, present, and future. Annu Rev Immunol 30:1–22

17.

Andre S, Tough DF, Lacroix-Desmazes S, Kaveri SV, Bayry J (2009) Surveillance of antigen-presenting cells by CD4+ CD25+ regulatory T cells in autoimmunity: immunopathogenesis and therapeutic implications. Am J Pathol 174(5):1575–1587

18.

Kawai T, Cosimi AB, Spitzer TR, Tolkoff-Rubin N, Suthanthiran M, Saidman SL, Shaffer J, Preffer FI, Ding R, Sharma V et al (2008) HLA-mismatched renal transplantation without maintenance immunosuppression. N Engl J Med 358(4):353–361

19.

Kawai T, Sachs DH, Sprangers B, Spitzer TR, Saidman SL, Zorn E, Tolkoff-Rubin N, Preffer F, Crisalli K, Gao B et al (2014) Long-term results in recipients of combined HLA-mismatched kidney and bone marrow transplantation without maintenance immunosuppression. Am J Transplant 14(7):1599–1611

20.

Tang Q, Bluestone JA (2013) Regulatory T-cell therapy in transplantation: moving to the clinic. Cold Spring Harb Perspect Med 3(11)

21.

Wood KJ, Bushell A, Hester J (2012) Regulatory immune cells in transplantation. Nat Rev Immunol 12(6):417–430

22.

Gallon L, Traitanon O, Yu Y, Shi B, Leventhal JR, Miller J, Mas V, L X, Mathew JM (2015) Differential effects of calcineurin and mammalian target of rapamycin inhibitors on alloreactive Th1, Th17, and Regulatory T Cells. Transplantation

23.

Scandling JD, Busque S, Shizuru JA, Lowsky R, Hoppe R, Dejbakhsh-Jones S, Jensen K, Shori A, Strober JA, Lavori P et al (2015) Chimerism, graft survival, and withdrawal of immunosuppressive drugs in HLA matched and mismatched patients after living donor kidney and hematopoietic cell transplantation. Am J Transplant 15(3):695–704

24.

Leventhal JR, Elliott MJ, Yolcu ES, Bozulic LD, Tollerud DJ, Mathew JM, Konieczna I, Ison MG, Galvin J, Mehta J et al (2015) Immune reconstitution/immunocompetence in recipients of kidney plus hematopoietic stem/facilitating cell transplants. Transplantation 99(2):288–298

25.

Tan J, Wu W, Xu X, Liao L, Zheng F, Messinger S, Sun X, Chen J, Yang S, Cai J et al (2012) Induction therapy with autologous mesenchymal stem cells in living-related kidney transplants: a randomized controlled trial. JAMA 307(11):1169–1177

26.

Nauta AJ, Fibbe WE (2007) Immunomodulatory properties of mesenchymal stromal cells. Blood 110(10):3499–3506

27.

Schliesser U, Streitz M, Sawitzki B (2012) Tregs: application for solid-organ transplantation. Curr Opin Organ Transplant 17(1):34–41

28.

Juvet SC, Whatcott AG, Bushell AR, Wood KJ (2014) Harnessing regulatory T cells for clinical use in transplantation: the end of the beginning. Am J Transplant 14(4):750–763

29.

van der Net JB, Bushell A, Wood KJ, Harden PN (2015) Regulatory T cells: first steps of clinical application in solid organ transplantation. Transpl Int

30.

Putnam AL, Brusko TM, Lee MR, Liu W, Szot GL, Ghosh T, Atkinson MA, Bluestone JA (2009) Expansion of human regulatory T-cells from patients with type 1 diabetes. Diabetes 58(3):652–662

31.

Sagoo P, Ali N, Garg G, Nestle FO, Lechler RI, Lombardi G (2011) Human regulatory T cells with alloantigen specificity are more potent inhibitors of alloimmune skin graft damage than polyclonal regulatory T cells. Sci Transl Med 3(83):83ra42

32.

Edozie FC, Nova-Lamperti EA, Povoleri GA, Scotta C, John S, Lombardi G, Afzali B (2014) Regulatory T-cell therapy in the induction of transplant tolerance: the issue of subpopulations. Transplantation 98(4):370–379

33.

Brunstein CG, Miller JS, Cao Q, McKenna DH, Hippen KL, Curtsinger J, Defor T, Levine BL, June CH, Rubinstein P et al (2011) Infusion of ex vivo expanded T regulatory cells in adults transplanted with umbilical cord blood: safety profile and detection kinetics. Blood 117(3):1061–1070

34.

Di Ianni M, Falzetti F, Carotti A, Terenzi A, Castellino F, Bonifacio E, Del Papa B, Zei T, Ostini RI, Cecchini D et al (2011) Tregs prevent GVHD and promote immune reconstitution in HLA-haploidentical transplantation. Blood 117(14):3921–3928

35.

Trzonkowski P, Bieniaszewska M, Juscinska J, Dobyszuk A, Krzystyniak A, Marek N, Mysliwska J, Hellmann A (2009) First-in-man clinical results of the treatment of patients with graft versus host disease with human ex vivo expanded CD4+CD25+CD127- T regulatory cells. Clin Immunol 133(1):22–26

36.

Geissler EK (2012) The ONE Study compares cell therapy products in organ transplantation: introduction to a review series on suppressive monocyte-derived cells. Transplant Res 1(1):11

37.

Safinia N, Vaikunthanathan T, Fraser H, Scotta C, Lechler R, Lombardi G (2014) A GMP Treg expansion protocol restores Treg suppressor function in end-stage liver disease; implications for adoptive transfer therapy. Gut 63:A92–A93

38.

Ferrer IR, Hester J, Bushell A, Wood KJ (2014) Induction of transplantation tolerance through regulatory cells: from mice to men. Immunol Rev 258(1):102–116

39.

Wu T, Zhao Y, Zhao Y (2014) The roles of myeloid-derived suppressor cells in transplantation. Expert Rev Clin Immunol 10(10):1385–1394

40.

Rosborough BR, Raich-Regue D, Turnquist HR, Thomson AW (2014) Regulatory myeloid cells in transplantation. Transplantation 97(4):367–379

41.

Hutchinson JA, Riquelme P, Geissler EK, Fandrich F (2011) Human regulatory macrophages. Methods Mol Biol 677:181–192

42.

Hutchinson JA, Riquelme P, Sawitzki B, Tomiuk S, Miqueu P, Zuhayra M, Oberg HH, Pascher A, Lutzen U, Janssen U et al (2011) Cutting edge: immunological consequences and trafficking of human regulatory macrophages administered to renal transplant recipients. J Immunol 187(5):2072–2078

43.

Steinman RM, Banchereau J (2007) Taking dendritic cells into medicine. Nature 449(7161):419–426

44.

Obeid M, Tesniere A, Ghiringhelli F, Fimia GM, Apetoh L, Perfettini JL, Castedo M, Mignot G, Panaretakis T, Casares N et al (2007) Calreticulin exposure dictates the immunogenicity of cancer cell death. Nat Med 13(1):54–61

45.

Jiga LP, Bauer TM, Chuang JJ, Opelz G, Terness P (2004) Generation of tolerogenic dendritic cells by treatment with mitomycin C: inhibition of allogeneic T-cell response is mediated by downregulation of ICAM-1, CD80, and CD86. Transplantation 77(11):1761–1764

46.

Jiga LP, Ehser S, Kleist C, Opelz G, Terness P (2007) Inhibition of heart allograft rejection with mitomycin C-treated donor dendritic cells. Transplantation 83(3):347–350

47.

Terness P, Oelert T, Ehser S, Chuang JJ, Lahdou I, Kleist C, Velten F, Hammerling GJ, Arnold B, Opelz G (2008) Mitomycin C-treated dendritic cells inactivate autoreactive T cells: toward the development of a tolerogenic vaccine in autoimmune diseases. Proc Natl Acad Sci U S A 105(47):18442–18447

48.

Kleist C, Sandra-Petrescu F, Jiga L, Dittmar L, Mohr E, Greil J, Mier W, Becker LE, Lang P, Opelz G et al (2015) Generation of suppressive blood cells for control of allograft rejection. Clin Sci (Lond) 128(9):593–607

49.

Radu CA, Kiefer J, Horn D, Kleist C, Dittmar L, Sandra F, Rebel M, Ryssel H, Koellensperger E, Gebhard MM et al (2012) Mitomycin-C-treated peripheral blood mononuclear cells (PBMCs) prolong allograft survival in composite tissue allotransplantation. J Surg Res 176(2):e95–e101

50.

Liu L, Wang F, Zheng Y, Yuan X, Wang D, Zeng W, He X, Wang C, Deng S (2014) Pretreatment of transfused donor splenocytes and allografts with mitomycin C attenuates acute rejection in heart transplantation in mice. Transplant Proc 46(4):1169–1174
Funding
The TOL-1 study is funded by a grant from the German government (EXIST-Forschungstransfer: TolerogenixX, 03EFB BW56).
Conflicts of Interest
None.
Ethical approval
All procedures will perform in the planned TOL-1 study involving human participants were in accordance with the ethical standards of the institutional and national research committee and with the 1964 Helsinki declaration and its later amendments or comparable ethical standards. Informed consent will obtain from all individual participants included in the study.
Additional information
All authors drafted and critically revised the manuscript.
About this article
Cite this article
Morath, C., Schmitt, A., Zeier, M. et al. Cell therapy for immunosuppression after kidney transplantation. Langenbecks Arch Surg 400, 541–550 (2015). https://doi.org/10.1007/s00423-015-1313-z
Received:

Accepted:

Published:

Issue Date:
Keywords
Transplantation

Immunosuppression

Tolerance

Regulatory T cells

Myeloid suppressor cells

Mitomycin C-induced cells