Abstract
Background
Postoperative pancreatic fistula (POPF) is the leading complication after partial pancreatic resection and is associated with increased length of hospital stay and resource utilization. The introduction of a common definition in 2005 by the International Study Group of Pancreatic Surgery (ISGPS), which has been since employed in the vast majority of reports, has allowed a reliable comparison of surgical results. Despite the systematic investigation of risk factors and of surgical techniques, the incidence of POPF did not change in recent years, whereas the associated mortality has decreased.
Purpose
The purposes of this review article were to summarize the current evidence on the diagnosis and management strategies of POPF and to provide a concise reference for the practicing surgeons and physicians.
Conclusion
The high incidence of POPF was accompanied by a shift from operative to non-operative management. However, the current management strategy is driven by the patient's condition and local expertise and is generally based on poor evidence. A randomized trial showed that enteral nutrition is superior to total parenteral nutrition, and pooled data of randomized trials failed to show any advantage of somatostatin analogs for accelerating fistula closure. The choice of percutaneous versus endoscopic drainage of peripancreatic collections remains arbitrary, and—when re-operation is needed—there are very few comparative data regarding local drainage with or without main pancreatic stenting as opposed to anastomotic revision or salvage re-anastomosis. The continuous development of specialist, high-volume units with appropriate resources and multidisciplinary experience in complication management might further improve the evidence and the outcomes.
This is a preview of subscription content,
to check access.
Access this article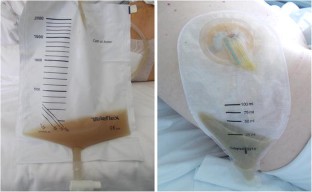 Similar content being viewed by others
References
Enestvedt CK, Diggs BS, Cassera MA et al (2012) Complications nearly double the cost of care after pancreaticoduodenectomy. Am J Surg 204:332–338

Matthews JB (2011) Prevention, evaluation, and treatment of leaks after pancreatic surgery. J Gastrointest Surg 15:1327–1328

Bassi C, Malleo G (2011) Pancreas: postoperative pancreatic fistula: use of enteral nutrition. Nat Rev Gastroenterol Hepatol 8:427–428

Tilara A, Gerdes H, Allen P et al (2014) Endoscopic ultrasound-guided transmural drainage of postoperative pancreatic collections. J Am Coll Surg 218:33–40

Fuks D, Piessen G, Huet E et al (2009) Life-threatening postoperative pancreatic fistula (grade C) after pancreaticoduodenectomy: incidence, prognosis, and risk factors. Am J Surg 197:702–709

Harnoss JC, Ulrich AB, Harnoss JM et al (2014) Use and results of consensus definitions in pancreatic surgery: a systematic review. Surgery 155:47–57

Goudard Y, Gaujoux S, Dokmak S et al (2014) Reappraisal of central pancreatectomy a 12-year single-center experience. JAMA Surg 149:356–363

Bassi C, Dervenis C, Butturini G et al (2005) Postoperative pancreatic fistula: an international study group (ISGPF) definition. Surgery 138:8–13

McMillan MT, Vollmer CM (2014) Predictive factors for pancreatic fistula following pancreatectomy. Langenbecks Arch Surg Epub Ahead Print. doi:10.1007/s00423-014-1220-8

Miller BC, Christein JD, Behrman SW et al (2013) Assessing the impact of a fistula after a pancreaticoduodenectomy using the Post-operative Morbidity Index. HPB 15:781–788

Malleo G, Crippa S, Butturini G et al (2010) Delayed gastric emptying after pylorus-preserving pancreaticoduodenectomy: validation of International Study Group of Pancreatic Surgery classification and analysis of risk factors. HPB 12:610–618

Pratt WB, Callery MP, Vollmer CM Jr (2009) The latent presentation of pancreatic fistulas. Br J Surg 96:641–649

Raman SP, Horton KM, Cameron JL, Fishman EK (2013) CT after pancreaticoduodenectomy: spectrum of normal findings and complications. AJR Am J Roentgenol 201:2–13

Zink SI, Soloff EV, White RR, et al. (2008) Pancreaticoduodenectomy: frequency and outcome of post-operative imaging-guided percutaneous drainage. Abdom Imaging

Bruno O, Brancatelli G, Sauvanet A et al (2009) Utility of CT in the diagnosis of pancreatic fistula after pancreaticoduodenectomy in patients with soft pancreas. AJR Am J Roentgenol 193:W175–W180

Faccioli N, Foti G, Molinari E et al (2012) Role of fistulography in evaluating pancreatic fistula after pancreaticoduodenectomy. Br J Radiol 85:219–224

Spiller RC, Trotman IF, Higgins BE et al (1984) The ileal brake–inhibition of jejunal motility after ileal fat perfusion in man. Gut 25:365–374

Fong YM, Marano MA, Barber A et al (1989) Total parenteral nutrition and bowel rest modify the metabolic response to endotoxin in humans. Ann Surg 210:449–56

O'Keefe SJD (2006) Physiological response of the human pancreas to enteral and parenteral feeding. Curr Opin Clin Nutr Metab Care 9:622–628

Klek S, Sierzega M, Turczynowski L et al (2011) Enteral and parenteral nutrition in the conservative treatment of pancreatic fistula: a randomized clinical trial. Gastroenterology 141:157–63

Meier R, Ockenga J, Pertkiewicz M et al (2006) ESPEN Guidelines on Enteral Nutrition: pancreas. Clin Nutr 25:275–284

Gans SL, van Westreenen HL, Kiewiet JJS et al (2012) Systematic review and meta-analysis of somatostatin analogues for the treatment of pancreatic fistula. Br J Surg 99:754–760

Dollinger HC, Raptis S, Pfeiffer EF (1976) Effects of somatostatin on exocrine and endocrine pancreatic function stimulated by intestinal hormones in man. Horm Metab Res 8:74–78

Gayral F, Campion JP, Regimbeau JM et al (2009) Randomized, placebo-controlled, double-blind study of the efficacy of lanreotide 30 mg PR in the treatment of pancreatic and enterocutaneous fistulae. Ann Surg 250:872–877

Sanjay P, Kellner M, Tait IS (2012) The role of interventional radiology in the management of surgical complications after pancreatoduodenectomy. HPB 14:812–817

Sohn TA, Yeo CJ, Cameron JL et al (2003) Pancreaticoduodenectomy: role of interventional radiologists in managing patients and complications. J Gastrointest Surg 7:209–219

Sierzega M, Kulig P, Kolodziejczyk P, Kulig J (2013) Natural history of intra-abdominal fluid collections following pancreatic surgery. J Gastrointest Surg 17:1406–1413

Munoz-Bongrand N, Sauvanet A, Denys A, Sibert A, Vilgrain V, Belghiti J (2004) Conservative management of pancreatic fistula after pancreaticoduodenectomy with pancreaticogastrostomy. J Am Coll Surg 199:198–203

Kwon YM, Gerdes H, Schattner MA et al (2013) Management of peripancreatic fluid collections following partial pancreatectomy: a comparison of percutaneous versus EUS-guided drainage. Surg Endosc 27:2422–2427

Reddymasu SC, Pakseresht K, Moloney B et al (2013) Incidence of pancreatic fistula after distal pancreatectomy and efficacy of endoscopic therapy for its management: results from a tertiary care center. Case Rep Gastroenterol 7:332–339

Bartoli E, Rebibo L, Robert B et al (2013) Efficacy of the double-pigtail stent as a conservative treatment for grade B pancreatic fistula after pancreatoduodenectomy with pancreatogastric anastomosis. Surg Endosc 28:1528–1534

Varadarajulu S, Wilcox CM, Christein JD (2011) EUS-guided therapy for management of peripancreatic fluid collections after distal pancreatectomy in 20 consecutive patients. Gastrointest Endosc 74:418–423

Azeem N, Baron TH, Topazian MD et al (2012) Outcomes of endoscopic and percutaneous drainage of pancreatic fluid collections arising after pancreatic tail resection. J Am Coll Surg 215:177–185

Onodera M, Kawakami H, Kuwatani M et al (2011) Endoscopic ultrasound-guided transmural drainage for pancreatic fistula or pancreatic duct dilation after pancreatic surgery. Surg Endosc 26:1710–1717

Grobmyer SR, Hunt DL, Forsmark CE et al (2009) Pancreatic stent placement is associated with resolution of refractory grade C pancreatic fistula after left-sided pancreatectomy. Am Surg 75:654–7

Balzano G, Pecorelli N, Piemonti L et al (2014) Relaparotomy for a pancreatic fistula after a pancreaticoduodenectomy: a comparison of different surgical strategies. HPB 16:40–5

Wente MN, Veit JA, Bassi C et al (2007) Postpancreatectomy hemorrhage (PPH)–An International Study Group of Pancreatic Surgery (ISGPS) definition. Surgery 142:20–25

Tol JA, Busch OR, van Delden OM, van Lienden KP, van Gulik TM, Gouma DJ (2014) Shifting role of operative and nonoperative interventions in managing complications after pancreatoduodenectomy: what is the preferred intervention? Surg Epub Ahead of Print. doi:10.1016/j.surg.2014.04.026

Gangl O, Fröschl U, Hofer W et al (2011) Unplanned reoperation and reintervention after pancreatic resections: an analysis of risk factors. World J Surg 35:2306–2314

Denbo JW, Orr WS, Zarzaur BL, Behrman SW (2012) Toward defining grade C pancreatic fistula following pancreaticoduodenectomy: incidence, risk factors, management and outcome. HPB 14:589–593

Standop J, Glowka T, Schmitz V et al (2009) Operative re-intervention following pancreatic head resection: indications and outcome. J Gastrointest Surg 13:1503–1509

Kent TS, Callery MP, Vollmer CM Jr (2010) The bridge stent technique for salvage of pancreaticojejunal anastomotic dehiscence. HPB 12:577–582

Dellaportas D, Tympa A, Nastos C et al (2010) An ongoing dispute in the management of severe pancreatic fistula: pancreatospleenectomy or not? World J Gastrointest Surg 2:381–384

Paye F, Lupinacci RM, Kraemer A et al (2013) Surgical treatment of severe pancreatic fistula after pancreaticoduodenectomy by wirsungostomy and repeat pancreatico-jejunal anastomosis. Am J Surg 206:194–201

Cullen JJ, Sarr MG, Ilstrup DM (1994) Pancreatic anastomotic leak after pancreaticoduodenectomy: incidence, significance, and management. Am J Surg 168:295–298

Farley DR, Schwall G, Trede M (1996) Completion pancreatectomy for surgical complications after pancreaticoduodenectomy. Br J Surg 83:176–179

van Berge Henegouwen MI, De Wit LT, Van Gulik TM et al (1997) Incidence, risk factors, and treatment of pancreatic leakage after pancreaticoduodenectomy: drainage versus resection of the pancreatic remnant. J Am Coll Surg 185:18–24

Büchler MW, Wagner M, Schmied BM et al (2003) Changes in morbidity after pancreatic resection: toward the end of completion pancreatectomy. Arch Surg 138:1310–4

Hackert T, Werner J, Büchler MW (2011) Postoperative pancreatic fistula. Surgeon 9:211–217

Bachellier P, Oussoultzoglou E, Rosso E et al (2008) Pancreatogastrostomy as a salvage procedure to treat severe postoperative pancreatic fistula after pancreatoduodenectomy. Arch Surg 143:966–70

Bassi C, Butturini G, Salvia R et al (2000) A single-institution experience with fistulojejunostomy for external pancreatic fistulas. Am J Surg 179:203–206

Nair RR, Lowy AM, McIntyre B et al (2007) Fistulojejunostomy for the management of refractory pancreatic fistula. Surgery 142:636–42

Piazza RC, Armstrong SD, Vanderkolk W et al (2009) A modified "fistula-VAC" technique: management of multiple enterocutaneous fistulas in the open abdomen. Plast Reconstr Surg 124:453e–5e

Lee SH (2012) Surgical management of enterocutaneous fistula. Korean J Radiol 13:S17–S20
Conflicts of interest
None.
About this article
Cite this article
Malleo, G., Pulvirenti, A., Marchegiani, G. et al. Diagnosis and management of postoperative pancreatic fistula. Langenbecks Arch Surg 399, 801–810 (2014). https://doi.org/10.1007/s00423-014-1242-2
Received:

Accepted:

Published:

Issue Date:

DOI: https://doi.org/10.1007/s00423-014-1242-2
Keywords