Abstract
Background
Primary aldosteronism (PA) is a frequent cause (about 10 %) of hypertension. Some cases of PA were recently found to be caused by mutations in the potassium channel KCNJ5. Our objective was to determine the mutation status of KCNJ5 and seven additional candidate genes for tumorigenesis: YY1, FZD4, ARHGAP9, ZFP37, KDM5C, LRP1B, and PDE9A and, furthermore, the surgical outcome of PA patients who underwent surgery in Western Norway.
Methods
Twenty-eight consecutive patients with aldosterone-producing adrenal tumors (20 patients with single adenoma, 8 patients with unilateral multiple adenomas or hyperplasia) who underwent surgery were included in this study. All patients were operated on by uncomplicated laparoscopic total adrenalectomy. Genomic DNA was isolated from tumor and non-tumor adrenocortical tissue, and DNA sequencing revealed the mutation status.
Results
Ten out of 28 (36 %) patients with PA displayed tumor mutations in KCNJ5 (p. G151R and L168R) while none were found in the corresponding non-tumor samples. No mutations were found in the other seven candidate genes screened. The presence of KCNJ5 mutations was associated with lower blood pressure and a higher chance for cure by surgery when compared to patients harboring the KCNJ5 wild type.
Conclusions
KCNJ5 mutations are associated with a better surgical outcome. Preoperative identification of the mutation status might have impact on surgical strategy (total vs. subtotal adrenalectomy).
Access options
Buy single article
Instant access to the full article PDF.
USD 39.95
Price excludes VAT (USA)
Tax calculation will be finalised during checkout.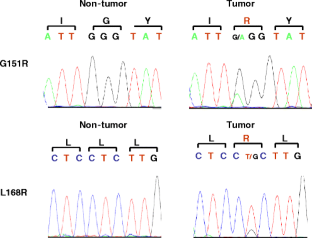 References
Young WF (2007) Primary aldosteronism: renaissance of a syndrome. Clin Endocrinol (Oxf) 66(5):607–618

Milliez P, Girerd X, Plouin PF, Blacher J, Safar ME, Mourad JJ (2005) Evidence for an increased rate of cardiovascular events in patients with primary aldosteronism. J Am Coll Cardiol 45(8):1243–1248

Conn JW (1955) Presidential address. I. Painting background. II. Primary aldosteronism, a new clinical syndrome. J Lab Clin Med 45(1):3–17

Loh KC, Koay ES, Khaw MC, Emmanuel SC, Young WF Jr (2000) Prevalence of primary aldosteronism among Asian hypertensive patients in Singapore. J Clin Endocrinol Metab 85(8):2854–2859

Mulatero P, Stowasser M, Loh KC, Fardella CE, Gordon RD, Mosso L et al (2004) Increased diagnosis of primary aldosteronism, including surgically correctable forms, in centers from five continents. J Clin Endocrinol Metab 89(3):1045–1050

Rossi GP, Bernini G, Caliumi C, Desideri G, Fabris B, Ferri C et al (2006) A prospective study of the prevalence of primary aldosteronism in 1,125 hypertensive patients. J Am Coll Cardiol 48(11):2293–2300

Stowasser M (2009) Update in primary aldosteronism. J Clin Endocrinol Metab 94(10):3623–3630

Choi M, Scholl UI, Yue P, Bjorklund P, Zhao B, Nelson-Williams C et al (2011) K+ channel mutations in adrenal aldosterone-producing adenomas and hereditary hypertension. Science 331(6018):768–772

Krapivinsky G, Gordon EA, Wickman K, Velimirovic B, Krapivinsky L, Clapham DE (1995) The G-protein-gated atrial K+ channel IKACh is a heteromultimer of two inwardly rectifying K(+)-channel proteins. Nature 374(6518):135–141

Geller DS, Zhang J, Wisgerhof MV, Shackleton C, Kashgarian M, Lifton RP (2008) A novel form of human mendelian hypertension featuring nonglucocorticoid-remediable aldosteronism. J Clin Endocrinol Metab 93(8):3117–3123

Mulatero P (2008) A new form of hereditary primary aldosteronism: familial hyperaldosteronism type III. J Clin Endocrinol Metab 93(8):2972–2974

Akerstrom T, Crona J, Delgado VA, Starker LF, Cupisti K, Willenberg HS et al (2012) Comprehensive re-sequencing of adrenal aldosterone producing lesions reveal three somatic mutations near the KCNJ5 potassium channel selectivity filter. PLoS One 7(7):e41926

Azizan EA, Murthy M, Stowasser M, Gordon R, Kowalski B, Xu S et al (2012) Somatic mutations affecting the selectivity filter of KCNJ5 are frequent in 2 large unselected collections of adrenal aldosteronomas. Hypertension 59(3):587–591

Boulkroun S, Beuschlein F, Rossi GP, Golib-Dzib JF, Fischer E, Amar L et al (2012) Prevalence, clinical, and molecular correlates of KCNJ5 mutations in primary aldosteronism. Hypertension 59(3):592–598

Monticone S, Hattangady NG, Nishimoto K, Mantero F, Rubin B, Cicala MV et al (2012) Effect of KCNJ5 mutations on gene expression in aldosterone-producing adenomas and adrenocortical cells. J Clin Endocrinol Metab 97(8):E1567–E1572

Mulatero P, Tauber P, Zennaro MC, Monticone S, Lang K, Beuschlein F et al (2012) KCNJ5 mutations in European families with nonglucocorticoid remediable familial hyperaldosteronism. Hypertension 59(2):235–240

Taguchi R, Yamada M, Nakajima Y, Satoh T, Hashimoto K, Shibusawa N et al (2012) Expression and mutations of KCNJ5 mRNA in Japanese patients with aldosterone-producing adenomas. J Clin Endocrinol Metab 97(4):1311–1319

Knappskog S, Chrisanthar R, Lokkevik E, Anker G, Ostenstad B, Lundgren S et al (2012) Low expression levels of ATM may substitute for CHEK2/TP53 mutations predicting resistance towards anthracycline and mitomycin chemotherapy in breast cancer. Breast Cancer Res 14(2):R47

Fu B, Zhang X, Wang GX, Lang B, Ma X, Li HZ et al (2011) Long-term results of a prospective, randomized trial comparing retroperitoneoscopic partial versus total adrenalectomy for aldosterone producing adenoma. J Urol 185(5):1578–1582

Walz MK, Gwosdz R, Levin SL, Alesina PF, Suttorp AC, Metz KA et al (2008) Retroperitoneoscopic adrenalectomy in Conn's syndrome caused by adrenal adenomas or nodular hyperplasia. World J Surg 32(5):847–853

Fendrich V, Ramaswamy A, Nies C (2003) Hyperaldosteronism persisting after subtotal adrenalectomy. Chirurg 74(5):473–477, Article in German

Eloubeidi MA, Black KR, Tamhane A, Eltoum IA, Bryant A, Cerfolio RJ (2010) A large single-center experience of EUS-guided FNA of the left and right adrenal glands: diagnostic utility and impact on patient management. Gastrointest Endosc 71(4):745–753
Acknowledgments
We would like to thank the Western Norway Regional Health Authority for financial support (grant to J.E.V. and M.B.).
Conflicts of interest
None.
About this article
Cite this article
Arnesen, T., Glomnes, N., Strømsøy, S. et al. Outcome after surgery for primary hyperaldosteronism may depend on KCNJ5 tumor mutation status: a population-based study from Western Norway. Langenbecks Arch Surg 398, 869–874 (2013). https://doi.org/10.1007/s00423-013-1093-2
Received:

Accepted:

Published:

Issue Date:

DOI: https://doi.org/10.1007/s00423-013-1093-2
Keywords
Primary aldosteronism

Aldosterone-producing tumors

Conn's syndrome

KCNJ5

Somatic mutations

Western Norway