Abstract
Background
Gallstone disease remains the most common disease of the digestive system in Western societies and laparoscopic cholecystectomy one of the most common surgical procedures performed. Bile leaks remain a significant cause of morbidity for patients undergoing this procedure. These occur in 0.2–2% of cases. The bile ducts of Luschka, or subvesical ducts, are small ducts which originate from the right hepatic lobe, course along the gallbladder fossa, and usually drain in the extrahepatic bile ducts. Injuries to these ducts are the second most frequent cause of postcholecystectomy bile leaks.
Methods
A literature search using MEDLINE's Medical Subject Heading terms was used to identify recent articles. Cross-references from these articles were also used.
Results
Subvesical bile duct leaks can be detected by drip-infusion cholangiography using computed tomography preoperatively, direct visualization or cholangiography intraoperatively, and fistulography, endoscopic retrograde cholangiopancreatography (ERCP), and magnetic resonance cholangiopancreatography with intravenous contrast postoperatively. ERCP is the most common diagnostic method used. Most patients with subvesical duct leaks are symptomatic, and most leaks will be detected postoperatively during the first postoperative week. Drainage of extravasated bile is mandatory in all cases. Reduction of intrabiliary pressure with endoscopic sphincterotomy and stent placement will lead to preferential flow of bile through the papilla, thus permitting subvesical duct injuries to heal. This is the most common treatment modality used. In a minority of patients, relaparoscopy is performed. In such cases, the leaking subvesical duct is visualized directly, and ligation usually is sufficient treatment. Simple drainage is adequate treatment for a small number of asymptomatic patients with low-volume leaks.
Conclusions
Subvesical duct leaks occur after cholecystectomy regardless of gallbladder pathology or urgency of operation. They have been encountered more frequently in the era of laparoscopic cholecystectomy. Intraoperative cholangiography does not detect all such leaks. Staying close to the gallbladder wall during its removal from the fossa is the only known prophylactic measure. ERCP and stent placement are the most common effective diagnostic and therapeutic methods used. Intraoperative and perioperative adjunctive measures, such as fibrin glue instillation and pharmacologic relaxation of the sphincter of Oddi, can potentially be used in lowering the incidence of subvesical bile leaks.
Access options
Buy single article
Instant access to the full article PDF.
USD 39.95
Price excludes VAT (USA)
Tax calculation will be finalised during checkout.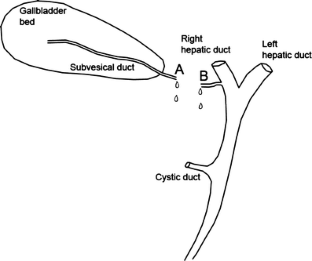 References
Albasini JLA, Aledo VS, Dexter SPL et al (1995) Bile leakage following laparoscopic cholecystectomy. Surg Endosc 9:1274–1278

Luschka H (1862–1867) Die Anatomie d. Menschen in Rücksicht auf d. Bedürfnisse d. Heilkunde, vols I, II, III. Tübingen

Dvorak J, Sandler S (1994) Hubert von Luschka. Pioneer of clinical anatomy. Spine 19:2478–2482

Champetier J, Davin JL, Letoublon C, Laborde Y, Yver R, Cousset F (1982) Aberrant biliary ducts (vasa aberrantia): surgical implications. Anat Clin 4:137–145

Kitami M, Murakami G, Suzuki D et al (2005) Heterogeneity of subvesical ducts or the ducts of Luschka: a study using drip-infusion cholangiography–computed tomography in patients and cadaver specimens. World J Surg 29:217–223

Champetier J, Letoublon C, Alnaasan I, Charvin B (1991) The cystohepatic ducts: surgical implications. Surg Radiol Anat 13:203–211

Aoki T, Imamura H, Sakamoto Y et al (2003) Bile duct of Luschka connecting with the cystohepatic duct: the importance of cholangiography during surgery. AJR Am J Roentgenol 180:694–696

Albishri SH, Issa S, Kneteman NM, Shapiro AMJ (2001) Bile leak from duct of Luschka after liver transplantation. Transplantation 72:338–340

Mori S, Kasahara M (2001) Papillary adenocarcinoma of the subvesical duct. J Hepatobiliary Pancreat Surg 8:494–498

Mergener K, Strobel JC, Suhocki P et al (1999) The role of ERCP in diagnosis and management of accessory bile duct leaks after cholecystectomy. Gastrointest Endosc 50:527–531

Strasberg SM, Hertl M, Soper NJ (1995) An analysis of the problem of biliary injury during laparoscopic cholecystectomy. J Am Coll Surg 180:101–125

Thompson RW, Schuler JG (1986) Bile peritonitis from a cholecystohepatic bile ductule: an unusual complication of cholecystectomy. Surgery 99:511–513

Goor DA, Ebert PA (1972) Anomalies of the biliary tree: report of a repair of an accessory bile duct and review of the literature. Arch Surg 104:302–309

McQuillan T, Manolas SG, Hayman JA, Kune GA (1989) Surgical significance of the bile duct of Luschka. Br J Surg 76:696–698

Kimura T, Suzuki K, Umehara Y, Kawabe A, Wada H (2005) Features and management of bile leaks after laparoscopic cholecystectomy. J Hepatobiliary Pancreat Surg 12:61–64

Ramachandran A, Gupta SM, Johns WD (2001) Various presentations of postcholecystectomy bile leak diagnosed by scintigraphy. Clin Nucl Med 26:495–498

Sandha GS, Bourke MJ, Haber GB, Kortan PP (2004) Endoscopic therapy for bile leak based on a new classification: results in 207 patients. Gastrointest Endosc 60:567–574

Vitellas KM, El-Dieb A, Kuldeep KV et al (2002) Using contrast-enhanced MR cholangiography with IV mangafodipir trisodium (Teslascan) to evaluate bile duct leaks after cholecystectomy: a prospective study of 11 patients. AJR Am J Roentgenol 179:409–416

Aduna M, Larena JA, Martin D et al (2005) Bile duct leaks after laparoscopic cholecystectomy: value of contrast-enhanced MRCP. Abdom Imaging 30:480–487

De Palma GD, Galloro G, Iuliano G, Puziello A, Persico F, Masone S, Persico G (2002) Leaks from laparoscopic cholecystectomy. Hepatogastroenterology 49:924–925

Wills VL, Jorgensen JO, Hunt DR (2000) Role of relaparoscopy in the management of minor bile leakage after laparoscopic cholecystectomy. Br J Surg 87:176–180

Kaffes AJ, Hourigan L, De Luca N et al (2005) Impact of endoscopic intervention in 100 patients with suspected postcholecystectomy bile leak. Gastrointest Endosc 61:269–275

Lin RK, Hunt GC (2004) Left hepatic duct of Luschka. Gastrointest Endosc 60:984

Elmi F, Silverman WB (2005) Nasobilary tube management of postcholecystectomy bile leaks. J Clin Gastroenterol 39:441–444

Misra M, Schiff J, Rendon G, Rothschild J, Schwaitzberg S (2005) Laparoscopic cholecystectomy after the learning curve. What should we expect? Surg Endosc 19:1266–1271

Braghetto I, Bastias J, Csendes A, Debandi A (2000) Intraperitoneal bile collections after laparoscopic cholecystectomy. Causes, clinical presentation, diagnosis and treatment. Surg Endosc 14:1037–1041

Brooks DC, Becker JM, Connors PJ, Carr-Locke DL (1993) Management of bile leaks following laparoscopic cholecystectomy. Surg Endosc 7:292–295

Frakes JT, Bradley SJ (1993) Endoscopic stent placement for biliary leak from an accessory duct of Luschka during laparoscopic cholecystectomy. Gastrointest Endosc 39:90–92

Suhocki PV, Meyers WC (1999) Injury to aberrant bile ducts during cholecystectomy. A common cause of diagnostic error and treatment delay. AJR Am J Roentgenol 172:955–959

Sharif K, De Ville de Goyet J (2003) Bile duct of Luschka leading to bile leak after cholecystectomy—revisiting the biliary anatomy. J Pediatr Surg 38:21–23

Hasl DM, Ruiz OR, Baumert J et al (2001) A prospective study of bile leaks after laparoscopic cholecystectomy. Surg Endosc 15:1299–1300

Javors BR, Simmons MZ, Wachsberg RH (1998) Cholangiographic demonstration of the cholecystohepatic duct of Luschka. Abdom Imaging 23:620–621

Azagra JS, De Simeone P, Goergen M (2001) Is there a place for laparoscopy in management of postcholecystectomy biliary injuries? World J Surg 25:1331–1334

Middlefart HV, Matzen P, Funch-Jensen P (1999) Sphincter of Oddi manometry before and after laparoscopic cholecystectomy. Endoscopy 31:146–151

Luman W, Williams AJK, Pryde A et al (1997) Influence of cholecystectomy on sphincter of Oddi motility. Gut 41:371–374

Mahmud S, McGlinchey I, Kasem H, Nassar AHM (2001) Radiological treatment of retained bile duct stones following recent surgery using glucagons. Surg Endosc 15:1359–1361

Toyoyama H, Kariya N, Hase I, Toyoda Y (2001) The use of intravenous nitroglycerin in a case of spasm of the sphincter of Oddi during laparoscopic cholecystectomy. Anesthesiology 94:708–709

Coelho JCU, Wiederkehr JC (1996) Motility of Oddi's sphincter: recent developments and clinical applications. Am J Surg 172:48–51

Thune A, Baker RA, Saccone GTP et al (1990) Differing effects of pethidine and morphine on human sphincter of Oddi motility. Br J Surg 77:992–995

Wu SD, Zhang ZH, Jin JZ et al (2004) Effects of narcotic analgesic drugs on human Oddi's sphincter motility. World J Gastroenterol 10:2901–2904

Walters W (1924) A method of reconstructing an anomalous hepatic duct by anastomosis of cystic duct. Ann Surg 79:79
Acknowledgements
The authors would like to thank Drs. Theofano Kokkini and Stavros Synapalos for their assistance in preparing this manuscript.
About this article
Cite this article
Spanos, C.P., Syrakos, T. Bile leaks from the duct of Luschka (subvesical duct): a review. Langenbecks Arch Surg 391, 441–447 (2006). https://doi.org/10.1007/s00423-006-0078-9
Received:

Accepted:

Published:

Issue Date:

DOI: https://doi.org/10.1007/s00423-006-0078-9
Keywords
Laparoscopic

Cholecystectomy

Bile leak

Subvesical duct

Luschka