Abstract
Purpose
Ingesting beverages containing a high concentration of sodium under euhydrated conditions induces hypervolemia. Because carbohydrate can enhance interstitial fluid absorption via the sodium–glucose cotransporter and insulin-dependent renal sodium reabsorption, adding carbohydrate to high-sodium beverages may augment the hypervolemic response.
Methods
To test this hypothesis, we had nine healthy young males ingest 1087 ± 82 mL (16–17 mL per kg body weight) of water or aqueous solution containing 0.7% NaCl, 0.7% NaCl + 6% dextrin, 0.9% NaCl, or 0.9% NaCl + 6% dextrin under euhydrated conditions. Each drink was divided into six equal volumes and ingested at 10-min intervals. During each trial, participants remained resting for 150 min. Measurements were made at baseline and every 30 min thereafter.
Results
Plasma osmolality decreased with water ingestion (P ≤ 0.023), which increased urine volume such that there was no elevation in plasma volume from baseline (P ≥ 0.059). The reduction in plasma osmolality did not occur with ingestion of solution containing 0.7% or 0.9% NaCl (P ≥ 0.051). Consequently, urine volume was 176–288 mL smaller than after water ingestion and resulted in plasma volume expansion at 60 min and later times (P ≤ 0.042). In addition, net fluid balance was 211–329 mL greater than after water ingestion (P ≤ 0.028). Adding 6% dextrin to 0.7% or 0.9% NaCl solution resulted in plasma volume expansion within as little as 30 min (P ≤ 0.026), though the magnitudes of the increases in plasma volume were unaffected (P ≥ 0.148).
Conclusion
Dextrin mediates an earlier hypervolemic response associated with ingestion of high-sodium solution in resting euhydrated young men. (247/250 words)
Access options
Buy single article
Instant access to the full article PDF.
US$ 39.95
Tax calculation will be finalised during checkout.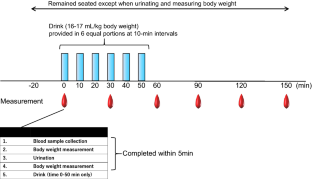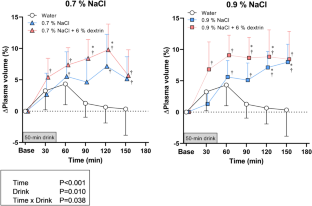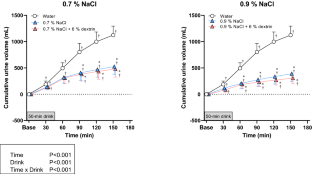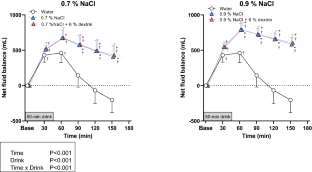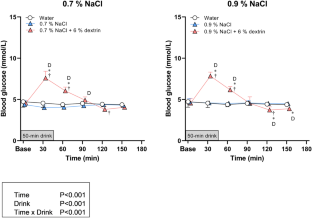 References
Amano T, Sugiyama Y, Okumura J, Fujii N, Kenny GP, Nishiyasu T, Inoue Y, Kondo N, Sasagawa K, Enoki Y, Maejima D (2019) Effects of isomaltulose ingestion on postexercise hydration state and heat loss responses in young men. Exp Physiol 104:1494–1504

Beis LY, Polyviou T, Malkova D, Pitsiladis YP (2011) The effects of creatine and glycerol hyperhydration on running economy in well trained endurance runners. J Int Soc Sports Nutr 8:24

Cheuvront SN, Carter R 3rd, Castellani JW, Sawka MN (2005) Hypohydration impairs endurance exercise performance in temperate but not cold air. J Appl Physiol 99:1972–1976

Clayton DJ, Evans GH, James LJ (2014) Effect of drink carbohydrate content on postex ercise gastric emptying, rehydration, and the calculation of net fluid balance. Int J Sport Nutr Exerc Metab 24:79–89

Coles MG, Luetkemeier MJ (2005) Sodium-facilitated hypervolemia, endurance performance, and thermoregulation. Int J Sport Med 26:182–187

Dill DB, Costill DL (1974) Calculation of percentage changes in volumes of blood, plasma, and red cells in dehydration. J Appl Physiol 37:247–248

Driscoll RL, McCarthy DG, Palmer MS, Spriet LL (2020) Mild dehydration impaired intermittent sprint performance and thermoregulation in females. Appl Physiol Nutr Metab 45:1045–1048

Evans GH, Shirreffs SM, Maughan RJ (2009) Postexercise rehydration in man: the effects of osmolality and carbohydrate content of ingested drinks. Nutrition 25:905–913

Evans GH, James LJ, Shirreffs SM, Maughan RJ (2017) Optimizing the restoration and maintenance of fluid balance after exercise-induced dehydration. J Appl Physiol (1985) 122:945–951

Fortney SM, Wenger CB, Bove JR, Nadel ER (1983) Effect of blood volume on forearm venous and cardiac stroke volume during exercise. J Appl Physiol 55:884–890

Frey MA, Riddle J, Charles JB, Bungo MW (1991) Blood and urine responses to ingesting fluids of various salt and glucose concentrations. J Clin Pharmacol 31:880–887

Fujii N, Honda Y, Hayashi K, Kondo N, Nishiyasu T (2008) Effect of hypohydration on hyperthermic hyperpnea and cutaneous vasodilation during exercise in men. J Appl Physiol 105:1509–1518

Gisolfi CV, Summers RW, Schedl HP, Bleiler TL (1992) Intestinal water absorption from select carbohydrate solutions in humans. J Appl Physiol (1985) 73:2142–2150

González-Alonso J, Mora-Rodríguez R, Below PR, Coyle EF (1995) Dehydration reduces cardiac output and increases systemic and cutaneous vascular resistance during exercise. J Appl Physiol 79:1487–1496

González-Alonso J, Calbet JA, Nielsen B (1998) Muscle blood flow is reduced with dehydration during prolonged exercise in humans. J Physiol 513(Pt 3):895–905

Goulet ED (2010) Glycerol-induced hyperhydration: a method for estimating the optimal load of fluid to be ingested before exercise to maximize endurance performance. J Strength Cond Res 24:74–78

Goulet ED, Aubertin-Leheudre M, Plante GE, Dionne IJ (2007) A meta-analysis of the effects of glycerol-induced hyperhydration on fluid retention and endurance performance. Int J Sport Nutr Exerc Metab 17:391–410

Goulet ED, Rousseau SF, Lamboley CR, Plante GE, Dionne IJ (2008) Pre-exercise hyperhydration delays dehydration and improves endurance capacity during 2 h of cycling in a temperate climate. J Physiol Anthropol 27:263–271

Graham C, Morris NB, Harwood AE, Jay O (2020) Ad libitum water consumption off-sets the thermal and cardiovascular strain exacerbated by dehydration during a 3-h simulated heatwave. Eur J Appl Physiol 120:391–399

Greenleaf JE, Brock PJ (1980) Na+ and Ca2+ ingestion: plasma volume-electrolyte distribution at rest and exercise. J Appl Physiol 48:838–847

Greenleaf JE, Looft-Wilson R, Wisherd JL, McKenzie MA, Jensen CD, Whittam JH (1997) Pre-exercise hypervolemia and cycle ergometer endurance in men. Biol Sport 14:103–114

Gregersen MI, Rawson RA (1959) Blood volume. Physiol Rev 39:307–342

Hagan RD, Diaz FJ, Horvath SM (1978) Plasma volume changes with movement to supine and standing positions. J Appl Physiol Respir Environ Exerc Physiol 45:414–417

Hamouti N, Fernandez-Elias VE, Ortega JF, Mora-Rodriguez R (2014) Ingestion of sodium plus water improves cardiovascular function and performance during dehydrating cycling in the heat. Scand J Med Sci Sports 24:507–518

Hempel A, Maasch C, Heintze U, Lindschau C, Dietz R, Luft FC, Haller H (1997) High glucose concentrations increase endothelial cell permeability via activation of protein kinase C alpha. Circ Res 81:363–371

Ikegawa S, Kamijo YI, Okazaki K, Masuki S, Okada Y, Nose H (2011) Effects of hypohydration on thermoregulation during exercise before and after 5-day aerobic training in a warm environment in young men. J Appl Physiol 110:972–980

Imms FJ, Lighten AD (1989) The cooling effects of a cold drink. In: Mercer JB (ed) Thermal physiology. Elsevier Science, New York, pp 135–139

Kamijo Y, Ikegawa S, Okada Y, Masuki S, Okazaki K, Uchida K, Sakurai M, Nose H (2012) Enhanced renal Na+ reabsorption by carbohydrate in beverages during restitution from thermal and exercise-induced dehydration in men. Am J Physiol Regul Integr Comp Physiol 303:R824-833

Koepsell H (2020) Glucose transporters in the small intestine in health and disease. Pflugers Arch 472:1207–1248

Loo DD, Zeuthen T, Chandy G, Wright EM (1996) Cotransport of water by the Na+/glucose cotransporter. Proc Natl Acad Sci USA 93:13367–13370

Lopez RM, Casa DJ, McDermott BP, Ganio MS, Armstrong LE, Maresh CM (2009) Does creatine supplementation hinder exercise heat tolerance or hydration status? A systematic review with meta-analyses. J Athl Train 44:215–223

Maughan RJ, Shirreffs SM (2019) Muscle cramping during exercise: causes, solutions, and questions remaining. Sports Med 49:115–124

Meade RD, Notley SR, D'Souza AW, Dervis S, Boulay P, Sigal RJ, Kenny GP (2019) Interactive effects of age and hydration state on human thermoregulatory function during exercise in hot-dry conditions. Acta Physiol (oxf) 226:e13226

Morris DM, Huot JR, Jetton AM, Collier SR, Utter AC (2015) Acute sodium ingestion before exercise increases voluntary water consumption resulting in preexercise hyperhydration and improvement in exercise performance in the heat. Int J Sport Nutr Exerc Metab 25:456–462

Noakes TD, Rehrer NJ, Maughan RJ (1991) The importance of volume in regulating gastric emptying. Med Sci Sport Exer 23:307–313

Osterberg KL, Pallardy SE, Horswill CA (2010) Carbohydrate exerts a mild influence on fluid retention following exercise-induced dehydration. J Appl Physiol (1985) 108:245–250

Savoie FA, Asselin A, Goulet ED (2016) Comparison of sodium chloride tablets-induced, sodium chloride solution-induced, and glycerol-induced hyperhydration on fluid balance responses in healthy men. J Strength Cond Res 30:2880–2891

Sawka MN, Pandolf KB (1990) Effect of body water loss on physiological function and exercise performance. In: Lamb DR, CarL VG (eds) Perspectives in exercise sciences and sports medicine fluid homeostasis during exercise. Benchmark Press, pp 1–38

Sawka MN, Young AJ, Francesconi RP, Muza SR, Pandolf KB (1985) Thermoregulatory and blood responses during exercise at graded hypohydration levels. J Appl Physiol 59:1394–1401

Schedl HP, Clifton JA (1963) Solute and water absorption by the human small intestine. Nature 199:1264–1267

Simpson AJ, Romer LM, Kippelen P (2017) Exercise-induced dehydration alters pulmonary function but does not modify airway responsiveness to dry air in athletes with mild asthma. J Appl Physiol (1985) 122:1329–1335

Sims ST, Rehrer NJ, Bell ML, Cotter JD (2007a) Preexercise sodium loading aids fluid balance and endurance for women exercising in the heat. J Appl Physiol 103:534–541

Sims ST, van Vliet L, Cotter JD, Rehrer NJ (2007b) Sodium loading aids fluid balance and reduces physiological strain of trained men exercising in the heat. Med Sci Sports Exerc 39:123–130

Sims ST, Rehrer NJ, Bell ML, Cotter JD (2008) Endogenous and exogenous female sex hormones and renal electrolyte handling: effects of an acute sodium load on plasma volume at rest. J Appl Physiol 105:121–127

Sugihara A, Fujii N, Tsuji B, Watanabe K, Niwa T, Nishiyasu T (2014) Hypervolemia induced by fluid ingestion at rest: effect of sodium concentration. Eur J Appl Physiol 114:2139–2145

Watanabe K, Stöhr EJ, Akiyama K, Watanabe S, González-Alonso J (2020) Dehydration reduces stroke volume and cardiac output during exercise because of impaired cardiac filling and venous return, not left ventricular function. Physiol Rep 8:e14433
Acknowledgements
We would like to sincerely thank the Saga Nutraceuticals Research institute, Otsuka Pharmaceutical Co., Ltd. for ideas and their supplying the dextrin used in this study. We also thank the volunteer subjects for participating in this study.
Ethics declarations
Conflict of interest
There are no conflicts of interest in the present study.
Additional information
Publisher's Note
Springer Nature remains neutral with regard to jurisdictional claims in published maps and institutional affiliations.
Communicated by George Havenith.
Supplementary Information
Below is the link to the electronic supplementary material.
About this article
Cite this article
Fujii, N., Sugihara, A., Watanabe, K. et al. Carbohydrate hastens hypervolemia achieved through ingestion of aqueous sodium solution in resting euhydrated humans. Eur J Appl Physiol (2021). https://doi.org/10.1007/s00421-021-04788-0
Received:

Accepted:

Published:
Keywords
Hyperhydration

Extracellular fluid

Blood volume

Diuresis

Sodium

Glucose