Abstract
Purpose
Heat sensitivity is a common contraindication in people with Multiple Sclerosis (pwMS), and physical fatigue is one of the most frequently reported symptoms that can affect quality of life. Increases in body temperature may exacerbate fatigue and heat-related symptoms. Decreasing body temperature via cooling devices may mitigate disease symptoms and improve physical abilities and quality of life. This study evaluates the effects of a cooling vest with sham condition on walking capacity using a commercially-available cooling vest specifically designed for pwMS.
Methods
A counter-balanced, cross-over design was used to assess the effects of a cooling vest (CryoVest Comfort, CryoInnov, France) (COLD) from a menthol-induced sham condition (CON) on ground walking time to exhaustion (Tex, s) and distance at exhaustion (Dex, m) in ambulatory pwMS. Secondary outcomes were heart rate (HR, bpm), thermal sensation (Tsens), skin chest (Tchest) and back (Tback) temperature.
Results
Ten females with Multiple Sclerosis (59 ± 9 years, EDSS 3.0–5.5) participated to the study. During COLD, pwMS walked significantly longer (1896 ± 602 vs. 1399 ± 404 s, p < 0.001) and farther (1879 ± 539 vs. 1302 ± 318 m, p < 0.001) than CON. Importantly, Tsens and HR at exhaustion were not significantly different between conditions, although Tchest (− 2.7 ± 1.8 °C, p < 0.01) and Tback (− 3.9 ± 1.8 °C, p < 0.001) were lower at volitional fatigue during COLD.
Conclusion
The lightweight cooling vest improved total walking time and distance in heat-sensitive pwMS. These physiological improvements were likely due to feeling perceptually cooler in the COLD trial, compared to the corresponding point of fatigue in the CON condition.
Access options
Buy single article
Instant access to the full article PDF.
US$ 39.95
Tax calculation will be finalised during checkout.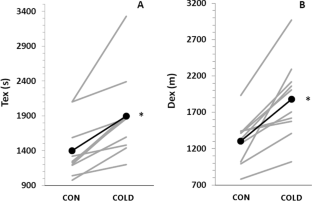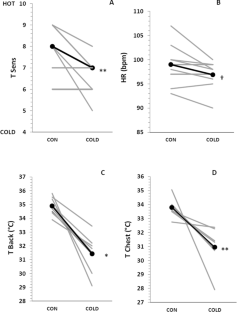 Data availability
The datasets generated during and/or analyzed during the current study are not publicly available due to IRB/EC requirements, but are available from the corresponding author on reasonable request.
Abbreviations
6MWT:

6 Min walking test

ANOVA:

Analysis of variance

COLD:

Cold vest condition

CON:

Control condition

CWS:

Comfortable walking speed

D ex :

Distance to exhaustion

EDSS:

Expanded disability status scale

HR:

Heart rate

MS:

Multiple Sclerosis

PP:

Primary progressive

pwMS:

People with Multiple Sclerosis

RH:

Relative humidity

RR:

Relapsing remitting

T :

Time (different time points during the exercise)

T25-FW:

Timed 25-Foot Walk

Tback:

Mid-scapular skin temperature

Tchest:

Mid-pectoral skin temperature

Tcom:

Thermal comfort

T ex :

Time to exhaustion

Tsens:

Thermal sensation

TUG:

Timed up and go

VAS:

Visual analog scale
References
Alghannam AF, Jedrzejewski D, Tweddle M et al (2016) Reliability of time to exhaustion treadmill running as a measure of human endurance capacity. Int J Sports Med 37:219–223. https://doi.org/10.1055/s-0035-1555928

Buoite Stella A, Vesnaver M, Gaio M et al (2016) Effect of a cooling vest on exercise capacity in patients with multiple sclerosis: a pilot study. In: Mekjavic IB (ed) 6th International meeting of the physiology and pharmacology of temperature regulation society. Jozef Stefan Institute, Ljubljana, p 54

Buoite Stella A, Morelli ME, Giudici F et al (2020) Comfortable walking speed and energy cost of locomotion in patients with multiple sclerosis. Eur J Appl Physiol. https://doi.org/10.1007/s00421-019-04295-3.10.1007/s00421-019-04295-3

Buratti C, Ricciardi P (2009) Adaptive analysis of thermal comfort in university classrooms: correlation between experimental data and mathematical models. Build Environ 44:674–687. https://doi.org/10.1016/j.buildenv.2008.06.001

Capello E, Gardella M, Leandri M et al (1995) Lowering body temperature with a cooling suit as symptomatic treatment for thermosensitive multiple sclerosis patients. Ital J Neurol Sci 16:533–539. https://doi.org/10.1007/bf02282911

Chaseling GK, Filingeri D, Barnett M et al (2018) Cold water ingestion improves exercise tolerance of heat-sensitive people with MS. Med Sci Sports Exerc 50:643–648. https://doi.org/10.1249/MSS.0000000000001496

Christogianni A, Bibb R, Davis SL et al (2018) Temperature sensitivity in multiple sclerosis: an overview of its impact on sensory and cognitive symptoms. Temp (Austin, Tex) 5:208–223. https://doi.org/10.1080/23328940.2018.1475831

Chung LH, Remelius JG, Van Emmerik REA, Kent-Braun JA (2008) Leg power asymmetry and postural control in women with multiple sclerosis. Med Sci Sports Exerc 40:1717–1724. https://doi.org/10.1249/MSS.0b013e31817e32a3

Cohen JA, Krishnan AV, Goodman AD et al (2014) The clinical meaning of walking speed as measured by the timed 25-foot walk in patients with multiple sclerosis. JAMA Neurol 71:1386–1393. https://doi.org/10.1001/jamaneurol.2014.1895

Cotter J, Zeyl A, Keizer E, Taylor N (1996) The role of local skin temperature in determining the perception of local and whole-body thermal state. In: Shapiro Y, Moran D, Epstein Y (eds) Environmental ergonomics: recent progress and new frontiers. Freund Publishing House Ltd, London, pp 85–88

Cotter JD, Sleivert GG, Roberts WS, Febbraio MA (2001) Effect of pre-cooling, with and without thigh cooling, on strain and endurance exercise performance in the heat. Comp Biochem Physiol A Mol Integr Physiol 128:667–677. https://doi.org/10.1016/s1095-6433(01)00273-2

Davis SL, Wilson TE, White AT, Frohman EM (2010) Thermoregulation in multiple sclerosis. J Appl Physiol 109:1531–1537. https://doi.org/10.1152/japplphysiol.00460.2010

Davis SL, Jay O, Wilson TE (2018) Thermoregulatory dysfunction in multiple sclerosis. Handb Clin Neurol 157:701–714. https://doi.org/10.1016/B978-0-444-64074-1.00042-2

Ehling R, Bsteh G, Muehlbacher A et al (2019) Ecological validity of walking capacity tests following rehabilitation in people with multiple sclerosis. PLoS ONE 14:e0220613–e0220613. https://doi.org/10.1371/journal.pone.0220613

Faul F, Erdfelder E, Lang A-G, Buchner A (2007) G*Power 3: a flexible statistical power analysis program for the social, behavioral, and biomedical sciences. Behav Res Methods 39:175–191

Filingeri D, Chaseling G, Hoang P et al (2017) Afferent thermosensory function in relapsing-remitting multiple sclerosis following exercise-induced increases in body temperature. Exp Physiol 102:887–893. https://doi.org/10.1113/EP086320

Flensner G, Lindencrona C (1999) The cooling-suit: a study of ten multiple sclerosis patients' experiences in daily life. J Adv Nurs 29:1444–1453. https://doi.org/10.1046/j.1365-2648.1999.01032.x

Gagge AP, Stolwijk JA, Hardy JD (1967) Comfort and thermal sensations and associated physiological responses at various ambient temperatures. Environ Res 1:1–20. https://doi.org/10.1016/0013-9351(67)90002-3

Gillis DJ, House JR, Tipton MJ (2010) The influence of menthol on thermoregulation and perception during exercise in warm, humid conditions. Eur J Appl Physiol 110:609–618. https://doi.org/10.1007/s00421-010-1533-4

Gonzales B, Chopard G, Charry B et al (2017) Effects of a training program involving body cooling on physical and cognitive capacities and quality of life in multiple sclerosis patients: a pilot study. Eur Neurol 78:71–77. https://doi.org/10.1159/000477580

Grahn DA, Murray JV, Heller HC (2008) Cooling via one hand improves physical performance in heat-sensitive individuals with multiple sclerosis: a preliminary study. BMC Neurol 8:14. https://doi.org/10.1186/1471-2377-8-14

Humm AM, Beer S, Kool J et al (2004) Quantification of Uhthoff's phenomenon in multiple sclerosis: a magnetic stimulation study. Clin Neurophysiol 115:2493–2501. https://doi.org/10.1016/j.clinph.2004.06.010

Julian LJ, Vella L, Vollmer T et al (2008) Employment in multiple sclerosis. Exiting and re-entering the work force. J Neurol 255:1354–1360. https://doi.org/10.1007/s00415-008-0910-y

Kaltsatou A, Flouris AD (2019) Impact of pre-cooling therapy on the physical performance and functional capacity of multiple sclerosis patients: a systematic review. Mult Scler Relat Disord 27:419–423. https://doi.org/10.1016/j.msard.2018.11.013

Kinnman J, Andersson U, Kinnman Y, Wetterqvist L (1997) Temporary improvement of motor function in patients with Multiple Sclerosis after treatment with a cooling suit. J Neurol Rehabil 11:109–114. https://doi.org/10.1177/154596839701100205

Kinnman J, Andersson U, Wetterquist L et al (2000) Cooling suit for multiple sclerosis: functional improvement in daily living? Scand J Rehabil Med 32:20–24

Krupp L (2006) Fatigue is intrinsic to multiple sclerosis (MS) and is the most commonly reported symptom of the disease. Mult Scler 12:367–368

Logroscino G, Piccininni M, Marin B, GBD 2016 Motor Neuron Disease Collaborators (2018) Global, regional, and national burden of motor neuron diseases 1990–2016: a systematic analysis for the Global Burden of Disease Study 2016. Lancet Neurol 17:1083–1097. https://doi.org/10.1016/S1474-4422(18)30404-6

Meyer-Heim A, Rothmaier M, Weder M et al (2007) Advanced lightweight cooling-garment technology: functional improvements in thermosensitive patients with multiple sclerosis. Mult Scler 13:232–237. https://doi.org/10.1177/1352458506070648

Miller E, Kostka J, Włodarczyk T, Dugué B (2016) Whole-body cryostimulation (cryotherapy) provides benefits for fatigue and functional status in multiple sclerosis patients A case-control study. Acta Neurol Scand 134:420–426. https://doi.org/10.1111/ane.12557

Morrison SA, Cheung S, Cotter JD (2014) Importance of airflow for physiologic and ergogenic effects of precooling. J Athl Train 49:632–639. https://doi.org/10.4085/1062-6050-49.3.27

Nilsagard Y, Denison E, Gunnarsson LG (2006) Evaluation of a single session with cooling garment for persons with multiple sclerosis–a randomized trial. Disabil Rehabil Assist Technol 1:225–233

Phan-Ba R, Pace A, Calay P et al (2011) Comparison of the timed 25-foot and the 100-meter walk as performance measures in multiple sclerosis. Neurorehabil Neural Repair 25:672–679. https://doi.org/10.1177/1545968310397204

Reynolds LF, Short CA, Westwood DA, Cheung SS (2011) Head pre-cooling improves symptoms of heat-sensitive multiple sclerosis patients. Can J Neurol Sci 38:106–111

Rottoli M, La Gioia S, Frigeni B, Barcella V (2017) Pathophysiology, assessment and management of multiple sclerosis fatigue: an update. Expert Rev Neurother 17:373–379. https://doi.org/10.1080/14737175.2017.1247695

Schwid SR, Petrie MD, Murray R et al (2003) A randomized controlled study of the acute and chronic effects of cooling therapy for MS. Neurology 60:1955–1960. https://doi.org/10.1212/01.wnl.0000070183.30517.2f

Sheean GL, Murray NM, Rothwell JC et al (1997) An electrophysiological study of the mechanism of fatigue in multiple sclerosis. Brain. https://doi.org/10.1093/brain/120.2.299

Tyler CJ, Sunderland C, Cheung SS (2015) The effect of cooling prior to and during exercise on exercise performance and capacity in the heat: a meta-analysis. Br J Sports Med 49:7–13. https://doi.org/10.1136/bjsports-2012-091739

Watson CW (1959) Effect of lowering of body temperature on the symptoms and signs of Multiple Sclerosis. N Engl J Med 261:1253–1259. https://doi.org/10.1056/NEJM195912172612501

White AT, Wilson TE, Davis SL, Petajan JH (2000) Effect of precooling on physical performance in multiple sclerosis. Mult Scler 6:176–180

White AT, Vanhaitsma TA, Vener J, Davis SL (2013) Effect of passive whole body heating on central conduction and cortical excitability in multiple sclerosis patients and healthy controls. J Appl Physiol 114:1697–1704. https://doi.org/10.1152/japplphysiol.01119.2012
Funding
This study was funded by Fondazione Cassa di Risparmio di Trieste (09/2018).
Ethics declarations
Conflict of interest
The authors declare that they have no conflict of interest.
Ethical approval
This study was approved by the Institutional Review Board of the "Azienda Sanitaria Universitaria Giuliana Isontina" and the Ethics Board of Friuli-Venezia Giulia. The study was performed in accordance with the ethical standards as laid down in the 1964 Declaration of Helsinki and its later amendments.
Consent to participate
Informed consent was obtained from all individual participants included in the study.
Consent to publish
The participant has consented to the submission of the study to the journal. No identifying information were included in this article.
Additional information
Publisher's Note
Springer Nature remains neutral with regard to jurisdictional claims in published maps and institutional affiliations.
Communicated by George Havenith.
About this article
Cite this article
Buoite Stella, A., Pasquin, F., Morrison, S.A. et al. Effects of a cooling vest with sham condition on walking capacity in heat-sensitive people with Multiple Sclerosis. Eur J Appl Physiol 120, 2467–2476 (2020). https://doi.org/10.1007/s00421-020-04478-3
Received:

Accepted:

Published:

Issue Date:
Keywords
Fatigue

Cooling

Multiple Sclerosis

Walking

Uhthoff phenomenon