Abstract
Purpose
We aimed to investigate the effect of inspiratory muscle training (IMT) on, hemodynamic, cerebrovascular and postural balance responses during orthostatic stress, in older women.
Methods
Fourteen elderly women were assigned to perform IMT at 50% of maximal inspiratory pressure (MIP) (IMT group, n = 8) or placebo training at 5% MIP (Sham group, n = 6), in a counter-balanced order, using an inspiratory threshold device for 4 weeks. During the protocol, MIP was tested weekly once. In a second visit, blood pressure, heart rate, stroke volume, cardiac output, middle cerebral artery blood flow velocity (MCAv), and ventilation parameters were recorded continuously at rest and during orthostatic stress testing, which was conducted on a force plate to measure center-of-pressure (COP) oscillations (postural balance) and the electromyographic activity of the right medial gastrocnemius and tibialis anterior.
Results
IMT increased MIP from second to 4th week. The drops in MCAv, stroke volume, and cardiac output, as well as COP displacements during initial orthostasis decreased post-IMT.
Conclusion
IMT improves the interplay of the respiratory pump, hemodynamic, cerebrovascular and postural balance responses during orthostatic stress in older women.
This is a preview of subscription content, log in to check access.
Access options
Buy single article
Instant access to the full article PDF.
US$ 39.95
Tax calculation will be finalised during checkout.
Subscribe to journal
Immediate online access to all issues from 2019. Subscription will auto renew annually.
US$ 199
Tax calculation will be finalised during checkout.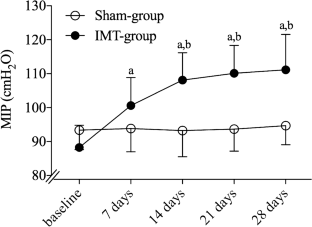 Abbreviations
ANCOVA:

Analysis of covariance

ANOVA:

Analysis of variance

BP:

Blood pressure

BR:

Breathing rate

CO:

Cardiac output

COP:

Center of pressure

EMG:

Electromyography

ES:

Effect size

E t :

Expiratory time

FEV1:

Forced expiratory volume in one second

FVC:

Forced vital capacity

HR:

Heart rate

IMT:

Inspiratory muscle training

I t :

Inspiratory time

MBP:

Mean blood pressure

MCAv:

Middle cerebral artery blood velocity

MIP:

Maximal inspiratory pressure

MVC:

Maximum voluntary contraction

ORT:

Orthostatic stress

PetCO2 :

Expired carbon dioxide pressure

SBP:

Systolic blood pressure

SV:

Stroke volume

T tot :

Total respiratory cycle time

VE:

Minute ventilation

V t :

Tidal volume

Δ:

Delta
References
Aznar-Lain S, Webster AL, Cañete S, San Juan AF, López Mojares LM, Lucia A, Chicharro JL (2007) Effects of inspiratory muscle training on exercise capacity and spontaneous physical activity in elderly subjects: a randomized controlled pilot trial. Int J Sports Med 28(12):1025–1029

Carter R, Cheuvront SN, Vernieuw CR, Sawka MN (2006) Hypohydration and prior heat stress exacerbates decreases in cerebral blood flow velocity during standing. J Appl Physiol 101(6):1744–1750

Convertino V, Ryan K, Rickards C, Glorsky S, Idris A, Yannopoulos D, Metzger A, Lurie K (2011) Optimizing the respiratory pump: harnessing inspiratory resistance to treat systemic hypotension. Respir Care 56:846–857

Dick T, Mims J, Hsieh Y, Morris K, Wehrwein E (2014) Increased cardio-respiratory coupling evoked by slow deep breathing can persist in normal humans. Respir Physiol Neurobiol 204:99–111

Drootin M (2011) Summary of the updated American geriatrics society/British geriatrics society clinical practice guideline for prevention of falls in older persons. J Am Geriatr Soc 59:148–157

Faul F, Erdfelder E, Lang A-G, Buchner A (2007) G*Power 3: a flexible statistical power analysis program for the social, behavioral, and biomedical sciences. Behav Res Methods 39:175–191

Garg A, Xu D, Laurin A, Blaber A (2014) Physiological interdependence of the cardiovascular and postural control systems under orthostatic stress. Am J Physiol Heart Circ Physiol 307:H259–264

Gibson G, Whitelaw W, Siafakas N (2002) ATS/ERS Statement on respiratory muscle testing. Am J Respir Crit Care Med 166:518–624

Goswami N, Blaber AP, Hinghofer-Szalkay H, Montani J-P (2017) Orthostatic intolerance in older persons: etiology and countermeasures. Front Physiol 8:803

Greig C, Young A, Skelton D, Pippet E, Butler F, Mahmud SM (1994) Exercise studies with elderly volunteers. Age Ageing 23:185–189

Held H, Pendergast D (2014) The effects of respiratory muscle training on respiratory mechanics and energy cost. Respir Physiol Neurobiol 200:7–17

Hermens HJ, Freriks B, Merletti R, Hagg GG, Stegeman D, Blok J, Rau G, Disselhorst-Klug C (1992) European Recommendations for Surface ElectroMyoGraphy, deliverable of the SENIAM project. Roessingh Res Dev b. v., ISBN: 90-75452-15-2

Hopkins W, Marshall S, Batterham A, Hanin J (2009) Progressive statistics for studies in sports medicine and exercise science. Med Sci Sports Exerc 41:3–12

Iwasaki S, Yamasoba T (2014) Dizziness and imbalance in the elderly: age-related decline in the vestibular system. Aging Dis 6:38–47

Jacobs J, Horak F (2007) Cortical control of postural responses. J Neural Transm 114:1339–1348

Jansen S, de Lange FJ, de Rooij SE, van der Velde N (2015) Effectiveness of a cardiovascular evaluation and intervention in older fallers: a pilot study. J Am Geriatr Soc 63:2192–2193

Janssens L, Pijnenburg M, Claeys K, McConnell AK, Troosters T, Brumagne S (2013) Postural strategy and back muscle oxygenation during inspiratory muscle loading. Med Sci Sports Exerc 45:1355–1362

Janssens L, McConnell A, Pijnenburg M, Claeys K, Goossens N, Lysens R, Troosters T, Brumagne S (2015) Inspiratory muscle training affects proprioceptive use and low back pain. Med Sci Sports Exerc 47:12–19

Khoo M (2002) Determinants of ventilatory instability and variability. Respir Physiol 122:167–182

Koepchen H, Dietrich K, Detlef S (1981) Neurophysiological background of central neural cardiovascular-respiratory coordination: basic remarks and experimental approach. J Auton Nerv Syst 3:335–368

Laitinen T, Hartikainen J, Vanninen E, Niskanen L, Geelen G, Länsimies E (1998) Age and gender dependency of baroreflex sensitivity in healthy subjects. J Appl Physiol 84: 576–583

Mcconnell A (2013) CrossTalk opposing view: respiratory muscle training does improve exercise tolerance. J Physiol 15:3397–3398

McConnell A, Copestake A (1999) Maximum static respiratory pressures in healthy elderly men and women: Issues of reproducibility and interpretation. Respiration 66:251–258

McConnell A, Lomax M (2006) The influence of inspiratory muscle work history and specific inspiratory muscle training upon human limb muscle fatigue. J Physiol 577:445–457

Mehagnoul-schipper D, Vloet L, Colier W, Hoefnagels W, Jansen W (2000) Cerebral oxygenation declines in healthy elderly subjects in response to assuming the upright position. Stroke 31:1615–1620

Meng L, Hou W, Chui J, Han R, Gelb A (2015) Cardiac output and cerebral blood flow—the integrated regulation of brain perfusion in adult humans. Anesthesiology 123:1198–1208

Miller M, Hankinson J, Brusasco V, Burgos F, Casaburi R, Coates A et al (2005) Standardisation of spirometry. Eur Respir J 26:319–338

Mills D, Johnson M, Barnett Y, Smith W, Sharpe GR (2015) The effects of inspiratory muscle training in older adults. Med Sci Sports Exerc 47:691–697

Naqvi J, Yap K, Ahmad G, Ghosh J (2013) Transcranial Doppler ultrasound: a review of the physical principles and major applications in critical care. Int J Vasc Med 62:93–78

Pasma JH, Bijlsma AY, van der Bij MD, Arendzen JH, Meskers CG, Maier AB (2014) Age-related differences in quality of standing balance using a composite score. Gerontology 60(4):306–314

Ratnovsky A, Elad D, Halpern P (2008) Mechanics of respiratory muscles. Respir Physiol Neurobiol 163:82–89

Rickards C, Ryan K, Cooke W, Lurie K, Convertino V (2007) Inspiratory resistance delays the reporting of symptoms with central hypovolemia: association with cerebral blood flow. Am J Physiol Regul Integr Comp Physiol 293:R243–250

Rikli RE, Jones CJ (1999) Functional fitness normative scores for community-residing adults, ages 60–94. J Aging Phys Act 6:160–179

Rodrigues G, Gurgel J, Gonçalves T, Soares P (2018a) Inspiratory muscle training improves physical performance and cardiac autonomic modulation in older women. Eur J Appl Physiol 118:1143–1152

Rodrigues G, Gurgel J, Gonçalves T, Porto F, Soares P (2018b) Influence of breathing patterns and orthostatic stress on postural control in older adults. Geriatr Gerontol Int 18:692–697

Rodrigues G, Gurgel J, Galdino I, da Nóbrega AC, Soares PP (2020) Respiratory pump contributions in cerebrovascular and postural control responses during orthostatic stress in older women. Respir Physiol Neurobiol 275:1033–1084

Salzman B (2010) Gait and balance disorders in older adults. Am Fam Phys 82:61–68

Son DH, Yoo JW, Cho MR, Lee YJ (2018) Relationship between handgrip strength and pulmonary function in apparently healthy older women. J Am Geriatr Soc 66:1367–1371

Van Breukelen GJP (2006) ANCOVA versus change from baseline had more power in randomized studies and more bias in nonrandomized studies. J Clin Epidemiol 59:920–925

Verma A, Garg A, Xu D, Bruner M, Fazel-rezai R, Blaber A, Tavakolian K (2017) Skeletal muscle pump drives control of cardiovascular and postural systems. Sci Rep 7:1–8

Vranish J, Bailey E (2015) Daily respiratory training with large intrathoracic pressures, but not large lung volumes, lowers blood pressure in normotensive adults. Respir Physiol Neurobiol 216:63–69

Wieling W, van Dijk N, Thijs RD, de Lange FJ, Krediet CT, Halliwill JR (2015) Physical countermeasures to increase orthostatic tolerance. J Intern Med 277:69–82

Wu W, Zhang X, Lin L, Ou Y, Li X, Guan L, Guo B, Zhou L, Chen R (2017) Transdiaphragmatic pressure and neural respiratory drive measured during inspiratory muscle training in stable patients with chronic obstructive pulmonary disease. Int J COPD 12:773–781
Acknowledgements
We greatly appreciate the time and effort expended by all volunteer subjects in this study. We would also like to thank professor Igor Fernandes for his support discussing the results, and my lab's colleagues Andre Musmmano and Luana Farinazzo for their support during the experiments.
Funding
This work was supported by Coordenação de Aperfeiçoamento de Pessoal de Nível Superior (CAPES) and Fundação Carlos Chagas de Amparo à Pesquisa do Estado do Rio de Janeiro (FAPERJ/ E-26/110.079/2013).
Ethics declarations
Conflict of interest
None of the authors have any financial or personal relationships with people or organizations.
Additional information
Publisher's Note
Springer Nature remains neutral with regard to jurisdictional claims in published maps and institutional affiliations.
Communicated by Massimo Pagani.
Electronic supplementary material
Below is the link to the electronic supplementary material.
About this article
Cite this article
Rodrigues, G.D., Gurgel, J.L., Galdino, I.d. et al. Inspiratory muscle training improves cerebrovascular and postural control responses during orthostatic stress in older women. Eur J Appl Physiol 120, 2171–2181 (2020). https://doi.org/10.1007/s00421-020-04441-2
Received:

Accepted:

Published:

Issue Date:
Keywords
Respiratory muscles

Center-of-pressure

Aging

Cardiac output

Middle cerebral artery blood flow velocity