Abstract
Purpose
Music listening while running enhances physiological and psychological features, resulting in a more enjoyable experience. The possible influence of music on ground reaction forces (GRF) during running, however, is unknown. Considering the 'distracting' role of music on runner's attention, we hypothesized that music would cover foot impacts against the ground. This study verified such hypothesis by testing the effects of different music volumes while running at different velocities.
Methods
Fifty fit volunteers (F:M = 22:8; 23 ± 2 years) performed 2-min running stints over 3 random conditions (80-dB, 85-dB music; 'no music'), at 3 velocities (8, 10, 12 km/h). Participants ran on a sensorized treadmill that recorded GRF during all experiments.
Results
Listening to 85-dB music resulted in greater GRF at 8 (p = 0.0005) and 10 km/h (p = 0.04) but not 12 km/h (p = 0.35) and not with 80-dB volume. Gender-based analyses revealed significant Condition × gender interactions only for 85-dB music vs. 'no music'. Bonferroni-adjusted comparisons revealed significant music-induced increases in GRF only in men at 8 km/h (+ 4.1 kg/cm2, p < 0.0005; women: + 0.8 kg/cm2, p = 0.47) and 10 km/h (+ 3.3 kg/cm2, p = 0.004; women: + 0.8 kg/cm2, p = 0.51) but not at 12 km/h.
Conclusion
In active men, listening to loud music while running results in increased GRF, whereas no effect was observed in women. The lack of music effect in women may be related to structural factors, such as larger hip width-to-femoral length ratio, possibly resulting in different loading patterns. The present preliminary findings introduce high-volume music listening as a new potential risk factor for injury in young runners.
Access options
Buy single article
Instant access to the full article PDF.
USD 39.95
Price excludes VAT (USA)
Tax calculation will be finalised during checkout.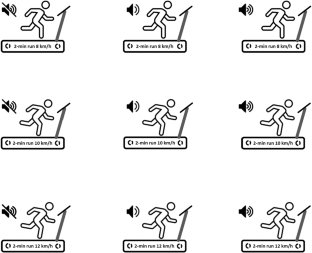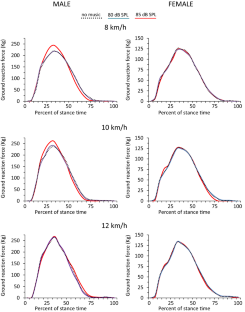 Abbreviations
ANOVA:

Analysis of variance

COP:

Center of pressure

dB:

Decibel

HL:

Hearing level

GRFv:

Vertical ground reaction force

IPAQ:

International Physical Activity Questionnaire

MET:

Metabolic equivalent

Q-angle:

Quadriceps muscle angle

SPL:

Sound pressure level

SD:

Standard deviation
References
Aglietti P, Insall JN, Cerulli G (1983) Patellar pain and incongruence. I: measurements of incongruence. Clin Orthop Relat Res 176:217–224

Almeida SA, Trone DW, Leone DM, Shaffer RA, Patheal SL, Long K (1999) Gender differences in musculoskeletal injury rates: a function of symptom reporting? Med Sci Sports Exerc 31:1807–1812

Barrett R, Noordegraaf MV, Morrison S (2008) Gender differences in the variability of lower extremity kinematics during treadmill locomotion. J Mot Behav 40:62–70

Benas D (1984) Special considerations in women's rehabilitation programs. Rehabilitation of the Injured Knee. CV Mosby Company, Princeton, pp 393–405

Bood RJ, Nijssen M, van der Kamp J, Roerdink M (2013) The power of auditory-motor synchronization in sports: enhancing running performance by coupling cadence with the right beats. PLoS ONE 8:e70758

Boutcher SH, Trenske M (1990) The effects of sensory deprivation and music on perceived exertion and affect during exercise. J Appl Sport Psychol 12:167–176

Breinbauer HA, Anabalón JL, Gutierrez D, Cárcamo R, Olivares C, Caro J (2012) Output capabilities of personal music players and assessment of preferred listening levels of test subjects: outlining recommendations for preventing music-induced hearing loss. Laryngoscope 122:2549–2556

Brodsky W, Slor Z (2013) Background music as a risk factor for distraction among young-novice drivers. Accid Anal Prev 59:382–393

Coast JR, Blevins JS, Wilson BA (2004) Do gender differences in running performance disappear with distance? Can J Appl Physiol 29:139–145

Cox RM, Alexander GC, Taylor IM, Gray GA (1997) The contour test of loudness perception. Ear Hear 18:388–400

Craig CL, Marshall AL, Sjöström M, Bauman AE, Booth ML, Ainsworth BE, Pratt M, Ekelund U, Yngve A, Sallis JF, Oja P (2003) International physical activity questionnaire: 12-country reliability and validity. Med Sci Sports Exerc 35:1381–1395

Curio G, Neuloh G, Numminen J, Jousmäki V, Hari R (2000) Speaking modifies voice-evoked activity in the human auditory cortex. Hum Brain Map 9:183–191

Davis BL, Cavanagh PR (1993) Decomposition of superimposed ground reaction forces into left and right force profiles. J Biomech 26:593–597

de Jonge XA (2003) Effects of the menstrual cycle on exercise performance. Sports Med 33:833–851

Edworthy J, Waring H (2006) The effects of music tempo and loudness level on treadmill exercise. Ergonomics 49:1597–1610

Elliott BC, Blanksby BA (1979) Optimal stride length considerations for male and female recreational runners. Br J Sports Med 13:15–18

Faul F, Erdfelder E, Lang AG, Buchner A (2007) G*Power 3: a flexible statistical power analysis program for the social, behavioral, and biomedical sciences. Behav Res Methods 39:175–191

Ferber R, Davis IM, Williams I (2003) Gender differences in lower extremity mechanics during running. Clin Biomech 18:350–357

Horton MG, Hall TL (1989) Quadriceps femoris muscle angle: normal values and relationships with gender and selected skeletal measures. Phys Ther 69:897–901

Howard DM, Angus J (2017) Acoustics and psychoacoustics. Focal Press, Waltham, pp 87–88

Jiang W, Zhao F, Guderley N, Manchaiah V (2016) Daily music exposure dose and hearing problems using personal listening devices in adolescents and young adults: a systematic review. Int J Audiol 55:197–205

Karageorghis CI, Priest DL (2012a) Music in the exercise domain: a review and synthesis (Part I). Int Rev Sport Exerc Psychol 5:44–66

Karageorghis CI, Priest DL (2012b) Music in the exercise domain: a review and synthesis (Part II). Int Rev Sport Exerc Psychol 5:67–84

Karageorghis CI, Terry PC, Lane AM, Bishop DT, Priest DL (2012) The BASES Expert Statement on use of music in exercise. J Sports Sci 30:953–956

Karageorghis CI, Terry PC, Lane AM (1999) Development and initial validation of an instrument to assess the motivational qualities of music in exercise and sport: the Brunel Music Rating Inventory. J Sports Sci 17:713–724

Keller GB, Hahnloser RH (2009) Neural processing of auditory feedback during vocal practice in a songbird. Nature 457:187

Keller TS, Weisberger AM, Ray JL, Hasan SS, Shiavi RG, Spengler DM (1996) Relationship between vertical ground reaction force and speed during walking, slow jogging, and running. Clin Biomech 11:253–259

Kuchibhotla KV, Gill JV, Lindsay GW, Papadoyannis ES, Field RE, Sten TA, Miller KD, Froemke RC (2017) Parallel processing by cortical inhibition enables context-dependent behavior. Nat Neurosci 20:62–71

Lane AM, Davis PA, Devonport TJ (2011) Effects of music interventions on emotional States and running performance. J Sports Sci Med 10:400–407

Lieberman DE, Venkadesan M, Werbel WA, Daoud AI, D'Andrea S, Davis IS, Mang'eni RO, Pitsiladis Y (2010) Foot strike patterns and collision forces in habitually barefoot versus shod runners. Nature 463:531–535

Lima-Silva AE, Silva-Cavalcante MD, Pires FO, Bertuzzi R, Oliveira RS, Bishop D (2012) Listening to music in the first, but not the last 1.5 km of a 5-km running trial alters pacing strategy and improves performance. Int J Sports Med 33:813–818

Lopes-Silva JP, Lima-Silva AE, Bertuzzi R, Silva-Cavalcante MD (2015) Influence of music on performance and psychophysiological responses during moderate-intensity exercise preceded by fatigue. Physiol Behav 139:274–280

Malinzak RA, Colby M, Kirkendall DT, Yu B, Garrett WE (2001) A comparison of knee joint motion patterns between men and women in selected athletic tasks. Clin Biomech 16:438–445

May KR, Walker NB (2017) The effects of distractor sounds presented through bone conduction headphones on the localization of critical environmental sounds. Appl Ergon 61:144–158

Meyer-Bisch C (1996) Epidemiological evaluation of hearing damage related to strongly amplified music (personal cassette players, discotheques, rock concerts)-high-definition audiometric survey on 1364 subjects. Audiology 35:121–142

Mifsud NG, Whitford TJ (2017) Sensory attenuation of self-initiated sounds maps onto habitual associations between motor action and sound. Neuropsychologia 103:38–43

Milde-Busch A, von Kries R, Thomas S, Heinrich S, Straube A, Radon K (2010) The association between use of electronic media and prevalence of headache in adolescents: results from a population-based cross-sectional study. BMC Neurol 10:12

Mizuno Y, Kumagai M, Mattessich SM, Elias JJ, Ramrattan N, Cosgarea AJ, Chao EY (2001) Q-angle influences tibiofemoral and patellofemoral kinematics. J Orthop Res 19:834–840

Nethery VM (2002) Competition between internal and external sources of information during exercise: influence on RPE and the impact of the exercise load. J Sports Med Phys Fitness 42:172–178

Neuhoff JG (2001) An adaptive bias in the perception of looming auditory motion. Ecol Psychol 13:87–110

Neuhoff JG (1998) Perceptual bias for rising tones. Nature 395:123

Phinyomark A, Hettinga BA, Osis ST, Ferber R (2014) Gender and age-related differences in bilateral lower extremity mechanics during treadmill running. PLoS ONE 9:e105246

RamezanPour MR, Moghaddam A, Sadifar E (2012) Comparison the effects of listening to three types of music during exercise on heart rate, blood pressure, rating of perceived exertion and fatigue onset time. Iran J Public Health. https://doi.org/10.22067/ijhpa.v3i1.15528

Rejeski WJ (1985) Perceived exertion: an active or passive process? J Sport Psychol 7:371–378

Ruedl G, Pocecco E, Kopp M, Burtscher M, Zorowka P, Seebacher J (2018) Impact of listening to music while wearing a ski helmet on sound source localization. J Sci Med Sport. https://doi.org/10.1016/j.jsams.2018.09.234

Rummell BP, Klee JL, Sigurdsson T (2016) Attenuation of responses to self-generated sounds in auditory cortical neurons. J Neurosci 36:12010–12026

Ružić L, Tudor A, Radman I, Kasović M, Cigrovski V (2015) The influence of ski helmets on sound perception and sound localisation on the ski slope. Int J Occup Med Environ Health 28:389–394

Schneider DM, Sundararajan J, Mooney R (2018) A cortical filter that learns to suppress the acoustic consequences of movement. Nature 561:391

Shih Y, Lin KL, Shiang TY (2013) Is the foot striking pattern more important than barefoot or shod conditions in running? Gait Posture 38:490–494

Simoneau GG, Hoenig KJ, Lepley JE, Papanek PE (1998) Influence of hip position and gender on active hip internal and external rotation. J Orthop Sports Phys Ther 28:158–164

Simpson SD, Karageorghis CI (2006) The effects of synchronous music on 400-m sprint performance. J Sports Sci 24:1095–1102

Singla S, Dempsey C, Warren R, Enikolopov AG, Sawtell NB (2017) A cerebellum-like circuit in the auditory system cancels responses to self-generated sounds. Nat Neurosci 20:943–950

Szmedra L, Bacharach DW (1998) Effect of music on perceived exertion, plasma lactate, norepinephrine and cardiovascular hemodynamics during treadmill running. Int J Sports Med 19:32–37

Terry PC, Karageorghis CI, Saha AM, D'Auria S (2012) Effects of synchronous music on treadmill running among elite triathletes. J Sci Med Sport 15:52–57

Thornby MA, Haas F, Axen K (1995) Effect of distractive auditory stimuli on exercise tolerance in patients with COPD. Chest 107:1213–1217

Todd NP, Cody FW (2000) Vestibular responses to loud dance music: a physiological basis of the "rock and roll threshold"? J Acoust Soc Am 107:496–500

Turunen-Rise I, Flottorp G, Tvete O (1991) A study of the possibility of acquiring noise-induced hearing loss by the use of personal cassette players (walkman). Scand Audiol Suppl 34:133–144

Urbaniak GC, Plous S (2013) Research Randomizer (Version 4.0) [Computer software]. https://www.randomizer.org/. Accessed 13 Jan 2019

Wang LI, Gu CY, Wang IL, Siao SW, Chen ST (2018) The collision forces and lower-extremity inter-joint coordination during running. Sports Biomech 17:143–156

Warren RM (1970) Elimination of biases in loudness judgments for tones. J Acoust Soc Am 48:1397–1403

Warren RM (1973) Quantification of loudness. Am J Psychol 807–825

Weiss C, Herwig A, Schütz-Bosbach S (2011) The self in action effects: selective attenuation of self-generated sounds. Cognition 121:207–218
Acknowledgements
We are grateful to Dr. Andrea Cereatti and Prof. Marcello Caria for critically revising the manuscript, to Drs. Antonello Catogno (BSc audiometry), Mario Russo (BSc audiometry) and Mr. Gavino Ruggiu for their technical assistance.
Ethics declarations
Conflict of interest
We certify that no party having a direct interest in the results of the research supporting this article has or will confer a benefit on us or on any organization with which we are associated. All authors declare that they have no conflict of interest.
Ethical approval
All procedures performed in studies involving human participants were in accordance with the ethical standards of the institutional and/or national research committee and with the 1964 Helsinki declaration and its later amendments or comparable ethical standards.
Additional information
Communicated by Peter Krustrup.
Publisher's Note
Springer Nature remains neutral with regard to jurisdictional claims in published maps and institutional affiliations.
About this article
Cite this article
Manca, A., Cugusi, L., Pomidori, L. et al. Listening to music while running alters ground reaction forces: a study of acute exposure to varying speed and loudness levels in young women and men. Eur J Appl Physiol 120, 1391–1401 (2020). https://doi.org/10.1007/s00421-020-04371-z
Received:

Accepted:

Published:

Issue Date:

DOI: https://doi.org/10.1007/s00421-020-04371-z
Keywords
Music

Running

Ground reaction force

Gender differences