Abstract
Purpose
High-intensity interval training (HIT) has been shown to be an effective endurance training method. However, most HIT research has been conducted on running and cycling. The aim of this study was to assess the suitability of intermittent exercises such as jumps as a type of HIT.
Methods
Respiratory gases, heart rate and ground reaction forces were recorded for 21 participants (age 25 ± 4 years, mass 73 ± 12 kg, 13 male) during 5 distinct jump sessions on different days that varied with respect to the rest durations in between series (0, 15 or 30 s) and in between jumps (0, 1 or 2 s). Blood lactate was determined 3 min after the last series. Prior to the first session, maximal jump height as well as V′O2max during cycling was recorded.
Results
Peak oxygen uptake and heart rate were nearly maximal during all five jump sessions (87–99% of V′O2max, 96–98% of maximal heart rate). The time spent at more than 90% of V′O2max (1–43% of the total session duration), average jump height (34–82% of maximal jump height) and lactate accumulation (4–9 mmol/l) differed between jump sessions, mainly depending on the rest interval between jumps (p < 0.001, rmANOVA between sessions with different rest intervals between jumps).
Conclusion
With short rest intervals, jumping elicited comparable acute responses as reported for running or cycling HIT. Thus, training programs using intermittent exercises should elicit similar adaptations as other forms of HIT, provided the rest intervals are sufficiently short. Heart rate might be of limited value when comparing different types of HIT.
Access options
Buy single article
Instant access to the full article PDF.
USD 39.95
Price includes VAT (USA)
Tax calculation will be finalised during checkout.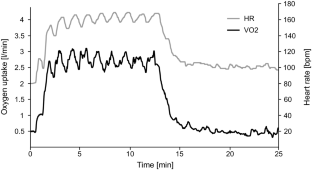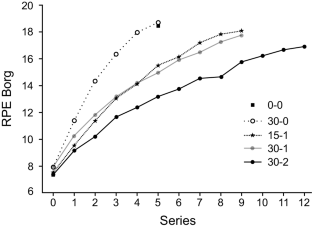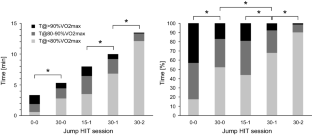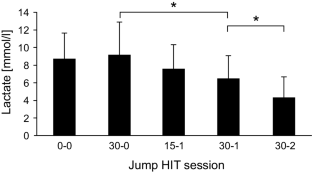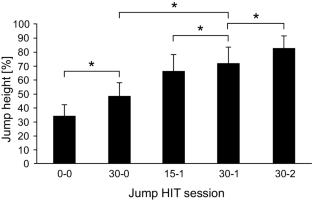 Abbreviations
CMJ:

Countermovement jump

GRF:

Ground reaction force

HIT:

High-intensity interval training

HR:

Heart rate

RPE:

Rated perceived exertion

V′O2max :

Maximal oxygen uptake
References
Balsom PD, Seger JY, Sjodin B, Ekblom B (1992) Maximal-intensity intermittent exercise: effect of recovery duration. Int J Sports Med 13(7):528–533. https://doi.org/10.1055/s-2007-1021311

Billat VL, Slawinski J, Bocquet V, Demarle A, Lafitte L, Chassaing P, Koralsztein JP (2000) Intermittent runs at the velocity associated with maximal oxygen uptake enables subjects to remain at maximal oxygen uptake for a longer time than intense but submaximal runs. Eur J Appl Physiol 81(3):188–196. https://doi.org/10.1007/s004210050029

Bogdanis GC, Nevill ME, Boobis LH, Lakomy H (1996) Contribution of phosphocreatine and aerobic metabolism to energy supply during repeated sprint exercise. J Appl Physiol 80(3):876–884

Bonaventura JM, Sharpe K, Knight E, Fuller KL, Tanner RK, Gore CJ (2015) Reliability and accuracy of six hand-held blood lactate analysers. J Sports Sci Med 14(1):203

Buchheit M, Laursen PB (2013) High-intensity interval training, solutions to the programming puzzle. Sports Med 43(5):313–338

Foster C, Farland CV, Guidotti F, Harbin M, Roberts B, Schuette J, Tuuri A, Doberstein ST, Porcari JP (2015) The effects of high intensity interval training vs steady state training on aerobic and anaerobic capacity. J Sports Sci Med 14(4):747

Gibala MJ, McGee SL (2008) Metabolic adaptations to short-term high-intensity interval training: a little pain for a lot of gain? Exerc Sport Sci Rev 36 (2):58–63

Giboin L-S, Gruber M, Kramer A (2015) Task-specificity of balance training. Hum Mov Sci 44:22–31

Greenhaff PL, Timmons JA (1998) 1 Interaction between aerobic and anaerobic metabolism during intense muscle contraction. Exerc Sport Sci Rev 26(1):1–30

Harris R, Edwards R, Hultman E, Nordesjö L, Nylind B, Sahlin K (1976) The time course of phosphorylcreatine resynthesis during recovery of the quadriceps muscle in man. Pflügers Archiv 367(2):137–142

Hickson RC, Bomze HA, Holloszy JO (1977) Linear increase in aerobic power induced by a strenuous program of endurance exercise. J Appl Physiol Respir Environ Exerc Physiol 42(3):372–376. https://doi.org/10.1152/jappl.1977.42.3.372

Hultman E, Greenhaff PL, Ren J-M, Söderlund K (1991) Energy metabolism and fatigue during intense muscle contraction. Portland Press Limited, London

Kramer A, Dettmers C, Gruber M (2014) Exergaming with additional postural demands improves balance and gait in patients with multiple sclerosis as much as conventional balance training and leads to high adherence to home-based balance training. Arch Phys Med Rehabil 95(10):1803–1809. https://doi.org/10.1016/j.apmr.2014.04.020

Kramer A, Gollhofer A, Armbrecht G, Felsenberg D, Gruber M (2017a) How to prevent the detrimental effects of two months of bed-rest on muscle, bone and cardiovascular system: an RCT. Sci Rep 7(1):13177

Kramer A, Kummel J, Mulder E, Gollhofer A, Frings-Meuthen P, Gruber M (2017b) High-intensity jump training is tolerated during 60 days of bed rest and is very effective in preserving leg power and lean body mass: an overview of the Cologne RSL study. PLoS One 12(1):e0169793. https://doi.org/10.1371/journal.pone.0169793

Kramer A, Kümmel J, Gollhofer A, Armbrecht G, Ritzmann R, Belavy D, Felsenberg D, Gruber M (2018) Plyometrics can preserve peak power during two months of physical inactivity: an RCT including a one-year follow-up. Front Physiol 9:633

Laursen PB, Jenkins DG (2002) The scientific basis for high-intensity interval training: optimising training programmes and maximising performance in highly trained endurance athletes. Sports Med 32(1):53–73

McRae G, Payne A, Zelt JG, Scribbans TD, Jung ME, Little JP, Gurd BJ (2012) Extremely low volume, whole-body aerobic-resistance training improves aerobic fitness and muscular endurance in females. Appl Physiol Nutr Metab 37(6):1124–1131

Midgley AW, Mc Naughton LR (2006) Time at or near VO2max during continuous and intermittent running. A review with special reference to considerations for the optimisation of training protocols to elicit the longest time at or near VO2max. J Sports Med Phys Fit 46(1):1–14

Midgley AW, McNaughton LR, Wilkinson M (2006) Is there an optimal training intensity for enhancing the maximal oxygen uptake of distance runners?: empirical research findings, current opinions, physiological rationale and practical recommendations. Sports Med 36(2):117–132

Morrissey MC, Harman EA, Johnson MJ (1995) Resistance training modes: specificity and effectiveness. Med Sci Sports Exerc 27(5):648–660

Multanen J, Nieminen MT, Häkkinen A, Kujala UM, Jämsä T, Kautiainen H, Lammentausta E, Ahola R, Selänne H, Ojala R (2014) Effects of high-impact training on bone and articular cartilage: 12-month randomized controlled quantitative MRI study. J Bone Miner Res 29(1):192–201

Nicolo A, Bazzucchi I, Lenti M, Haxhi J, Scotto di Palumbo A, Sacchetti M (2014) Neuromuscular and metabolic responses to high-intensity intermittent cycling protocols with different work-to-rest ratios. Int J Sports Physiol Perform 9(1):151–160. https://doi.org/10.1123/ijspp.2012-0289

Roberts JA, Alspaugh JW (1972) Specificity of training effects resulting from programs of treadmill running and bicycle ergometer riding. Med Sci Sports 4(1):6–10

Saez-Saez de Villarreal E, Requena B, Newton RU (2010) Does plyometric training improve strength performance? A meta-analysis. J Sci Med Sport Sports Med Aust 13(5):513–522. https://doi.org/10.1016/j.jsams.2009.08.005

Sahlin K, Tonkonogi M, Söderlund K (1998) Energy supply and muscle fatigue in humans. Acta Physiol Scand 162(3):261–266

Seiler S, Joranson K, Olesen BV, Hetlelid KJ (2013) Adaptations to aerobic interval training: interactive effects of exercise intensity and total work duration. Scand J Med Sci Sports 23(1):74–83. https://doi.org/10.1111/j.1600-0838.2011.01351.x

Sloth M, Sloth D, Overgaard K, Dalgas U (2013) Effects of sprint interval training on VO2max and aerobic exercise performance: a systematic review and meta-analysis. Scand J Med Sci Sports 23(6):e341–e352

Walter G, Vandenborne K, McCully KK, Leigh JS (1997) Noninvasive measurement of phosphocreatine recovery kinetics in single human muscles. Am J Physiol Cell Physiol 272(2):C525–C534
Acknowledgements
The authors would like to thank Benjamin Weiss for his help with data acquisition. This study was co-funded by the NPI program of the European Astronaut Centre (EAC NPI 534, Contract 4000122797).
Additional information
Publisher's Note
Springer Nature remains neutral with regard to jurisdictional claims in published maps and institutional affiliations.
Communicated by Olivier Seynnes.
About this article
Cite this article
Kramer, A., Poppendieker, T. & Gruber, M. Suitability of jumps as a form of high-intensity interval training: effect of rest duration on oxygen uptake, heart rate and blood lactate. Eur J Appl Physiol 119, 1149–1156 (2019). https://doi.org/10.1007/s00421-019-04105-w
Received:

Accepted:

Published:

Issue Date:
Keywords
HIT

Plyometrics

Cardiovascular

Jump training