Abstract
Purpose
The prevalence of lifestyle diseases has escalated, and effective exercise training programmes are warranted. This study tested the hypothesis that regular participation in small-sided team handball training could provide beneficial health effects on cardiovascular, skeletal, and muscular parameters in young adult untrained men.
Method
Twenty-six untrained 20–30-year-old men were randomly allocated to either a team handball training group (HG; n = 14), which completed 1.9 ± 0.3 training sessions per week over 12 weeks, or an inactive control group (CG; n = 12). Physiological training adaptations were assessed pre- and post interventions by DXA scans, blood samples, muscle biopsies, and physical tests.
Results
The average heart rate during training was equivalent to 84 ± 4% of maximal heart rate. Compared to CG, HG displayed significant increases in VO2max (11 ± 6%), proximal femur bone mineral density (2 ± 1%), whole-body bone mineral content (2 ± 1%), intermittent endurance performance (32 ± 16%), incremental treadmill test performance (16 ± 7%) and muscle citrate synthase activity (22 ± 28%) as well as decreases in total fat mass (7 ± 7%) and total fat percentage (6 ± 7%) (all p < 0.05). There were no significant changes in muscle mass, blood pressure, resting heart rate, muscle hydroxyl-acyl-dehydrogenase activity, or blood lipids (all p > 0.05).
Conclusion
Participation in regular recreational team handball training was associated with positive cardiovascular, skeletal, and muscular adaptations, including increased maximal oxygen uptake, increased muscle enzymatic activity, and improved bone mineralization as well as lower fat percentage. These findings suggest that recreational team handball training may be an effective health-promoting activity for young adult men.
This is a preview of subscription content, log in to check access.
Access options
Buy single article
Instant access to the full article PDF.
US$ 39.95
Price includes VAT for USA
Subscribe to journal
Immediate online access to all issues from 2019. Subscription will auto renew annually.
US$ 199
This is the net price. Taxes to be calculated in checkout.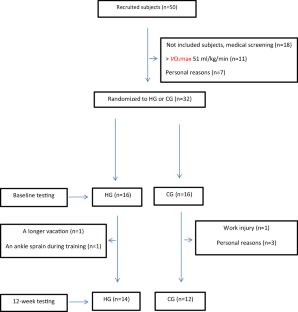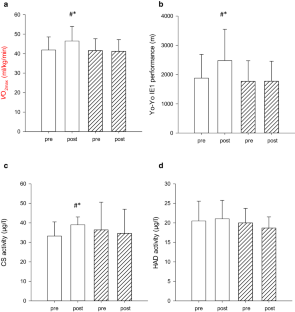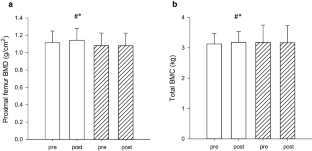 Abbreviations
ANOVA:

Analysis of variance

BMD:

Bone mineral density

BMC:

Bone mineral content

CG:

Control group

CS:

Citrate synthase

CTX-1:

Carboxy-terminal type-1 collagen crosslinks

DXA:

Dual-energy X-ray absorptiometry

EDTA:

Ethylenediaminetetraacetate acid

HAD:

3-hydroxacyl-CoA dehydrogenase

HbA1c:

Glycosylated haemoglobin

HDL-C:

High-density lipoprotein cholesterol

HG:

Handball training group

HR:

Heart rate

IPAQ:

International Physical Activity Questionnaire

LDL-C:

Low-density lipoprotein cholesterol

P1NP:

Procollagen type-1 amino-terminal propeptide

TC:

Total cholesterol

TG:

Triglycerides

T2DM:

Type 2 diabetes mellitus

VO2max :

Maximal oxygen uptake

Yo–Yo IE1:

Yo–Yo intermittent endurance level 1 test
References
Aastrand I (1960) Aerobic work capacity in men and women with special reference to age. Acta Physiol Scand Suppl 49(169):1–92

Aspenes ST, Nilsen TIL, Skaug E–A, Bertheussen GF, Ellingsen O, Vatten L, Wisloff U (2011) Peak oxygen uptake and cardiovascular risk factors in 4631 healthy women and men. Med Sci Sports Exerc 43:1465–1473

Bangsbo J, Hansen PR, Dvorak J, Krustrup P (2015) Recreational football for disease prevention and treatment in untrained men: a narrative review examining cardiovascular health, lipid profile, body composition, muscle strength and functional capacity. Br J Sports Med 49(9):568–576

Basset DR, Howley ET (2000) Limiting factors for maximum oxygen uptake and determinants of endurance performance. Med Sci Sports Exerc 32(1):70–84

Benowitz NL (2003) Cigarette smoking and cardiovascular disease: pathophysiology and implications for treatment. ProgCardiovascDis 46(1):91–111

Bergström J (1975) Percutaneous needle biopsy of skeletal muscle in physio- logical and clinical research. Scand J Clin Lab Invest 35:609–616

Bizzini M, Dvorak J (2015) FIFA 11+: an effective programme to prevent football injuries in various player groups worldwide-a narrative review. Br J Sports Med 49:577–579

Bozetto L, Annuzzi G, Costabile G, Costagliola L, Giorgini M, Alderisio A, Strazzullo A, Patti L, Cipriano P, Magione A, Vitelli A, Vogorito C, Riccardi G, Rivellese AA (2014) A CHO/fibre diet reduces and a MUFA diet increases postprandial lipaemia in type 2 diabetes: no supplementary effects of low-volume physical training. Acta Diabetol: 51:385–393

Conley KE (2016) Mitochondria to motion: optimizing oxidative phosphorylation to improve exercise performance. J Exp Biol 219(2):243–249

Cook S, Togni M, Schaub MC, Wenaweser P, Hess OM (2006) High heart rate: a cardiovascular risk factor? Eur Heart J 27(20):2387–2393

Craig CL, Marshall AL, Sjöström M, Bauman AE, Booth ML, Ainsworth BE, Pratt M, Ekelund U, Yngve A, Sallis JF, Oja P (2003) International physical activity questionnaire: 12-country reliability and validity. Med Sci Sports Exerc 35(8):1381–1395

Daussin FN, Zoll J, Dufour SP, Ponsot E, Lonsdorfer-Wolf E, Doutreleau S, Mettauer B, Piquard F, Geny B, Richard R (2008) Effect of interval training versus continuous training on cardiorespiratory and mitochondrial function: relationship to aerobic performance improvements in sedentary subjects. Am J Physiol Regul Integr Comp Physiol 295(1):R264–R272

de Sousa MV, Fukui R, Krustrup P, Pereira RM, Silva PR, Rodrigues AC et al (2014) Positive effects of football on fitness, lipid profile, and insulin resistance in Brazilian patients with type 2 diabetes. Scand J Med Sci Sports 24:57–65

Despres J-P, Moorjani S, Tremblay A, Poehlman ET, Lupien PJ, Nadeau A, Bouchard C (1998) Heredity and changes in plasma lipids and lipoproteins after short-term exercise training in men. Arteriosclerosis 8:402–409

Durstine JL, Grandjean PW, Cox CA, Thompson PD (2002) Lipids, lipoproteins and the exercise. J Cardiopulm Rehabil 22(6):385–398

Fester M (2016) Forening i forandring?— En undersøgelse af idrætsforeninger i Danmark, DIF analyse

Helge EW, Andersen TR, Schmidt JF, Jørgensen NR, Hornstrup T, Krustrup P, Bangsbo J (2014) Recreational football improves bone mineral density and bone turnover marker profile in elderly men. Scand J Med Sci Sports 24:98–104

Hornstrup T, Wikman JM, Fristrup B, Póvoas S, Helge EW, Nielsen SH, Helge JW, Andersen JL, Nybo L, Krustrup P (2018) Fitness and health benefits of team handball training for young untrained women—a cross-disciplinary RCT on physiological adaptations and motivational aspects. J Health Sci 7(2):139–148

Hu FB (2011) Globalization of diabetes: the role of diet, lifestyle, and genes. Diabetes Care 34:1249–1257

Kelley KS, Kelley G (2006) Aerobic exercise and lipids and lipoproteinin men: a meta-analysisof randomized controlled trials. J Mens Health Gend 3:61–70

Kiens B, Beyer N, Brage S, Hyldstrup L, Ottesen LS, Overgaard K, Pedersen BK, Puggaard L, Aagaard PG (2007) Physical inactivity: consequences and correlations. Ugeskr Læger 169:2442–2445

Krustrup P, Krustrup BR (2018) Football is medicine—it is time for patients to play! Editorial. Br J Sport Med 52(22):1412–1414

Krustrup P, Nielsen JJ, Krustrup B, Christensen JF, Pedersen H, Randers MB, Aagaard P, Petersen AM, Nybo L, Bangsbo J (2009) Recreational soccer is an effective health promoting activity for untrained men. Br J Sports Med 43:825–831

Krustrup P, Aagaard P, Nybo L, Petersen J, Mohr M, Bangsbo J (2010) Recreational football as a health promoting activity: a topical review. Scand J Med Sci Sports 20(suppl 1):1–13

Krustrup P, Randers MB, Andersen LJ, Jackman SR, Bangsbo J, Hansen PR (2013) Soccer improves fitness and attenuates cardiovascular risk factors in hypertensive men. Med Sci Sports Exerc 45:553–560

Krustrup P, Bradley PS, Christensen JS, Castagna C, Jackman S, Connolly L, Randers MB, Mohr M, Bangsbo J (2015) The Yo-Yo IE2 Test: physiological response for untrained men versus trained soccer. Med Sci Sports Exerc 47:100–108

Krustrup P, Helge EW, Hansen PR, Aagaard P, Hagman M, Randers MB, de Sousa M, Mohr M (2018) Effects of recreational football on women's fitness and health: adaptations and mechanisms. Eur J Appl Physiol 118(1):11–32

Langevoort G, Myklebust G, Dvorak J, Junge A (2007) Handball injuries during major international tournaments. Scand J Med Sci Sports 17:400–407

Le-Houezec J, Benowitz NL (1991) Basic and clinical psychopharmacology of nicotine. Clin Chest Med 12(4):681–699

Loe H, Rognmo Ø, Saltin B, Wisløff U (2013) Aerobic capacity reference data in 3816 healthy men and women 20–90 years. PLoS One 8:e64319

Lowry OH, Passonneau JV (1972) A flexible system of enzymatic analysis. Academic, New York, pp 237–249

MacInnis MJ, Gibala MJ (2016) Physiological adaptations to interval training and the role of exercise intensity. J Physiol 1;595(9):2915–2930

Middleton KR, Anton SD, Perri MG (2013) Long-term adherence to health behavior change. Am J Lifestyle Med 7(6):395–404

Milanović Z, Pantelić S, Kostić R, Trajković N, Sporiš G (2015) Soccer vs. running training effectsin young adult men:which programme is more effective in improvement of body composition? Randomized controlled trial. Biol Sport. 32(4):301–305

Milanović Z, Pantelić S, Čović N, Sporiš G, Mohr M, Krustrup P (2018) Broad-spectrum physical fitness benefits of recreational football: a systematic review and meta-analysis. Br J Sports Med. https://doi.org/10.1136/bjsports-2017-097885

Mohr M, Helge EW, Petersen LF, Lindenskov A, Weihe P, Mortensen J, Jørgensen NR, Krustrup P (2015) Effects of soccer vs. swim training on bone formation in sedentary middle-aged women. Eur J Appl Physiol 115:2671–2679

Nielsen G, Wikman JM, Jensen CJ, Schmidt JF, Gliemann L, Andersen TR (2014) Health promotion: The impact of beliefs of health benefits, social relations and enjoyment on exercise continuation. Scand J Med Sci Sports 24(Suppl. 1):66–75

Nybo L, Sundstrup E, Jakobsen MD, Mohr M, Hornstrup T, Simonsen L, Bulow J, Randers MB, Nielsen JJ, Aagaard P, Krustrup P (2010) High-Intensity Training versus Traditional Exercise Interventions for Promoting Health. Med Sci Sports Exerc 42(10):1951–1958

Ottesen L, Jeppesen RS, Krustrup BR (2010) The development of social capital through football and running: studying an intervention program for inactive women. Scand J Med Sci Sports 20(suppl 1):118–131

Pedersen BK, Saltin B (2015) Exercise as medicine-evidence for prescribing exercise as therapy in 26 different chronic diseases. Scand J Med Sci Sports 25(Suppl 3):1–72

Póvoas SCA, Castagna C, Resende C, Coelho EF, Silva P, Santos R, Seabra A, Tamames J, Lopes M, Randers MB, Krustrup P (2017) Physical and physiological demands of recreational team handball for adult untrained men. Biomed Res Int. 6204603

Randers MB, Nybo L, Petersen J, Nielsen JJ, Christiansen L, Bendiksen M, Brito J, Bangsbo J, Krustrup P (2010) Activity profile and physiological response to football training for untrained males and females, elderly and youngsters: influence of the number of players. Scand J Med Sci Sports 20(Suppl):S14–S23 1)

Randers MB, Hagman M, Brix J, Christensen JF, Pedersen MT, Nielsen JJ, Krustrup P (2018) Effects of 3 months of full-court and half-court street basketball training on health profile in untrained men. Health Sci 7(2):132–138

Reginster JY, Burlet N (2006) Osteoporosis: a still increasing prevalence. Bone 38(2 Suppl 1):S4–S9

Robling AG, Hinant FM, Burr DB, Turner CH (2002) Shorter, more frequent mechanical loading sessions enhance bone mass. Med Sci Sports Exerc 34:196–202

Rubin CT. Lanyon LE (1984) Regulation of bone formation by applied dynamic loads. J Bone Jt Surg Am: 66:397–402

Schmidt JF, Andersen TR, Horton J, Brix J, Tarnow L, Krustrup P, Andersen LJ, Bangsbo J, Hansen PR (2013) Soccer training improves cardiac function in men with type 2 diabetes. Med Sci Sports Exerc 45(12):2223–2233

Schmidt JF, Hansen PR, Andersen TR, Andersen LJ, Hornstrup T, Krustrup P, Bangsbo J (2014) Cardiovascular adaptations to 4 and 12 months of football or strength training in 65- to 75-year-old untrained men. Scand J Med Sci Sports 24(Suppl 1):86–97

Sloth M, Sloth D, Overgaard K, Dalgas U (2013) Effects of sprint interval training on VO2max and aerobic exercise performance: a systematic review and meta-analysis: Effects of sprint interval training on VO2max. Scand J Med Sci Sports 23:e341–e352

Smithline HA, Ward KR, Chiulli DA, Blake HC, Rivers EP (2003) Whole body oxygen consumption and critical oxygen delivery in response to prolonged and severe carbon monoxide poisoning. Resuscitation 56(1):97–104

Srikanthan P, Karlamangla AS (2011) Relative muscle mass is inversely associated with insulin resistance and prediabetes. Findings from the third national health and nutrition examination survey. J Clin Endocrinol Metab Sep 96(9):2898–2903

Turner CH, Robling AG (2003) Designing exercise regimens to increase bone strength. Exerc Sport Sci Rev: 31:45–50

Uth J, Hornstrup T, Schmidt JF, Christensen JF, Frandsen C, Christensen KB, Helge EW, Brasso K, Rørth M, Midtgaard J, Krustrup P (2014) Football training improves lean body mass in men with prostate cancer undergoing androgen deprivation therapy. Scand J Med Sci Sports 24:105–112

Vorup J, Pedersen MT, Brahe LK, Melcher PS, Alstrøm JM, Bangsbo J (2017) Effect of small-sided team sport training and protein intake on muscle mass, physical function and markers of health in older untrained adults: A randomized trial. PLoS One 12(10):e0186202

Weaver CM, Gordon CM, Janz KF, Lappe JM, Lewis R, O'Karma M, Wallace TC, Zemel BS (2016) The National Osteoporosis Foundation's position statement on peak bone mass development and lifestyle factors: a systematic review and implementation recommendations. Osteoporos Int 27(4):1281–1386

Wikman JM, Nistrup A, Vorup J, Pedersen MT, Melcher PS, Bangsbo J, Pfister G (2017) The effect of floorball training on health status, psychological health and social capital in older men. AIMS Public Health 4(4):364–382

Wild D, Von Maltzan R, Brohan E, Christensen T, Clauson P, Gonder-Frederick L (2007) A critical review of the literature on fear of hypoglycemia in diabetes: implications for diabetes management and patient education. Patient Educ Couns 68:10–15

Williams PT (1997) Relationship of distance run per week to coronary heart disease risk factors in 8283 male runners: the National Runners' Health Study. Arch Intern Med 157:191–198

Ziogas GG, Thomas TR, Harris WS (1997) Exercise training, postprandial hypertriglyceridemia, and LDL subfraction distribution. Med Sci Sports Exerc 29:986–991
Acknowledgements
We would like to thank Jon Egelund, Marie Hagman, Signe Hudloff Nielsen, and Nadia Quardon for their practical and technical assistance, and the participants for their committed participation. We would also like to express our gratitude for the support of TrygFonden, Nordea-fonden (Nordea-fonden 02-2011-4360), the Danish Handball Federation (Dansk Håndbold Forbund, DHF), and the European Handball Federation (EHF).
Ethics declarations
Conflict of interest
The authors declare that this study was partly funded by DHF and EHF. The authors declare that they have no conflicts of interest.
Data
The datasets and analysis generated during the current study are available from the corresponding author upon reasonable request.
Additional information
Communicated by I. Mark Olfert.
About this article
Cite this article
Hornstrup, T., Løwenstein, F.T., Larsen, M.A. et al. Cardiovascular, muscular, and skeletal adaptations to recreational team handball training: a randomized controlled trial with young adult untrained men. Eur J Appl Physiol 119, 561–573 (2019). https://doi.org/10.1007/s00421-018-4034-5
Received:

Accepted:

Published:

Issue Date:
Keywords
Ball games

Exercise training

Maximal oxygen uptake

Fat percentage

Bone mineralization

Bone markers

Muscle enzyme activity