Abstract
Purpose
This study compared the effects of "Ergomotor" intervention and conventional physiotherapy, on influencing the motor control in the neck–shoulder region in people with work-related neck–shoulder pain (WRNSP).
Methods
101 patients (age range 20–54 years) diagnosed with chronic WRNSP were randomized into control (CO) group (n = 50) and Ergomotor (EM) group (n = 51). Each group received a 12-week intervention. Participants in CO group received treatment for pain relief and general exercises. EM group received individualized motor control training and advice of ergonomic modifications at their workplaces.
Results
At post-intervention, EM group showed significant reduction of bilateral upper trapezius muscle activity during active neck movements (left: 40–35%, right: 35–27%) and functional tasks such as lifting a weight forward–backward (left: 31–21%, right: 22–14%) and upward–downward (left: 26–23%, right: 20–13%). Cervical erector spinae also showed significant decrease in muscle activity during some phases of the functional tasks (left: 13–6%, right: 10–2%). In contrast, CO group did not show such changes in muscle activity at post-intervention. EM group also showed significant increase in movement velocity and acceleration during active neck movements in all directions (from 18 to 31%), while CO group only showed significant increase in movement velocity in some directions. Both groups reported significant but similar reduction in pain scores, at post-intervention and 1-year follow-up.
Conclusions
The present results provided some evidence to support the positive and sustainable benefits of integrating motor control training into the workplace postures and motions.
This is a preview of subscription content, log in to check access.
Access options
Buy single article
Instant access to the full article PDF.
US$ 39.95
Price includes VAT for USA
Subscribe to journal
Immediate online access to all issues from 2019. Subscription will auto renew annually.
US$ 199
This is the net price. Taxes to be calculated in checkout.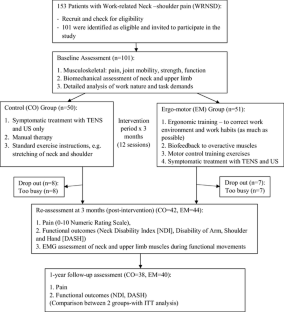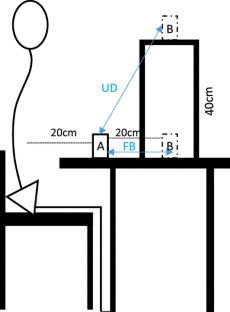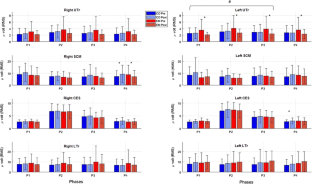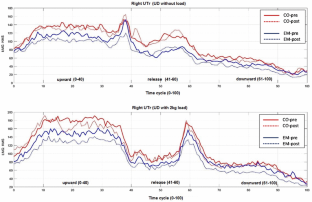 Abbreviations
CES:

Cervical erector spinae

CO:

Control

DASH:

Disability of Arm, Shoulder and Hand questionnaire

ECG:

Electrocardiogram

EM:

Ergomotor

EMG:

Electromyography

FB:

Forward–backward

FIR:

Finite impulse response

GEE:

Generalised estimating equations

IIR:

Infinite impulse response

IMU:

Inertial measurement units

LTr:

Lower trapezius

MSD:

Musculoskeletal disorders

NDI:

Neck Disability Index

RM-ANOVA:

Repeated measures analysis of variance

RMS:

Root mean square

SCM:

Sternocleidomastoid

UD:

Upward–downward

UTr:

Upper trapezius

WRNSP:

Work-related neck–shoulder pain
References
Andersen LL, Kjaer M, Sogaard K, Hansen L, Kryger AI, Sjogaard G (2008) Effect of two contrasting types of physical exercise on chronic neck muscle pain. Arthris Rheum 59(1):84–91

Andersen LL, Christensen KB, Holtermann A, Poulsen OM, Sjogaard G, Pedersen MT, Hansen EA (2010) Effects of physical exercise interventions on musculoskeletal pain in all body regions among office workers: a one-year randomized controlled trial. Man Ther 15:100–104

Blangsted AK, Sogaard K, Hansen EA, Hannerz H, Sjogaard G (2008) One-year randomized controlled trial with different physical-activity programs to reduce musculoskeletal symptoms in the neck and shoulders among office workers. Scand J Work Environ Health 34(10):55–65

Boocock MG, McNair PJ, Larmer PJ, Armstrong B, Collier J, Simmonds M, Garrett N (2007) Interventions for the prevention and management of neck/upper extremity musculoskeletal conditions: a systematic review. Occup Environ Med 64(5):291–303

Buckle PW, Devereux JJ (2002) The nature of work-related neck and upper limb musculoskeletal disorders. Appl Ergon 33:207–217

Chaikumarn M, Nakphet N, Janwantanakul P (2017) Repeatability of electromyography normalization of the neck and shoulder muscles in symptomatic office workers. Int J Occup Saf Ergon 19:1–9

Cote P, Cassidy JP, Carroll LJ, Kristman V (2004) The annual incidence and course of neck, and shoulder pain in the general population: a population based cohort study. Pain 112:267–273

Eijckelhof BHW, Huysmans MA, Bruno Garzo JL, Blatter BM, van Dieen JH, Dennerlein JT, van der Beek AJ (2013) The effects of workplace stressors on muscle activity in the neck-shoulder and forearm muscles during computer work: a systematic review and meta-analysis. Eur J Appl Physiol 113:2897–2912

Falla D, Bilenkij G, Jull G (2004) Patients with chronic neck pain demonstrate altered patterns of muscle activation during performance of a functional upper limb task. Spine 29(13):1436–1440

Hsu AL, Tang PF, Jan MH (2002) Test–retest reliability of isokinetic muscle strength of the lower extremities in patients with stroke. Arch Phys Med Rehabil 83(8):1130–1137

Hurwitz EL, Carragee EJ, van der Velde G, Carroll LJ, Nordin M, Guzman J, Peloso PM, Holm LW, Cote P, Hogg-Johnson S, Cassidy JD, Haldeman S, Bone and Joint Decade 2000–2010 Task Force on Neck Pain and its Associated Disorders (2008) Treatment of neck pain: noninvasive interventions. Spine 33(4S):S123–S152

Iglesias C, Nixon J, Cranny G, Nelson EA, Hawkins K, Phillips A, Torgerson D, Mason S, Cullum N (2006) Pressure relieving support surfaces (PRESSURE) trial: cost effectiveness analysis. BMJ 332(7555):1416

Jensen C (2003) Development of neck and hand-wrist symptoms in relation to duration of computer use at work. Scand J Work Environ Health 29(3):197–205

Johnston V, Jull G, Souvlis T, Jimmieson NL (2008) Neck movement and muscle activity characteristics in female office workers with neck pain. Spine 33(5):555–563

Karels CH, Polling W, Bierma-Zeinstra S, Burdorf A, Verhagen AP, Koes BW (2006) Treatment of arm, neck and/or shoulder complaints in physical therapy practice. Spine 31(17):E584–E589

Kwok HKH, Szeto GPY, Cheng ASK, Siu H, Chan CCH (2011) Occupational rehabilitation in Hong Kong: current status and future needs. J Occup Rehabil 21:S28-S34

Larsson B, Sogaard K, Rosendal L (2007) Work-related neck-shoulder pain: a review on magnitude, risk factors, biochemcial characteristics, clinical picture and preventive interventions. Best Pract Res Clin Rheumatol 21(3):447–463

Ma C, Szeto GPY, Wu S, Lin C, Li L, Yan T (2011) Comparing the effectiveness of biofeedback versus active exercise and passive treatment on work-related musculoskeletal disorders: a randomized controlled trial. Arch Phy Med Rehabil 92:849–858

Ma Y, Mazumdar M, Memtsoudis SG (2012) Beyond repeated measures ANOVA: advanced statistical methods for the analysis of longitudinal data in anesthesia research. Regional Anesth Pain Med 37(1):99

Madeleine P, Lundager B, Voight M, Arendt-Nielsen L (1999) Shoulder muscle co-ordination during chronic and acute experimental neck-shoulder pain. An occupational study. Eur J Appl Physiol 79:127–140

McLean SM, Klaber Moffett JA, Sharp DM, Gardiner E (2013) A randomised controlled trial comparing graded exercise treatment and usual physiotherapy for patients with non-specific neck pain (the GET UP neck pain trial). Man Ther 18:199–205

Punnett L, Wegman DH (2004) Work-related musculoskeletal disorders: the epidemiologic evidence and the debate. J Electromyogr Kinesiol 14:13–23

Schulz KF, Altman DG, Moher D, For the Consort Group (2010) CONSORT 2010 Statement: updated guidelines for reporting parallel group randomised trials. J Clin Epidemiol 63:834–840

Stephens B, Gross DP (2007) The influence of a continuum of care model on the rehabilitation of compensation claimants with soft tissue disorders. Spine (Phila Pa 1976) 32(25):2898–904

Szeto GPY, Straker LM, O'Sullivan PB (2005) A comparison of symptomatic and asymptomatic office workers performing monotonous keyboard work—1. Neck and shoulder muscle recruitment patterns. Man Ther 10:270–280

Szeto GPY, Straker LM, O'Sullivan PB (2009) During computing tasks symptomatic female office workers demonstrate a trend towards higher cervical postural muscle load than asymptomatic office workers: an experimental study. Aust J Physiother 55:257–262

Szeto GPY, Cheng ASK, Lee WCE, Gross DP (2011) Implementing the Work Disability Prevention paradigm among therapists in Hong Kong: facilitators and barriers. J Occup Rehabil 21:76–83

Tsang SMH, Szeto GPY, Lee RYW (2013) Movement coordination and differential kinematics of the cervical and thoracic spines in people with chronic neck pain. Clin Biomech 28(6):610–617

Tsang MH, Szeto GPY, Lee R (2016) Relationship between neck acceleration and muscle activities in people with chronic neck pain: implications for functional disability. Clin Biomech 35:27–36

Van Eerd D, Munhall C, Irvin E, Rempel D, Brewer S, van der Beek AJ, Dennerlein JT, Tullar J, Skivington K, Pinion C, Amick B (2016) Effectiveness of workplace interventions in the prevention of upper extremity musculoskeletal disorders and symptoms: an update of the evidence. Occup Environ Med 73:62–70

Verhagen AP, Karels C, Bierma-Zeinstra S, Feleus A, Dahaqhin S, Burdorf A, Koes BW (2007) Exercise proves effective in a systematic review of work-related complaints of the arm, neck or shoulder. J Clin Epidemiol 60:110–117

Viljanen M, Malmivaara A, Uitti J, Rinne M, Palmroos P, Laippala P (2003) Effectiveness of dunamic muscle training, relaxation training, or ordinary activity for chronic neck pain: randomized controlled trial. BMJ 327:475–480

Waling K, Jarvholm B, Sundelin G (2007) Effects of training on female trapezius myalgia: an intervention study with a 3-year follow-up period. Spine 8:789–796

Włodarczyk R, Wieloch M, Czyż S, Dolata PT, Minias P (2013) Natal and breeding dispersal in Mute Swans Cygnus olor: influence of sex, mate switching and reproductive success. Acta Ornithol 48(2):237–244

Xie Y, Szeto GPY, Madeleine P (2015) A comparison of muscle activity in using touchscreen smartphone among young people with and without chronic neck-shoulder pain. Ergonomics 59(1):61–72
Acknowledgements
The authors would like to acknowledge the Health and Medical Research Fund for the financial support to this project. We would like to express our appreciation to the orthopaedic specialists—Prof. LK Hung, Dr. SW Law, and Dr. KK Wong, who helped to recruit suitable patients to join this study. We also want to thank the physiotherapists who have assisted to carry out the interventions for the Ergomotor group (Miss Rufina Lau) and for the control group (Miss Polina Yeung and Mr. Ted Wong). We would also like to thank the research staff including Jay Dai, Phoebe Xie, Viviane Hui, Sam Chong, and our technical advisor Mr. Man Cheung.
Ethics declarations
Conflict of interest
The authors declare no conflict of interest regarding the publication of this manuscript.
Additional information
Communicated by Bénédicte Schepens.
About this article
Cite this article
Tsang, S.M.H., So, B.C.L., Lau, R.W.L. et al. Effects of combining ergonomic interventions and motor control exercises on muscle activity and kinematics in people with work-related neck–shoulder pain. Eur J Appl Physiol 118, 751–765 (2018). https://doi.org/10.1007/s00421-018-3802-6
Received:

Accepted:

Published:

Issue Date:
Keywords
Ergonomics

Neck pain

Motor control

Electromyography

Kinematics