Abstract
Purpose
To investigate how the viscoelastic characteristics of muscles (non-neural tone, elasticity and stiffness) vary as a function of age and gender in a sample of track and field master athletes. To compare these findings with data on related sedentary subjects in literature.
Methods
A total of 390 athletes (aged 35–99) were assessed during the European Master Athletics Indoor Championship 2016. A non-invasive measurement device called MyotonPro was used to measure tone, stiffness, and elasticity in the biceps brachii and rectus femoris muscles at rest. Linear regression analysis was used to assess the correlation between age and the measured parameters. To compare our results with previously reported data, we stratified participants according to gender and age.
Results
Tone was found to not be dependent on age, whereas stiffness was found to be age dependent. Elasticity was found to be both physical activity and age dependent. Tone (only for men), elasticity, and stiffness were lower in master athletes than in sedentary subjects.
Conclusions
Tone, elasticity, and stiffness change with aging; nevertheless, our findings suggest that physical activity can delay the effects of muscular aging, improving fitness in older people.
This is a preview of subscription content, log in to check access.
Access options
Buy single article
Instant access to the full article PDF.
US$ 39.95
Price includes VAT for USA
Subscribe to journal
Immediate online access to all issues from 2019. Subscription will auto renew annually.
US$ 199
This is the net price. Taxes to be calculated in checkout.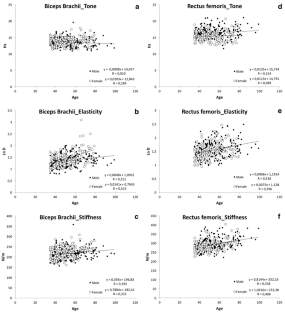 Abbreviations
BB:

Biceps brachii

BMI:

Body mass index

CSA:

Cross-sectional area

E:

Elasticity

EMACI:

European Master Athletics Championships Indoor

ES:

Effect size

FFT:

Fast Fourier transform

ICCs:

Intra-class correlation coefficients

RF:

Rectus femoris

S:

Stiffness

T:

Tone
References
Aarrestad DD, Williams MD, Fehrer SC, Mikhailenok E, Leonard CT (2004) Intra- and interrater reliabilities of the myotonometer when assessing the spastic condition of children with cerebral palsy. J Child Neurol 19:894–901

Agyapong-Badu S, Warner M, Samuel D, Stokes M (2016) Measurement of ageing effects on muscle tone and mechanical properties of rectus femoris and biceps brachii in healthy males and females using a novel hand-held myometric device. Arch Gerontol Geriat 62:59–67. doi:10.1016/j.archger.2015.09.011

Aird L, Samuel D, Stokes M (2012) Quadriceps muscle tone, elasticity and stiffness in older males: reliability and symmetry using the MyotonPRO. Arch Gerontol Geriat 55:E31–E39. doi:10.1016/j.archger.2012.03.005

Barreto PD (2009) Exercise and health in frail elderly people: a review of randomized controlled trials. Eur Rev Aging Phys A 6:75–87. doi:10.1007/s11556-009-0050-0

Bizzini M, Mannion AF (2003) Reliability of a new, hand-held device for assessing skeletal muscle stiffness. Clin Biomech 18:459–461. doi:10.1016/S0268-0033(03)00042-1

Butler RJ, Crowell HP, Davis IM (2003) Lower extremity stiffness: implications for performance and injury. Clin Biomech 18:511–517. doi:10.1016/S0268-0033(03)00071-8

Cohen J (1988) Statistical power analysis for the behavioral sciences, 2nd edn. Hillsdale, NJ

Davidoff RA (1992) Skeletal-muscle tone and the misunderstood stretch reflex. Neurology 42:951–963

Dennison EM, Sayer AA, Cooper C (2017) Epidemiology of sarcopenia and insight into possible therapeutic targets. Nature Rev Rheumatol. doi:10.1038/nrrheum.2017.60

Deschenes MR (2004) Effects of aging on muscle fibre type and size. Sports Med 34:809–824. doi:10.2165/00007256-200434120-00002

Drey M et al (2016) Relation between muscle mass, motor units and type of training in master athletes. Clin Physiol Funct I 36:70–76. doi:10.1111/cpf.12195

Gavronski G, Veraksits A, Vasar E, Maaroos J (2007) Evaluation of viscoelastic parameters of the skeletal muscles in junior triathletes. Physiol Meas 28:625–637. doi:10.1088/0967-3334/28/6/002

Grounds MD (2002) Reasons for the degeneration of ageing skeletal muscle: a central role for IGF-1 signalling. Biogerontology 3:19–24. doi:10.1023/A:1015234709314

Kararizou E, Manta P, Kalfakis N, Vassilopoulos D (2009) Age-related morphometric characteristics of human skeletal muscle in male subjects. Pol J Pathol 60:186–188

Kent-Braun JA, Ng AV, Young K (2000) Skeletal muscle contractile and noncontractile components in young and older women and men. J Appl Physiol 88:662–668

Kohrt WM, Malley MT, Dalsky GP, Holloszy JO (1992) Body composition of healthy sedentary and trained, young and older men and women. Med Sci Sports Exerc 24:832–837

Meerits TBS, Pääsuke M, Ereline J, Cicchella A, Gapeyeva H (2014) Acute effect of static and dynamic stretching on tone and elasticity of hamstring muscle and on vertical jump performance in track-and-field athletes. Acta Kinesiol Univ Tartu. doi:10.12697/akut.2014.20.05

Mullix J, Warner M, Stokes M (2012) Testing muscle tone and mechanical properties of rectus femoris and biceps femoris using a novel hand held MyotonPRO device: relative ratios and reliability. Work Papers Health Sci 1:1–8

Perkisas S, De Cock A, Verhoeven V, Vandewoude M (2016) Physiological and architectural changes in the ageing muscle and their relation to strength and function in sarcopenia. Eur Geriatr Med 7:201–206. doi:10.1016/j.eurger.2015.12.016

Ryu M, Jo J, Lee Y, Chung YS, Kim KM, Baek WC (2013) Association of physical activity with sarcopenia and sarcopenic obesity in community-dwelling older adults: the Fourth Korea National Health and Nutrition Examination Survey. Age Ageing 42:734–740. doi:10.1093/ageing/aft063

Viir R, Laiho K, Kramarenko J, Mikkelsson M (2006) Repeatability of trapezius muscle tone assessment by a myometric method. J Mech Med Biol 6:215–228. doi:10.1142/S0219519406001856

Viir R, Virkus A, Laiho K, Rajaleid K, Selart A, Mikkelsson M (2007) Trapezius muscle tone and viscoelastic properties in sitting and supine positions. Scand J Work Env Hea 3:76–80

Walsh EG (1992) The measurement of muscle tone. Paraplegia 30:507–508

Wu R, Delahunt E, Ditroilo M, Lowery M, De Vito G (2016) Effects of age and sex on neuromuscular-mechanical determinants of muscle strength Age 38:57. doi:10.1007/s11357-016-9921-2
Ethics declarations
Conflict of interest
All authors declare no conflict of interest.
Funding
This work was partly supported by the fund "Progetti di ricerca DISB 2017", granted by the Department of Biomolecular Sciences, University of Urbino, Italy.
Additional information
Communicated by Peter Krustrup.
Electronic supplementary material
Below is the link to the electronic supplementary material.
About this article
Cite this article
Gervasi, M., Sisti, D., Amatori, S. et al. Muscular viscoelastic characteristics of athletes participating in the European Master Indoor Athletics Championship. Eur J Appl Physiol 117, 1739–1746 (2017). https://doi.org/10.1007/s00421-017-3668-z
Received:

Accepted:

Published:

Issue Date:
Keywords
Aging

Gender

Tone

Elasticity

Stiffness

Physical activity