Abstract
Purpose
The purpose of this study was to compare the physiological responses of a high-volume (HV; 8 sets of 10 repetitions) versus high-intensity (HI; 8 sets of 3 repetitions) exercise protocol in resistance-trained men.
Methods
Twelve men (24.5 ± 4.2 years; 82.3 ± 8.4 kg; 175.2 ± 5.5 cm) with 6.3 ± 3.4 years of resistance training experience performed each protocol in a counterbalanced, randomized order. Performance [counter movement jump peak power (CMJP), isokinetic (ISOK) and isometric leg extension (MVIC), isometric mid-thigh pull (IMTP), and isometric squat (ISQ)] and muscle morphological [cross-sectional area (CSA) of vastus lateralis] assessments were performed at baseline (BL), 30-min (P-30 min), 24-h (P-24 h), 48-h (P-48 h), and 72-h (P-72 h) post-exercise for each testing session. In addition, endocrine (testosterone and cortisol), inflammatory [interleukin-6 (IL-6) and C-reactive protein (CRP)], and markers of muscle damage [creatine kinase (CK), lactate dehydrogenase (LDH), and myoglobin (Mb)] were assessed at the same time points.
Results
Significantly greater reductions in CMJP (p < 0.001), and peak torque during both ISOK (p = 0.003) and MVIC (p = 0.008) at P-30 min were detected in HV compared to HI protocol. MVIC was still impaired at P-72 h following the HV protocol, while no differences were noted following HI. Markers of muscle damage (LDH, CK, and Mb) were significantly elevated following both HV and HI (p < 0.05), while cortisol and IL-6 concentrations were significantly elevated at P-30 min following HV only (p < 0.001 and p < 0.05, respectively).
Conclusions
Results indicate that high-volume resistance exercise results in greater performance deficits, and a greater extent of muscle damage, than a bout of high-intensity resistance exercise.
This is a preview of subscription content, log in to check access.
Access options
Buy single article
Instant access to the full article PDF.
US$ 39.95
Price includes VAT for USA
Subscribe to journal
Immediate online access to all issues from 2019. Subscription will auto renew annually.
US$ 199
This is the net price. Taxes to be calculated in checkout.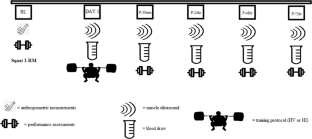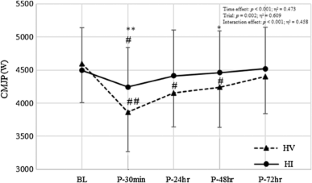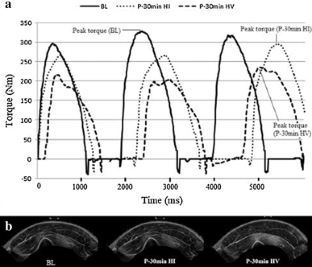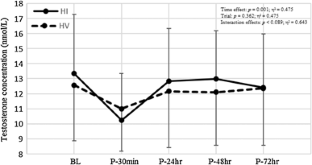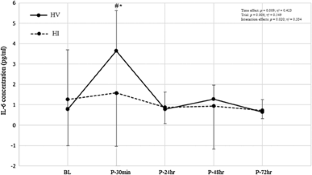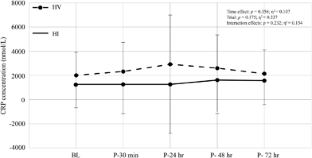 Abbreviations
HV:

High volume

HI:

High intensity

1-RM:

One-repetition maximum

CMJP:

Counter movement jump peak power

MVIC:

Maximum voluntary isometric contraction

IMTP:

Isometric mid-thigh pull

ISOK60:

Isokinetic leg extension at 60°/s

ISOK180:

Isokinetic leg extension at 180°/s

ISQ:

Isometric squat

pRFD20:

Peak rate of force development

VL:

Vastus lateralis

MT:

Muscle thickness

CSA:

Cross-sectional area

EI:

Echo intensity

Mb:

Myoglobin

LDH:

Lactate dehydrogenase

CK:

Creatine kinase

CRP:

C-reactive protein

T/C:

Testosterone/cortisol
References
Aboodarda SJ, George J, Mokhtar AH, Thompson M (2011) Muscle strength and damage following two models of variable resistance training. J Sport Sci Med 10:635–642

Barnett A (2006) Using recovery modalities between training sessions in elite athletes. Does it help? Sports Med 36:781–796

Beckam G, Mizuguchi S, Carter C, Sato K, Ramsey M, Lamont H, Hornsby G, Haff G, Stone M (2013) Relationship of isometric mid-thigh pull variables to weightlifting performance. J Sports Med Phys Fitness 53:573–581

Behm DG, Button DC, Babour G, Butt JC, Young WB (2004) Conflicting effects of fatigue and potentiation on voluntary force. J Strength Cond Res 18(2):365–372

Bemben MG (2002) Use of diagnostic ultrasound for assessing muscle size. J Strength Cond Res 16(1):103–108

Bijur PE, Silver W, Gallagher EJ (2001) Reliability of the visual analog scale for the measurement of acute pain. Acad Emerg Med 8(12):1153–1157

Bosco C, Luhtanen P, Komi PV (1983) A simple method for measurement of mechanical power in jumping. Eur J Appl Physiol Occup Physiol 50: 273–282.

Brancaccio P, Limongelli FM, Maffulli N (2006) Monitoring of serum enzymes in sport. Br J Sport Med 40:96–97

Byrne C, Eston R (2002) The effect of exercise-induced muscle damage on isometric and dynamic knee extensor strength and vertical jump performance. J Sport Sci 20:417–425

Cheyne ED, Duffield R, Drinkwater EJ (2010) Effects of resistance or aerobic exercise training on interleukin-6, C-reactive protein, and body composition. Med Sci Sport Exerc 42(2):304–313

Clarkson PM, Sayers SP (1999) Etiology of exercise –induced muscle damage. Can J Appl Physiol 24:234–248

Clarkson PM, Nosaka K, Braun B (1992) Muscle function after exercise-induced muscle damage and rapid adaptation. Med Sci Sport Exerc 24(5):512–520.

Clarkson P, Kearns AK, Rouzier P, Rubin R, Thompson PD (2006) Serum creatine kinase levels and renal function measures in exertional muscle damage. Med Sci Sport Exerc 38:623–627.

Dill DB, Costill DL (1974) Calculation of percentage changes in volumes of blood, plasma, and red cells in dehydration. J Appl Physiol 37:247–248

Ebbeding CB, Clarkson PM (1989) Exercise-induced muscle damage and adaptation. Sports Med 7:207–234

Febbraio MA, Pederson BK (2005) Contraction-induced mykine production and release: is skeletal muscle an endocrine organ? Exerc Sci Rew 33(3):114–119.

Flores DF, Gentil P, Brown LE, Pinto RS, Carregaro RL, Bottaro M (2011) Dissociated time course of recovery between genders after resistance exercise. J Strength Cond Res 25:3039–3044

Fry AC, Kraemer WJ, Stone MH, Koziris LP, Thrush JT, Fleck SJ (2000) Relationship between serum testosterone, cortisol, and weightlifting performance. J Strength Cond Res 14(3):338–343

Gonzalez AM, Hoffman JR, Townsend JR, Jajter AR, Boone CH, Beyer KS, Baker KM, Wells AJ, Mangine GT, Robinson IV EH, Church DC, Oliveira LP, Willoughby DS, Fukuda DH, Stout JR (2015) Intramuscular anabolic signaling and endocrine response following high volume and high intensity resistance exercise protocols in trained men. Physiol Rep 3(7):1–15

Goto K, Naokata I, Tomohiro K, Kaoru T (2005) The impact of metabolic stress on hormonal responses and muscular adaptations. Med Sci Sports Exerc 37(6):955–963

Haff GG, Ruben RP, Lider J, Twine C, Cormie P (2015) A comparison of methods for determining the rate of force development during isometric midthigh clean pulls. J Strength Cond Res 29(2):386–395

Hakkinen K, Pakarinen A (1993) Acute hormonal responses to two different fatiguing heavy-resistance protocols in male athletes. J Appl Physiol 74(2):882–887

Hoffman JR (2014) Physiological Aspects of Sport Training and Performance (Second Edition). Human Kinetics, Champaign, IL, pp 237–267

Lee KA, Hicks G, Nino-Murcia G (1991) Validity and reliability of a scale to assess fatigue. Psychiatry Res 36:291–298

Nguyen D, Brown LE, Coburn JW, Judelson DA, Eurich AD, Khamoui AV, Uripe BP (2009) Effects of delayed-onset muscle soreness on elbow flexion strength and rate of velocity development. J Strength Cond Res 23:1282–1286

Nosaka K, Newton M, Sacco P (2002) Delayed-onset muscle soreness does not reflect the magnitude of eccentric exercise-induced muscle damage. Scand J Med Sci Sports 12:337–346

Nuzzo JL, McBride JM, Cormie P, McCaulley GO (2008) Relationship between countermovement jump performance and multijoint isometric and dynamic tests for strength. J Strength Cond Res 22(3):699–707

Ohnhaus EE, Adler R (1975) Methodological problems in the measurement of pain; a comparison between the verbal rating scale and the visual analog scale. Pain 1:379–384

Phillips SM, Tipton KD, Aarsland A, Wolf SE, Wolfe RR (1997) Mixed muscle protein synthesis and breakdown after resistance exercise in humans. Am J Physiol 273:E99–E107

Sayers SP, Harackiewicz DV, Harman EA, Frykman PN, Rosenstein MT (1999) Cross-validation of three jump power equations. Med Sci Sports Exerc 31(4):572–577

Scott SL, Doherty D (2004) Acute effect of heavy preloading on vertical and horizontal jump performance. J Strength Cond Res 18(2):201–205

Serrano AL, Baeza-Raja B, Perdiguero E, Perdiguero E, Jardi M, Muñoz-Cánoves P (2008) Interleukin-6 is an essential regulator of satellite cell-mediated skeletal muscle hypertrophy. Cell Metab 7(1):33–44

Shoemaker JK, Hughson RL (1999) Adaptation of blood flow during the rest to work transition in humans. Med Sci Sports Exerc 31:1019–1026

Sjogaard G, Adams RP, Saltin B (1985) Water and ion shifts in skeletal muscle of humans with intense dynamic knee extension. Am J Physiol 248(2):190–196

Stevens JP (2009) Applied multivariate statistics for the social science (Fifth Edition), Taylor and Francis, New York

Talbot JA, Morgan DL (1998) The effects of stretch parameters on eccentric exercise-induced damage to toad skeletal muscle. J Muscle Res Cell Motil 19:237–245

Villanueva MA, Villanueva MG, Lane CJ, Schroeder ET (2012) Influence of rest interval length and acute testosterone and cortisol responses to volume-load-equated total body hypertrophic and strength protocols. J Strength Cond Res 26(10):2755–2764

Warren GL, Lowe DA, Armstrong RB (1999) Measurements tools used in the study of eccentric contraction-induced injury. Sport Med 27:43–59.

Wells AJ, Hoffman JR, Jajter AR, Varanoske AN, Church DD, Gonzalez AM, Townsend JR, Boone CH, Baker KM, Beyer KS, Mangine GT, Oliveira LP, Fukuda DH, Stout JR (2016) Monocyte recruitment after high-intensity and high-volume resistance exercise. Med Sci Sport Exerc 48(6):1169–1178.

Wunsch SA, Muller-Delp J, Delp MD (2000) Time course of vasodilatatory responses in skeletal muscle arterioles: role in hyperemia at onset of exercise. Am J Physiol Heart Circ Physiol 279:1715–1723

Young WB, Jenner A, Griffiths K (1998) Acute enhancement of power performance from heavy load squat. J Strength Cond Res 12(2):82–84
Ethics declarations
Conflict of interest
The authors have no conflict of interest to declare.
Additional information
Communicated by Nicolas Place.
About this article
Cite this article
Bartolomei, S., Sadres, E., Church, D.D. et al. Comparison of the recovery response from high-intensity and high-volume resistance exercise in trained men. Eur J Appl Physiol 117, 1287–1298 (2017). https://doi.org/10.1007/s00421-017-3598-9
Received:

Accepted:

Published:

Issue Date:
Keywords
Resistance training

Performance

Testosterone

Cortisol

Inflammation

Muscle damage