Abstract
Purpose
Resistance training is beneficial for maintaining bone mass. We aimed to investigate the skeletal effects of high doses of antioxidants [vitamin C + E (α-tocopherol)] supplementation during 12-week supervised strength training in healthy, elderly men
Methods
Design: double-blinded randomized placebo-controlled study. Participants followed a supervised, undulating periodic exercise program with weekly adjusted load: 3 sessions/week and 3–15 repetitions maximum (RM) sets/exercise. The control group (CG, n = 17, 67 ± 5 years) received placebo and the antioxidant group (AO, n = 16, 70 ± 7 years) 1000 mg vitamin C + 235 mg vitamin E, daily. Areal bone mineral density (aBMD) at whole body, lumbar spine (L1–L4), total hip, and femoral neck were measured by dual energy X-ray absorptiometry and muscle strength by 1RM. Serum analyses of bone-related factors and adipokines were performed.
Results
In the CG, total hip aBMD increased by 1.0% (CI: 0.3–1.7) versus pretest and lumbar spine aBMD increased by 0.9% (CI: −0.2 to 2.0) compared to the AO. In the CG, there was an increase in serum concentrations of insulin-like growth factor 1 [+27.3% (CI: −0.3 to 54.9)] and leptin [+31.2% (CI: 9.8–52.6)) versus pretest, and a decrease in sclerostin [−9.9% (CI: 4.4–15.3)] versus pretest and versus AO. Serum bone formation markers P1NP and osteocalcin increased in both groups, while the bone resorption marker CTX-1 remained unchanged.
Conclusion
High doses of antioxidant supplementations may constrain the favorable skeletal benefits of 12 weeks of resistance exercise in healthy elderly men.
Access options
Buy single article
Instant access to the full article PDF.
USD 39.95
Price excludes VAT (USA)
Tax calculation will be finalised during checkout.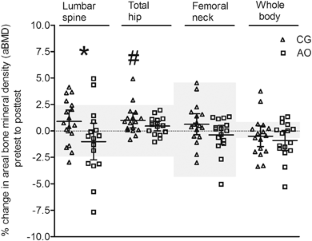 Abbreviations
1RM:

One repetition maximum

aBMD:

Areal bone mineral density

ANCOVA:

Analysis of covariance

AO:

Antioxidant group

BMC:

Bone mineral content

BMD:

Bone mineral density

BMI:

Body mass index (m/h2)

CG:

Control group

CI:

95% confidence interval

CTX-1:

C-terminal telopeptide from type 1 collagen

CV:

Coefficient of variation

DKK1:

Dickkopf-related protein protein 1

DXA:

Dual energy X-ray absorptiometry

GH:

Growth hormone

IGF-1 :

Insulin`-like growth factor 1

IQR:

Interquartile range

OC:

Osteocalcin

OPG:

Osteoprotegerin

P1NP:

Procollagen type 1 N-terminal propeptide

PTH:

Parathyroid hormone

RANKL:

Receptor activator for nuclear factor κB ligand

RM:

Repetition maximum

ROS:

Reactive oxygen species

SD:

Standard deviation

TNF-α :

Tumor necrosis factor α

vitD25:

25-hydroxy vitamin D3
References
Adami S, Zivelonghi A, Braga V, Fracassi E, Gatti D, Rossini M, Ulivieri FM, Viapiana O (2010) Insulin-like growth factor-1 is associated with bone formation markers, PTH and bone mineral density in healthy premenopausal women. Bone 46(1):244–247. doi:10.1016/j.bone.2009.10.011

Aghajanian P, Hall S, Wongworawat MD, Mohan S (2015) The roles and mechanisms of actions of vitamin C in bone: new developments. J Bone Miner Res Off J Am Soc Bone Miner Res 30(11):1945–1955. doi:10.1002/jbmr.2709

Ahmadieh H, Arabi A (2011) Vitamins and bone health: beyond calcium and vitamin D. Nutr Rev 69(10):584–598. doi:10.1111/j.1753-4887.2011.00372.x

Amrein K, Amrein S, Drexler C, Dimai HP, Dobnig H, Pfeifer K, Tomaschitz A, Pieber TR, Fahrleitner-Pammer A (2012) Sclerostin and its association with physical activity, age, gender, body composition, and bone mineral content in healthy adults. J Clin Endocrinol Metab 97(1):148–154. doi:10.1210/jc.2011-2152

Ardawi MS, Rouzi AA, Qari MH (2012) Physical activity in relation to serum sclerostin, insulin-like growth factor-1, and bone turnover markers in healthy premenopausal women: a cross-sectional and a longitudinal study. J Clin Endocrinol Metab. doi:10.1210/jc.2011-3361

Aslani BA, Ghobadi S (2016) Studies on oxidants and antioxidants with a brief glance at their relevance to the immune system. Life Sci. doi:10.1016/j.lfs.2016.01.014

Basu S, Michaelsson K, Olofsson H, Johansson S, Melhus H (2001) Association between oxidative stress and bone mineral density. Biochem Biophys Res Commun 288(1):275–279. doi:10.1006/bbrc.2001.5747

Belavy DL, Baecker N, Armbrecht G, Beller G, Buehlmeier J, Frings-Meuthen P, Rittweger J, Roth HJ, Heer M, Felsenberg D (2015) Serum sclerostin and DKK1 in relation to exercise against bone loss in experimental bed rest. J Bone Miner Metab. doi:10.1007/s00774-015-0681-3

Bikle DD, Tahimic C, Chang W, Wang Y, Philippou A, Barton ER (2015) Role of IGF-I signaling in muscle bone interactions. Bone 80:79–88. doi:10.1016/j.bone.2015.04.036

Bjornsen T, Salvesen S, Berntsen S, Hetlelid KJ, Stea TH, Lohne-Seiler H, Rohde G, Haraldstad K, Raastad T, Kopp U, Haugeberg G, Mansoor MA, Bastani NE, Blomhoff R, Stolevik SB, Seynnes OR, Paulsen G (2015) Vitamin C and E supplementation blunts increases in total lean body mass in elderly men after strength training. Scandinavian J Med Sci Sports. doi:10.1111/sms.12506

Bolam KA, van Uffelen JG, Taaffe DR (2013) The effect of physical exercise on bone density in middle-aged and older men: a systematic review. Osteoporos Int J Establ Result Cooperation Between Eur Found Osteoporos Natl Osteoporos Found USA 24 (11):2749–2762. doi:10.1007/s00198-013-2346-1

Bolam KA, Skinner TL, Jenkins DG, Galvao DA, Taaffe DR (2015) The osteogenic effect of impact-loading and resistance exercise on bone mineral density in middle-aged and older men: a pilot study. Gerontology. doi:10.1159/000435837

Burguera B, Hofbauer LC, Thomas T, Gori F, Evans GL, Khosla S, Riggs BL, Turner RT (2001) Leptin reduces ovariectomy-induced bone loss in rats. Endocrinology 142(8):3546–3553

Chilibeck PD, Chrusch MJ, Chad KE, Shawn Davison K, Burke DG (2005) Creatine monohydrate and resistance training increase bone mineral content and density in older men. J Nutr Health Aging 9(5):352–353

Chin KY, Ima-Nirwana S (2014) The effects of alpha-tocopherol on bone: a double-edged sword? Nutrients 6(4):1424–1441. doi:10.3390/nu6041424

Chuin A, Labonte M, Tessier D, Khalil A, Bobeuf F, Doyon CY, Rieth N, Dionne IJ (2009) Effect of antioxidants combined to resistance training on BMD in elderly women: a pilot study. Osteoporos Int J Establ Result Cooperation Between Eur Found Osteoporos Natl Osteoporos Found USA 20 (7):1253–1258. doi:10.1007/s00198-008-0798-5

DiGirolamo DJ, Kiel DP, Esser KA (2013) Bone and skeletal muscle: neighbors with close ties. J Bone Miner Res Off J Am Soc Bone Miner Res 28(7):1509–1518. doi:10.1002/jbmr.1969

Falk B, Haddad F, Klentrou P, Ward W, Kish K, Mezil Y, Radom-Aizik S (2015) Differential sclerostin and parathyroid hormone response to exercise in boys and men. Osteoporos Int J Establ Result Cooperation Between Eur Found Osteoporos Natl Osteoporos Found USA. doi:10.1007/s00198-015-3310-z

Fisher-Wellman K, Bloomer RJ (2009) Acute exercise and oxidative stress: a 30 year history. Dyn Med DM 8:1. doi:10.1186/1476-5918-8-1

Fritton SP, Weinbaum S (2009) Fluid and solute transport in bone: flow-induced mechanotransduction. Ann Rev Fluid Mech 41:347–374. doi:10.1146/annurev.fluid.010908.165136

Frost HM (1987) Bone "mass" and the "mechanostat": a proposal. Anat Record 219(1):1–9. doi:10.1002/ar.1092190104

Gaffney-Stomberg E, Lutz LJ, Rood JC, Cable SJ, Pasiakos SM, Young AJ, McClung JP (2014) Calcium and vitamin D supplementation maintains parathyroid hormone and improves bone density during initial military training: a randomized, double-blind, placebo controlled trial. Bone 68:46–56. doi:10.1016/j.bone.2014.08.002

Gomez-Cabrera MC, Salvador-Pascual A, Cabo H, Ferrando B, Vina J (2015) Redox modulation of mitochondriogenesis in exercise. Does antioxidant supplementation blunt the benefits of exercise training? Free Radical Biol Med 86:37–46. doi:10.1016/j.freeradbiomed.2015.04.006

Hamidi MS, Corey PN, Cheung AM (2012) Effects of vitamin E on bone turnover markers among US postmenopausal women. J Bone Miner Res Off J Am Soc Bone Miner Res 27(6):1368–1380. doi:10.1002/jbmr.1566

Heaney RP (2001) The bone remodeling transient: interpreting interventions involving bone-related nutrients. Nutr Rev 59(10):327–334

Kraemer RR, Chu H, Castracane VD (2002) Leptin and exercise. Experimental biology and medicine (Maywood) 227 (9):701–708

Maimoun L, Simar D, Caillaud C, Peruchon E, Sultan C, Rossi M, Mariano-Goulart D (2008) Effect of antioxidants and exercise on bone metabolism. J Sports Sci 26(3):251–258. doi:10.1080/02640410701501689

Marshall D, Johnell O, Wedel H (1996) Meta-analysis of how well measures of bone mineral density predict occurrence of osteoporotic fractures. BMJ Clin Res 312 (7041):1254–1259

Monsen ER (2000) Dietary reference intakes for the antioxidant nutrients: vitamin C, vitamin E, selenium, and carotenoids. J Am Diet Assoc 100(6):637–640. doi:10.1016/s0002-8223(00)00189-9

Mosti MP, Kaehler N, Stunes AK, Hoff J, Syversen U (2013) Maximal strength training in postmenopausal women with osteoporosis or osteopenia. J Strength Cond Res Natl Strength Cond Assoc 27(10):2879–2886. doi:10.1519/JSC.0b013e318280d4e2

Mosti MP, Carlsen T, Aas E, Hoff J, Stunes AK, Syversen U (2014) Maximal strength training improves bone mineral density and neuromuscular performance in young adult women. J Strength Cond Res Natl Strength Cond Assoc 28(10):2935–2945. doi:10.1519/jsc.0000000000000493

Muschitz C, Kocijan R, Haschka J, Zendeli A, Pirker T, Geiger C, Muller A, Tschinder B, Kocijan A, Marterer C, Nia A, Muschitz GK, Resch H, Pietschmann P (2015) The impact of vitamin D, calcium, protein supplementation, and physical exercise on bone metabolism after bariatric surgery: the BABS study. J Bone Miner Res Off J Am Soc Bone Miner Res. doi:10.1002/jbmr.2707

Ostman B, Michaelsson K, Helmersson J, Byberg L, Gedeborg R, Melhus H, Basu S (2009) Oxidative stress and bone mineral density in elderly men: antioxidant activity of alpha-tocopherol. Free Radical Biol Med 47 (5):668–673. doi:10.1016/j.freeradbiomed.2009.05.031

Paulsen G, Cumming KT, Hamarsland H, Borsheim E, Berntsen S, Raastad T (2014) Can supplementation with vitamin C and E alter physiological adaptations to strength training? BMC Sports Sci Med Rehabil 6:28. doi:10.1186/2052-1847-6-28

Rossini M, Gatti D, Adami S (2013) Involvement of WNT/beta-catenin signaling in the treatment of osteoporosis. Calcif Tissue Int 93(2):121–132. doi:10.1007/s00223-013-9749-z

Ruiz-Ramos M, Vargas LA, Fortoul Van der GTI, Cervantes-Sandoval A, Mendoza-Nunez VM (2010) Supplementation of ascorbic acid and alpha-tocopherol is useful to preventing bone loss linked to oxidative stress in elderly. J Nutr Health Aging 14 (6):467–472

Ryan AS, Treuth MS, Rubin MA, Miller JP, Nicklas BJ, Landis DM, Pratley RE, Libanati CR, Gundberg CM, Hurley BF (1994) Effects of strength training on bone mineral density: hormonal and bone turnover relationships. J Appl Physiol (Bethesda, Md: 1985) 77 (4):1678–1684

Schleicher RL, Carroll MD, Ford ES, Lacher DA (2009) Serum vitamin C and the prevalence of vitamin C deficiency in the United States: 2003–2004 National Health and Nutrition Examination Survey (NHANES). Am J Clin Nutr 90(5):1252–1263. doi:10.3945/ajcn.2008.27016

Shinoda Y, Yamaguchi M, Ogata N, Akune T, Kubota N, Yamauchi T, Terauchi Y, Kadowaki T, Takeuchi Y, Fukumoto S, Ikeda T, Hoshi K, Chung U, Nakamura K, Kawaguchi H (2006) Regulation of bone formation by adiponectin through autocrine/paracrine and endocrine pathways. J Cell Biochem 99(1):196–208. doi:10.1002/Jcb.20890

Simpson KA, Singh MA (2008) Effects of exercise on adiponectin: a systematic review. Obesity (Silver Spring, Md) 16 (2):241–256. doi:10.1038/oby.2007.53

Stea TH, Andersen LF, Paulsen G, Hetlelid KJ, Lohne-Seiler H, Adnanes S, Bjornsen T, Salvesen S, Berntsen S (2014) Validation of a pre-coded food diary used among 60–80 year old men: comparison of self-reported energy intake with objectively recorded energy expenditure. PloS one 9(7):e102029. doi:10.1371/journal.pone.0102029

Stunes AK, Westbroek I, Gordeladze JO, Gustafsson BI, Reseland JE, Syversen U (2012) Systemic leptin administration in supraphysiological doses maintains bone mineral density and mechanical strength despite significant weight loss. Endocrinology 153(5):2245–2253. doi:10.1210/en.2011-1848

Tagliaferri C, Wittrant Y, Davicco MJ, Walrand S, Coxam V (2015) Muscle and bone, two interconnected tissues. Ageing Res Rev 21:55–70. doi:10.1016/j.arr.2015.03.002

Thommesen L, Stunes AK, Monjo M, Grosvik K, Tamburstuen MV, Kjobli E, Lyngstadaas SP, Reseland JE, Syversen U (2006) Expression and regulation of resistin in osteoblasts and osteoclasts indicate a role in bone metabolism. J Cell Biochem 99(3):824–834. doi:10.1002/jcb.20915

Traber MG (2014) Vitamin E inadequacy in humans: causes and consequences. Advances in nutrition (Bethesda, Md) 5 (5):503–514

Weitzmann MN (2013) The role of inflammatory cytokines, the RANKL/OPG axis, and the immunoskeletal interface in physiological bone turnover and osteoporosis. Scientifica 2013:125705. doi:10.1155/2013/125705

Zerath E, Holy X, Douce P, Guezennec CY, Chatard JC (1997) Effect of endurance training on postexercise parathyroid hormone levels in elderly men. Med Sci Sports Exerc 29(9):1139–1145

Zhao R, Zhao M, Xu Z (2015) The effects of differing resistance training modes on the preservation of bone mineral density in postmenopausal women: a meta-analysis. Osteoporos Int J Establ Result Coop Between Eur Found Osteoporos Natl Osteoporos Found USA 26 (5):1605–1618. doi:10.1007/s00198-015-3034-0
Acknowledgements
This work has been supported by grants from the Liaison Committee between the Central Norway Regional Health Authority and the Norwegian University of Science and Technology (NTNU), Regional Research Funds, Agder, Norway and The Smartfish Company, Norway. The authors would like to thank Prof. Lene Frost Andersen for analysis of dietary registrations, Hanne Vestaby for conducting the DXA measurements, and the participants for their dedication.
Ethics declarations
Conflict of interest
All authors declare no conflict of interest.
Author contributions
The project was performed at the Department of Public Health, Sport and Nutrition, University of Agder, Norway and at the Department of Cancer Research and Molecular Medicine, Norwegian University of Science and Technology, (NTNU), Trondheim, Norway. Study design: SB, THS, KJH, and HLS. Study conduct: SB, THS, KJH, HLS, GH, and TB. Data collection: AKS, SB, THS, KJH, HLS, GH, and TB. Data analyses: AKS, TB, and THS. Data interpretation: AKS, MPM, TB, and US. Drafting manuscript: AKS. Revising manuscript: AKS, US, MPM, GH, TB, SB, THS, KJH, HLS, TR, and GP. Approved the final version of the manuscript: AKS, US, MPM, GH, TB, SB, THS, KJH, HLS, TR, and GP.
Additional information
Communicated by William J. Kraemer.
Electronic supplementary material
Below is the link to the electronic supplementary material.
About this article
Cite this article
Stunes, A.K., Syversen, U., Berntsen, S. et al. High doses of vitamin C plus E reduce strength training-induced improvements in areal bone mineral density in elderly men. Eur J Appl Physiol 117, 1073–1084 (2017). https://doi.org/10.1007/s00421-017-3588-y
Received:

Accepted:

Published:

Issue Date:

DOI: https://doi.org/10.1007/s00421-017-3588-y
Keywords