Abstract
Purpose
The effects of sleep deprivation on physical performance are well documented, but data on the consequence of sleep deprivation on recovery from exercise are limited. The aim was to compare cyclists' recovery from a single bout of high-intensity interval training (HIIT) after which they were given either a normal night of sleep (CON, 7.56 ± 0.63 h) or half of their usual time in bed (DEP, 3.83 ± 0.33 h).
Methods
In this randomized cross-over intervention study, 16 trained male cyclists (age 32 ± 7 years), relative peak power output (PPO 4.6 ± 0.7 W kg−1) performed a HIIT session at ±18:00 followed by either the CON or DEP sleep condition. Recovery from the HIIT session was assessed the following day by comparing pre-HIIT variables to those measured 12 and 24 h after the session. Following a 2-week washout, cyclists repeated the trial, but under the alternate sleep condition.
Results
PPO was reduced more 24 h after the HIIT session in the DEP (ΔPPO −0.22 ± 0.22 W kg−1; range −0.75 to 0.1 W kg−1) compared to the CON condition (ΔPPO −0.05 ± 0.09 W kg−1, range −0.19 to 0.17 W kg−1, p = 0.008, d = −2.16). Cyclists were sleepier (12 h: p = 0.002, d = 1.90; 24 h: p = 0.001, d = 1.41) and felt less motivated to train (12 h, p = 0.012, d = −0.89) during the 24 h recovery phase when the HIIT session was followed by the DEP condition. The exercise-induced 24 h reduction in systolic blood pressure observed in the CON condition was absent in the DEP condition (p = 0.039, d = 0.75).
Conclusions
One night of partial sleep deprivation impairs recovery from a single HIIT session in cyclists. Further research is needed to understand the mechanisms behind this observation.
Access options
Buy single article
Instant access to the full article PDF.
USD 39.95
Price includes VAT (USA)
Tax calculation will be finalised during checkout.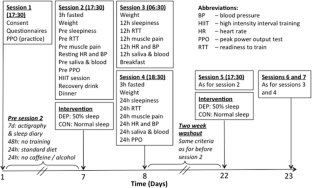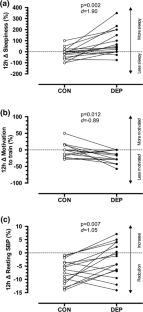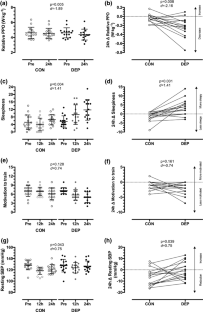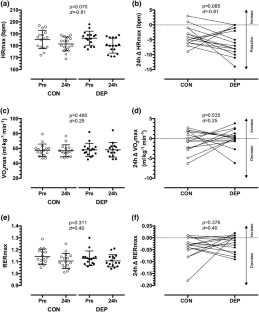 Abbreviations
BP:

Blood pressure

CK:

Creatine kinase

CON:

Control condition: normal night of sleep

DBP:

Diastolic blood pressure

DEP:

Partial sleep deprivation condition: 50% of normal sleep

HIIT:

High-intensity interval training

HR:

Heart rate

HRmax :

Maximum heart rate

IgA:

Immunogammaglobulin A

PPO:

Peak power output

RER:

Respiratory exchange ratio

RPE:

Rating of perceived exertion

SBP:

Systolic blood pressure

sIgA:

Salivary immunogammaglobulin A

VO2max :

Maximum volume of oxygen uptake
References
Akerstedt T, Nilsson PM (2003) Sleep as restitution: an introduction. J Int Med 254:6–12

Barclay NL, Myachykov A (2016) Sustained wakefulness and visual attention: moderation by chronotype. Exp Brain Res. doi:10.1007/s00221-016-4772-8

Beelen M, Burke LM, Gibala MJ, van Loon L JC (2010) Nutritional strategies to promote postexercise recovery. Int J Sport Nutr Exerc Metab 20:515–532

Bellenger CR, Fuller JT, Thomson RL, et al (2016) Monitoring athletic training status through autonomic heart rate regulation: a systematic review and meta-analysis. Sports Med 46:1461–1486. doi:10.1007/s40279-016-0484-2

Bergeron MF, Mountjoy M, Armstrong N et al (2015) International Olympic Committee consensus statement on youth athletic development. Br J Sports Med 49:843–851. doi:10.1136/bjsports-2015-094962

Borg G (1998) Borg's perceived exertion and pain scales. Human Kinetics, Champaign

Buysse DJ, Reynolds CF, Monk TH et al (1989) The Pittsburgh Sleep Quality Index: a new instrument for psychiatric practice and research. Psychiatry Res 28:193–213

Capostagno B, Lambert MI, Lamberts RP (2014) Standardized versus customized high-intensity training: effects on cycling performance. Int J Sports Physiol Perform 9:292–301. doi:10.1123/IJSPP.2012-0389

Convertino VA (1991) Blood volume: its adaptation to endurance training. Med Sci Sport Exerc 23:1338–1348.

Currell K, Jeukendrup AE (2008) Validity, reliability and sensitivity of measures of sporting performance. Sports Med 38:297–316

Dattilo M, Antunes HKM, Medeiros A et al (2011) Medical hypotheses. Med Hypotheses 77:220–222. doi:10.1016/j.mehy.2011.04.017

Dhabhar FS (2002) Stress-induced augmentation of immune function–the role of stress hormones, leukocyte trafficking, and cytokines. Brain Behav Immun 16:785–798

Faraut B, Boudjeltia KZ, Vanhamme L, Kerkhofs M (2012) Immune, inflammatory and cardiovascular consequences of sleep restriction and recovery. Sleep Med Rev 16:137–149. doi:10.1016/j.smrv.2011.05.001

Fullagar HHK, Skorski S, Duffield R et al (2016) Impaired sleep and recovery after night matches in elite football players. J Sport Sci 34:1333–1339. doi:10.1080/02640414.2015.1135249

Gupta L, Morgan K, Gilchrist S (2016) Does elite sport degrade sleep quality? A systematic review. Sports Med. doi:10.1007/s40279-016-0650-6

Hawley JA, Noakes TD (1992) Peak power output predicts maximal oxygen uptake and performance time in trained cyclists. Eur J Appl Physiol Occup Physiol 65:79–83.

Heinonen I, Kalliokoski KK, Hannukainen JC et al (2014) Organ-specific physiological responses to acute physical exercise and long-term training in humans. Physiology 29:421–436. doi:10.1152/physiol.00067.2013

Henst RHP, Jaspers RT, Roden LC, Rae DE (2015) A chronotype comparison of South African and Dutch marathon runners: The role of scheduled race start times and effects on performance. Chronobiol Int 32:858–868. doi:10.3109/07420528.2015.1048870

Horne JA, Östberg O (1976) A self-assessment questionnaire to determine morningness-eveningness in human circadian rhythms. Int J Chronobiol 4:97–110

Johns MW (1991) A new method for measuring daytime sleepiness: the Epworth sleepiness scale. Sleep 14:540–545

Kölling S, Steinacker JM, Endler S et al (2016) The longer the better: sleep–wake patterns during preparation of the World Rowing Junior Championships. Chronobiol Int 33:73–84. doi:10.3109/07420528.2015.1118384

Kunorozva L, Stephenson KJ, Rae DE, Roden LC (2012) Chronotype and PERIOD3 variable number tandem repeat polymorphism in individual sports athletes. Chronobiol Int 29:1004–1010. doi:10.3109/07420528.2012.719966

Lamberts R (2009) Measurement error associated with performance testing in well-trained cyclists: application to the precision of monitoring changes in training status. Int Sport Med J 10:33–44.

Lamberts RP, Swart J, Noakes TD, Lambert MI (2011) A novel submaximal cycle test to monitor fatigue and predict cycling performance. Br J Sports Med 45:797–804. doi:10.1136/bjsm.2009.061325

Le Meur Y, Hausswirth C, Natta F et al (2013) A multidisciplinary approach to overreaching detection in endurance trained athletes. J Appl Physiol 114:411–420. doi:10.1152/japplphysiol.01254.2012

Lehmann MJ, Lormes W, Opitz-Gress A et al (1997) Training and overtraining: an overview and experimental results in endurance sports. J Sports Med Phys Fitness 37:7–17

Lusardi P, Mugellini A, Preti P et al (1996) Effects of a restricted sleep regimen on ambulatory blood pressure monitoring in normotensive subjects. Am J Hypertens 9:503–505

MacRae BA, Cotter JD, Laing RM (2011) Compression garments and exercise: garment considerations, physiology and performance. Sports Med 41:815–843. doi:10.2165/11591420-000000000-00000

McKune AJ, Smith LL, Semple SJ et al (2006) Changes in mucosal and humoral atopic-related markers and immunoglobulins in elite cyclists participating in the Vuelta a España. Int J Sports Med 27:560–566. doi:10.1055/s-2005-865858

McMurray RG, Brown CF (1984) The effect of sleep loss on high intensity exercise and recovery. Aviat Space Environ Med 55:1031–1035

Meeusen R, Duclos M, Foster C, et al (2013) Prevention, diagnosis, and treatment of the overtraining syndrome: joint consensus statement of the European College of Sport Science and the American College of Sports Medicine. Med Sci Sport Exerc 45:186–205. doi:10.1249/MSS.0b013e318279a10a

Noordhof DA, de Koning JJ, van Erp T et al (2010) The between and within day variation in gross efficiency. Eur J Appl Physiol 109:1209–1218. doi:10.1007/s00421-010-1497-4

Oliver SJ, Costa RJS, Laing SJ et al (2009) One night of sleep deprivation decreases treadmill endurance performance. Eur J Appl Physiol 107:155–161. doi:10.1007/s00421-009-1103-9

Poppendieck W, Faude O, Wegmann M, Meyer T (2013) Cooling and performance recovery of trained athletes: a meta-analytical review. Int J Sports Physiol Perform 8:227–242

Reilly T, Ekblom B (2007) The use of recovery methods post-exercise. J Sport Sci 23:619–627. doi:10.1080/02640410400021302

Reilly T, Piercy M (1994) The effect of partial sleep deprivation on weight-lifting performance. Ergonomics 37:107–115. doi:10.1080/00140139408963628

Rogers NL, Dinges DF (2005) Caffeine: implications for alertness in athletes. Clin Sports Med 24:e1–e13. doi:10.1016/j.csm.2004.12.012

Ruiz FS, Andersen ML, Martins RCS et al (2012) Immune alterations after selective rapid eye movement or total sleep deprivation in healthy male volunteers. Innate Immun 18:44–54. doi:10.1177/1753425910385962

Sargent C, Halson S, Roach GD (2013) Sleep or swim? Early-morning training severely restricts the amount of sleep obtained by elite swimmers. Eur J Sport Sci 14:S310–S315. doi:10.1080/17461391.2012.696711

Schaal K, Le Meur Y, Louis J, et al (2015) Whole-body cryostimulation limits overreaching in elite synchronized swimmers. Med Sci Sport Exerc 47:1416–1425. doi:10.1249/MSS.0000000000000546

Scott JPR, McNaughton LR, Polman RCJ (2006) Effects of sleep deprivation and exercise on cognitive, motor performance and mood. Physiol Behav 87:396–408. doi:10.1016/j.physbeh.2005.11.009

Skein M, Duffield R, Minett GM et al (2013) The effect of overnight sleep deprivation after competitive rugby league matches on postmatch physiological and perceptual recovery. Int J Sports Physiol Perform 8:556–564

Souissi N, Sesboüé B, Gauthier A et al (2003) Effects of one night's sleep deprivation on anaerobic performance the following day. Eur J Appl Physiol 89:359–366. doi:10.1007/s00421-003-0793-7

Spriet LL (2014) Exercise and sport performance with low doses of caffeine. Sports Med 44:175–184. doi:10.1007/s40279-014-0257-8

Swinbourne R, Gill N, Vaile J, Smart D (2015) Prevalence of poor sleep quality, sleepiness and obstructive sleep apnoea risk factors in athletes. Eur J Sport Sci 1–9. doi:10.1080/17461391.2015.1120781

Taillard J, Philip P, Coste O et al (2003) The circadian and homeostatic modulation of sleep pressure during wakefulness differs between morning and evening chronotypes. J Sleep Res 12:275–282

Taillard J, Philip P, Claustrat B et al (2011) Time course of neurobehavioral alertness during extended wakefulness in morning- and evening-type healthy sleepers. Chronobiol Int 28:520–527. doi:10.3109/07420528.2011.590623

Temesi J, Arnal PJ, Davranche K et al (2013) Does central fatigue explain reduced cycling after complete sleep deprivation? Med Sci Sport Exerc 45:2243–2253. doi:10.1249/MSS.0b013e31829ce379

Tochikubo O, Ikeda A, Miyajima E, Ishii M (1996) Effects of insufficient sleep on blood pressure monitored by a new multibiomedical recorder. Hypertension 27:1318–1324

Van Cauter E, Spiegel K, Tasali E, Leproult R (2008) Metabolic consequences of sleep and sleep loss. Sleep Med 9(Suppl 1):S23–S28. doi:10.1016/S1389-9457(08)70013-3

Venter RE (2014) Perceptions of team athletes on the importance of recovery modalities. Eur J Sport Sci 14(Suppl 1):S69–S76. doi:10.1080/17461391.2011.643924

Walsh NP, Oliver SJ (2016) Exercise, immune function and respiratory infection: An update on the influence of training and environmental stress. Immunol Cell Biol 94:132–139. doi:10.1038/icb.2015.99

Zhong X (2005) Increased sympathetic and decreased parasympathetic cardiovascular modulation in normal humans with acute sleep deprivation. J Appl Physiol 98:2024–2032. doi:10.1152/japplphysiol.00620.2004
Acknowledgements
Thanks to the cyclists for volunteering; Hendriena Victor, David Leith and Chris Webster for help with data collection; and Mike Lambert for input into the study design. This study was funded through a Research Development Grant from the University of Cape Town (DER), South African National Research Foundation Incentive Funding for Rated Researchers (AJM and TAK), and TAK is a recipient of the Tim and Marilyn Noakes Sports Science Postdoctoral Fellowship.
Ethics declarations
Conflict of interest
The authors have no conflicts of interest to declare.
Additional information
Communicated by Nicolas Place.
Electronic supplementary material
Below is the link to the electronic supplementary material.
About this article
Cite this article
Rae, D.E., Chin, T., Dikgomo, K. et al. One night of partial sleep deprivation impairs recovery from a single exercise training session. Eur J Appl Physiol 117, 699–712 (2017). https://doi.org/10.1007/s00421-017-3565-5
Received:

Accepted:

Published:

Issue Date:
Keywords
Sleep deprivation

Recovery strategies

Maximal performance

High-intensity interval training

Cyclists