Abstract
Purpose
To examine the acute and short-term effect of a wearable vibration device following strenuous eccentric exercise of the elbow flexors.
Methods
Physically active males (n = 13) performed vibration therapy (VT) and control following eccentric exercise. The arms were randomised and counterbalanced, separated by 14 days. 15 min of VT (120 Hz) was applied immediately and 24, 48, and 72 h after eccentric exercise while the contralateral arm performed no VT (control). Muscle (isometric and concentric) strength, range of motion, electromyography (EMG), muscle soreness and creatine kinase were taken pre-exercise, immediately and 24, 48, and 72 h post-eccentric exercise. Additionally, the acute effect of VT of muscle strength, range of motion, EMG, muscle soreness was also investigated immediately after VT.
Results
In the short-term VT was able to significantly reduce the level of biceps brachii pain at 24 h (p < 0.05) and 72 h (p < 0.01), enhance pain threshold at 48 h (p < 0.01) and 72 h (p < 0.01), improve range of motion at 24 h (p < 0.05), 48 h (p < 0.01) and 72 h (p < 0.01) and significantly (p < 0.05) reduced creatine kinase at 72 h compared to control. Acutely, following VT treatment muscle pain and range of motion significantly improved (p < 0.05) at 24 h post, 48 h post, and 72 h post but no significant changes in muscle strength and EMG were reported acutely or short-term.
Conclusions
Acute and short-term VT attenuated muscle soreness, creatine kinase and improved range of motion; however, there was no improvement of muscle strength recovery compared to control following eccentric exercise of the elbow flexors.
This is a preview of subscription content, log in to check access.
Access options
Buy single article
Instant access to the full article PDF.
US$ 39.95
Tax calculation will be finalised during checkout.
Subscribe to journal
Immediate online access to all issues from 2019. Subscription will auto renew annually.
US$ 199
Tax calculation will be finalised during checkout.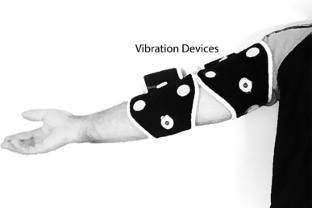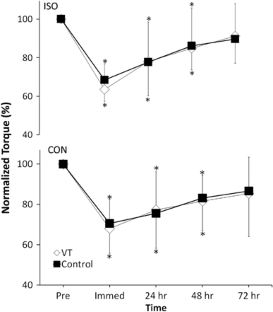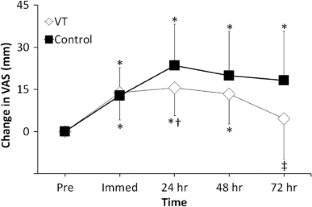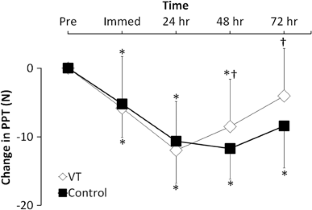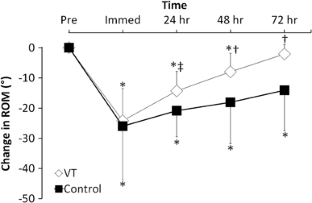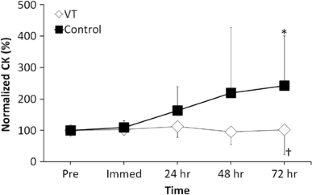 Abbreviations
ANVOA:

Analysis of variance

CK:

Creatine kinase

cm:

Centimetre

CV:

Coefficient of variance

CON:

Concentric

EMG:

Electromyography

Hz:

Hertz

mm:

Millimetre

mmHg:

Millimetre of mercury

ICC:

Intraclass correlation

U/L:

International units per litre

ISO:

Isometric

N:

Newton

PPT:

Pain threshold

ROM:

Range of motion

VAS:

Visual analogue scale

VT:

Vibration therapy
References
Abercromby AFJ, Amonette WE, Layne CS, McFarlin BK, Hinman MR, Paloski WH (2007) Vibration exposure and biodynamic responses during whole-body vibration training. Med Sci Sports Exerc 39:1794–1800

Bakhtiary AH, Safavi-Farokhi Z, Aminian-Far A (2007) Influence of vibration on delayed onset of muscle soreness following eccentric exercise. Br J Sports Med 41:145–148

Bishop D (2003) Warm up I—Potential mechanisms and the effects of passive warm up on exercise performance. Sports Med 33:439–454

Bongiovanni LG, Hagbarth KE (1990) Tonic vibration reflexes elicited during fatigue from maximal voluntary contractions in man. J Physiol 423:1–14

Brunetti O, Filippi GM, Lorenzini M, Liti A, Panichi R, Roscini M, Pettorossi VE, Cerulli G (2006) Improvement of posture stability by vibratory stimulation following anterior cruciate ligament reconstruction. Knee Surg Sports Traumatol Arthrosc 14:1180–1187

Burke D, Hagbarth KE, Lofstedt L, Wallin BG (1976) Responses of human muscle-spindle endings to vibration of non-contracting muscles. J Physiol 261:673–693

Cochrane DJ (2011) Vibration exercise: the potential benefits. Int J Sports Med 32:75–99

Cochrane DJ (2013) The sports performance application of vibration exercise for warm-up, flexibility and sprint speed. Eur J Sport Sci 13:256–271

Cochrane DJ (2016) The acute effect of direct vibration on muscular power performance in master athletes. Int J Sports Med 37:144–148

Hagbarth K, Eklund G (1966) Tonic vibration reflexes (TVR) in spasticity. Brain Res 2:201–203

Hawker GA, Mian S, Kendzerska T, French M (2011) Measures of Adult Pain Visual Analog Scale for Pain (VAS Pain), Numeric Rating Scale for Pain (NRS Pain), McGill Pain Questionnaire (MPQ), Short-Form McGill Pain Questionnaire (SF-MPQ), Chronic Pain Grade Scale (CPGS), Short Form-36 Bodily Pain Scale (SF-36 BPS), and Measure of Intermittent and Constant Osteoarthritis Pain (ICOAP). Arthritis Care Res 63:S240–S252

Hedayatpour N, Falla D, Arendt-Nielsen L, Farina D (2008) Sensory and electromyographic mapping during delayed-onset muscle soreness. Med Sci Sports Exerc 40:326–334

Hopkins WG (2006) A scale of magnitudes for effect statistics: A new view of statistics

Kerschan-Schindl K, Grampp S, Henk C, Resch H, Preisinger E, Fialka-Moser V, Imhof H (2001) Whole-body vibration exercise leads to alterations in muscle blood volume. Clin Physiol 21:377–382

Lau W-Y, Nosaka K (2011) Effect of vibration treatment on symptoms associated with eccentric exercise-induced muscle damage. Am J Phys Med Rehab 90:648–657

Lau WY, Blazevich AJ, Newton MJ, Wu SSX, Nosaka K (2015) Assessment of muscle pain induced by elbow-flexor eccentric exercise. J Athl Training 50:1140–1148

Lundeberg T, Nordemar R, Ottoson D (1984) Pain alleviation by vibratory stimulation. Pain 20:25–44

Marconi B, Filippi GM, Koch G, Pecchioli C, Salerno S, Don R, Camerota F, Saraceni VM, Caltagironeb C (2008) Long-term effects on motor cortical excitability induced by repeated muscle vibration during contraction in healthy subjects. J Neurol Sci 275:51–59

Pamukoff DN, Ryan ED, Blackburn JT (2014) The acute effects of local muscle vibration frequency on peak torque, rate of torque development, and EMG activity. J Electromyogr Kines 24:888–894

Pamukoff DN, Pietrosimone B, Lewek MD, Ryan ED, Weinhold PS, Lee DR, Blackburn JT (2016) Immediate effect of vibratory stimuli on quadriceps function in healthy adults. Muscle Nerve 54:469–478

Pournot H, Tindel J, Testa R, Mathevon L, Lapole T (2016) The acute effect of local vibration as a recovery modality from exercise-induced increased muscle stiffness. J Sports Sci Med 15:142–147

Pyykko I, Farkkila M, Toivanen J, Korhonen O, Hyvarinen J (1976) Transmission of vibration in the hand arm system with special reference to changes in compression force and acceleration. Scand J Work Environ Health 2:87–95

Richardson MS, Cramer JT, Bemben DA, Shehab RL, Glover J, Bemben MG (2006) Effects of age and ACL reconstruction on quadriceps gamma loop function. J Geriatr Phys Ther 29:28–34

Steyvers M, Levin O, Verschueren SM, Swinnen SP (2003) Frequency-dependent effects of muscle tendon vibration on corticospinal excitability: a TMS study. Exp Brain Res 151:9–14

Zainuddin Z, Newton M, Sacco P, Nosaka K (2005) Effects of massage on delayed-onset muscle soreness, swelling, and recovery of muscle function. J Athl Training 40:174–180
Acknowledgements
Many thanks to the participants that gave their time to completing the study. Financial support was provided by Sentrix Technology, Hong Kong. The author has no financial or other interest in the product or distributor of the product.
Additional information
Communicated by Olivier Seynnes.
About this article
Cite this article
Cochrane, D.J. Effectiveness of using wearable vibration therapy to alleviate muscle soreness. Eur J Appl Physiol 117, 501–509 (2017). https://doi.org/10.1007/s00421-017-3551-y
Received:

Accepted:

Published:

Issue Date:
Keywords
Muscle damage

Concentric torque

Recovery

Creatine kinase