Abstract
Introduction
Regular exercise protects against degenerative joint disorders, yet the mechanisms that underlie these benefits are poorly understood. Chronic, low-grade inflammation is widely implicated in the onset and progression of degenerative joint disease.
Purpose
To examine the effect of running on knee intra-articular and circulating markers of inflammation and cartilage turnover in healthy men and women.
Methods
Six recreational runners completed a running (30 min) and control (unloaded for 30 min) session in a counterbalanced order. Synovial fluid (SF) and serum samples were taken before and after each session. Cytokine concentration was measured in SF and serum using a multiplexed cytokine magnetic bead array. Ground reaction forces were measured during the run.
Results
There were no changes in serum or SF cytokine concentration in the control condition. The cytokine GM-CSF decreased from 10.7 ± 9.8 to 6.2 ± 5.9 pg/ml pre- to post-run (p = 0.03). IL-15 showed a trend for decreasing concentration pre- (6.7 ± 7.5 pg/ml) to post-run (4.3 ± 2.7 pg/ml) (p = 0.06). Changes in IL-15 concentration negatively correlated with the mean number of foot strikes during the run (r 2 = 0.67; p = 0.047). The control condition induced a decrease in serum COMP and an increase in SF COMP, while conversely the run induced an increase in serum COMP and a decrease in SF COMP. Changes in serum and SF COMP pre- to post-intervention were inversely correlated (r 2 = 0.47; p = 0.01).
Conclusions
Running appears to decrease knee intra-articular pro-inflammatory cytokine concentration and facilitates the movement of COMP from the joint space to the serum.
This is a preview of subscription content, log in to check access.
Access options
Buy single article
Instant access to the full article PDF.
US$ 39.95
Price includes VAT for USA
Subscribe to journal
Immediate online access to all issues from 2019. Subscription will auto renew annually.
US$ 199
This is the net price. Taxes to be calculated in checkout.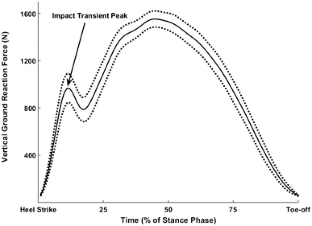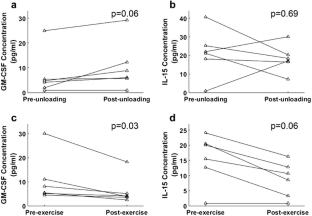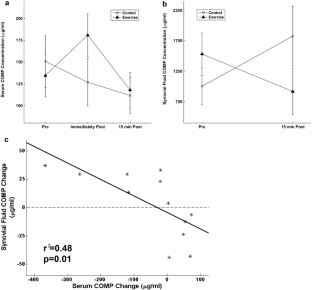 Abbreviations
ANOVA:

Analysis of variance

COMP:

Cartilage oligomeric matrix protein

GM-CSF:

Granulocyte macrophage colony-stimulating factor

GRF:

Ground reaction force

IFNa2:

Interferon alpha-2

IL-10:

Interleukin-10

IL-13:

Interleukin-13

IL-15:

Interleukin-15

IL-17:

Interleukin-17

IL-1ra:

Interleukin-1 receptor antagonist

IL1b:

Interleukin-1 beta

IL1a:

Interleukin-1 alpha

IL-4:

Interleukin-4

IL-6:

Interleukin-6

IL-8:

Interleukin-8

IL-12p40:

Interluekin-12 subunit beta

IP-10:

Interferon-gamma-inducible protein-10

MCP-1:

Monocyte chemoattractant protein-1

MIP-1a:

Macrophage inflammatory protein-1 alpha

MIP-1b:

Macrophage inflammatory protein-1 beta

OA:

Osteoarthritis

RA:

Rheumatoid arthritis

SF:

Synovial fluid
References
Arend WP, Dayer JM (1990) Cytokines and cytokine inhibitors or antagonists in rheumatoid arthritis. Arthritis Rheum 33:305–315

Ayral X, Pickering E, Woodworth T, Mackillop N, Dougados M (2005) Synovitis: a potential predictive factor of structural progression of medial tibiofemoral knee osteoarthritis—results of a 1 year longitudinal arthroscopic study in 422 patients. Osteoarthr Cartil 13:361–367

Bay-Jensen AC et al (2016) Osteoarthritis year in review 2015: soluble biomarkers and the BIPED criteria. Osteoarthr Cartil 24:9–20. doi:10.1016/j.joca.2015.10.014

Benito MJ, Veale DJ, FitzGerald O, van den Berg WB, Bresnihan B (2005) Synovial tissue inflammation in early and late osteoarthritis. Ann Rheum Dis 64:1263–1267. doi:10.1136/ard.2004.025270

Bennell KL, Bowles K-A, Wang Y, Cicuttini F, Davies-Tuck M, Hinman RS (2011) Higher dynamic medial knee load predicts greater cartilage loss over 12 months in medial knee osteoarthrities. Ann Rheum Dis 70:1770–1774

Cameron M, Buchgraber A, Passler H, Vogt M, Thonar E, Fu F, Evans CH (1997) The natural history of the anterior cruciate ligament-deficient knee changes in synovial fluid cytokine and keratan sulfate concentrations. Am J Sport Med 25:751–754

Cook AD et al (2012) Granulocyte-macrophage colony-stimulating factor is a key mediator in experimental osteoarthritis pain and disease development. Arthritis Res Ther 14:R199

Denning WM et al (2016) Ambulation speed and corresponding mechanics are associated with changes in serum cartilage oligomeric matrix protein. Gait Posture 44:131–136

Ettinger WH et al (1997) A randomized trial comparing aerobic exercise and resistance exercise with a health education program in older adults with knee osteoarthritis: the fitness arthritis and seniors trial (FAST). JAMA 277:25–31

Fischer CP (2006) Interleukin-6 in acute exercise and training: what is the biological relevance? Exerc Immunol Rev 12:6–33

Greven D et al (2014) Preclinical characterisation of the GM-CSF receptor as a therapeutic target in rheumatoid arthritis. Ann Rheum Dis Annrheumdis 74(10):1924–1930

Hart P, Ahern M, Smith M, Finlay-Jones J (1995) Comparison of the suppressive effects of interleukin-10 and interleukin-4 on synovial fluid macrophages and blood monocytes from patients with inflammatory arthritis. Immunology 84:536

Haywood L, McWilliams D, Pearson C, Gill S, Ganesan A, Wilson D, Walsh D (2003) Inflammation and angiogenesis in osteoarthritis. Arthritis Rheum 48:2173–2177. doi:10.1002/art.11094

Helmark IC et al (2010) Exercise increases interleukin-10 levels both intraarticularly and peri-synovially in patients with knee osteoarthritis: a randomized controlled trial. Arthritis Res Ther 12:R126. doi:10.1186/ar3064

Helmark IC, Petersen MC, Christensen HE, Kjaer M, Langberg H (2012) Moderate loading of the human osteoarthritic knee joint leads to lowering of intraarticular cartilage oligomeric matrix protein. Rheumatol Int 32:1009–1014. doi:10.1007/s00296-010-1716-7

Juhl C, Christensen R, Roos EM, Zhang W, Lund H (2014) Impact of exercise type and dose on pain and disability in knee osteoarthritis: a systematic review and meta-regression analysis of randomized controlled trials. Arthritis Rheum 66:622–636. doi:10.1002/art.38290

Knoop J et al (2013) Knee joint stabilization therapy in patients with osteoarthritis of the knee: a randomized, controlled trial. Osteoarthr Cartilage 21:1025–1034

Lee J et al (2015) Sedentary behavior and physical function: objective evidence from the osteoarthritis initiative. Arthritis Care Res (Hoboken) 67:366–373

Maly MR, Robbins SM, Stratford PW, Birmingham TB, Callaghan JP (2013) Cumulative knee adductor load distinguishes between healthy and osteoarthritic knees-A proof of principle study. Gait Posture 37:397–401. doi:10.1016/j.gaitpost.2012.08.013

McAlindon T et al (2014) OARSI guidelines for the non-surgical management of knee osteoarthritis. Osteoarthr Cartil 22:363–388. doi:10.1016/jjoca201401003

Mikesky AE, Mazzuca SA, Brandt KD, Perkins SM, Damush T, Lane KA (2006) Effects of strength training on the incidence and progression of knee osteoarthritis. Arthritis Care Res (Hoboken) 55:690–699. doi:10.1002/art.22245

Miller RE, Miller RJ, Malfait A-M (2014) Osteoarthritis joint pain: the cytokine connection. Cytokine 70:185–193

Müller G, Michel A, Altenburg E (1998) COMP (cartilage oligomeric matrix protein) is synthesized in ligament, tendon, meniscus, and articular cartilage. Connect Tissue Res 39:233–244

Mündermann A, Dyrby CO, Andriacchi TP, King KB (2005) Serum concentration of cartilage oligomeric matrix protein (COMP) is sensitive to physiological cyclic loading in healthy adults. Osteoarthr Cartil 13:34–38

Niehoff A, Kersting UG, Helling S, Dargel J, Maurer J, Thevis M, Brüggemann G-P (2010) Different mechanical loading protocols influence serum cartilage oligomeric matrix protein levels in young healthy humans. Eur J Appl Physiol 110:651–657

Niehoff A et al (2011) Deformational behaviour of knee cartilage and changes in serum cartilage oligomeric matrix protein (COMP) after running and drop landing. Osteoarthr Cartil 19:1003–1010

Owman H, Tiderius CJ, Ericsson YB, Dahlberg LE (2014) Long-term effect of removal of knee joint loading on cartilage quality evaluated by delayed gadolinium-enhanced magnetic resonance imaging of cartilage. Osteoarthr Cartil 22(7):928–932

Pamukoff DN, Lwewk MD, Blackburn JT (2016) Greater vertical loading rate in obese compared to normal weight young adults. Clin Biomech 33:61–65

Russell EM, Braun B, Hamill J (2010) Does stride length influence metabolic cost and biomechanical risk factors for knee osteoarthritis in obese women? Clin Biomech 25:438–443

Semanik PA, Chang RW, Dunlop DD (2012) Aerobic activity in prevention and symptom control of osteoarthritis. PM&R 4:S37–S44. doi:10.1016/j.pmrj.2012.02.015

Sokolove J, Lepus CM (2013) Role of inflammation in the pathogenesis of osteoarthritis: latest findings and interpretations. Ther Adv Musculoskelet Dis 5:77–94. doi:10.1177/1759720x12467868

Steensberg A, van Hall G, Osada T, Sacchetti M, Saltin B, Klarlund Pedersen B (2000) Production of interleukin-6 in contracting human skeletal muscles can account for the exercise-induced increase in plasma interleukin-6 levels. J Physiol 1:237–242

Stone A et al (2015) Osteoarthritic changes in vervet monkey knees correlate with meniscus degradation and increased matrix metalloproteinase and cytokine secretion. Osteoarthr Cartil 23:1780–1789

Tao Y, Qiu X, Xu C, Sun B, Shi C (2015) Expression and correlation of matrix metalloproteinase-7 and interleukin-15 in human osteoarthritis. Int J Clin Exp Pathol 8:9112–9118

van der Esch M et al (2013) The association between reduced knee joint proprioception and medial meniscal abnormalities using MRI in knee osteoarthritis: results from the Amsterdam osteoarthritis cohort. Osteoarthr Cartilage 21:676–681

Wärnberg J, Cunningham K, Romeo J, Marcos A (2010) Physical activity, exercise and low-grade systemic inflammation. Proc Nutr Soc 69:400–406. doi:10.1017/s0029665110001928

Zhang W et al (2010) OARSI recommendations for the management of hip and knee osteoarthritis: part III: changes in evidence following systematic cumulative update of research published through January 2009. Osteoarthr Cartil 18:476–499. doi:10.1016/j.joca.2010.01.013

Zhang S-L, Liu H-Q, Xu X-Z, Zhi J, Geng J-J, Chen J (2013) Effects of exercise therapy on knee joint function and synovial fluid cytokine levels in patients with knee osteoarthritis. Mol Med Report 7:183–186
Acknowledgments
We would like to thank our research participants for their time and effort.
Ethics declarations
Conflict of interest
The authors report no conflict of interest.
Additional information
Communicated by Olivier Seynnes.
About this article
Cite this article
Hyldahl, R.D., Evans, A., Kwon, S. et al. Running decreases knee intra-articular cytokine and cartilage oligomeric matrix concentrations: a pilot study. Eur J Appl Physiol 116, 2305–2314 (2016). https://doi.org/10.1007/s00421-016-3474-z
Received:

Accepted:

Published:

Issue Date:
Keywords
Inflammation

Synovial fluid

Knee joint

Osteoarthritis

Exercise

Biomarker

COMP

Ground reaction force

GM-CSF

IL-15

IL-6